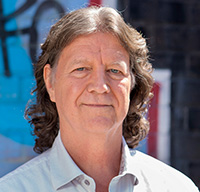 Bob Hale, FAIA
Principal & Creative Director
Rios Clementi Hale Studios
Bob joined RCH Studios as a principal in 2001. He brings almost 40 years of experience in designing, planning, and managing highly visible and critically acclaimed architecture and places. In 2003, the firm changed its name to Rios Clementi Hale Studios in recognition of Bob's leadership contributions. Bob's expertise extends to all facets of the design process, strategic project planning and programming, and overall project leadership and client relations. He has extensive experience in urban planning, architectural, landscape, interior design, and master planning. Over his distinguished career, Bob led creative collaborations for corporate, entertainment, retail, cultural, commercial, and residential clients. For 7 years he worked for Universal Studios, first as Creative Director, and later as Vice President of Planning and Development. For the 12 years prior, he worked for Frank O. Gehry Associates, where, as a Principal, he oversaw award-winning projects like the temporary home for MOCA, Loyola Law School, The Retail + Entertainment Center for Euro Disney, The American Center in Paris, and the Guggenheim Museum in Bilbao, Spain. Bob was a studio instructor at the University of Southern California School of Architecture from 1994-95, and a guest lecturer at UCLA School of Architecture from 1989-94. He has been a guest critic for architectural juries at both of those institutions since 1984, as well as at the Southern California Institute of Architecture.