Workplace Design
The Future of Glass is Smarter than You Think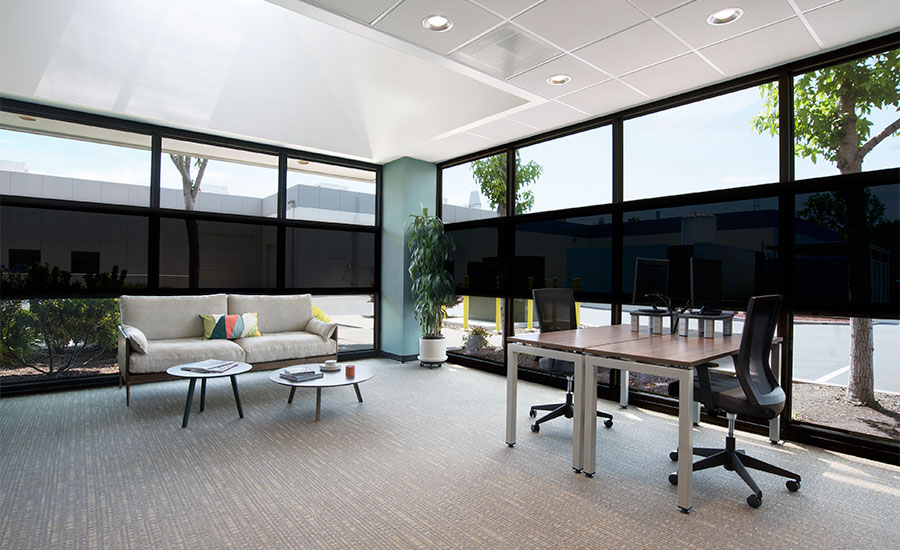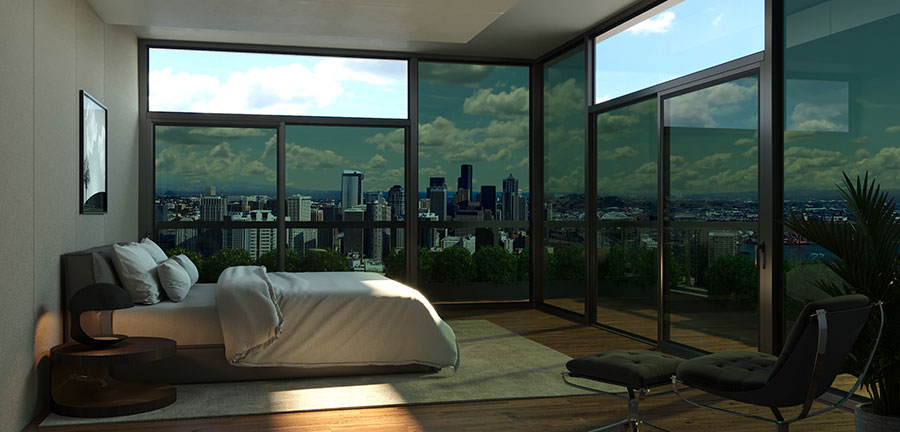 Smart technology has pervaded just about every aspect of daily life. Smart phones are ubiquitous, and smart devices in the home are becoming the norm. According to data from Nielsen, "62% of smart speaker owners first started using the device within the last six months, with 45% planning to purchase more devices for their home," as of Q4 2018. And Statista found that "Revenue in the Smart Home market amounts to US $27,747M in 2019."
It's clear: Many enjoy the convenience of not having to lift a finger to adjust temperatures, play music, and more, and they appreciate that their home is able to work on their behalf. Such smart systems save time, increase occupant comfort, and take away smaller "chores." In today's busy environment this may allow for families to spend more time together, or for busy professionals to have their home ready and serve as a haven after long hours at the office.
In a commercial setting, systems and buildings are connected, apparently seamlessly, thanks to the Internet of Things (IoT) – and this is only set to expand. A report released earlier this year, titled "Smart Buildings Market by Technology (AI, IoT, Indoor Wireless), Infrastructure, Solutions (Asset Tracking, Data Analytics, IWMS), and Regions 2019-2024" examines the smart buildings market including technologies, players, and solutions, and it also analyzes and assesses challenges and opportunities in the market. Findings included that IoT solutions will improve lifecycle cost management for facilities and equipment through more intelligence utilization, maintenance, and predictive replacement.
For a building to be considered "smart," it must be a structure that is supported by software and integrated systems to ensure that the building operates more efficiently and seamlessly. And today, smart buildings have expanded upon simply using intelligent heating systems which adjust to the specific temperature or time of day, to incorporate building materials which can perceive need or adjust to external conditions at the touch of a button. Sometimes, these systems may even operate in an automated fashion without human interaction at all.
Enter: Smart Glass
Smart glass is a relatively recent development, which exists to make the built environment more comfortable and to help decrease energy loads. The material looks and feels like ordinary glazing, but its capacity for light transmission can be shifted when external conditions change. For example, it can be wholly clear on a cloudy, cool day, but when the sun is hot and shining on the building, the glass may automatically adjust to be less transparent, thereby blocking the sun's rays and decreasing loads on a building's cooling system. It can be operated on demand, and some systems can also be programmed to allow less light and heat in when certain rays or temperatures are reported by the system controls.
Halio™ is one example of such smart-tinting glass. It is a multi-layered device that is then laminated onto glass. When an electrical charge is delivered to the glass, it tints, shading occupants against sun or heat. When the voltage is reversed, the glass will clear. This type of smart-tinting glass is controlled by a driver, which sends a signal to each insulated glass unit (IGU) or laminated glass unit in which the product is incorporated. An intermediary device sends a message from the user, who can control the glass tint via an app or a system panel. This information is stored and tracked in a special cloud system that supports current technologies and will adapt to new, as-yet-determined future technologies.
Smart-tinting glass has a wide variety of applications. Naturally, the office setting is one place where people could benefit from its technology, reducing HVAC loads and ensuring a temperate climate for workers. The need for blinds may be eliminated, allowing for better views to the outside and from the outside looking in. In a hospital setting, glass set to tint when sun and heat become too great can ensure patient comfort, as well as ensuring that conditions are managed seamlessly. And in the home, smart-tinting glass can also reduce heating costs and keep occupants comfortable no matter the time of day, thereby diminishing the need for heating and cooling whether people are at home or not.
Technology has brought a myriad benefits to society as a whole, and with innovations like smart-tinting glass, architects and designers can design better, more efficient buildings to serve humans for decades to come.