✕
We are definitely light years away from when fire-rated glass was limited to small doorlites and openings with wired glass or tinted ceramics. Below are examples where architects used their imaginations and─today's advanced, fire-rated glass technology─to transform spaces with show-stopping design features.
Porsche Design Tower Sets a New Standard of Cool with the Help of Fire-Rated Glass
Perhaps no other residential high-rise has created more buzz than the Porsche Design Tower in Sunny Isles, Florida. A collaboration between Dezer Development and the Porsche Design Group, the 60-story, 132-residence luxury tower designed by Sieger Suarez Architects delivers a new standard of cool.
The Porsche Design Tower features a unique, first-of-its-kind amenity that allows residents to park their cars in glass-walled sky garages adjacent to their units. The residents drive their car into one of three Dezervators, which are patented, fully-automated glass elevators designed by Gil Dezer and his team of engineers. They remain in their car securely and enjoy oceanfront views as they ascend to their unit. At that point, their vehicle is shuttled to a glass-enclosed carport adjacent to their residence.
Glazing is used predominantly in this project, as clear views and transparency were priorities in the overall design, including applications where fire-rating requirements are mandated in the code.
Shaft enclosures are required to have a minimum fire-resistance rating of not less than two hours when connecting four stories or more, which was the case for the Porsche Design Tower. To meet code requirements and ensure that the ocean views were available, SAFTI FIRST supplied SuperLite II-XL 120 with GPX Curtain Wall Framing for the 2-hour segmented elevator enclosure starting from the lobby.
A 1-hour separation is required between a parking garage and a dwelling unit. However, since the sky garages for each unit are connected to the 2-hour elevator shaft, the separation between the garage and the living space must follow the more stringent 2-hour fire-resistive requirement. To meet code and enable residents to view their cars from their living room, SAFTI FIRST supplied SuperLite II-XL 120 in GPX Architectural Series Framing for all the units.
2-hour fire-resistive glass walls separate the garage and living area for all residential units. Photo © SAFTI FIRST, click to enlarge.
SAFTI FIRST's sales, engineering, and project management teams were in close contact with the architect, general contractor, and glazier throughout the entire process to ensure that everything was delivered on time and within budget. SAFTI FIRST also sent a team from its manufacturing facility in Merced, California, to train and assist the glaziers in the field as they installed the fire-rated glass and framing systems.
"When Porsche teamed up with high-caliber developer Dezer Development and award-winning design firm Sieger Suarez Architects, the creative process sizzled," says Tim Nass, VP of National Sales at SAFTI FIRST. "We were fortunate to be part of a world-class construction team that has erected this iconic waterfront tower that is admired across South Florida. Continental Glass Systems is an excellent, highly-skilled partner and Coastal Construction Group ran an efficient site in very close quarters. It was a pleasure to be a part of this project."
Beautiful 2-Hour Glass Floor Brings Light and Protection to San Francisco's Union Square Station
The newly opened Union Square Station in San Francisco connects residents and visitors to this popular destination's outstanding array of world-class hotels, retailers, and restaurants. The station includes an underground concourse that leads commuters directly to the Powell Street station, where they can easily link with BART and other Muni Metro lines.
Because of its prominent location, the architects ensured that the design would not only be functional but also that it would provide an artistic statement fitting this San Francisco landmark. To achieve this, architects Robin Chiang & Company specified a 2-hour glass floor with a decorative walkable surface that also serves as a beautiful lightwell that welcomes commuters into the expansive underground concourse level.
The artwork for the glass floor was a commission to Hughen/Starkweather, a collaborative team comprised of San Francisco artists Jennifer Starkweather and Amanda Hughen.
2-hour fire-resistive glass floor also functions as a lightwell to the station entrance. Photo © SAFTI FIRST
To bring this important design and functional element to life, SAFTI FIRST worked with Tutor Perini, the General Contractor, and ACR, the Glazing Contractor. SAFTI FIRST provided its GPX FireFloor System, a complete fire-resistive glass and framing assembly that meets ASTM E-119/UL 263 for up to 2 hours. The fire-resistive glass floor brought in the light and openness desired while providing maximum protection against smoke, flames, and radiant heat required by code. Listed by UL and Intertek, SAFTI FIRST's GPX FireFloor System has the largest tested and listed individual glass panel sizes in the market today. The top-loading, modular, one-piece design of this system makes it easy to install.
The walkable art surface for this project was provided by Pulp Studios in Los Angeles and then laminated into a single fire-rated, two-hour floor panel.
In addition to the 2-hour glass floor, SAFTI FIRST also supplied the fire-rated glass and framing for the 2-hour glass elevator enclosures using SuperLite® II-XL 120 in GPX Architectural Series Framing. Together, they provide an open and airy feeling for commuters traveling 70 feet below ground to reach the station's platform.
This 2-hour fire-resistive elevator enclosures bring vision and light to the platform level. Photo © SAFTI FIRST
All the fire-rated materials that SAFTI FIRST provided for this project met the Buy America Act standards required by the government for transportation projects with federal involvement. SAFTI FIRST prides itself in having a fully integrated U.S.A. manufacturing facility to meet these requirements for the Union Square Station.
"SAFTI FIRST is always eager to be involved in high-profile applications that showcase the imaginative ways designers can leverage fire-rated products. Being a San Francisco-based company made this project even more special as we made the city, state, and region aware of our engineering and manufacturing prowess," says Nass.
Chicago Starbucks Reserve Turns Stair-Climbing into an Immersive Experience with Fire-Rated Glass
The Starbucks Reserve Roastery in Chicago's Magnificent Mile is the sixth Starbucks roastery globally and the third in the United States. Standing five stories tall, the 35,000-square-foot facility is the world's largest Starbucks. The roastery offers an immersive experience where patrons can ride spiral escalators surrounding a 56-foot-long cask for 360° views, catch master roasters and baristas impart their vast knowledge on the artistry and science of coffee, and ponder at an incredible, four-story mural by Chicago artist Eulojio Ortega.
Ortega's artwork is a progressive piece that pays homage to farmers and coffee-growing regions, exhibiting the art and life of coffee planting, selecting, and processing. The mural, brilliant for conveying the story as visitors go from floor to floor, is interestingly located in an exit stairwell.
Traditionally, stairwells are enclosed in opaque walls, leaving them dark, isolated, and rarely utilized unless in an emergency. This is where the architects masterfully blended their creativity with their knowledge of advanced building material technology. To allow the mural to be visible through multiple floors, encourage stair usage, and meet fire-rated code requirements, the architects redesigned the 2-hour stairwell using transparent, floor-to-ceiling butt-glazed glass walls with the largest tested and listed fire-resistive glass panels available.
2-hour fire resistive, butt-glazed walls and 90-minute temperature rise doors incorporate low-iron glass for ultimate transparency. Photo © SAFTI FIRST
To meet all the design and code requirements, the architects selected fire-resistive, ASTM E-119 rated SuperLite II-XLB 120 by SAFTI FIRST with Starphire Ultra-Clear glass for its superior optical clarity, large panel sizes, and butt-glazing capabilities, which eliminated the need for obstructive vertical mullions and maximized transparency. With the largest individual glass panels more than 10 feet tall and more than 4 feet wide, this was easily accommodated by SuperLite II-XLB's tested and listed size, which is the largest in the industry. As standard glass tends to have a slight blue-green tint from the iron induced by the glass manufacturing process, low-iron Starphire Ultra-Clear glass was used for its superior clarity, improved color neutrality, and high visible light transmission, all of which are integral to highlighting the vibrancy of Ortega's artwork and transforming what would have been an ordinary stairwell into a significant element of this Starbucks's immersive experience.
To ensure transparency and consistent high clarity with the accompanying entrance system, SAFTI FIRST's GPX Builders Series Temperature Rise Door was supplied with fire-resistive, ASTM E-119-rated SuperLite II-XL 90 with Starphire Ultra-Clear glass in the door vision panel. This allowed architects to exceed the 100-inch2 vision panel code limitation that applies to fire-protective glazing like ceramics used as vision panels in 60-90-minute temperature rise doors. The GPX Builders Series Temperature Rise Door and surrounding GPX Architectural Series Perimeter Framing were supplied in a custom finish to blend seamlessly with Starbucks's bronze palette.
Adds Nass, "Starbucks, with the assistance of Perkins+Will, created an immersive experience for visitors, incorporating natural daylight into the stairwells, which promoted everyday stair use. The artwork is also visible throughout the property and not limited to those in the stairwells. It was a very creative design that provided code compliance while enhancing the overall atmosphere of the store."
SAFTI FIRST, SuperLite, and GPX are registered trademarks of SAFTI FIRST.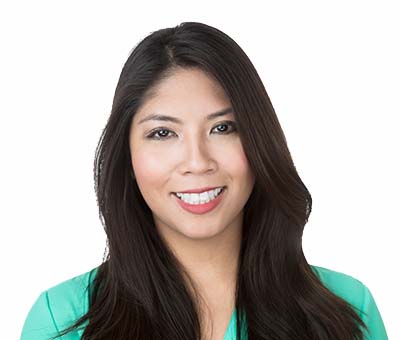 By Diana San Diego
Diana San Diego has over 17 years of experience in the architectural glazing industry and over 19 years of experience in public relations and marketing. As the Vice President of Marketing at SAFTI FIRST, leading USA-manufacturer of fire rated glass and framing systems, she oversees the advertising, content management, media relations, promotional activities and communication initiatives for the company. She is also involved in creating and promoting SAFTI FIRST's various educational programs, including "Code Considerations in Fire Rated Glass," "Designing with Fire Rated Glass" and "Innovative Design Applications with Advanced Fire Rated Glazing Technology" which are registered with the AIA, ICC and AIBC. Diana holds a BA in Communications and Marketing from Loyola Marymount University in Los Angeles, CA. She is also an avid golfer, wine enthusiast and curious traveler.