✕
Nestled in the landscape of Asheville, North Carolina is an impressive estate built by Doug Stratton, the visionary Principal Designer of Stratton Design Group. Once an expansive lot of vacant land, the property was transformed to fuse contemporary design and comfortable livability through expert craftsmanship focused on developing a unique experience through intentional architectural and design decisions. The ambitious project now serves as Stratton's family home and serves as something of a crown jewel in the portfolio of his firm.
Over the course of 16 months, Stratton Design Group took on all aspects of the 5,200 square-foot residential project's design, including its architecture, kitchen design, lighting design, interiors and general contracting. Stratton's hands-on involvement extended to sourcing and purchasing all materials, resulting in a project that showcases his versatile expertise. A "feast for the eyes," the Modern Tudor home is an artful twist on historic design, seamlessly integrating elements of New Traditional and Urban Contemporary style.
The interior design of the home prioritizes comfort and functionality. Stratton was determined not to sacrifice spatial function for the sake of luxurious details. To overcome this all-too-common challenge, he strategically designed rooms around specific furnishings, ensuring that each area maintained its proportions while incorporating premium materials. By skillfully fusing historic charm with modern allure, he created a harmonious space that seamlessly combines practicality and elegance.
The Modern Tudor fuses historic charm with modern allure, with custom touches throughout. Photo provided by Stratton Design Group, click to enlarge.
MSV: The Great Unifier
The design concept granted Stratton the artistic liberty to seek out groundbreaking and innovative products that would elevate his vision, including a unique architectural stone veneer profile that could unify both the interiors and exteriors of the property.
"I knew the quality of this particular product was high, and it had the look that I wanted," remarked Stratton, explaining his decision to exclusively use the company's products throughout the estate. For this venture, Stratton pursued a sleek, linear ledgestone. After careful consideration, he settled on Pro-Fit Alpine Ledgestone, a textured take on modern masonry that blends exemplary performance with an elegant aesthetic and muted tawny undertones and hints of copper, offsetting the sleek stone lines and bringing warmth throughout each space. Supplied in a panelized format, this profile was intentionally crafted for effortless installation.
"It is incredibly versatile, with one of the most compelling combinations of classic surface details and contemporary format in our product lineup," explained Sarah Lograsso, Director of Marketing and Product Management for Cultured Stone, which manufactures the profile. "From a design standpoint, the Pro-Fit Alpine Ledgestone profile also plays well with a wide variety of other materials, such as wood, metal, and glass."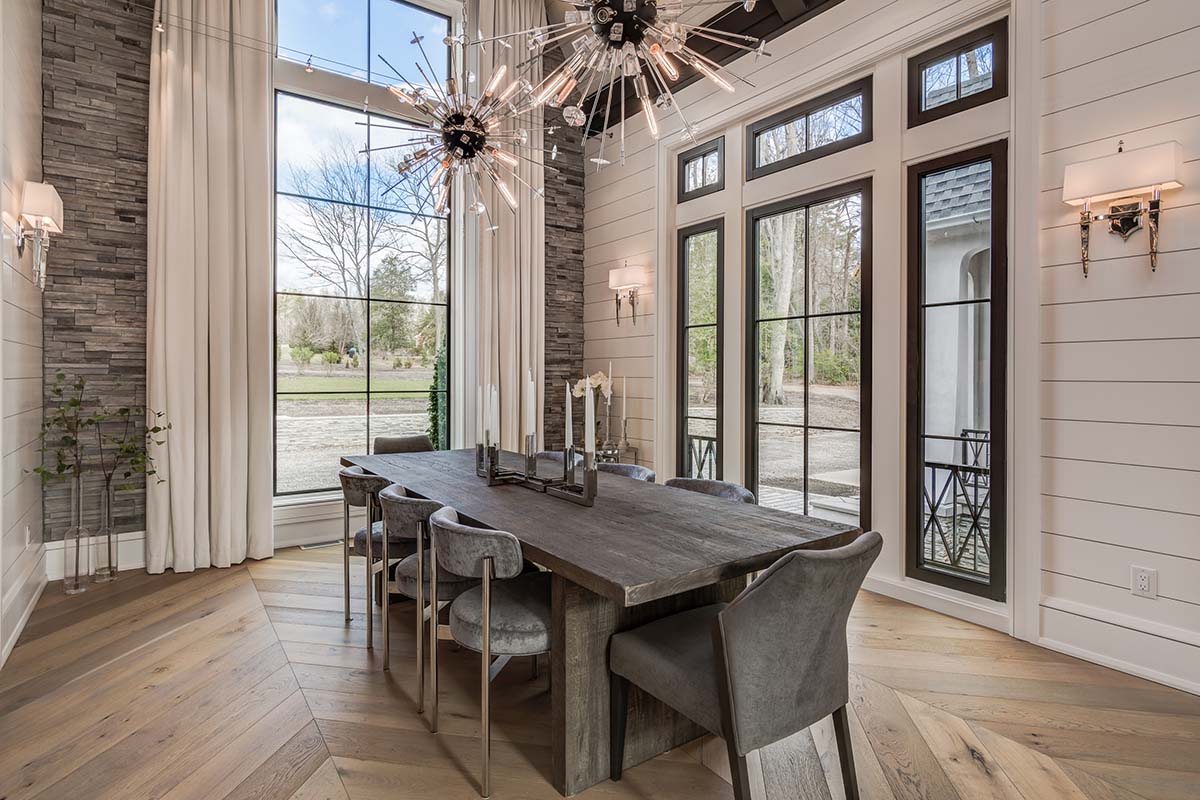 Stratton utilized Pro-Fit Alpine Ledgestone throughout the interior and exterior surfaces, including the open concept kitchen and dining room. Photo provided by Stratton Design Group
Captivating Curb Appeal + Outdoor Entertaining
Across the home's exterior, the façade sets the property apart before one steps across the threshold. Unlike Appalachian or Craftsman styles commonly found in the area, the Modern Tudor offers a refreshing departure. Its contemporary color palette is juxtaposed by a historic charm that's emphasized by its Tudor arches, roof gables and mixed-material façade.
From front to back, the same architectural stone profile accents the unique architecture of the home, including the expansive outdoor entertaining area. Designed with large gatherings in mind, the covered patio and pool area provides multiple seating options in sunny or shaded locations.
"The pool and surrounding deck were very complex, being completely above the ground," said Stratton. The solution was to build massive retaining walls around the perimeter and planters. Clad in Pro-Fit Alpine Ledgestone, the interior portion of the retaining walls provide an appealing contrast to the smooth stucco on the lower planter walls.
On the covered patio, a stately fireplace clad in the same stone as the retaining walls provides an incredible focal point and gives visitors a preview of what is to come inside the estate's walls, making for a seamless and cohesive transition between indoor and outdoor living.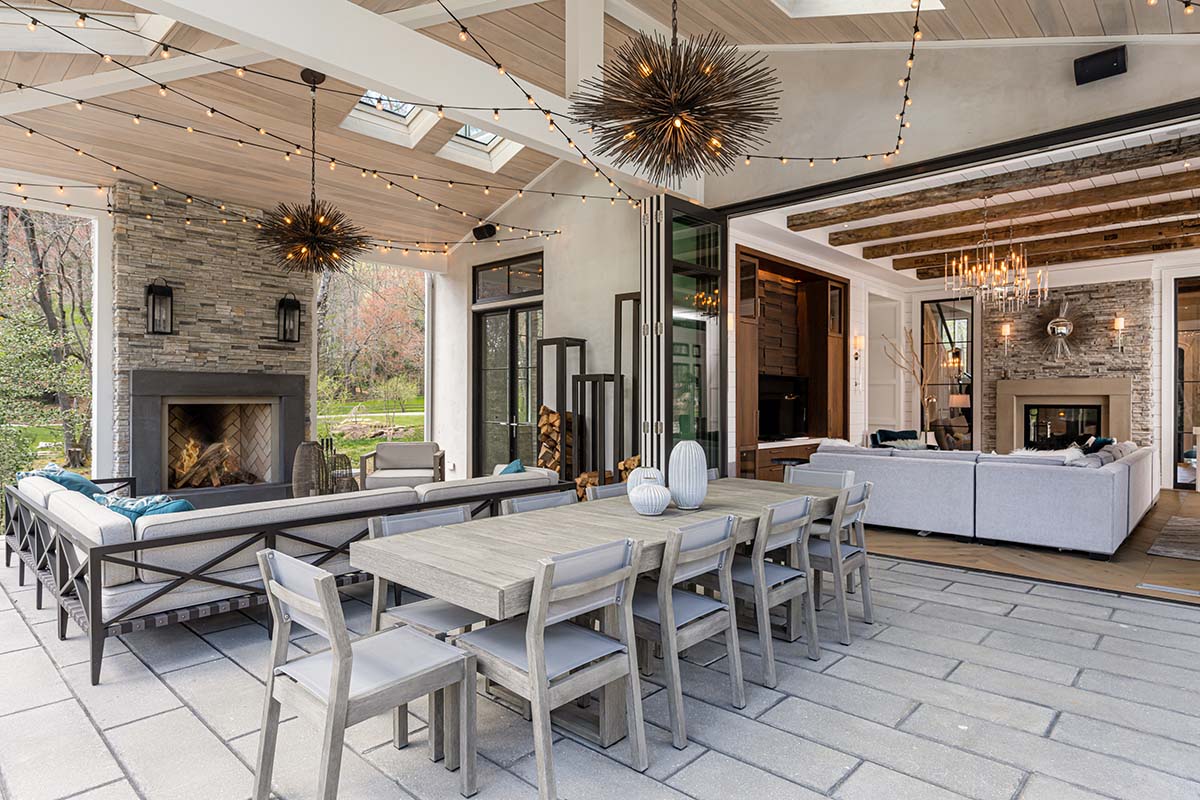 The outdoor living space includes an expansive covered patio that is perfect for large gatherings. Photo provided by Stratton Design Group
Inspirational Interior
The lower level boasts the very same stone profile in an array of lounging alcoves, a captivating pass-through fireplace seamlessly connecting the foyer to the living room, and two feature walls framing the windows in the open-concept kitchen and dining rooms.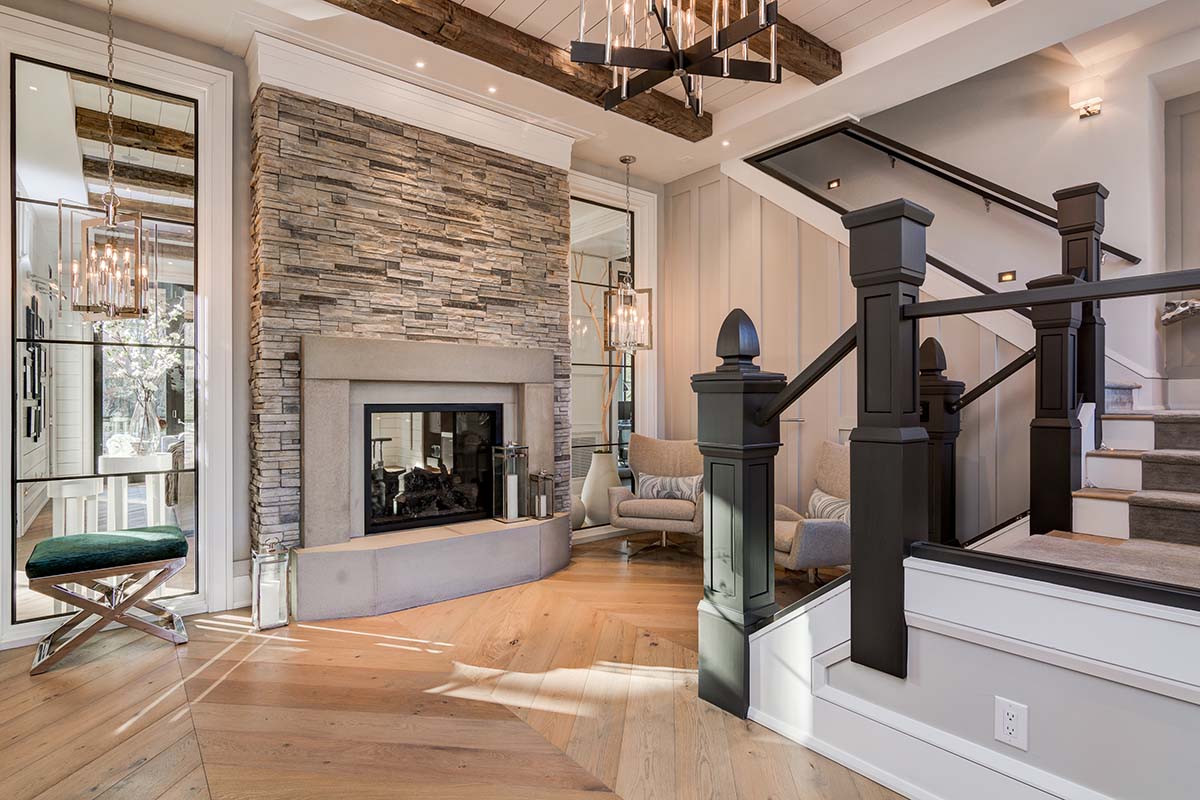 The pass-through fireplace connects the Modern Tudor's foyer and living room. Photo provided by Stratton Design Group
From one's first steps through the front door into the foyer, the home serves as a prime example of thoughtfully conceptualized design. The foyer features a sizeable seating area with a two-sided fireplace and 10-foot interior windows that provide a glimpse of the great room. Beyond these initial welcoming and gathering spaces, the true showstoppers of the home are its connected kitchen and dining room, which are characterized by a dramatic 24-foot steeply vaulted ceiling that's been adorned with criss-crossing scissor beams, nickel gap siding and accent walls clad in stone.
At every turn, this home is designed to be experienced as you travel through it.
Well-lit Showcase
While firmly grounded in practicality, this impressive residential project also draws on Stratton's extensive experience in Hollywood lighting design and the portfolio of his company, which boasts work with numerous high-end hotels and luxury spas. His expertise has been put to great and effective use in the design and customization of focal points throughout the home.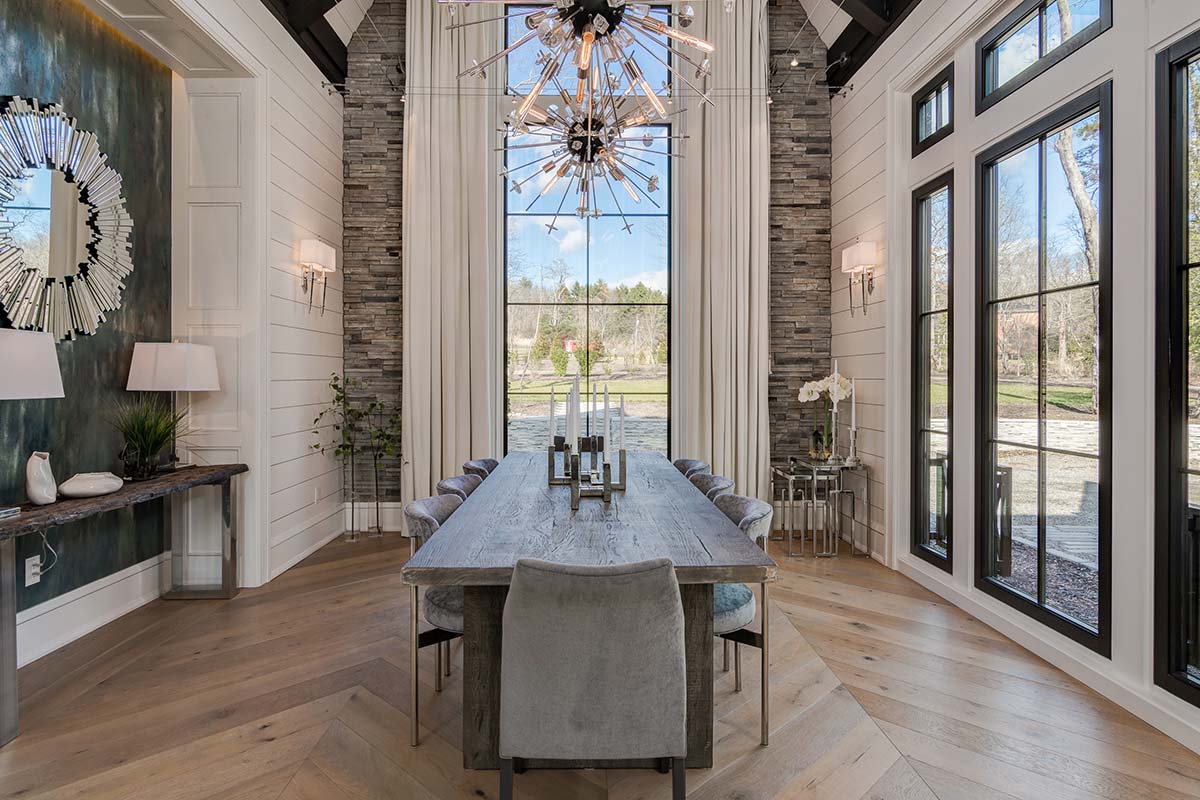 Stratton utilized his experience as a former Hollywood lighting designer to enhance both the natural light and fixtures in each space. Photo provided by Stratton Design Group
"Lighting is our ace in the hole," confirmed Stratton. The pendant lights in the kitchen, featuring four different sizes of globe lights, required precise planning and installation. By estimating the position of junction boxes on top of three-story scaffolding, the design team had to accurately locate the boxes and rewire each globe fixture to fit the extended ceiling height, proving to be a challenging detail but undoubtedly worth the end result.
"The gorgeous mix of materials and extravagant natural lighting in this cathedral-style space highlights the vision of this home as a modern twist on historic architecture," affirmed Lograsso.
This ambitious project churned out a strikingly unique build unlike any in the surrounding Asheville area. "There are a lot of beautiful moments and vignettes throughout the home and we were excited to see so much product incorporated both inside and out!" said Lograsso. This project not only saw Stratton's singular vision come to fruition, but it produced a home with staying power, featuring timeless and durable materials.
By Sarah Lograsso, Director of Marketing and Product Management for Westlake Royal Stone Solutions
As Director of Marketing and Product Management for Westlake Royal Stone Solutions, Sarah couples her design talents with business acumen to position five standout brands in the North American market and abroad. She continues to provide design direction for the brands' variety of best-selling modern profiles and trend-forward color palettes while also developing tools and merchandising for the commercial success of the multi-brand portfolio. By delivering a steady stream of compelling articles, interviews and technical resources to the market, Sarah has also established herself as a subject matter expert and industry thought leader with more than 16 years of experience in the manufactured stone veneer and outdoor living products categories. Westlake Royal Stone Solutions consists of five powerful brands: Cultured Stone, Eldorado Stone, Dutch Quality Stone, StoneCraft Industries and Kindred Outdoors + Surrounds.