Pre Show Attendee eBlast Request Form for Exhibitors/Sponsors
Connect Directly with Attendees ● Control Your Message ● Maximize Your Exposure
The landscape of email marketing is increasingly challenging to navigate as state, federal and international privacy legislation and regulation continues to evolve and be widely adopted. In order to protect you, our exhibitors and sponsors, as well as ourselves from the associated risks, we have automated access to the registrants for this event via the process below.

With this new process, you will be able to send an email directly to event attendees that "opted-in" to receive third-party communications. You can provide your own HTML communication or we can create one for you. All deployments will be sent by event management on your behalf to ensure your message has increased engagement and is sent to the right audience. We are no longer sending spreadsheets or sending live lists to sponsors or exhibitors. Please fill out the form below to get started.
QUESTIONS?
Contact Event Manager Adriene Cooper coopera@bnpmedia.com for more information.
DO NOT COMPLETE FORM UNTIL MATERIALS ARE READY TO SEND.  DATES CANNOT BE SECURED UNTIL MATERIALS ARE RECEIVED.
eBlast Example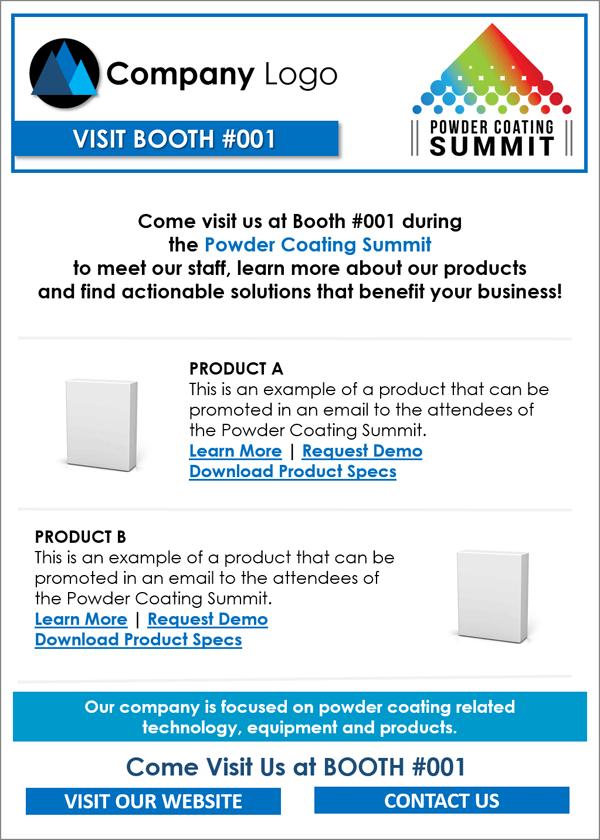 IMPORTANT NOTES
1. Deployment will include registered 2020 attendees. Email addresses of only those who opt-in to receive communication from exhibitors will be included.

2. A Test Send will be emailed to the contact provided (listed in right column) above prior to deployment. Approval of test must be received a minimum of 48 hrs prior to deployment in order to fulfill per scheduled request date/time.

3. Show management will not adjust, edit or fix Exhibitor/Sponsor HTML. If changes are required a new HTML must be submitted.

4. Show Management will review each HTML to confirm compliance with guidelines and rules and has full-discretion on determining if the HTML provided is compliant or needs revisions.

5. Fulfillment can take up to five (5) business days.

6. Select three dates from the calendar in order of preference. However, please note that it is possible your email will be scheduled for different deployment date if your preferred dates are not available.
7.  DO NOT COMPLETE FORM UNTIL MATERIALS ARE READY TO SEND.  DATES CANNOT BE SECURED UNTIL MATERIALS ARE RECEIVED.
By requesting this email deployment, you agree to the following terms:
1. Your company must be paid in-full to schedule an email to event participants
2. Your HTML deployment must mention your participation in Innovation Conference. .
3. Pre-event emails will be scheduled no earlier than 60 days prior to event start date.
4. Email requests must be submitted no later than 20 days prior to event start date.
5. Each exhibitor/sponsor may deploy only one HTML to event participants post-event.
6. HTML messaging may not promote competing events or off-site activities during event hours.