---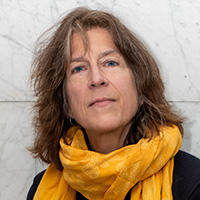 Sheila Kennedy, FAIA
Professor of Architecture
MIT
Founding Principal
KVA Matx
Sheila Kennedy is an American architect, innovator and educator. She is a professor of architecture at MIT and a founding principal of KVA Matx, an interdisciplinary practice that is recognized for innovation in architecture and research on the discipline's material culture. Kennedy directs KVA's material research division Matx which works with business leaders, cultural institutions, and public agencies to design new applications for renewable materials and resilient 'soft' infrastructure for networked cities and urbanizing regions. Designated as one of Fast Company's emerging Masters of Design, Kennedy is described as an "insightful and original thinker who is designing new ways of working, learning, leading and innovating". Kennedy received the 2014 Innovator Award from Architectural Record, the 2015 Rupp Prize for Distinguished Practitioners of Architecture, and the 2016 Innovation Green Grant from the Lemulson Foundation. Kennedy is the recipient of an MIT Bose Innovation Fellowship for the design of living plant-based infrastructure that is inherently carbon negative.
KVA's recent work in architecture includes public work for the Springfield E-Mobility Car Park & Civic Plaza, the East 34th Street Public Ferry Terminal in Manhattan, the Tozzer Anthropology building at Harvard University, the Global Flora Botany Center, a Living Building Challenge project and the carbon zero Soft House, a work live housing project in Hamburg, Germany. KVA Matx has been recognized by AIA National Design Excellence Awards, Progressive Architecture Awards, Digitizer A+ Design Awards, the Green Council's National Building Innovation Award and two Design Excellence Awards form the Lafarge-Holcim Foundation.
Kennedy's design work has been widely published and exhibited at the United States Pavilion at the Venice Biennale in 2018 and 2021, at MoMA, the Cooper Hewitt National Design Museum Design Triennial, the Vitra Design Museum, and the TED conference in California. Kennedy has been invited to share her work at the United Nations in New York, on National Public Radio, BBC World News, Swedish Television, French Television, CBS Spotlight on Design, The Discovery Channel, CNN Principal Voices, Wired, Elle Magazine, The Economist, and The Wall Street Journal.
---