Sara Grant Bio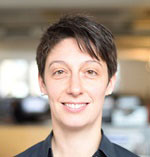 Sara Grant, LEED AP, Partner
Sara Grant, AIA, LEED AP, is a partner at MBB (Murphy Burnham & Buttrick) Architects. She has practiced architecture for over sixteen years, developing highly regarded expertise in the design and management of complex educational and institutional projects.
With a strong design sensibility and creative approach to spatial programming, she oversees all design documentation and construction administration phases of projects in her charge. Sara has managed multi-phased projects for Park Avenue Synagogue and Landmarks Preservation Commission, as well as Union Square Ventures, Rodeph Sholom School, and Meeting Street School in Rhode Island, among many other education, institutional and residential projects.
Sara graduated from Washington University in St. Louis, and received a Master in Architecture from Columbia University. She has served as a guest critic at the University of Pennsylvania, and published in periodicals including Structural Engineering and Design and School Planning + Management. Sara recently served as a panelist on active design in schools and is conducting award-winning research on the design of equitable public space in colleges. She currently serves on the Van Alen Program Leadership Council and is on the AIANY Committee on Architecture for Education.