At a time when high-flying architects were mesmerizing the design world with extravagant buildings, Cameron Sinclair took a decidedly different approach. In 1999, the young designer, along with journalist Kate Stohr, founded Architecture for Humanity (AFH), a nonprofit dedicated to helping underserved communities. Sinclair had inherited the do-good bug as a teenager in Bath, England, where civic spaces designed by 18th-century architects inspired him. 'They would spend decades doing amazing work for very rich clients,' he says, 'and at the end of their careers, they would do a series of pro bono projects for the city.' Sinclair, however, didn't want to wait until his twilight years to give back. His San Francisco'based organization took off. Today, AFH has 67 chapters worldwide, and similar-spirited groups have emerged in the past decade: Emergency Architects Foundation, Public Architecture, and Article 25, among others. Working in post-disaster zones, urban slums, and rural villages, these organizations'along with countless firms, university programs, and independent designers committed to improving human welfare'are elevating the role of architecture in solving social and environmental problems. Humanitarianism has 'always bubbled under the surface of the profession,' says Sinclair, but for some architects, it is now a priority.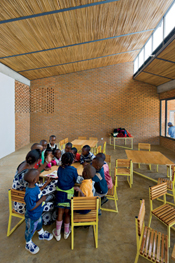 Photo © Iwan Baan
MASS Design Group, a Boston-based firm, recently completed the Girubuntu Primary School in Rwanda.

For this special issue, RECORD combed the globe, hunting for goodwill buildings that have both pragmatic and aesthetic appeal. The exemplary work featured here is a mere sample of our findings. Designed by a diverse roster of architects, and varying in scope and program, these projects embody the power of architecture to foster social change.