This morning, the Chicago Architecture Biennial (CAB) announced the theme and curatorial focus for the third event, which begins on September 19, 2019. Titled ...and other such stories, the four-month-long affair will consider questions of land, memory, rights, and civic participation, drawing on the spatial, historical, political, social, and economic conditions of Chicago.
"We are thrilled that this year's curatorial focus will open up the architectural conversation on key socio-political and environmental issues that shape our present reality and introduce new voices and perspectives," said CAB executive director Todd Palmer.
Artistic director Yesomi Umolu, who spoke with RECORD in March 2018, is using research to drive this year's Biennial, which she will curate with Sepake Angiama, a Berlin-based curator whose work centers on education, and Paulo Tavares, a Brazil-based architect and academic.
"Our approach ... has evolved through conversations with architects, spatial practitioners, and everyday people in Chicago and other global locations, including through partnerships fostered in our research initiatives in the cities of Sao Paulo, Johannesburg, and Vancouver," Umolu said, a process which resulted in myriad stories about "how lived experiences across global communities, cities, territories, and ecologies resonate with architectural and space-making practices." The artistic director indicated that some of the Biennial participants would be announced in March, with a second announcement coming in May.
...and other such stories will focus on four areas of inquiry:
No Land Beyond, which draws inspiration from indigenous approaches to nature, ecology, and landscape that transcend property ownership
Appearances and Erasures, which explores both shared and contested memories in consideration of monuments, memorials, and social histories
Rights and Reclamations, and
Common Ground, which foreground aspects of rights, advocacy, and civic purpose in architectural practice, including affordable and equitable housing.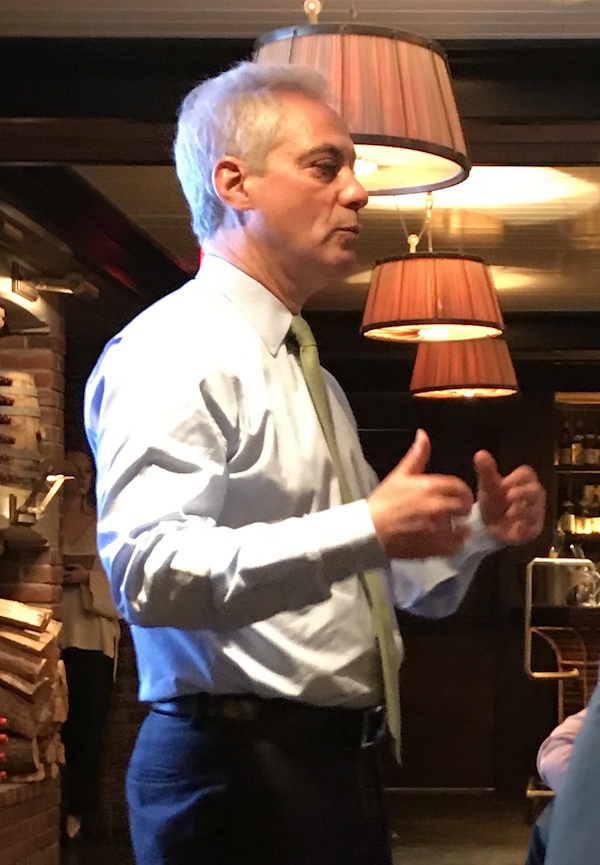 "As a city with an architectural history that forms such a strong foundation of our identity, we are thrilled that this year's team will shine a light on Chicago as a global convener for leading architectural thought," said Mayor Rahm Emanuel, whose vision for the city to host a major international architectural gathering was crystalized in 2015 with the inaugural event.
Emanuel announced in September 2018 that he would not run for a third term, leading some to wonder whether his successor, who will potentially be determined on February 26, will show the same amount of support for the event that Emanuel calls the "centerpiece of the Chicago cultural landscape." But as Jack Guthman, CAB board chair, told RECORD, "It's not a Biennial about a mayor. It's a biennial that celebrates a city with a rich architectural heritage that seeks to be at the center of the conversation."
Likewise, executive director Todd Palmer said, "We're here to stay. I think this Biennial will be a bit of a calling card to the next mayor, to look at what we're doing and see how we live out the cultural plan and how we connect to the entire city." There will also be an increased focus on education, which Palmer credits to the leadership of Sepake Angiama and a new manager of learning initiatives on staff. "We'll be doing a lot more directly to connect the curatorial with education. We expect to announce some innovative new programs in May," he told RECORD.
The 2019 Chicago Architecture Biennial will run through January 5, 2020. Follow RECORD's continuing coverage online.