✕
When New York City mayor Fiorello LaGuardia laid the cornerstone of the Triboro Hospital for Tuberculosis in Jamaica, Queens, in 1939, he expressed hope that the disease—then the leading cause of death for Americans between the ages of 15 and 35—would be snuffed out within his lifetime. Facing a shortage of some 4,000 beds, the city was in desperate need of the new facility. But LaGuardia did not live long enough to see the end of tuberculosis—he died eight years later, coincidentally the same year that clinical trials for streptomycin, the antibiotic used to treat TB, began. By the late 1950s the need for such a specialized facility had started to wane and, with it, so did the building's condition. Dunn Development, with architecture firm SLCE, Old Structures Engineering, and architectural conservator Mary Kay Judy, recently rehabilitated the underutilized hospital to help address a different public-health challenge: the housing crisis.
Throughout much of the 19th century, "miasmas" or even lapses in moral judgment were often thought to cause tuberculosis (sometimes called consumption). The formulation of germ theory in the 1880s, however, helped medical professionals understand the disease's communicable nature, spreading through the air much like influenza or Covid-19. Until pharmacological treatment was commonplace, doctors turned to architects for a solution: "taking the cure" meant isolation from others in tuberculosis sanatoriums with plenty of exposure to the sun and fresh air. This translated into dedicated facilities far from dense urban centers, with balconies or terraces wide enough to accommodate bedridden patients, proper orientation, and ample glazing, as well as all the auxiliary spaces necessary to maintain hygiene (and sanity) for patients who often needed months or years to fully recover. Aino and Alvar Aalto's Paimio Tuberculosis Sanatorium (1933) is perhaps the most notable example, and certainly one Triboro's architects would have known.
The commission to build Triboro was granted in early 1937 to American architect John Russell Pope, famous for his large public buildings and penchant for the neoclassical style (he was, perhaps deridingly so, nicknamed "the last Roman"). But the extent of Pope's involvement is not fully understood—he died only a few months into the project, and its art moderne character seems much more akin to the diverse repertoire of his successors Otto Eggers and Daniel Higgins, who later designed the Georgian-style Silliman College at Yale University; a moderne auditorium at Indiana University; and the highly controversial Modernist gymnasium proposed for Manhattan's Morningside Park (never built, following the violent protests at Columbia University in 1968).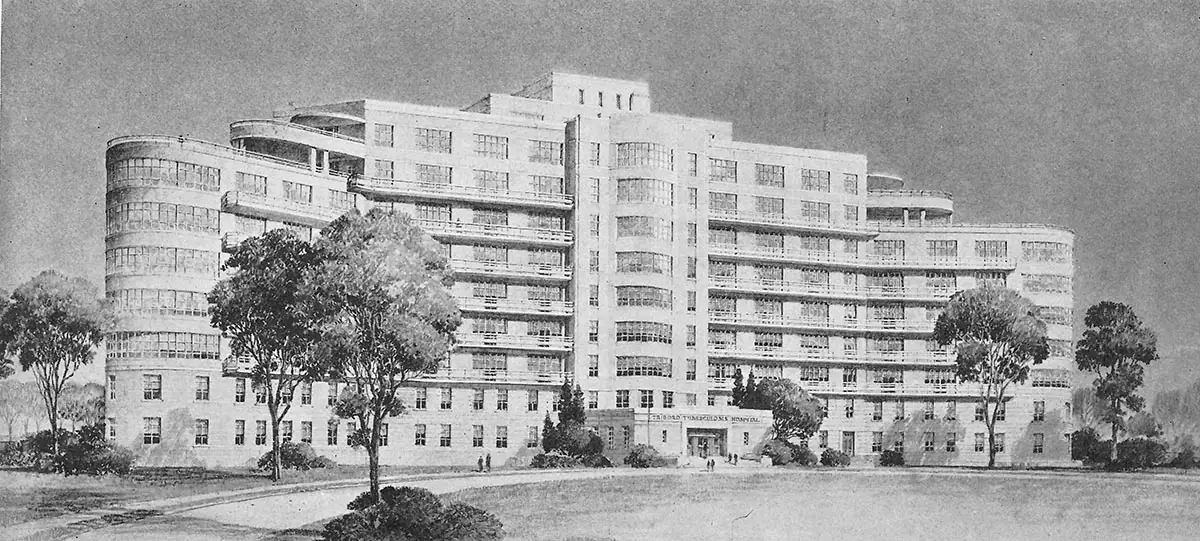 The architects published a rendering of the 550-bed hospital in the August 1938 issue of RECORD.
"Ample wholesome food, fresh air, regulated amounts of sunshine, rest" are what patients of the Triboro could expect, according to RECORD in August 1938, when the magazine published plans and a rendering of the building, then breaking ground. Tripar­tite organization and clear axiality are complemented by distinctly moderne details: rounded corners, semicircular solariums with ribbon windows, cascading rooftop terraces, and a central prow with a bowed window bay. Though the buff brick-and-limestone structure is 10 stories tall, the plans reveal its long and narrow nature, allowing patients equal access to the sun. This horizontality is further stressed by long cantilevered balconies and brick reveal courses at the base.
Each wing of the hospital terminated with a solarium, where patients could undertake "heliotherapy". Courtesy Gottscho-Schleisner, Library of Congress Prints & Photographs Division (LC-G612-39091).
Today, the former hospital is known as the T Building. "It doesn't look like affordable and supportive housing, but it is," says Maggie Poxon, Dunn Development's project manager, as she spirited me around, punch list in hand, "but only after years of painstaking work." Decades of water infiltration, ad hoc interventions, and rampant disregard resulted in widespread spalling, boarded-up windows, collapsing ceilings, and an infestation of raccoons. The hospital had fallen into such a decrepit state that film crews used it to depict the fictional Arkham Asylum in the television series Gotham.
Initial redevelopment plans for market-rate senior housing were derailed by the 2007–8 recession, and, in 2012, a proposal to convert the building entirely into housing for people experiencing homelessness prompted outcry. "The community board went wild," says SLCE partner Saky Yakas. Many from the neighboring residential enclave Parkway Village called for the building's demolition (ironic, given that community's history as former worker's housing for United Nations staff, many of whom were people of color and had difficulty finding housing elsewhere in the city). "The project was a political football. The Land­marks Preservation Committee didn't want to landmark it, either" says Judy, who, alongside architectural historian Kerri Culhane, got the building on the National Register of Historic Places instead.
But, in 2014, the city selected Dunn, a Brooklyn-based developer, to rehabilitate the 243,000-square-foot hospital as 125 units of affordable housing and 75 units of supportive housing. The developer, which previously collaborated on nearly 30 low-income housing projects with SLCE, engaged community stakeholders and organized tours of those buildings to quell skepticism and build trust. "First, we listened. But we also presented a lot of demographic and economic data that challenged their assumptions," says Dunn president Martin Dunn. Under the final agreement, the city's public-hospital system continues to own the T Building and its site, but a 99-year ground lease was extended to the developer in exchange for the building's rehabilitation, including 12,800-square-feet of office space for the adjoining Queens Hospital Center.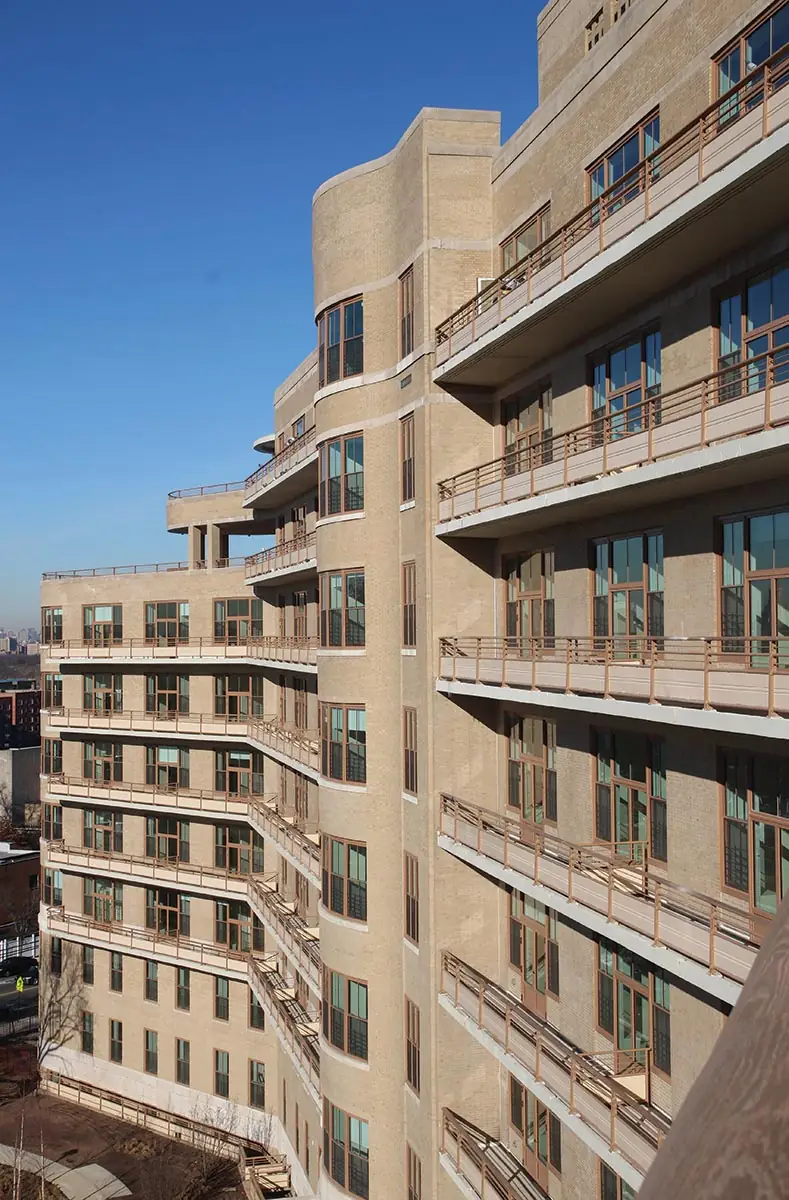 From the upper balconies, residents have panoramic views of Queens and Manhattan. Photo © Dunn Development
In some ways, the rehabilitation effort benefited from the building's neglect. When construction began in July 2019, most of the original materials, including marble in the lobby, bronze grilles, terrazzo floors, teak handrails, glass and tile blocks, and steel sash windows, were still intact. On the other hand, restoring the Schuster two-way structural system—fireproofed steel with terra-cotta block and reinforced-concrete infill—proved an arduous, if expensive, challenge. Without many redundancies, the "grid is sacrosanct. If one of the ribs is cut, the entire span needs to be reinforced with steel," Poxon explains, and the discovery that the hospital had cut holes through it came with an unexpected $1.5 million price tag.
To finance the $84 million construction cost, Dunn Development turned to two federal tax-incentive programs. The Federal Historic Preservation Tax Incentive, administered by the National Parks Service in coordination with each State Historic Preservation Office (SHPO), and the Low-Income Hous­ing Tax Credit (LIHTC) program, administered by the U.S. Department of Housing & Urban Development in coordination with various state and local agencies, which allocate $8 billion in tax deductions for projects every year, together funded $53 million, with tax benefits passed on to equity investors.
Balancing the competing interests of these two programs—retaining historically significant architectural elements from the hospital and providing housing that doesn't feel institutional to tenants (who must make 60 percent or less of the Area Median Income)—was no easy feat. "Meeting the Secretary of the Interior's standards and allowing the flexibility needed for new proposed uses can be a pretty nuanced conversation," says Olivia Brazee, historic-site restoration coordinator at the New York SHPO. For example, observation windows, which allowed nurses to monitor patients from the hallways, were integral to the original program. Many had been covered in the decades leading up to the renovation, and they would not have satisfied residential fire-safety codes had they been fully restored. The solution came in the form of "a frame that recalled the presence of a window," Brazee says, where the nonprofit Photoville will install artwork on a rotating basis. Maintaining the original 10-foot-wide corridor, also a requirement, pushed SLCE to be creative with apartment layouts, which needed to contend with the locations of existing windows, mullions, and access to balconies. The units range from studios to three-bedroom apartments, creating a mix of household sizes. "A more diverse community is a stronger one," Dunn points out.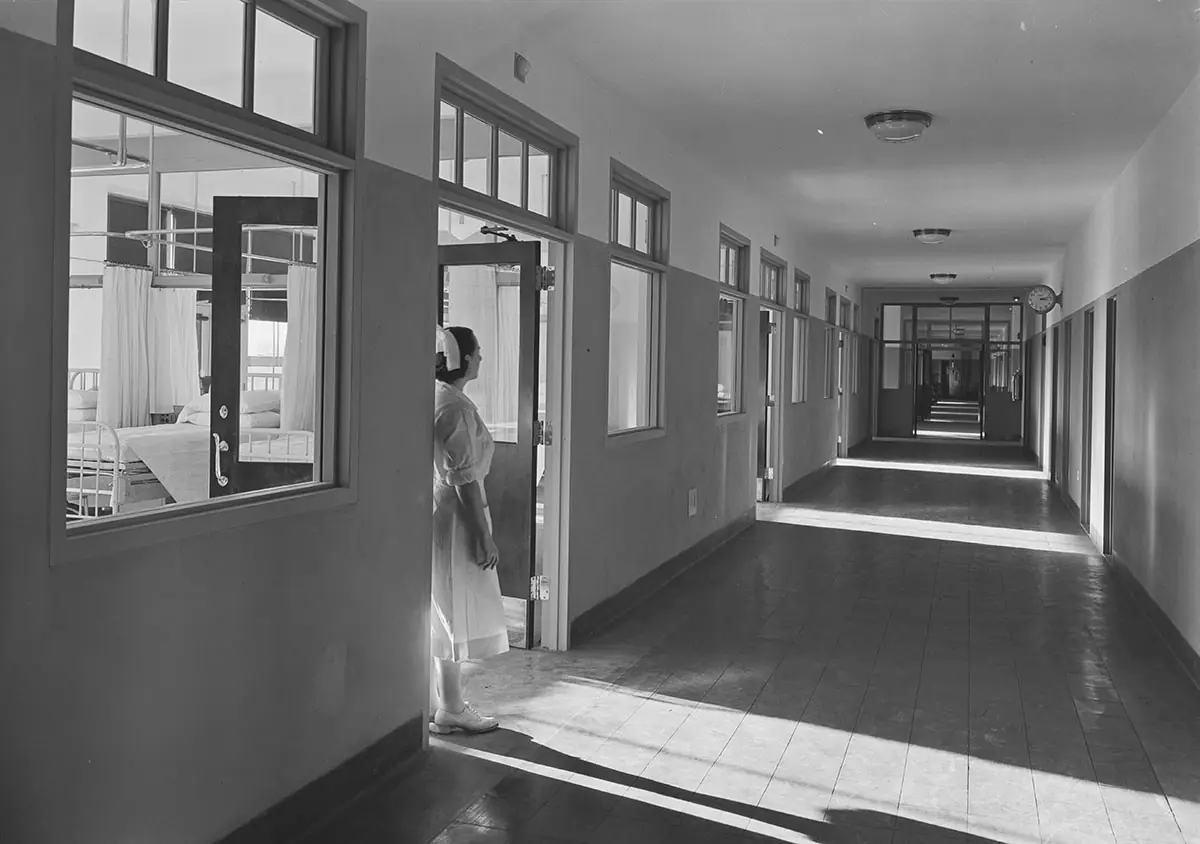 Corridors of the hospital were lined with observation windows. Courtesy Gottscho-Schleisner, Library of Congress Prints & Photographs Division (LC-G612-39053).
Significantly, had the former hospital been demolished, current zoning only permits the construction of a four-story residential building. "Here, historic preservation preserved density as well," Dunn adds.
The former hospital's auxiliary spaces were also easily repurposed for amenities or to aid supportive housing (which is housing complemented by on-site social services). Telephone booths and fluoroscopy rooms were converted into a suite of offices for the Church Avenue Merchants Block Association, which assists residents transitioning out of homelessness with on-site case managers and recreation aides. Nonprofit ChaShaMa will offer affordable studio spaces to artists, who will in turn teach classes. Other amenities include a ninth-floor community room (once a small theater for visiting thespians, to keep patients in high spirits), along with a computer lab (the hospital's former medical library), on-site laundry, and a fitness center. Outside, amid a pollinator garden designed by NV5, children can enjoy a playground. And there is free Wi-Fi building-wide—"this fourth utility is an issue of equity. Dunn Development provides supportive-housing tenants with Chromebooks, and social services train tenants how to use them," Poxon says. With only minor work on the community center left, the T Building is already 100 percent occupied.
Dunn Development received over 37,000 applications through the NYC Housing Portal. Those numbers can be interpreted as an indication of the project's appeal, but they also highlight the extreme, continued need for more affordable housing. New construction isn't the only way to meet that need—adaptive reuse has an important role to play. The T Building not only stands as an example that underutilized buildings can be made into durable, dignified housing, but it shows what's possible when architects, developers, preservationists, policymakers, and community stakeholders work together in a way they seldom do.
Click plans to enlarge

Original (left) and renovated (right) typical floor plans.