✕
A municipal office building is a tricky design problem. It needs to have a civic presence—a sense of dignity—but without being imposing. It should offer work environments that help city employees do their jobs and feel valued, but it can't seem extravagant, lest taxpayers say too much money was spent. And it should enrich its surroundings, rather than just benefit those who work within.
Designed by Skidmore, Owings & Merrill (SOM) and completed in late 2021, 49 South Van Ness (49SVN), an office building for the City of San Francisco, checks all the boxes. The 16-story, 564,000-square-foot structure, in a rapidly densifying neighborhood just south of the Civic Center, with its government buildings and cultural institutions, consolidates the previously scattered departments for planning, building inspection, and public works under one roof. It fulfills a longtime city goal of establishing a one-stop permitting center, where the public can obtain the necessary paperwork for construction and special events and business licenses. And it encloses these functions within a crisply detailed glass curtain wall. Together with an adjacent SOM-designed 40-story residential tower, 49SVN defines an informal pedestrian-scaled public space that integrates it into the urban fabric. It is not a place apart but is "consciously part of the city," says Craig Hartman, SOM's design partner on the project and now a consulting partner.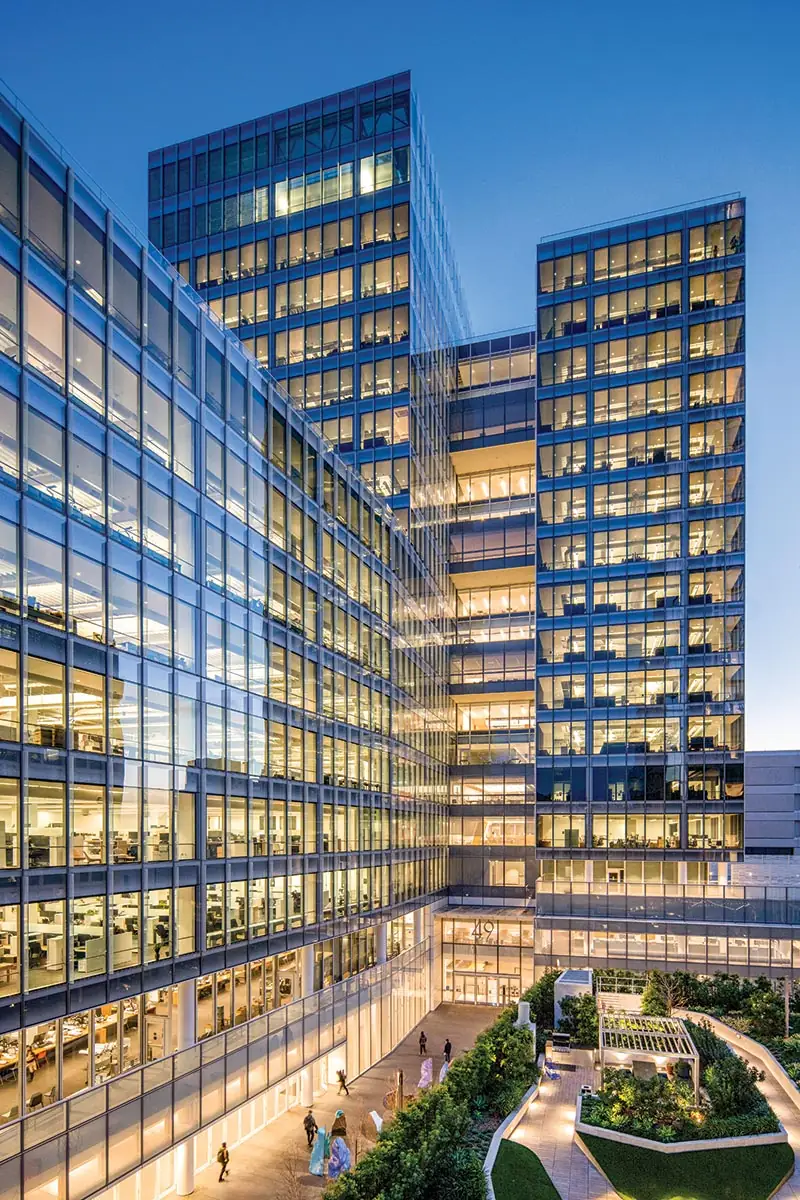 1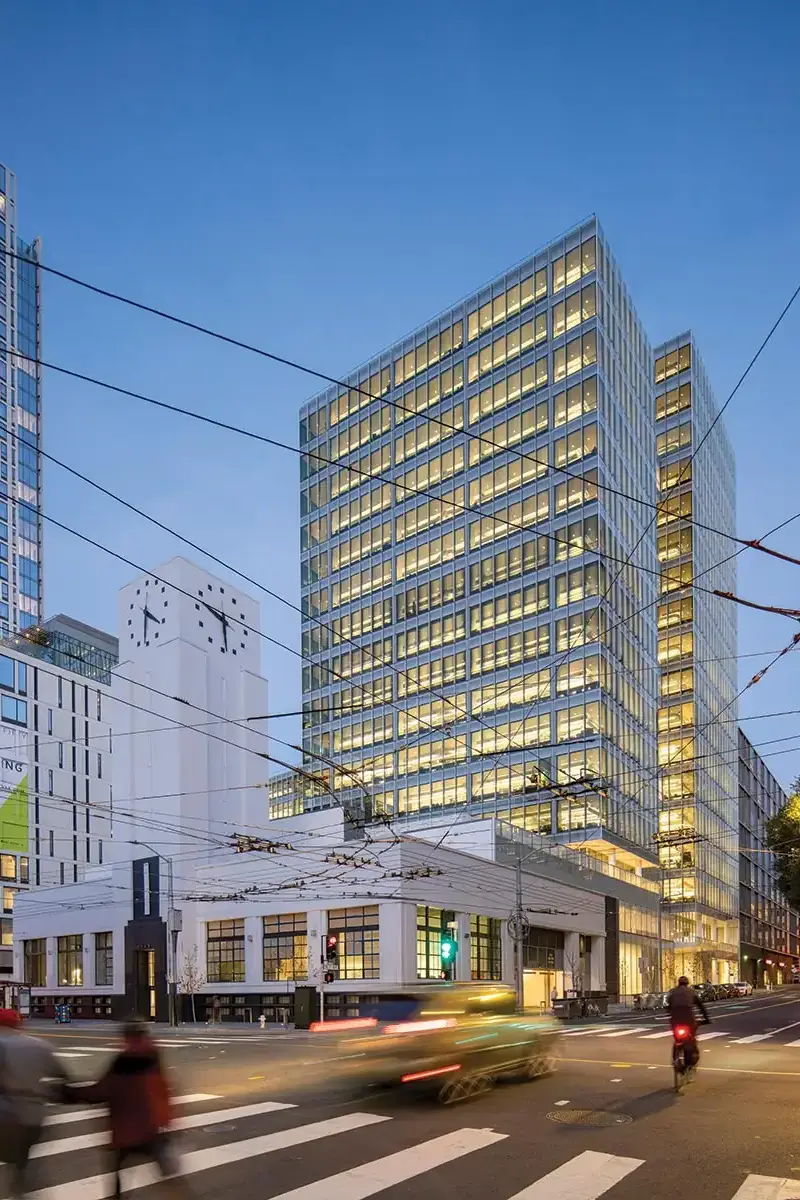 2
The main entrance to 49SVN (1) is on axis with the route from Van Ness. The development includes an adapted former bottling plant (2) that is now a women's health clinic. Photos © Jason O'Rear, click to enlarge.
Although 49SVN is a public building, the $235 million project for 1,800 city workers would probably not have been built without the initiative of private developer Related Companies. In 2014, it acquired the 2.5-acre property at the intersection of major city thoroughfares Van Ness Avenue and Mission Street. That half-block site, long the home of a Goodwill thrift store and that organization's San Francisco headquarters, had been rezoned by the city in 2008 and identified as the eventual location of three apartment towers totaling 1.2 million square feet. But, according to Matthew Witte, executive vice president at Related California, developing that many apartments at one time was not financially advantageous. "We would have had to carry a number of units for years," he explains. Instead, knowing that one ambition of then-mayor Edwin Lee was to consolidate dispersed city departments and streamline its famously byzantine permitting processes, Witte successfully proposed another rezoning that would allow development of a municipal office building on part of the site and an apartment tower on the other.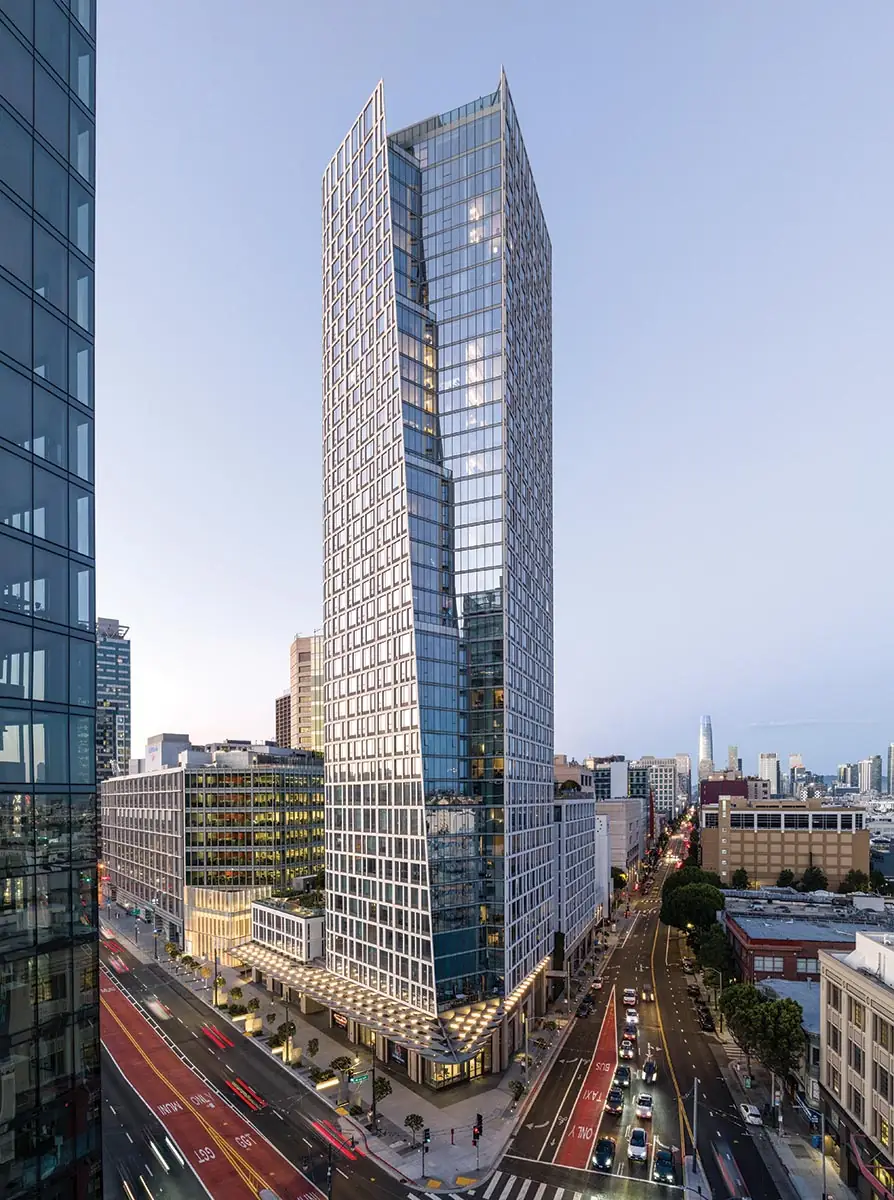 A 40-story apartment tower anchors the development. Photo © Jason O'Rear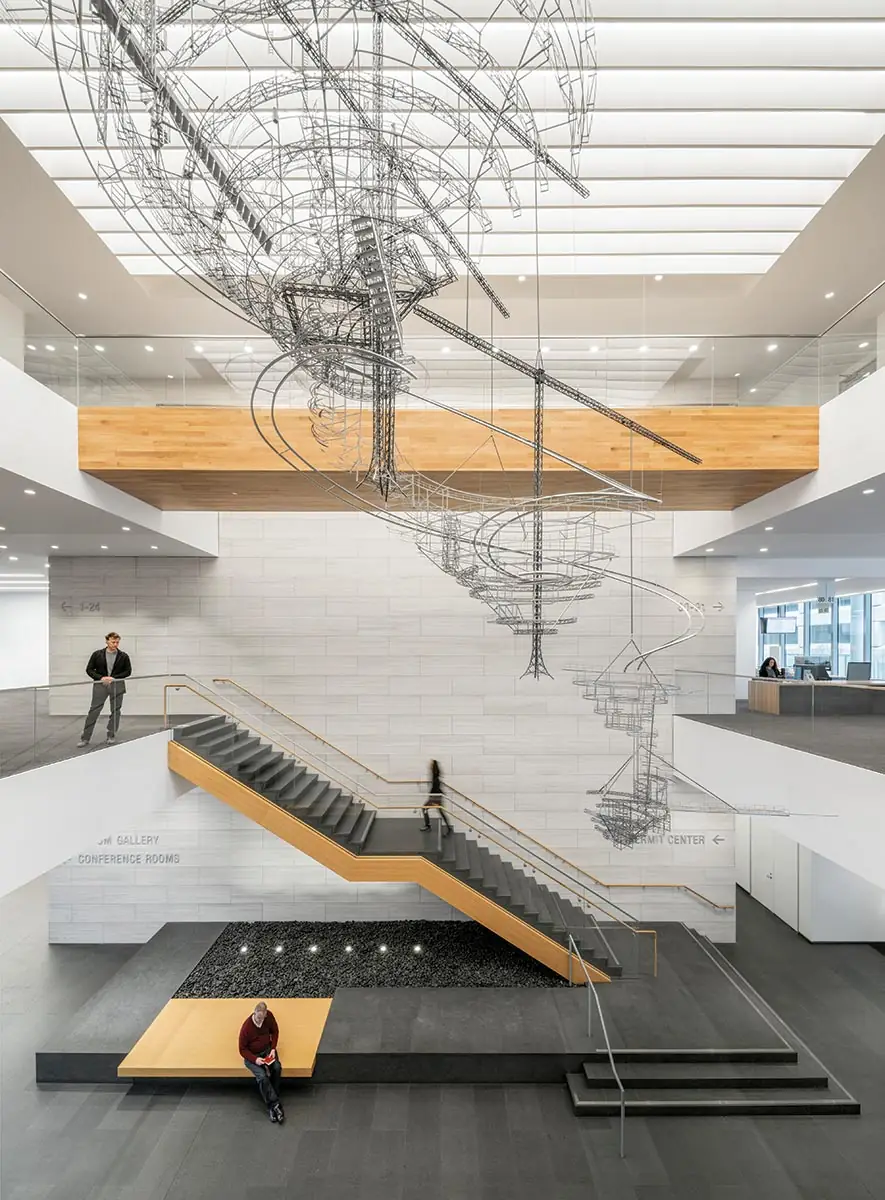 A sculpture by Sarah Sze is suspended within the multistory entry atrium. Photo © Jason O'Rear
In SOM's completed scheme, the apartment building anchors the intersection of Mission and Van Ness. This sandstone-colored precast-concrete clad tower rises from a landscaped podium and contains 550 rental units, 110 of which are designated as affordable. The office building has a much lighter and more transparent expression: its curtain wall includes vertical fritted glass fins and glass spandrels incorporating multiple layers of frit as well as white back-paint to subtly differentiate them from the rest of the skin. L-shaped in plan, 49SVN is pushed to the site's northern and eastern edges, with a nine-story wing forming the L's long leg and the 16-story tower forming the shorter one. The long lower wing directly abuts another city office building, a 1950s structure housing the Municipal Transit Agency (MTA) that occupies the northern half of the block.
The development's configuration allows for two interconnected "paseos," or pedestrian passages. These sprang from a city planning requirement for midblock links when a lot exceeds a certain size. Arguably, they were not necessary in this instance, due to the site's dimensions and the presence of the MTA building, which made a true through-block passage an impossibility. Nevertheless, the design team embraced the concept. "We wanted to make the complex as porous as possible," says Hartman.
Because of the paseos, the public and city employees can approach 49SVN from multiple directions. But most people are likely to come from Van Ness, where the scale of the building steps down to form a street-facing glass box etched with the city seal and enclosing a small event space, creating what the team refers to as a "civic lantern." To reach the main entrance, people then walk along the pedestrian passage, which includes a corner café with outdoor tables, trees (though still young ones), benches, and public art. Operable glass panels at 49SVN's base will allow the activity inside a ground-level conference center to spill outdoors. The building's occupants had no such urban amenities at their prior office locations, according to Maia Small, who is now planning director at the MTA and was involved in the project in her previous role as a principal for urban design in the planning department. They were so unaccustomed to such features that, on seeing the paseo for the first time, many asked, "Are you sure we are supposed to be here?" she says.
Once inside, both employees and permit-center customers are greeted by an atrium that clearly shares DNA with the central space at SOM's 2016 U.S. Courthouse in Los Angeles, for which Hartman was also design partner. As in the earlier building, a gracious stair ascends one side of the multistory volume, and bridges cross overhead. While the 49SVN atrium is not skylit, a louvered ceiling and LEDs evoke the feel of daylight. The scale, however, though still civic in character, is much different (three stories versus 10), and the finishes, which include oak, black granite, and a beige marble, are warmer and more approachable than the courthouse's all-white polished surfaces. "It is meant to be modest," says Mark Schwettmann, SOM design principal, of the 49SVN lobby.
On the second level, off the atrium, the "one-stop-shop" permit center is located. Here reviewers meet with applicants at low desks, rather than from behind off-putting counters, and customers, notified of their place in line by a digital queuing system, can wait their turn in seating overlooking the paseo or on outdoor terraces.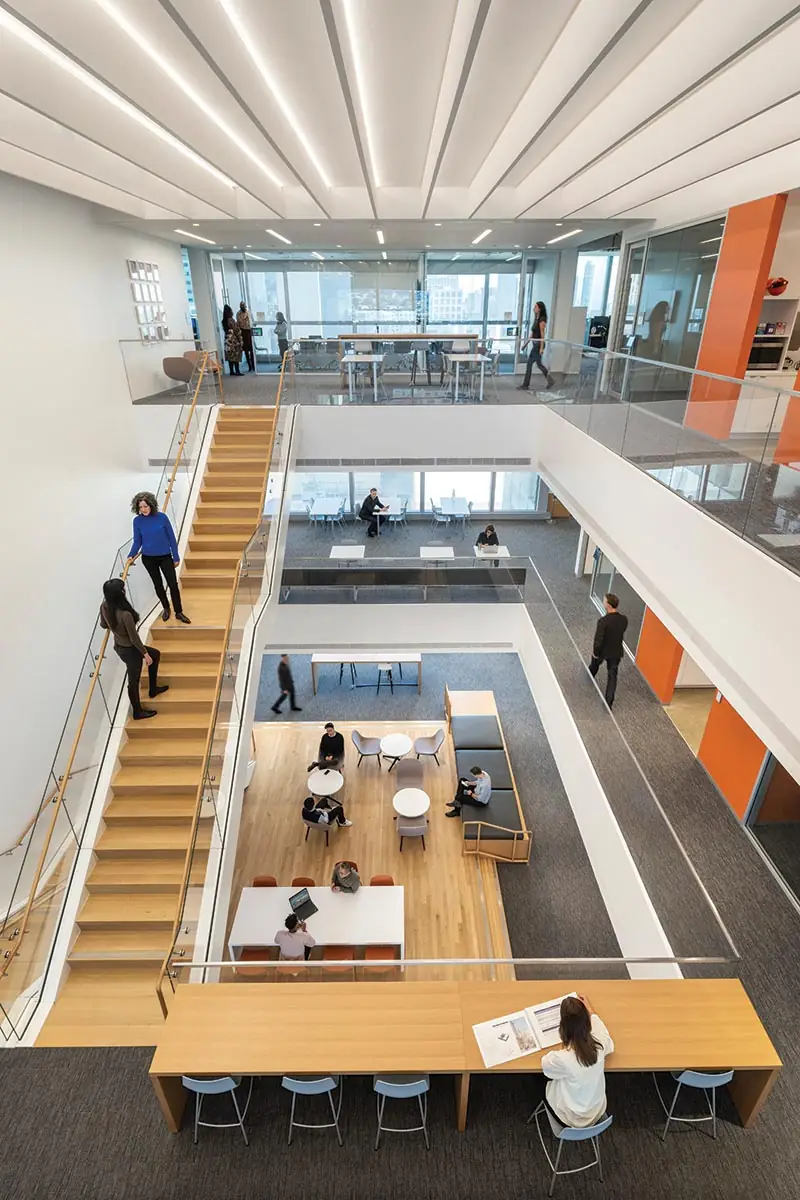 4
In the permit center, reviewers meet with applicants at desk-height counters (3). The office levels are organized around three-story collaborative atria (4) and include adaptable conference rooms with sliding glass doors (5). Photos © Jason O'Rear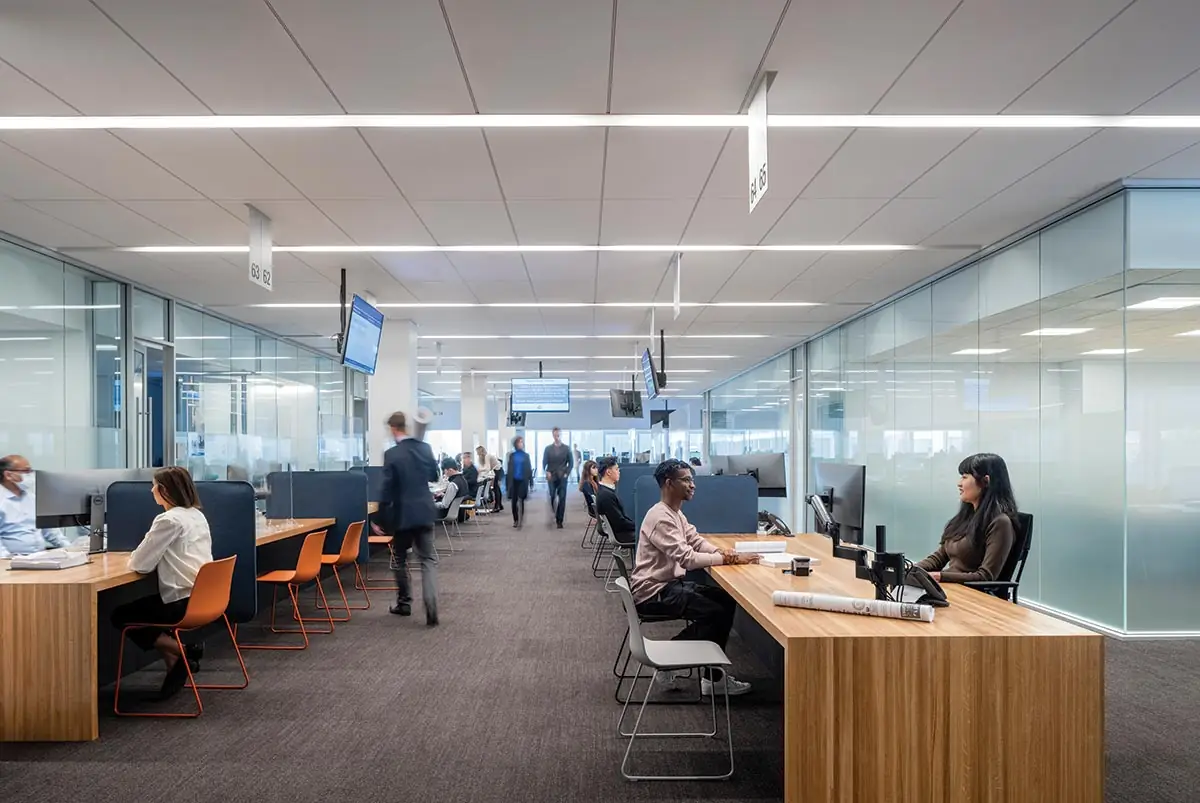 3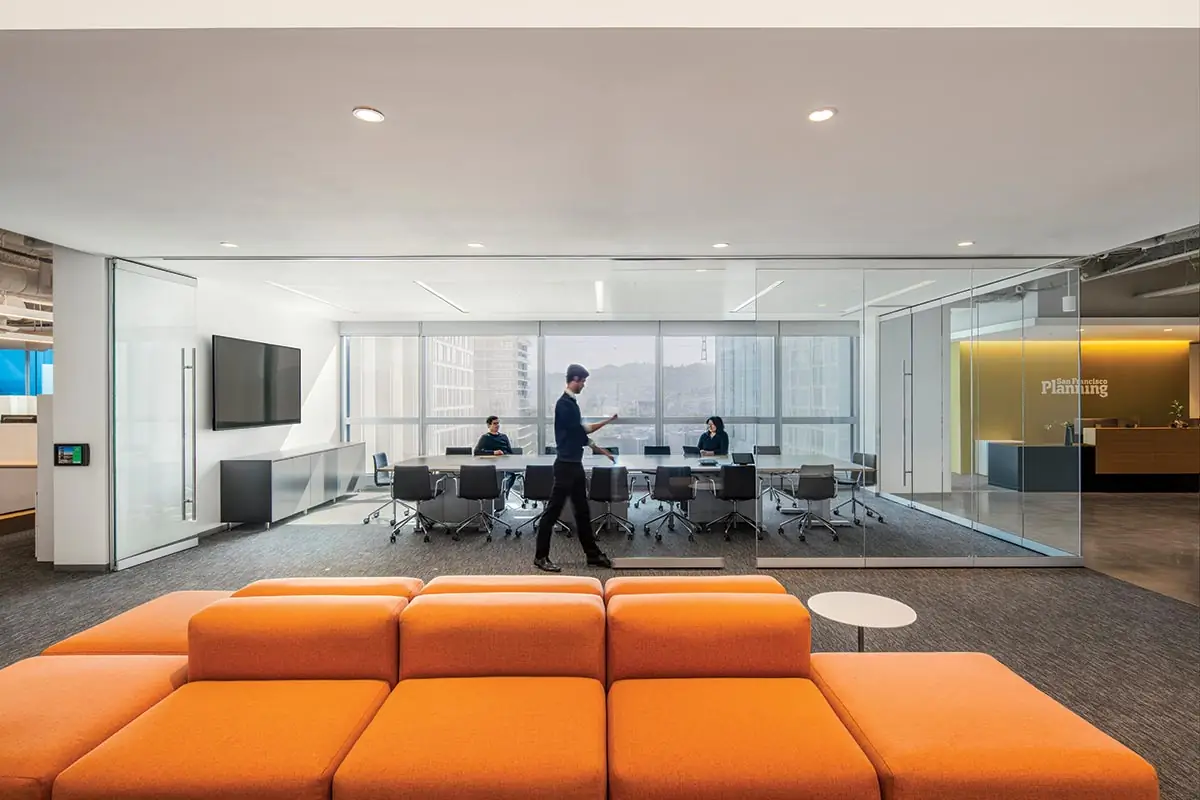 5
The office levels above the permit center are organized in three-floor stacks, each arranged around its own multistory collaborative space. The individual work areas, primarily arranged as open offices, are no-nonsense, with ceilings of exposed fireproofed metal deck. But they have noteworthy assets, including 13½ foot floor-to-floor heights and narrow floor plates, with nearly all desks less than 30 feet from a window. Many are directly adjacent to the full-height glazing, a placement made possible by the building's electrochromic glass, which automatically darkens in sunlight, working in combination with the exterior's fritted fins to cut heat gain and glare without the need for blinds. Although the blue cast produced on the interior by direct sun on the glass is somewhat strange (creating an almost underwater effect), even in those conditions it is possible to enjoy the views, which are especially spectacular from the upper floors, offering sight lines to City Hall's dome, the downtown skyline, and San Francisco Bay.
The responsive skin, which enhances occupant comfort in addition to cutting cooling requirements, is one of many elements contributing to 49SVN's LEED Platinum certification. The building also has a highly efficient mechanical system, takes advantage of graywater reuse, and offers electric-vehicle charging stations in the below-grade parking garage. Solar panels on the roof satisfy only about 2 percent of 49SVN's electricity demand, but the rest is supplied by hydropower, making the building operationally carbon neutral, notes Schwettmann.
According to the design team's estimates, the build-to-suit facility's price—about $416 per square foot—was equivalent to that of a speculative office tower. With its high-performance attributes, its worker-centric features, and its contributions to the broader urban environment, the citizens of San Francisco clearly got their money's worth, and more.
Click diagram to enlarge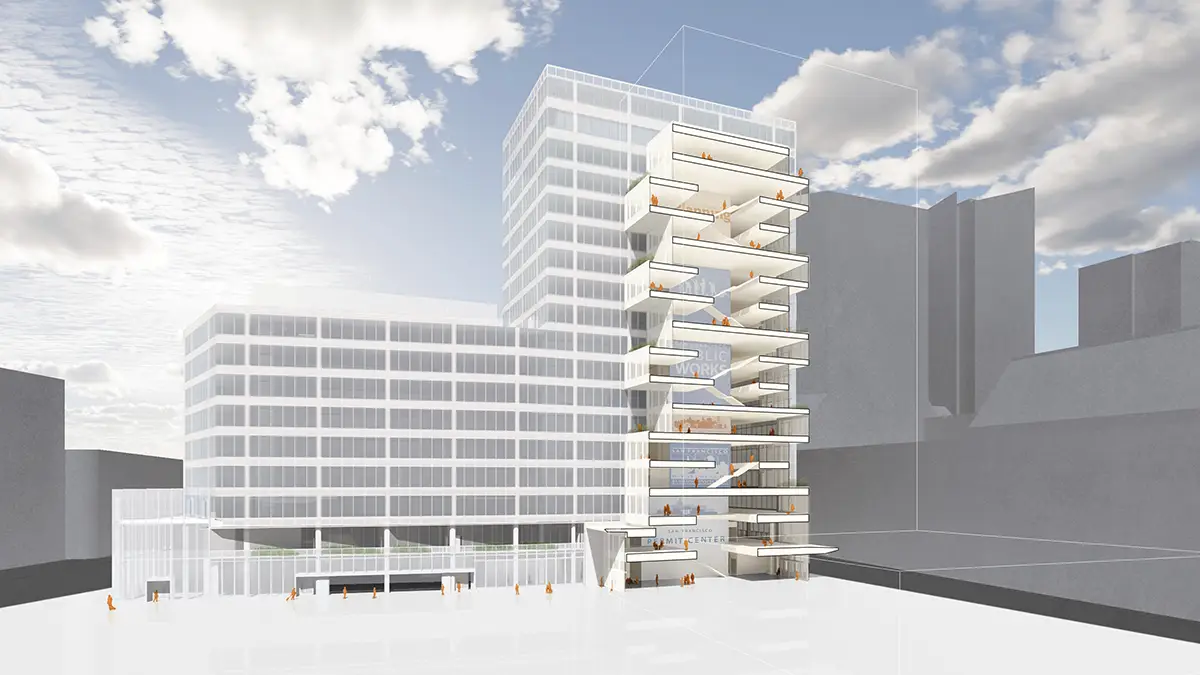 Click plan to enlarge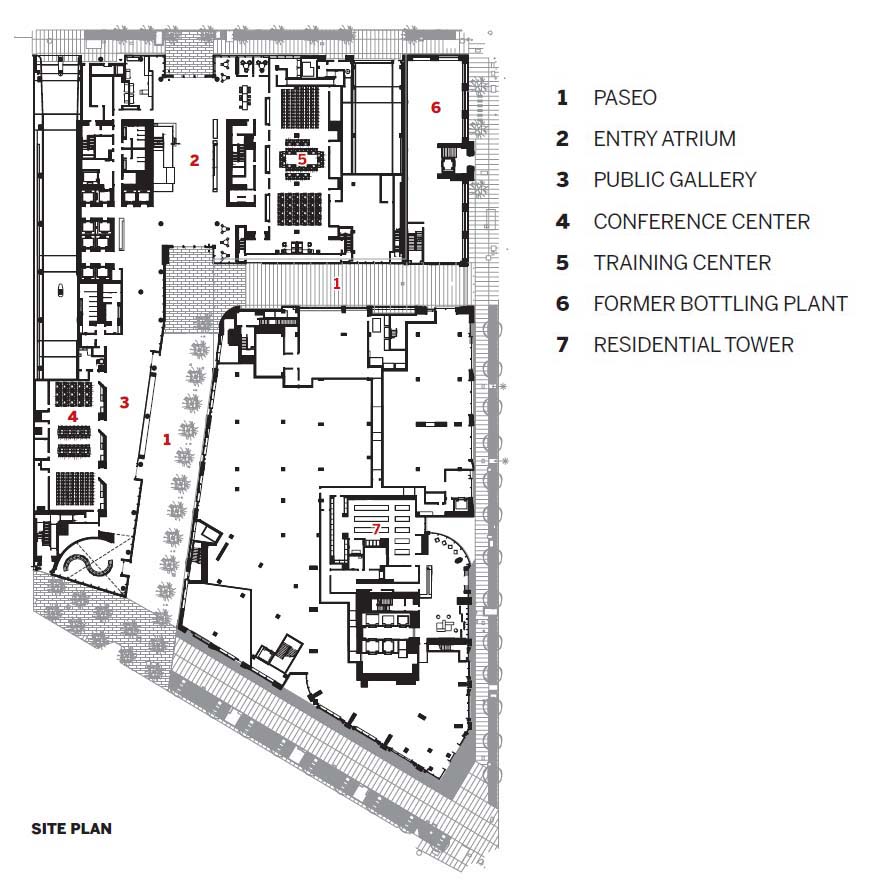 Click plans to enlarge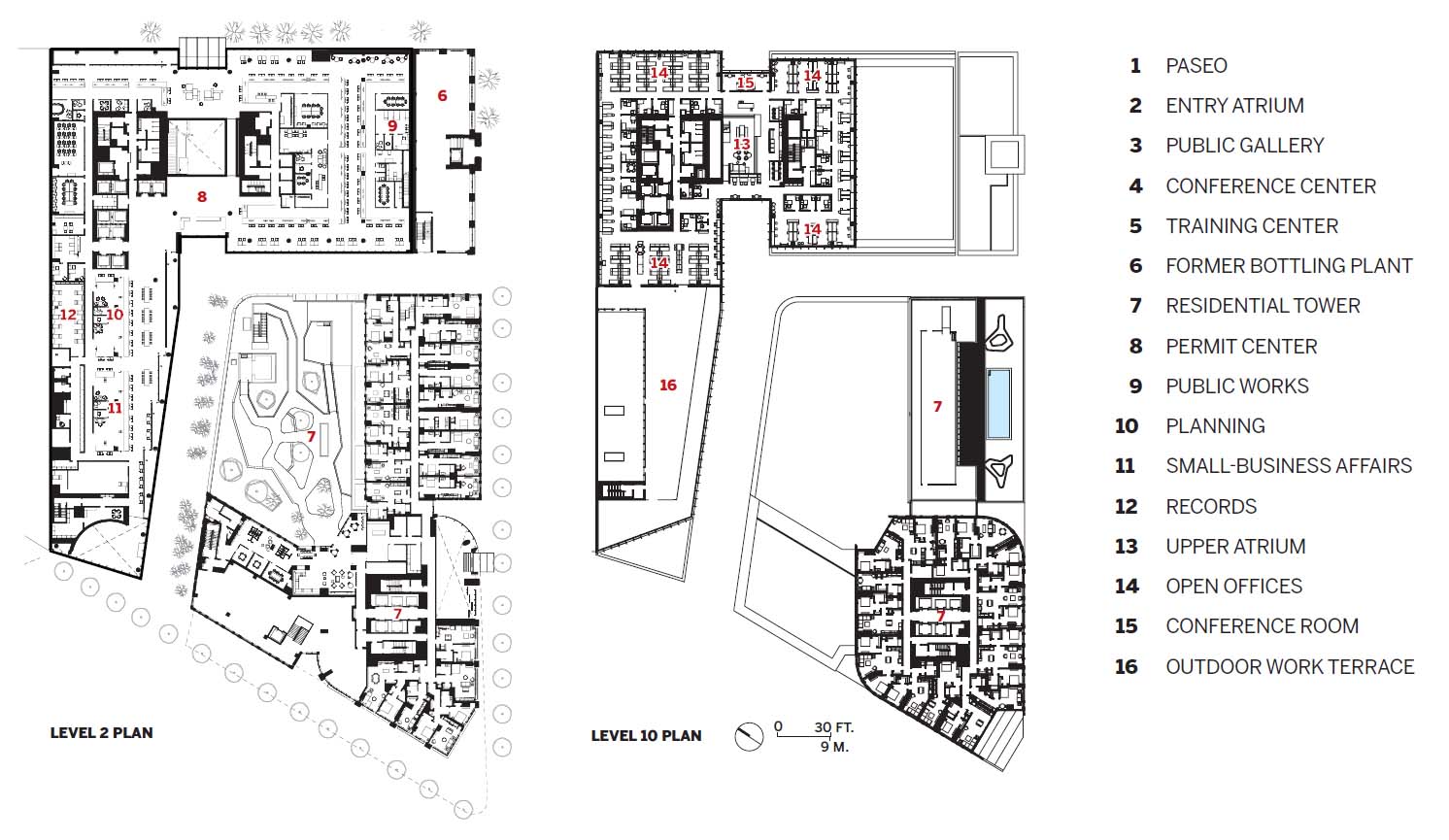 Credits
Architect:
Skidmore, Owings & Merrill — Craig Hartman, design partner; Carrie Byles, management partner; Keith Boswell, technical partner; Mark Schwettmann, design principal; Lonny Israel, SEDG principal; Kotting Luo, architecture leader, design; Kye Archuleta, architecture leader, management; Michael Oerth, Aaron Baumbach, architecture leaders, technical
Associate Architect:
Karin Payson architecture + design
Consultants:
DCI Engineers (structure); Urban Design Consulting Engineers (civil); Langan Treadwell Rollo (geotechnical); Frank M. Booth (mechanical); Electrical Enterprise (electrical); Cal Pacific Plumbing System (plumbing); The Fire Consultants (fire protection); TS Studio (landscape); Urban Fabrick (LEED)
General Contractor:
Pankow
Client:
Related California
Owner:
The City and County of San Francisco
Size:
564,000 square feet
Cost:
$235 million
Completion Date:
December 2021
Sources
Glazing:
View; Interpane
Fire Control Doors:
Smoke Guard
Metal Panels:
Bok Modern
Hardware:
Schlage; LCN; Von Duprin; Blumcraft; Alumaglide; Microbiz Security Company
Floor and Wall Tile:
Daltile; Superior Tile & Stone
Lighting:
Lumenwerx; Lumenpulse; Bega; Optic Arts; Edison Price; Focal Point; Lithonia Lighting; Lightolier; Bega; Pinnacle Architectural Lighting; USAI Lighting; Hevi Lite