✕
On Friday evening, March 24th, the winner of the 2023 Mies Crown Hall Americas Prize (MCHAP) was announced in Chicago. The venue was Crown Hall itself, a steel and glass masterwork by Mies van der Rohe on the campus he designed for the Illinois Institute of Technology (IIT). Jury chair Sandra Barclay presented the award to the studio of Mexican architect Mauricio Rocha for its expansion of the Anahuacalli Museum in Mexico City.
Intended to be biennial, the prize was last given in 2018 to Barclay and Jean Pierre Crousse, and then the cycle was interrupted by the COVID-19 pandemic. The accolade, which honors architectural achievement throughout North and South America, includes the MCHAP Chair at IIT's College of Architecture and a grant of $50,000 to be used for teaching, public lectures, and research towards a publication.
Rocha's expansion of the Anahuacalli Museum was completed in June 2021, qualifying for the fourth cycle of MCHAP, which considered projects completed between December 2018 and June 2021, by just a hair.
Joining Barclay on the 2023 jury were MCHAP director Dirk Denison, Monica Bertolino, Alejandro Echeverri, Julie Eizenberg, and Philip Kafka. The five other finalists were Guadalupe Market in Tapachula, Mexico, by Colectivo C733; the Menil Drawing Institute in Houston by Johnston Marklee; Park in the Prado neighborhood in Medellín, Colombia, by the Mayor's Office of Medellín – Secretary of Infrastructure; the Polygon Gallery in North Vancouver, British Columbia, by Patkau Architects; and Valois Housing Building in Asunción, Paraguay, by José Cubilla. "For us, this group of projects reflects and represents the concerns and investigations that are critical to architectural production at this time," said Barclay in a statement. "We made an effort to analyze the quality and impact that each one of them has on its environment and community, measured in response to contextual conditions."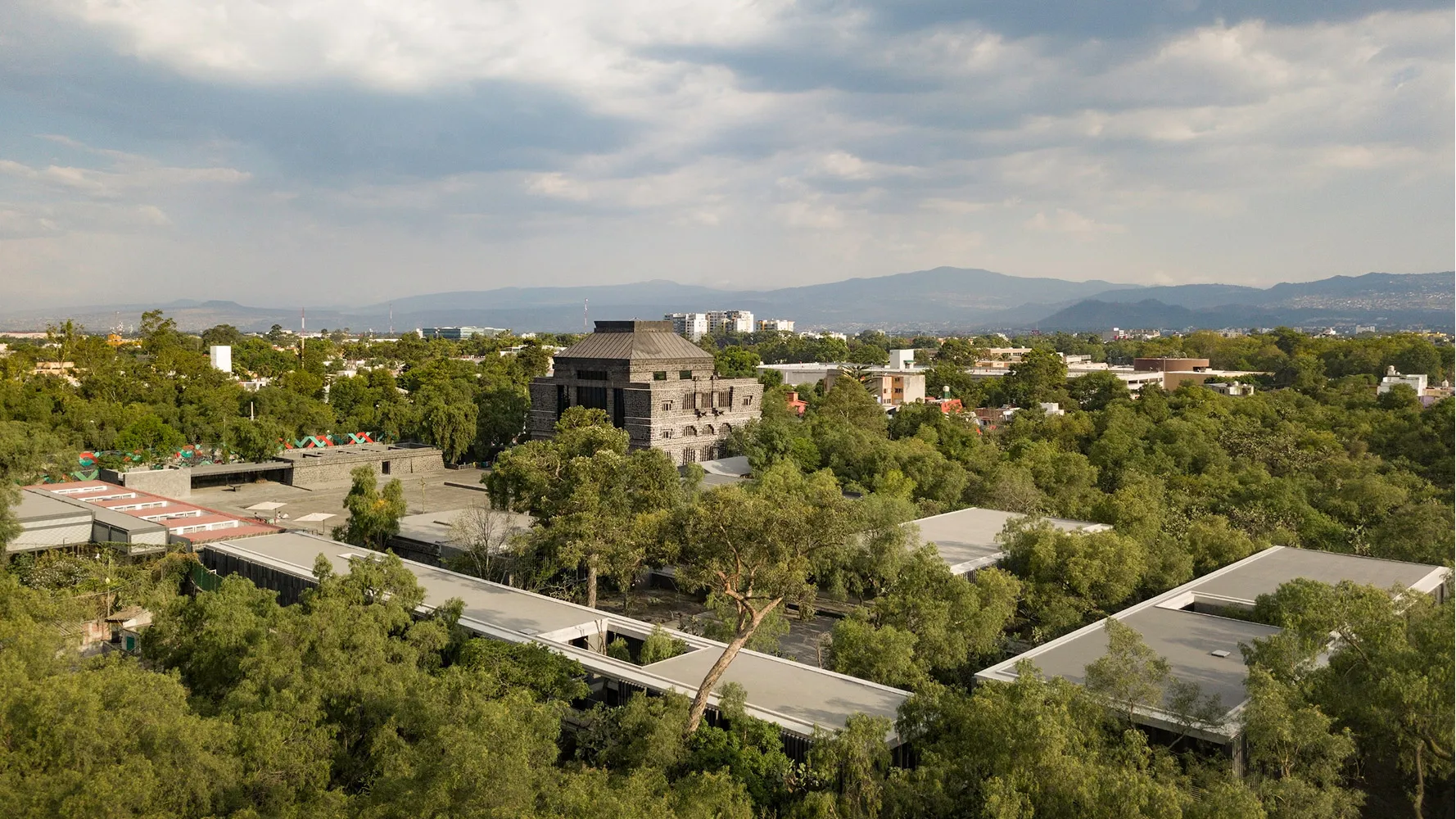 Overhead view of Diego Rivera's Anahuacalli Museum campus in Mexico City. Rafael Gamo / Onnis Luque
In Nahuati, the language of the Aztecs, "Anahuacalli" means "house on land between two seas." Mexican muralist Diego Rivera designed the original museum in 1942, for a site in Coyoacán, a residential district where he lived with his wife, painter Frida Kahlo, eight miles south of the historic center of Mexico City. His goal was to preserve and display his vast collection of pre-Columbian art and artifacts and to create a "city of arts." He worked in collaboration with architect Juan O'Gorman. The building is a compact cubic mass of three stories composed symmetrically in a Beaux Arts manner and topped by a hipped roof. Made of locally quarried and extravagantly carved volcanic stone, its architecture is an homage to Aztec and Mayan temples, and known colloquially as "the pyramid."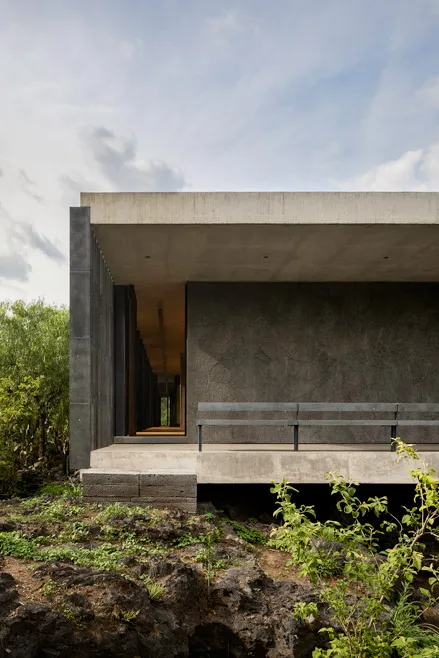 Exterior view of a new pavilion at the Anahuacalli Museum. Photo © Rafael Gamo / Onnis Luque
This exercise in Mexican historicism was an interesting detour for O'Gorman, one of Mexico's foremost modernists. His early buildings, including nearby twin houses for Rivera and Kahlo, had a distinctly Corbusian flavor. But by the 1940s, the architect had grown weary of the International Style, regarding it as an "invasive species," and turned instead toward an indigenous Mexican aesthetic. After Rivera's death in 1957, O'Gorman, working with the artist's daughter Ruth, completed the museum project, adding four low pavilions to frame a courtyard.  
Ironically, the spare, reductive character of Rocha's work seems to reconnect the museum with the modernism O'Gorman sought to leave behind. The additions are a series of flat-roofed, rectangular pavilions, rendered in volcanic stone and concrete, which create a second courtyard. The new structures are long and low, deferring to the older, more vertical building and aligning approximately with its ground floor. They contain galleries, rooms for "plastic arts and mathematics," offices, and a workshop with a large dance hall that doubles as a venue for conferences and concerts. Sitting just above the site's carefully preserved topography of lava stone, the buildings are as porous and transparent as the pyramid is hermetic and opaque; several are enlivened by walls of concrete slats, which function as vertical brises-soleil. The configuration of pavilions and open spaces, says Rocha, "generates a game of light and shadows and visual lines, which adapts itself to the general geometry of the buildings and the landscape."
"Mauricio Rocha works in a very subtle and sensitive way and respects the history and memory of the original buildings, their intent, and the natural habitat in which they exist," said Barclay. "He creates an experience that is connected and at the same time distinct. His project honors the past, but also distinguishes itself, and in doing so, takes the institution's performance and ability to engage to another level."