David Mohney has taken a one-year-leave from the University of Kentucky College of Architecture to help create the Michael Graves School at Kean University, which will have two campuses, one in New Jersey and the other in Wenzhou, China.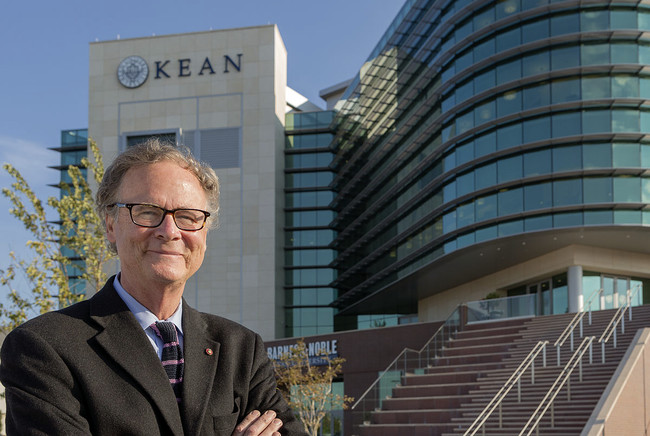 On Saturday, Michael Graves, who has taught at Princeton University since 1962, was honored by a less famous New Jersey institution: Kean University, a school with two campuses in the northern part of the state. The ceremony marked the opening of Kean's newest division, the Michael Graves School of Architecture, for which the 80-year-old architect is helping to plan the curriculum. Among those joining Graves at the ceremony was David Mohney, the school's acting dean, who studied with Graves at Princeton more than 30 years ago. After receiving his M.Arch. from Princeton, in 1981, Mohney practiced in New York for 10 years (with several stints teaching at Harvard's Graduate School of Design) before becoming dean of the University of Kentucky College of Architecture. He left after 14 years as dean to set up and run the Curry Stone Design Prize—an award that recognizes new design ideas with global impact. Still on the Kentucky faculty, he has taken a one-year-leave to help create the Michael Graves School, which will have two campuses, one in New Jersey and the other in Wenzhou, China. 
But the decision to open an architecture school in New Jersey left some bewildered. James Castiglione, the head of the Kean Federation of Teachers, which represents the 600 or so faculty and professional staff at the public university, has said, "Given that architecture has a high unemployment rates, and New Jersey already has two prominent architecture programs, at Princeton and NJIT, there doesn't appear to be any demand for this hugely expensive program." He has argued that Chinese officials in Wenzhou wanted a new architecture school with U.S. accreditation and that the Michael Graves School was created to serve their needs. The result he says, is that Chinese officials "are driving curricular decision for the students of a New Jersey state university." Mohney responded by phone from his office in New Jersey.
---
Is the Michael Graves School of Architecture a project of the Chinese government?
Some of the accusations have been outrageous. We're trying to create a really good architecture school for the future, which means engaging with global practice while also serving the local community. 
Will there be jobs for your graduates in New Jersey?
It's not accurate to say there aren't jobs for these kids. I ran down the numbers. The Bureau of Labor Statistics said that from 2012 to 2022 there will be a 17 percent increase in architecture employment. [The average growth rate for all occupations is 11 percent.] And the number is even higher in New Jersey.
But you've set your sights beyond New Jersey. Your critics say the tail, which is in China, is wagging the dog in the U.S.
People who come to architecture school today are going to have some kind of global practice. So why not set up a program that facilitates that? Our students will go back and forth between the campuses. They will develop friendships that will ultimately become professional relationships in the largest market in the world. This is an opportunity for New Jersey. The connection to China is a significant one, but the dog is still wagging the tail.
So you're happy having campuses in both places?
Actually, I wouldn't consider not doing it in both cities. I can't imagine a better pedagogical model than one that makes students think about architecture in two very different places. The campuses are complementary.
How will the school be received in China?
There are design professionals there who are very unhappy with the state of Chinese architecture education, because for the most part it derives from a Soviet technocratic ideal; it's all about repetition. A different model of architecture education, one that emphasizes quality, will be welcome in many quarters.
What are your immediate plans for the school?
Pending approval, the program will start on the Union campus in 2015 and in Wenzhou in 2016. We hope to build up to a graduating class of 36 to 40 students on each campus. There will be one dean, because it will be one program on two campuses. Additionally, there will likely be a merging of the Michael Graves school of Architecture with the Robert Busch School of Design, which offers programs in graphic, interior, and industrial design on the Union campus and will begin doing so in China next year.
Was it your idea to name the school after Michael Graves?
The idea came from Kean's president, Dr. Dawood Farahi, and was adopted by the board of trustees in a resolution. I was told about it after I got here in June. 
But you were enthusiastic?
Absolutely. I think it's great. Michael was easily the best architecture teacher I ever had.
How so?
A crit with Michael is like a chess game where he could look moves ahead and explain how you could get where you wanted to go in your design.
Do you have to like his buildings to appreciate his teaching?
No. I think what he does in terms of his own work is personal, but the teaching is about larger principles. He understands that good architecture is good architecture, independent of style.
Michael's building for the Wenzhou campus is in the design development stage. In a promotional video for the school, he said he gives the building an A+. What grade would you give it?
I give it a solid A. I think with barrel vaults are going to make spectacular spaces for the students to work in. And it engages the campus around it.
Is he also a consultant on the master planning of the larger Wenzhou campus?
Yes. He prepared a revision of the overall site plan after new land was acquired for the campus.
Will Graves profit from his arrangement with Kean University?
As far as I know he worked out a contract, like any other architect. I don't think there's anything more to it than that. [According to Marsha McCarthy, a spokesman for Kean University, "Michael Graves Design Group will be paid, as is appropriate, for their design work on our China campus by the Chinese government.]
I'm guessing that the richly colored surfaces of his buildings may prove appealing in a country that has overdosed on the bland and repetitive.
Absolutely. In this part of China, everything is so green, and the colors of the traditional architecture complement that. But the new buildings are mostly gray concrete. I think Michael will enliven the environment with his use of color.
You visited China with Michael. What was that like?
It was a blast. The first thing we went to see was a building he had done in Shanghai, on the Bund. He had never been there, so it was very exciting.  Then we visited a lot of other buildings, old and new, including the latest project by Wang Shu, which Michael loved. If it's good architecture, in any style, he's a fan.