It is with great sadness that the partners of Zimmer Gunsul Frasca Architects (ZGF) announce the passing of Founding Design Partner, Robert J. Frasca, FAIA, on January 3 in Portland, Oregon, at the age of 84 from complications of chronic lymphocytic leukemia.
Since its beginnings in Portland in 1966 as a regional practice, ZGF has grown to be one of the premier architectural firms in the world with 600 employees across six offices in the US and Canada. The firm is known for design excellence in a variety of building types, from health care to universities to projects for the U.S. State Department. In 1991, with a portfolio of distinguished work designed under Frasca's direction, ZGF was honored with the AIA Architecture Firm Award.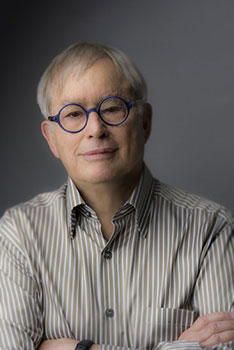 Frasca arrived in Portland in 1959, armed with a Bachelor of Architecture from the University of Michigan (1957) and a Master of City Planning from the Massachusetts Institute of Technology (1959). The move was encouraged by his mentor, MIT Dean Pietro Belluschi, who had practiced in Portland from the 1920s until assuming the deanship in 1951. Frasca worked part time at the firm Wolff and Zimmer Architects and part time at the City Planning Commission. Several months later he was awarded the George G. Booth Traveling Fellowship from the U. of M., given to an outstanding graduate, and traveled throughout Europe and Turkey for 18 months. On returning to Portland (Norm Zimmer sent him a one-way ticket back), Frasca rejoined Zimmer and, along with Brooks Gunsul, formed the firm, Zimmer Gunsul Frasca.
Frasca played an important role in the evolution of Portland as one of America's most livable cities and was instrumental in shaping its skyline. In an era when buildings were most often conceived as isolated monuments with little regard to the surrounding urban fabric, Frasca understood the importance of strong planning and dynamic architecture, no matter the scale, to unite a neighborhood and ultimately to galvanize an entire community. He designed many of Portland's most important civic projects including Waterfront Park (1975-1978), the Oregon Historical Society (1966, 1989), the Oregon Museum of Science and Industry (1992), the Multnomah County Justice Center (1983), the Oregon Convention Center (1990, 2001), and Portland International Airport (1966-2002), consistently ranked as one of the country's most admired airports. He executed the master plan for Reed College and designed many of its buildings as well as those for the Oregon Health Sciences University (OHSU). Other major Portland projects include the Multnomah Athletic Club (1974), Koin Tower (1984), and PGE Willamette Center (1978), now the Portland World Trade Center. He was so prolific that the press coined the term "Frascaville."
Frasca pioneered a holistic and humane understanding of research facilities and pediatric hospitals that focused on occupant wellness and intellectual collaborations in the service of scientific discoveries and positive patient outcomes for some of the world's most urgent medical problems. He integrated nature, healing gardens, and art into his health-care buildings long before research proved their importance. The first buildings of this type that he designed were the Vollum Institute (1987) and the Doernbecker Children's Hospital at OHSU (1998) in Portland. These buildings put ZGF on the map and shortly other institutions were seeking their expertise, leading to commissions for the Children's Hospital of Los Angeles (2011); the Children's Hospital Colorado in Denver (2007); the Fred Hutchinson Cancer Research Center master plan and complex in Seattle (1990-2003); the National Institutes of Health, Mark O. Hatfield Clinical Research Center (2004), in Bethesda, Maryland; the Mortimer B. Zuckerman Research Center at Memorial Sloan Kettering in New York City (2006), the Dana Farber Yawkey Center for Cancer Care in Boston (2011); the Max Planck Institute for Neuroscience in Jupiter, Florida (2012); and the Carnegie Institute for Science in Baltimore (2005).
As his reputation grew, Frasca designed science and engineering buildings, medical school buildings, and research facilities for premier universities across the country, including the University of California Berkeley, Cornell University, Duke University, Stanford University, Williams College, Emory University, the University of Michigan and Johns Hopkins University. The Robert Mondavi Wine and Food Institute at the University of California Davis (2008) combined his love of wine, food, and science. These facilities focused on the student and faculty experience, incorporating landscape, natural light, atrium spaces, informal study and lounge areas and places to meet serendipitously. One unusual project was the LDS Conference Center in Salt Lake City (2000), across Temple Square from the Mormon Tabernacle, with seating for 21,000 and a 4-acre roof garden designed with landscape architect Laurie Olin, a frequent collaborator. Frasca's work in integrative design was the foundation for ZGF's reputation as a leader in sustainable architecture. He also worked extensively with the State Department in the Design Excellence program, building US embassies and consulates in Istanbul, Sofia, Manila, and Capetown.
Frasca was committed to a design process that enhanced collaboration, and the team-based approach he nurtured at ZGF allowed countless young designers to thrive under his mentorship at the firm. He also generously shared his expertise with students and the broader profession, including chairing juries for the AIA National Honor Awards program, the AIA Committee on Design, and the AIA Topaz Awards program. He served on peer reviews for numerous projects and spent 27 years on the University of Washington Architecture Commission, shaping that campus by championing talented designers with whom he would otherwise have competed.
In addition to the AIA firm award, Frasca led ZGF to win numerous other honors. In recent years, he divided his time between Portland and New York, remaining engaged in certain ZGF projects and in the cultural life of both cities.