Robert P. Madison is the face of the Greatest Generation: child of the Great Depression, decorated World War II veteran, pioneering entrepreneur, pillar of his community, civic leader. Or, rather, he should be. In that narrative of the men who defended democracy overseas and returned home to create the most powerful nation on earth, African-Americans like Bob Madison—a great-grandson of slaves who fought and strived to create the first black architecture firm in Ohio and only the 10th in the United States—are inconvenient reminders that bigotry and race violence didn't end with the defeat of Hitler's Germany.
"Back then segregation was rampant. You didn't know what you were going to do," Madison tells RECORD. Now a spry 95 (and a half, he's quick to add), Madison was in New York on February 26, with filmmaker Derek E. Morton, for a screening of Morton's documentary Deeds Not Words: Conversations with Robert P. Madison. The hour-long film tracks Madison's life—growing up in Cleveland, Selma, and Washington D.C.; serving in the 92nd Battalion Buffalo Soldiers regiment in the war; opening his architectural practice in Cleveland in 1954—but given the scope of his experience it's possible to imagine a three-hour version. He was once engaged to Coretta Scott, before her marriage to Martin Luther King. And like King, he battled segregation—professionally, personally, culturally—by building a diverse firm, sitting on institutional boards, and helping elect black politicians. "He's living history," Morton says.
Madison's experience in architecture alone is a microcosm of the 20th-century African-American experience—and the realization of the American dream. Before the war, he studied architecture at Howard University. It was the only career he cared about since, at 6 years old, his mother took a look at a drawing he made of a sailboat and said, "Son, you're going to be an architect." And with the G.I. Bill of Rights in hand after the war, Madison wanted to resume his studies at Western Reserve University (now Case Western Reserve). He was met not with a hero's welcome but bigotry, the architecture dean denying his entry "because we have never had a Colored attend this school." He fought that discrimination, was admitted, graduated two years early, earned his masters at Harvard studying with Walter Gropius, then studied on a fellowship at the École des Beaux-Arts in Paris.
"It was just 50 years from slavery, so there were not many opportunities in any field for anybody," Madison says. "You had no choice but to say you were going to do it. And I never thought in terms of not being successful. We were out there sort of just doing what we thought we should do, as pioneers. But I look back after these years, and my goodness, I'm amazed with what we did."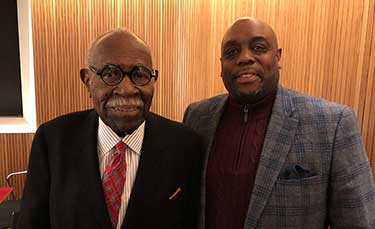 When Madison opened his firm, no white architects would work with him. Instead, he trained a staff that crossed all racial and gender lines and became the foundation of Cleveland's minority architectural world. And after starting small, working on homes, churches, and doctor's offices, Madison would have a hand in some of the largest projects in Cleveland—working with I.M Pei (a Harvard classmate) on the Rock & Roll Hall of Fame, and with Rafael Viñoly Architects on the Cleveland Museum of Art; helping design FirstEnergy Stadium, the home of the NFL's Browns, and Quicken Loans Arena, home of the NBA's Cavaliers, and the Greater Cleveland Regional Transit Authority Waterfront Line. But his work wasn't confined to northeastern Ohio. In 1965, Madison was commissioned to design the U.S. embassy in Dakar, Senegal, and in 1977, as part of Minority Airport Architects & Planners, a group Madison helped organize, his team designed concourses at Hartsfield-Jackson Atlanta International Airport.
Today, Madison is no longer actively involved with Robert P. Madison Intl.; he sold the firm to his nephew two years ago. But he knows his work isn't over. Despite his pioneering efforts, diversity has yet to make major inroads in architecture. According to the 2017 Survey of Architectural Registration Boards, there are 113,554 registered architects in the U.S. Of those, only 2% are African-American. The University of Cincinnati's Directory of African American Architects places the number at 2,270. Of those, 66 are in Ohio and 22 in Cleveland. Most, if not all of them, can trace their careers back to Robert P. Madison. And he hopes, with Deeds Not Words, his story—of sacrifice, perseverance, and accomplishment—can inspire more young people to join the ranks. And the fight.
"I had a practice for 62 years," Madison says. "I didn't think about all of this until they started [making the film]. And then as I began to focus on it, I'm beginning to admit now that I did do something pretty important."