Almost seven years after the American Museum of Natural History (AMNH) in New York engaged the Chicago-based Studio Gang to design an expansion, the Richard Gilder Center for Science, Education, and Innovation has broken ground, signaling the start of construction expected to last three years. The 230,000-square-foot, $383-million project by architect Jeanne Gang will add a library, theater, and new spaces for exhibitions and education, and it will better connect different areas of the existing museum. In addition, a new multi-story "Collections Core" will house some 4 million specimens in a visible storage area, allowing visitors to take in the breadth of the institution's collection and witness scientific work taking place in real time.
"There's an urgency to the public having a much deeper understanding of science and scientific issues that are really driving our times," says AMNH president Ellen V. Futter, speaking to RECORD by phone. With the selection of Studio Gang, the museum found the ideal collaborator. "In addition to being a brilliant woman and fantastic architect," says Futter, "Jeanne brings an exceptional sensitivity to both the built world and natural world." (New York–based Davis Brody Bond is the executive architect.)
Gang and her team ruminated on erosion, tectonics, and other geologic processes while developing a vision for the building, using high-tech and analog methods to play with form. For instance, the architect tells RECORD, "During one very cold winter in Chicago when we were modeling the space, we took a giant block of ice and melted it with hot water." That helped inspire the cavernous, fluid spaces of the interior architecture.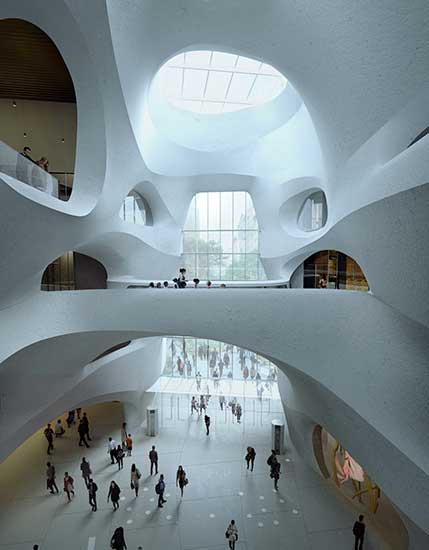 The final design, reflecting such natural influences, requires an innovative structure. To achieve those curving interior spaces, seemingly hollowed-out by nature and time, the architects designed shapes for reinforcing bars that will be covered with shotcrete. A similarly curved facade, clad in Milford pink granite (a material used elsewhere on the museum's campus), will be punctuated with expansive glazed openings, conveying a sense of porosity and flow.
With many large openings offering glimpses of the various exhibition spaces, the new building's light-filled and airy central hall will emphasize the connectedness of scientific disciplines while sparking curiosity in visitors. "You can look up and say, 'I want to go see that next.' It encourages you to make a discovery," says Gang. And the overall plan dramatically improves circulation; gone are the many dead ends of the old exhibition halls. By making "a few very simple edits" to the existing wings, Gang's design allows visitors to move through the campus in a loop, rather than having to backtrack. "The physical structure will be thrilling to look at, but also, emblematic of the journey of discovery—the meandering people do when they wander through a museum," says Futter.
Three structures that are part of the complex are coming down in order to pull the new building further back into its site, minimizing encroachment into the adjacent Theodore Roosevelt Park. (The museum's expansion plans prompted opposition from some community groups and even a lawsuit, which was dismissed in late 2018.) Futter notes that the project, which will extend into the green space by one-quarter acre, also features an improved landscape design by Reed Hilderbrand, including new trees and plantings, seating and gathering areas, and a wider entrance from Columbus Avenue. "We've done all of this in a way that is very much in keeping with the ethos and sensibilities of the park," she says.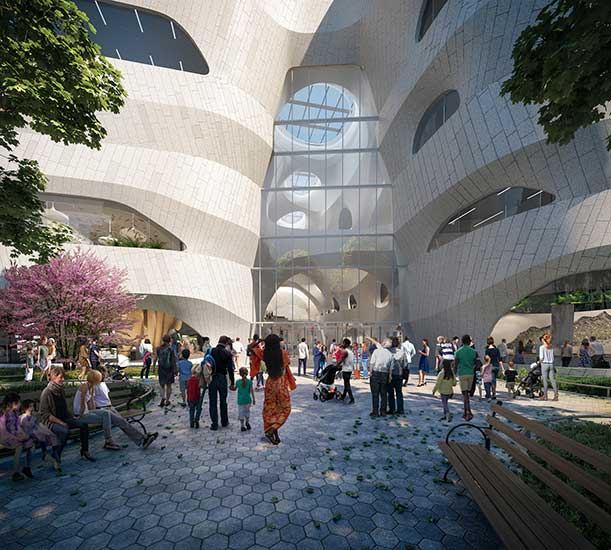 Despite the size of the expansion, its scale on the exterior is relatively modest, while the most striking feature of the design is the central atrium. "Many people have said it's impossible to do an iconic or monumental void," says Gang, "but this project challenges the idea of an object building."
From Futter's perspective, the Gilder Center will be far more than an object; it will be a monument to knowledge. "Right now, in a world where there are a lot of science deniers, where there are people having difficulty distinguishing fact and truth from untruth, our collection is evidence that we can show the public … it is one of the most important records of life on earth."