✕
Since founding Faulkner Architects in 1998, in Truckee, California (near Lake Tahoe), and later establishing an office in Berkeley, Gregory Faulkner has designed 20 ski retreats. The CAMPout house, some 6,800 feet above Lake Tahoe, demonstrates his sleekly natural approach. The client, Rowan Trollope, the CEO of Five9, a publicly traded cloud-software company in San Francisco, likes extreme ice climbing, cross-country skiing uphill (with no-wax skins), and camping in the dead of winter with his two youngest children.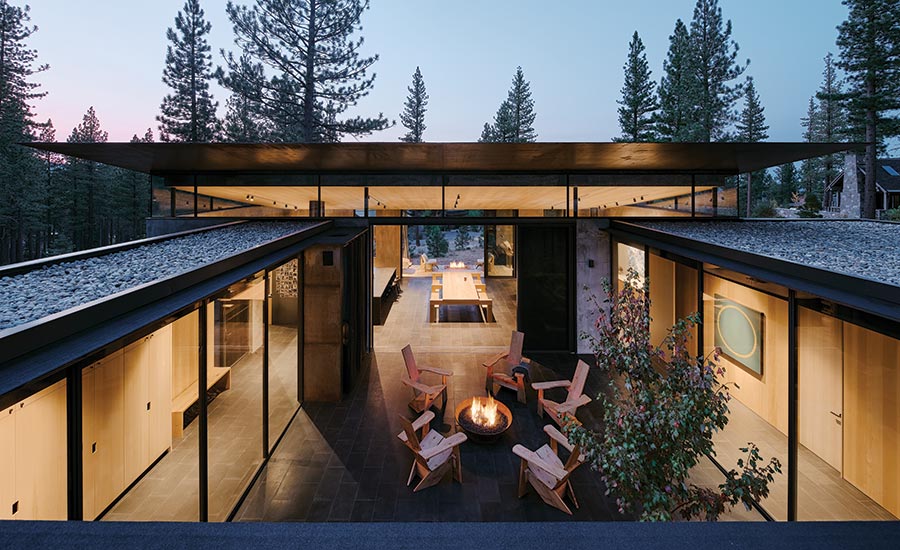 The house has a deck (top) opening out from the pavilion to contain living / dining / kitchen spaces (above). Photo © Joe Fletcher, click to enlarge.
Trollope chose Faulkner because "it was Greg's idea to be inside and outside at the same time—which is just our thing." Faulk­ner's proposed house was almost maintenance-free and largely fireproof (in an area prone to wildfires), owing to a poured-concrete structure, steel roof, and stone floors. (Granted, there are raw sugar-pine walls inside). "It's a base camp for me and my family, where we can ski in and out," he says.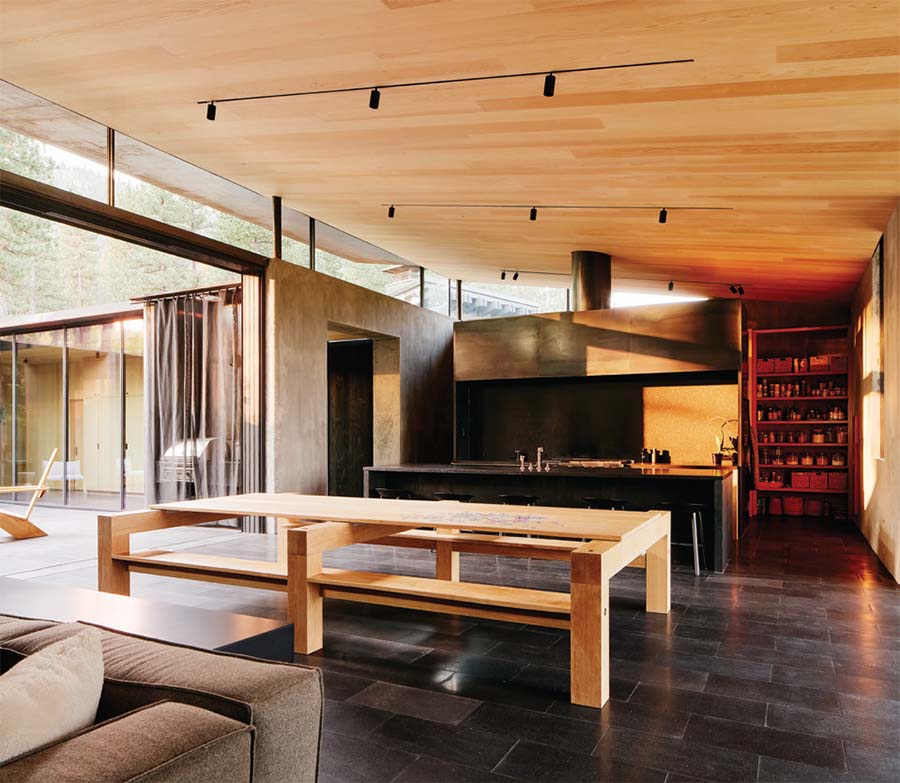 At the center of the house is the open courtyard (middle), with a firepit. Photo © Joe Fletcher
The site, a sloping half-acre, is surrounded by neighbors. The house—3,800 square feet for the living/dining/kitchen areas and bedrooms—steps incrementally down and adjoins an existing guest house. At the center is an open courtyard that provides privacy and brings light into the interior through glazed walls and sliding doors enclosing it. Faulkner strategically placed the windows to avoid views of the other houses; the prospects are of the valley below and a forest of hundred-year-old Jeffrey pines.
Part of the thin steel shed roof lifts up to receive light from the south, and, at night, light from the courtyard's firepit flickers into the living quarters. Black basalt floor tiles provide the appropriate background for the spartan Donald Judd–­inspired interiors designed by Nicole­Hollis of San Francisco. The house, completed in late 2019, was in much use during 2020. As Trollope says, "It was a nice place to be in lockdown."
Click plan to enlarge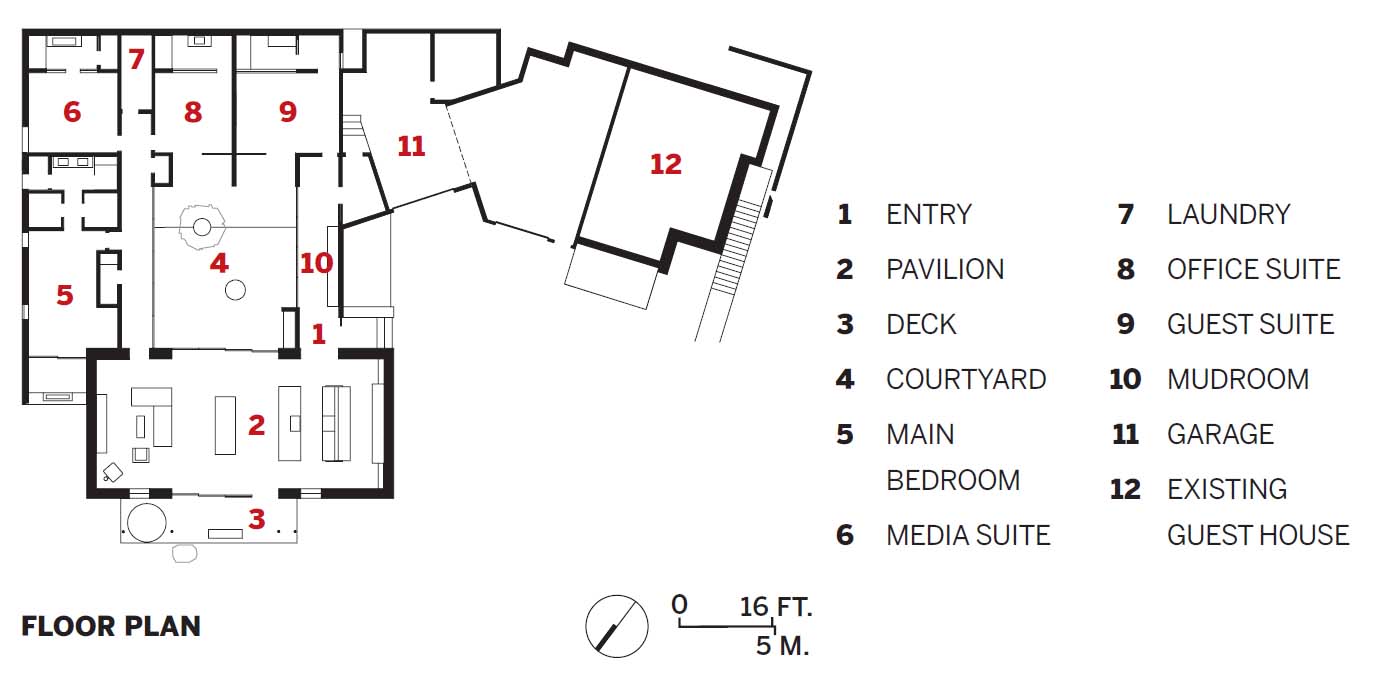 Credits
Architect:
Faulkner Architects 12242 Business Park Drive #18 Truckee, CA 96161 530.582.7400 Faulknerarchitects.com
Personnel in architect's firm who should receive special credit:
Gregory Faulkner, AIA, Principal Chrisitan Architect, L.A., Project Architect Jenna Shropshire, Project Manager Ann Darby, AIA, Architect
Architect of Record: Faulkner Architects 12242 Business Park Drive #18 Truckee, CA 96161 530.582.7400 Faulknerarchitects.com
Interior designer:
Nicole Hollis
Engineers:
Surveyor: Webb Land Surveying, Inc.
Geotechnical: Nortech Geotechnical Consultants
Civil: Shaw Engineering
MEP: Sugarpine Engineering
Title 24: Monterey Energy Group
Structural: CFBR Structural Group
General contractor:
Jim Morrison Construction
Photographer:
Joe Fletcher Photography
Specifications
Exterior Cladding:
Metal panels: 16 gauge corten
Rainscreen: Perforated 16 gauge corten
Moisture barrier: RevealShield SA by Vaproshield
Roofing:
Elastomeric: FiberTite 60 mil Fleese-Back by Seaman Corporation
Metal: 16 gauge corrugated corten and ½" steel plate
Tile/shingles: N/A
Windows:
Steel frame: Dynamic Windows and Doors
Glazing:
Glass: Insulated Cardinal 272 low-e tempered one pane clear tempered second pane
Skylights: Crystalite
Doors:
Entrances: Custom solid core wood sheathed in 16 gauge corten
Wood doors: Custom solid core wood sheathed in Sugarpine
Hardware:
Locksets: Ashley Norton
Pulls: Ashley Norton
Interior Finishes:
Cabinetwork and custom woodwork: Wire Brushed and Charred Wood Finish, Plywood Sheathed in Blackened Steel, and Bleached White Oak Finish by Westgate Hardwoods.
Solid Surfacing: Cambrian Black Granite with a Brushed Finish and Brushed Cambrian Black Granite by Da Vinci Marble, Honed Bateig Blue Limestone by Haussman Natural Stone
Floor and wall tile: Floors: Honed Fine Hole Basalt by Haussman Natural Stone.
Special interior finishes unique to this project: Wood Walls, Ceilings and Decks are Raw Native Sugarpine Left Unfinished
Furnishings:
Reception furniture: E15
Fixed seating: Talenti
Chairs: E15, Vitra, Arflex, Harbour Outdoor, Lyon Beton, Julian Giuntoli Custom Furniture, Great Dane Enterprises, Skagerak, Lyon Beton, Denver Modern
Tables: Julian Giuntoli Custom Furniture, Gestalt New York, Avenue Road, EQ3, Matter Made, Blu Dot, Union Wood Company
Upholstery: Hide & Leather House, Pendleton, Coyuchi, Silver State Textiles, Edelman
Other furniture: Karl Malmvall, Mansour Modern, Dolby Chadwich Gallery, Paloform, Rejuvenation, E15, Dash & Albert, CB2, Room and Board, ABD Home, Kroll Furniture,
Lighting:
Interior ambient lighting: Brendan Ravenhill, Commune, Anglepoise, OneForty Three, Viabizzuno
Downlights: Lucifer
Tasklighting: Studio Henry Wilson, Menu, In Common With, Matter Made, Jonas Wagell
Exterior: Bega
Dimming system or other lighting controls: Lutron
Plumbing:
Kitchen Sink: Blanco
Faucets and Shower Valves: Watermark
Powder Room Sink: Agape
Bathroom Sinks: Wet Style
Toilets: Toto
Energy:
Energy management or building automation system: Lutron Homeworks
Other unique products that contribute to sustainability: Double 8" concrete walls with 4" rigid insulation between, radiant hydronic heating