✕
Having left a conspicuous mark on the Hudson River–abutting far west side of Manhattan with projects like Little Island, Lantern House, and the now-shuttered Vessel, London designer Thomas Heatherwick is heading to the Near West Side … of Milwaukee.
As recently announced by legendary American motorcycle manufacturer Harley-Davidson, Heatherwick and his eponymous studio have been commissioned by the 120-year-old company to transform a largely disused, concrete-dominated section of its longtime campus on Milwaukee's Juneau Avenue into an expanse of parkland accessible to both employees and the larger public.
Led by the Harley-Davidson Foundation with Heatherwick serving in the curious role of "Design Guardian," the yet-to-be-named outdoor gathering space will be anchored by a 272-foot-wide sunken amphitheater dubbed The Hub. Set against a dual backdrop of historic brick factory buildings and what will be a verdant swath of trees and native plants, the proposed circular design of the open-air events venue is "defined by a combination of motorcycle driveways and turning circles, parking bays, sidewalks, plants and seats, and 360-degree viewpoints," a press release detailed. Locally sourced materials—brick, timber, and weathered steel—will serve as primary construction materials for the multi-use space. Although the park design is in its early stages, other planned programmed areas of the park, which replaces a pair of large surface parking lots, include a nature playground, "contemplative" garden, and dedicated space for pop-up vendors.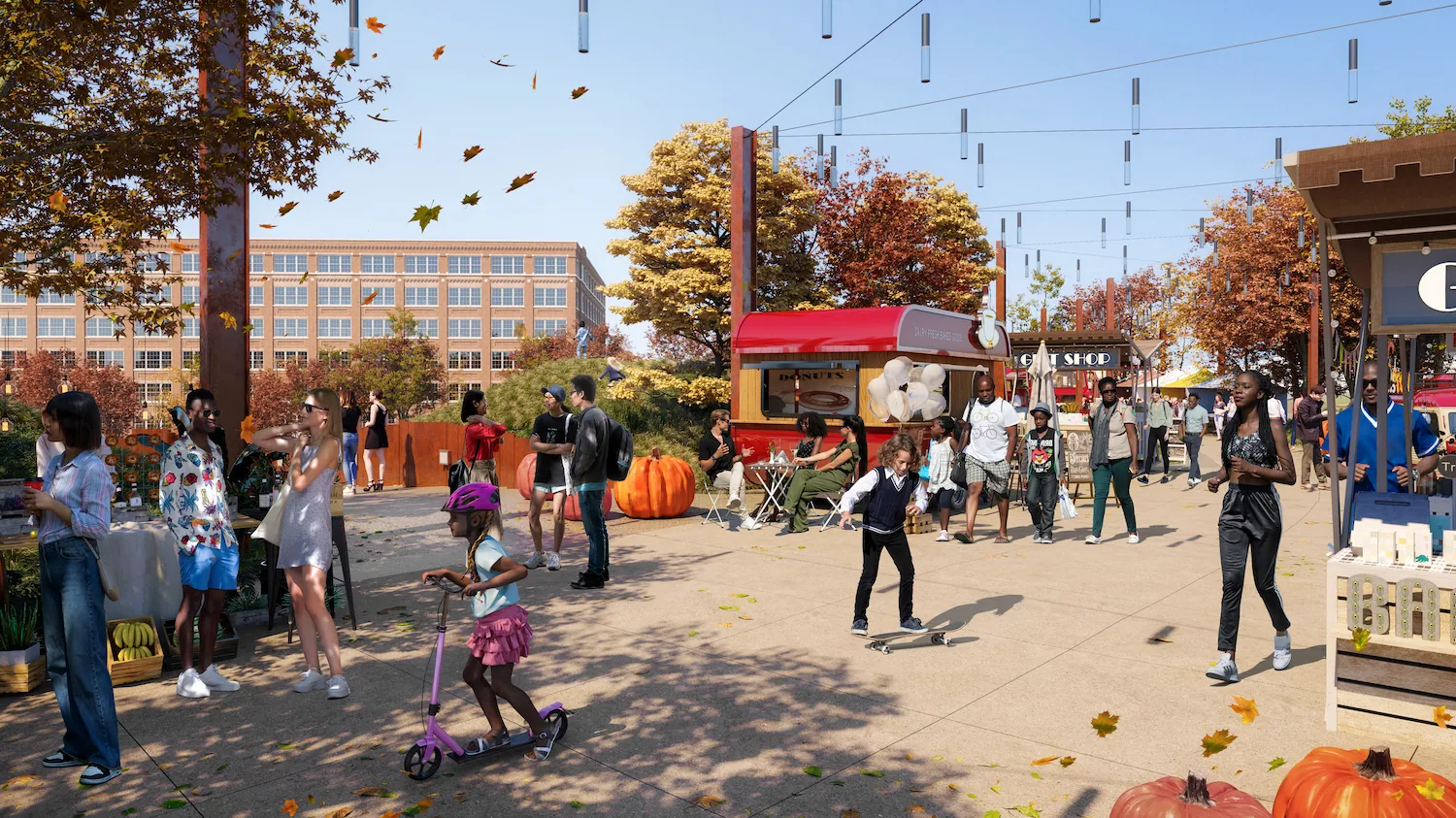 Image by Devisual, courtesy Heatherwick Studio
"We want to make an exciting community space where people can come together with friends and family and experience the wildness of nature alongside spaces for food, performance, and play," Heatherwick said in a statement. "The ambition is to highlight and celebrate renewed life in the Near West Side of this very special city."
With Heatherwick Studio at the helm, the larger design and construction team includes local builder Greenfire Management Services and the Milwaukee office of HGA in the role of architect of record, providing landscape, civil engineering, lighting, and technology design for the project. Like Manhattan's Little Island, another Heatherwick park project borne from the largesse of a private client, the initial development of the park at the Harley-Davidson campus will be funded by the company's namesake philanthropic arm, with plans to strike long-term sponsorships and donor opportunities further down the road.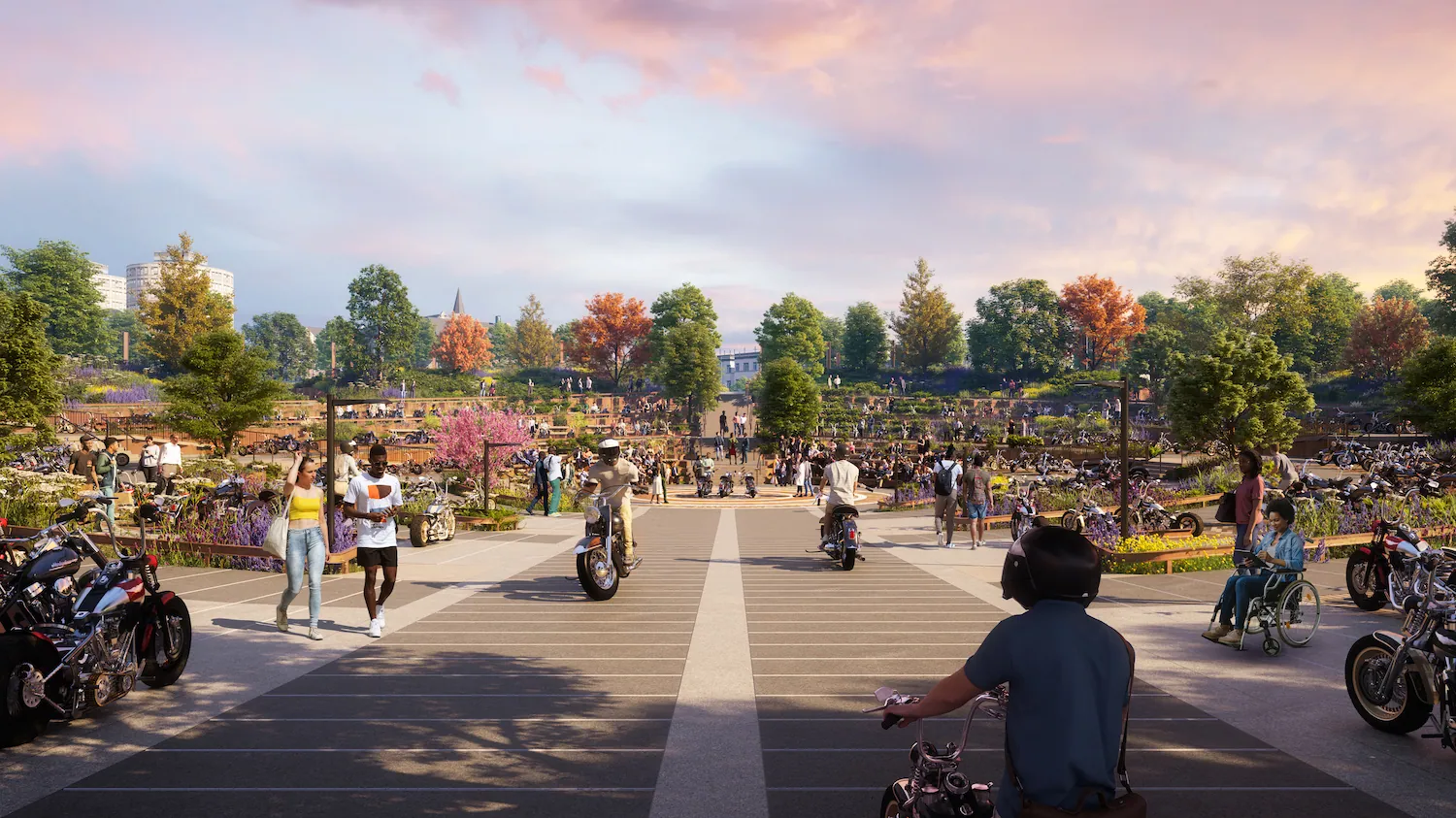 Image by Devisual, courtesy Heatherwick Studio
The Heatherwick team certainly has its work cut out for it. While the park is envisioned first and foremost as a new community asset—a "civic and soulful green gathering space" per Harley-Davidson—serving the residents of Milwaukee's diverse and densely populated Near West Side, there's little doubt that hog devotees, who comprise one of the most fiercely brand-loyal customer bases of any kind, will add their own two cents on the project.
(For the Harley faithful, there's also the James Biber–designed Harley-Davidson Museum, a three-building motorcycle mecca that debuted along the Menomonee River in downtown Milwaukee in 2008.)
A groundbreaking for the park is slated for this spring with a targeted opening date in summer 2024.