Architects & Firms
✕
Even if you didn't know the backstory, the gaunt steel hulk of Building 12 at San Francisco's Pier 70 would resonate as a triumph of historic preservation—one that forges an enticing amalgam of new makerspaces and offices from a vast monolith built to fabricate ship hulls during World War II.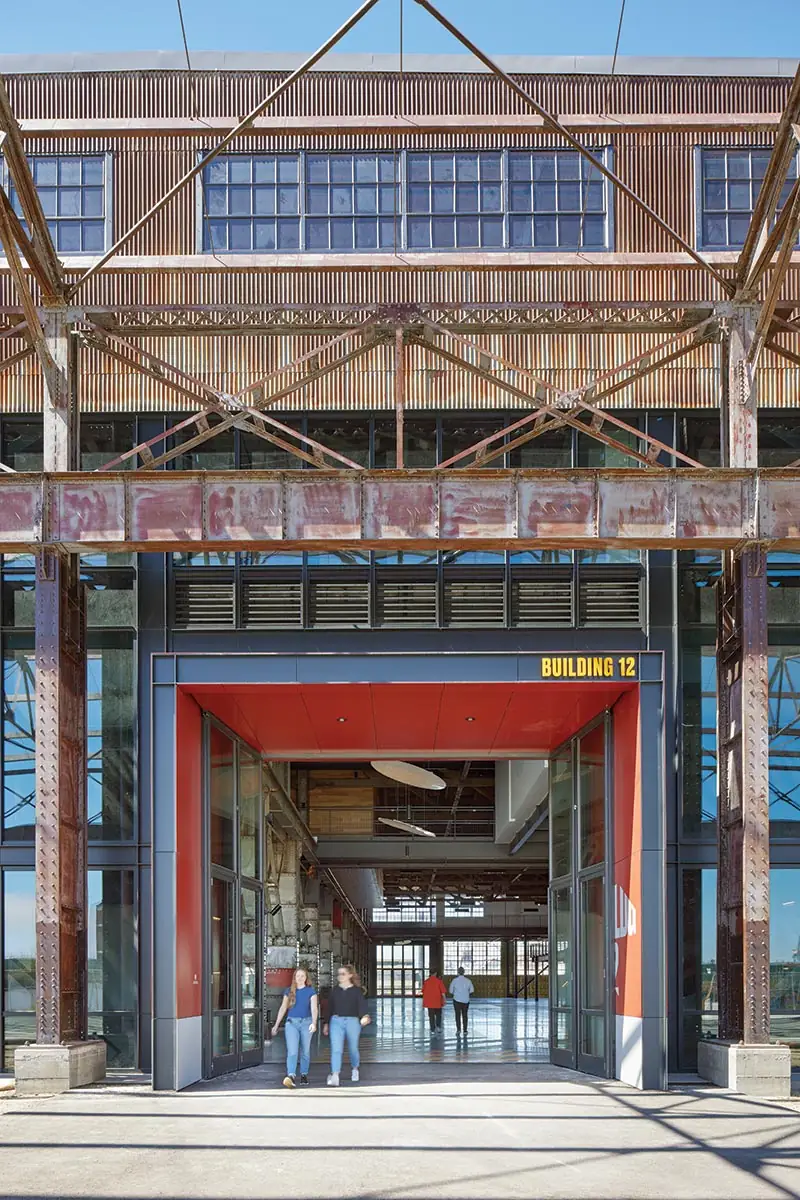 Visitors are welcomed through an industrial-style portal. Photo © Bruce Damonte, click to enlarge.
The triumph is even more compelling when you grasp the most startling aspect of all: this three-story behemoth with 1.5-acre floor plates was lifted 10 feet into the air before its recent renovation began.
The higher position responds to sea-level-rise projections for the Pier 70 area, which mostly consists of reclaimed land that in the early 20th century turned tidal marshes into the site of one of the West Coast's largest shipbuilding facilities. Many neighboring industrial structures were torn down in the decades after Bethlehem Steel closed its operations here in 1982. Building 12 is intended as the atmospheric centerpiece of what is envisioned as a 28-acre mixed-use district including 2,000 housing units and nine acres of public space.
This flavorful role—adding patina and blue-collar grit to what otherwise will be a 21st-century development—explains why such care was put into an 82-year-old rusty relic that consisted of little beyond a corrugated steel skin punctured by banks of steel sash windows, held up by 66 structural columns deployed in four rows. The project isn't a moneymaker on its own; rather, it is intended to set a tone for a previously obscure location that developer Brookfield Properties is marketing as both evocative and inventive.
"We never intended it to be bright and shiny and new," said Ariane Fehrenkamp, a senior project manager at Perkins&Will, Building 12's lead architect. "We wanted something that is celebrating the industrial past, but also the present."
To perform the act of architectural levitation, general contractor Plant Construction rebuilt the decrepit crenellated roof and its diaphragm to make the long-decayed roofline rigid, then wrapped the outer walls in cables and inserted horizontal steel beams between each pair of columns to hold the old structure steady. After the columns were severed from the original slab foundation, hydraulic jacks were placed underneath the crossbeams supporting the columns, and the entire assemblage slowly was lifted 6 inches at a time, with bars of wood inserted underneath each column to hold it at its new, temporary position.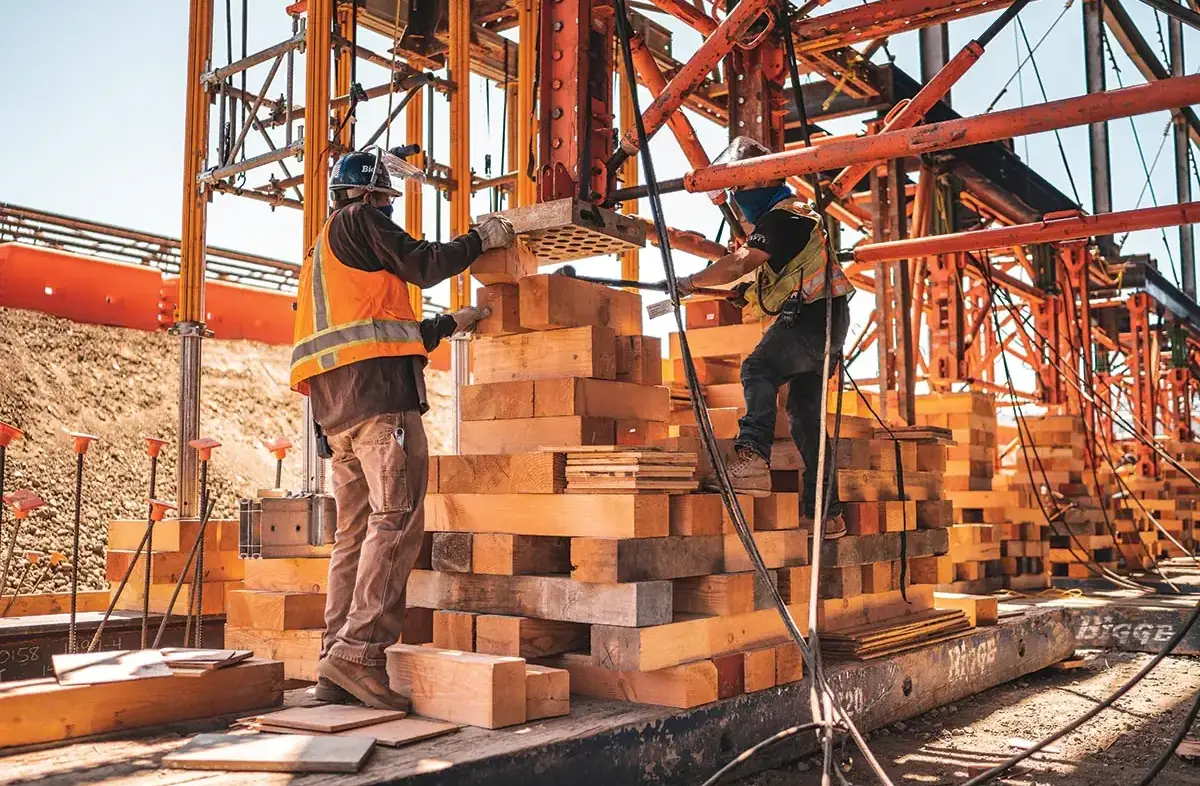 1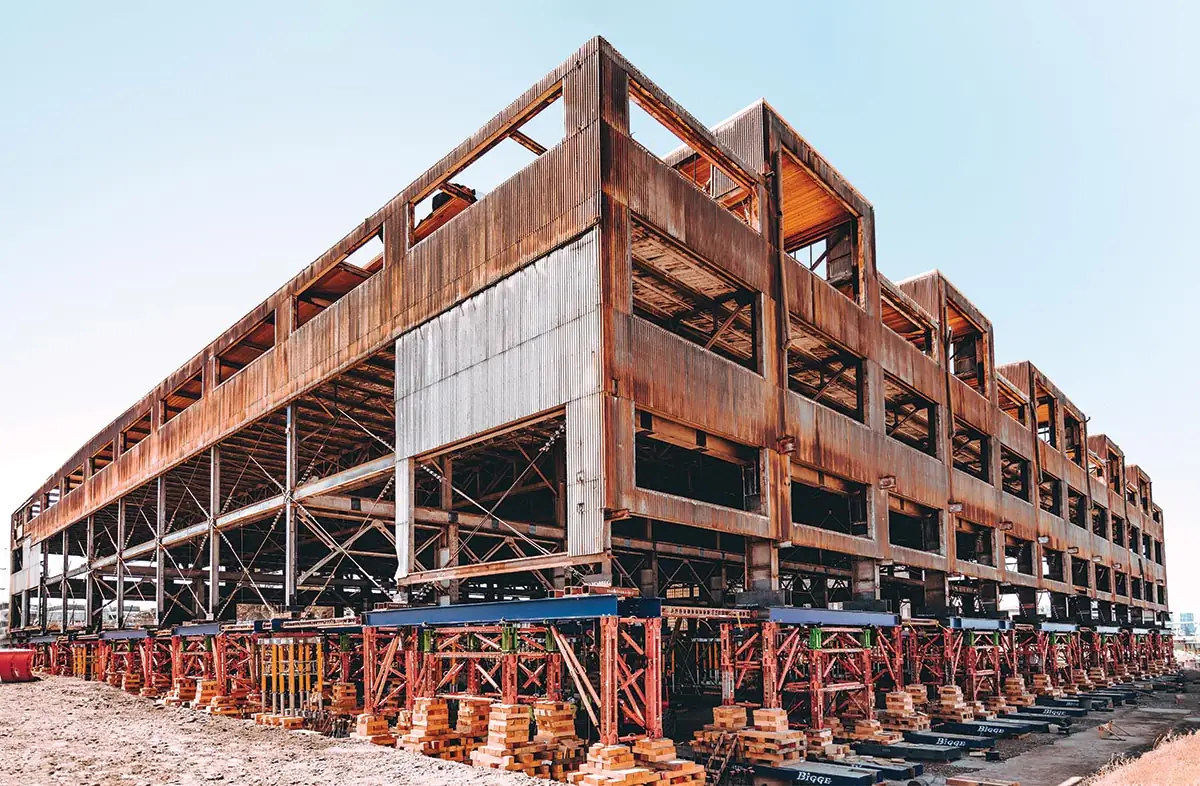 2
Contractors lifted the entire 1941 building 10 feet to accommodate rising waters, working 6 inches at a time over a five-week period (1 & 2). New roads and outdoor common spaces were built at the new height, as large pits at the original level wait for future development (3). Photos courtesy Plant Construction company, L.P.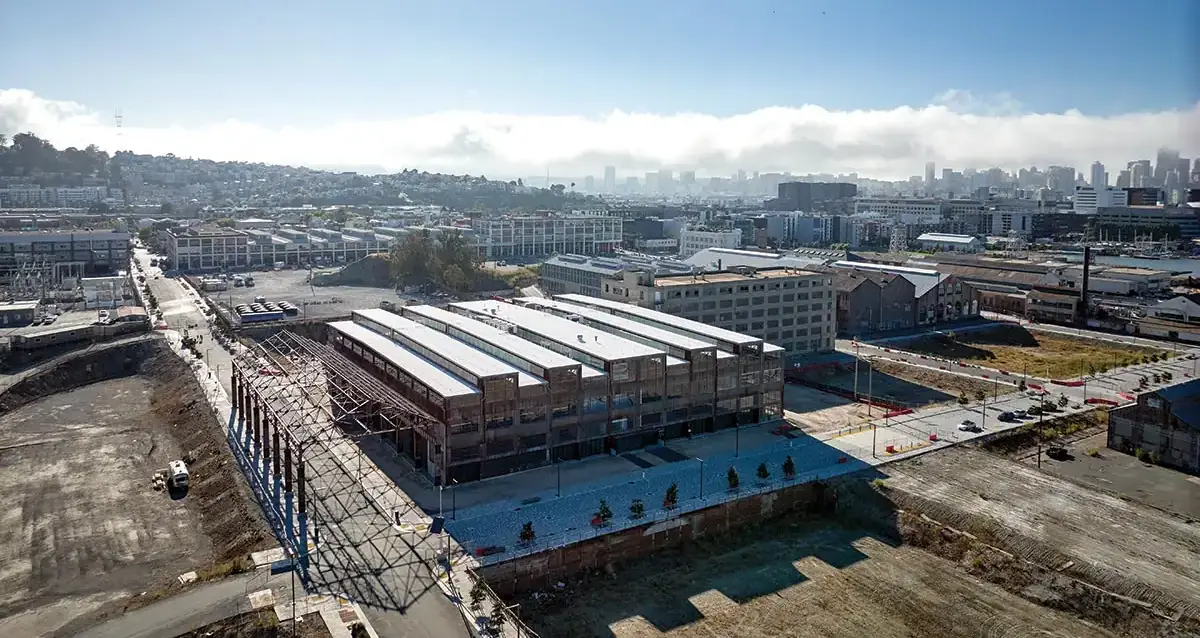 3
Measurements were recalibrated each time, and the cycle was repeated—a process that took nearly five weeks before the 2,000-ton structure was high enough to build a new concrete foundation beneath it, one that exceeds sea-level-rise projections through 2100 for this stretch of the San Francisco Bay shoreline. Only then was dirt trucked in to create a new ground plane matching the roadbeds alongside the structure, which already were set at the planned height.
Enter Building 12 now, and nothing about its topographic transformation is apparent. The structure's rugged simplicity is what casts a spell—starting with your entrance through the steel frame of Building 15, which was built as an annex during World War II and now survives in skeletal form, with its columns and trussed roofline forming an open canopy outside Building 12's southern entrance.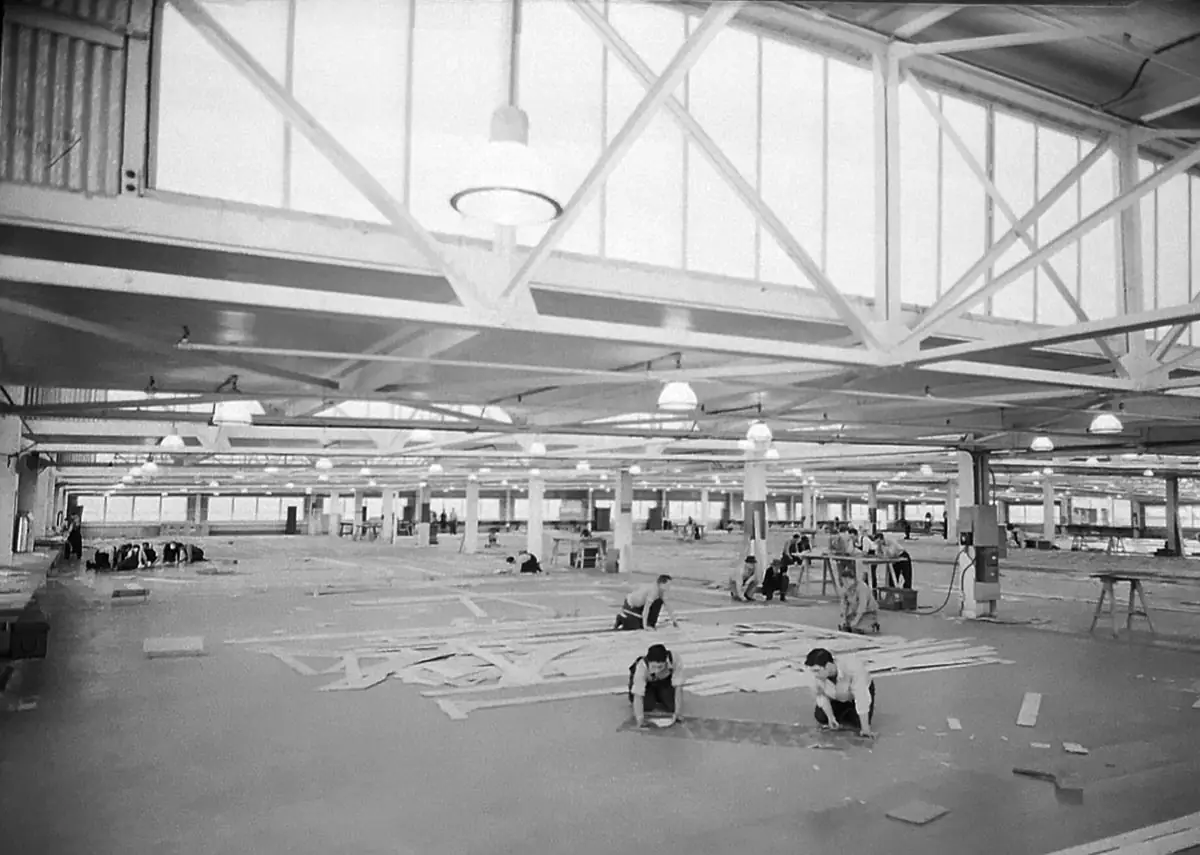 Workers used tracings to guide the cutting of steel plates for ship hulls in the 1940s Photo © San Francisco Maritime National Historical Park
The first level, with its 39-foot-high ceiling running through the central bay north to south, is especially striking; at present there are no interior walls, just the thick columns with their supporting trusses up high. The intent is to leave the ground floor largely open as a makers' marketplace. The columns' fat rivets are visible, as are the nicks and gouges that date from the 1940s, when steel plates were wheeled in on trains, then lifted up by gantry cranes attached to ceiling rails and lowered onto the floor once the train cars left. From there, blueprint-like tracings done in the workspace above were placed atop the plates, which were cut as needed for assembly into hulls outside.
Adding to the visual drama, a new 13-foot-high steel mezzanine floats above portions of the central bay. This will remain open to the public, a vantage point for anyone visiting Building 12's innards to shop, attend an event, or simply gawk.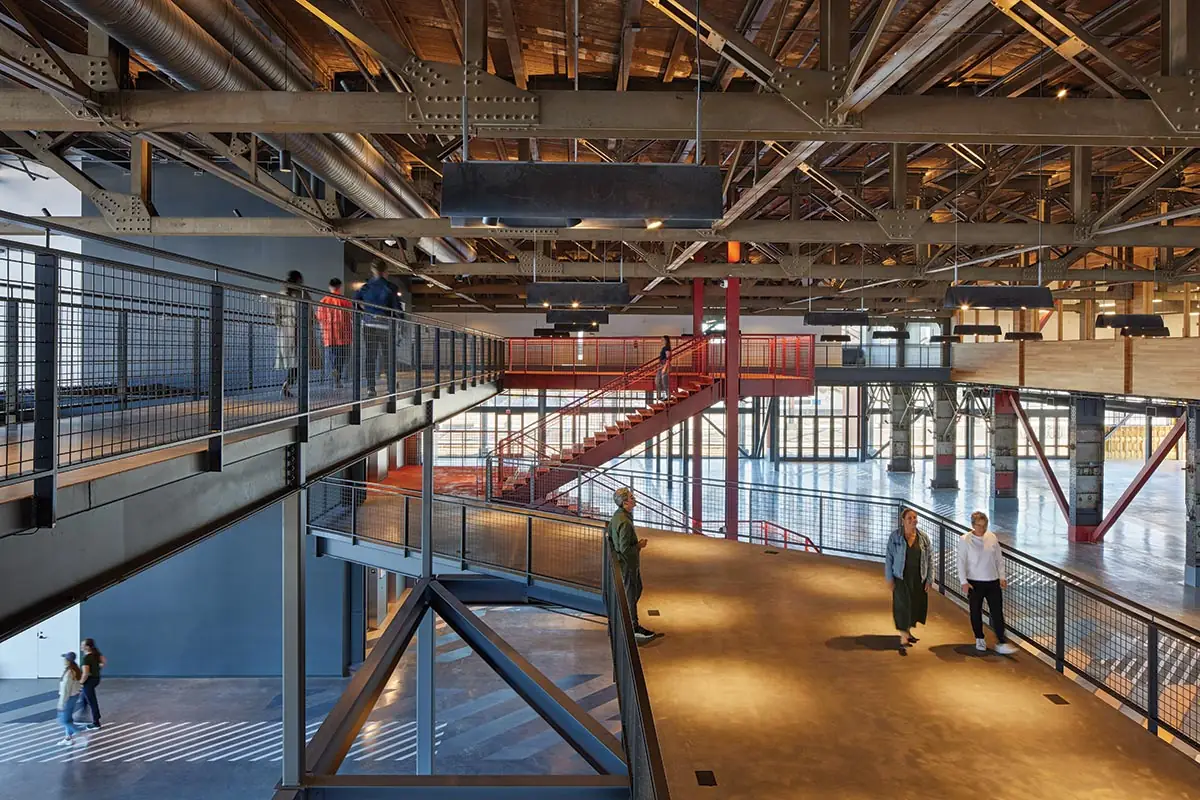 A new mezzanine and catwalks animate the sprawling ground floor. Photo © Bruce Damonte
A second level—framed in steel with concrete floors and connected by catwalks that match the mezzanine—has been inserted on the east and west sides of the central bay, 9 feet above the mezzanine, and will hold the light-industrial space required by city zoning. The top floor is original and flooded with natural light from the jagged roof's clerestory windows. This area will be conventional office space, its airy expanse softened by ceilings of tongue-and-groove slats of Douglas fir.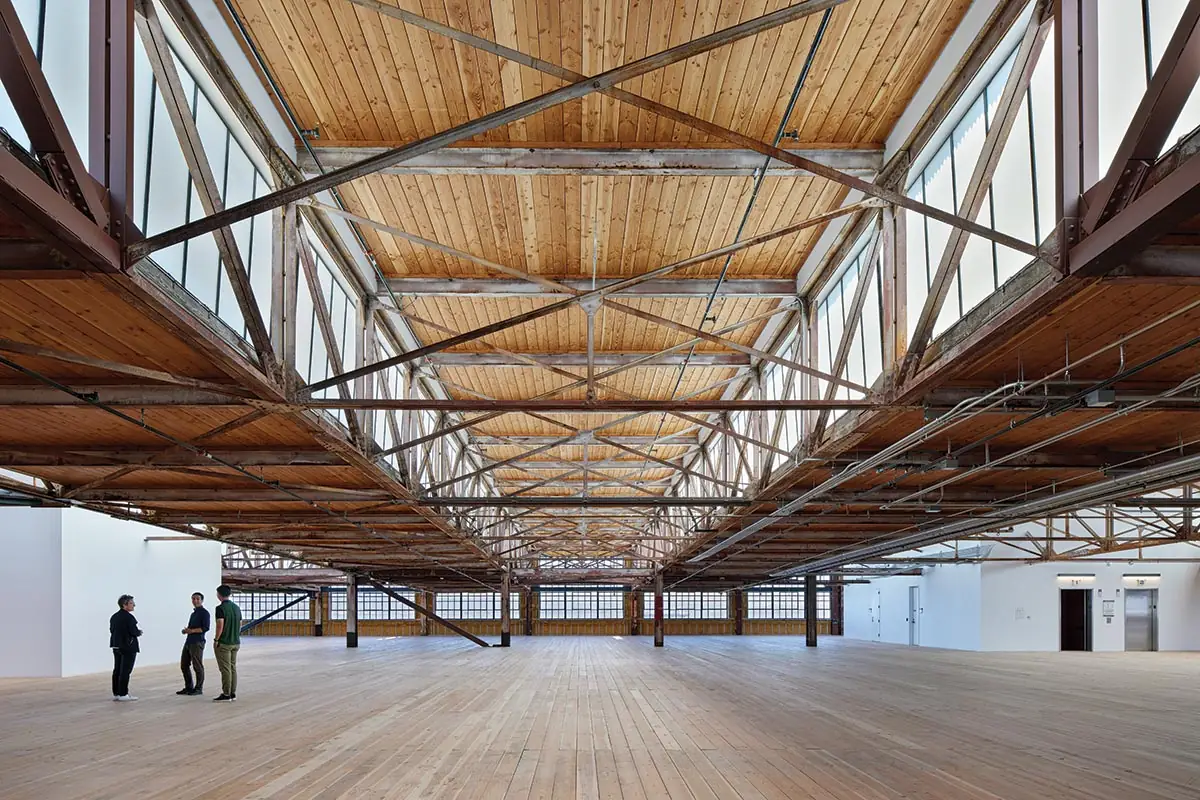 Enormous clerestories and perimeter windows flood the top floor with daylight, creating an attractive setting for future office tenants. Photo © Bruce Damonte
There are a few contemporary design touches, such as grand entrances framed in steel, coated with a rich red paint that's the same as what has been used on the distinctive mezzanine. Portions of the ground-floor walls that were roll-up doors have been replaced with a curtain wall framed in crisp black aluminum. (There also is diagonal seismic bracing tucked in amid original trusses). But these are accents on the original structure, complementing rather than competing with its first life. You're always aware you are occupying a building from the past, which doesn't always happen with historic renovation on this scale.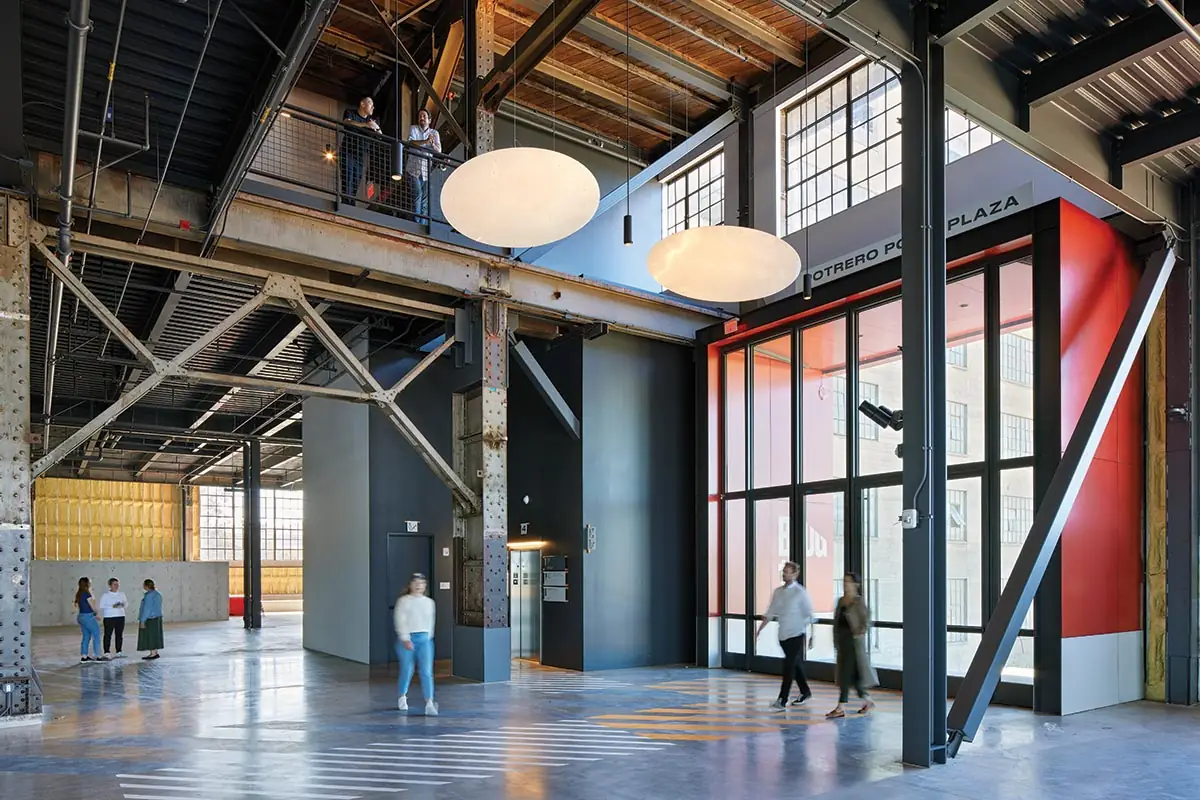 4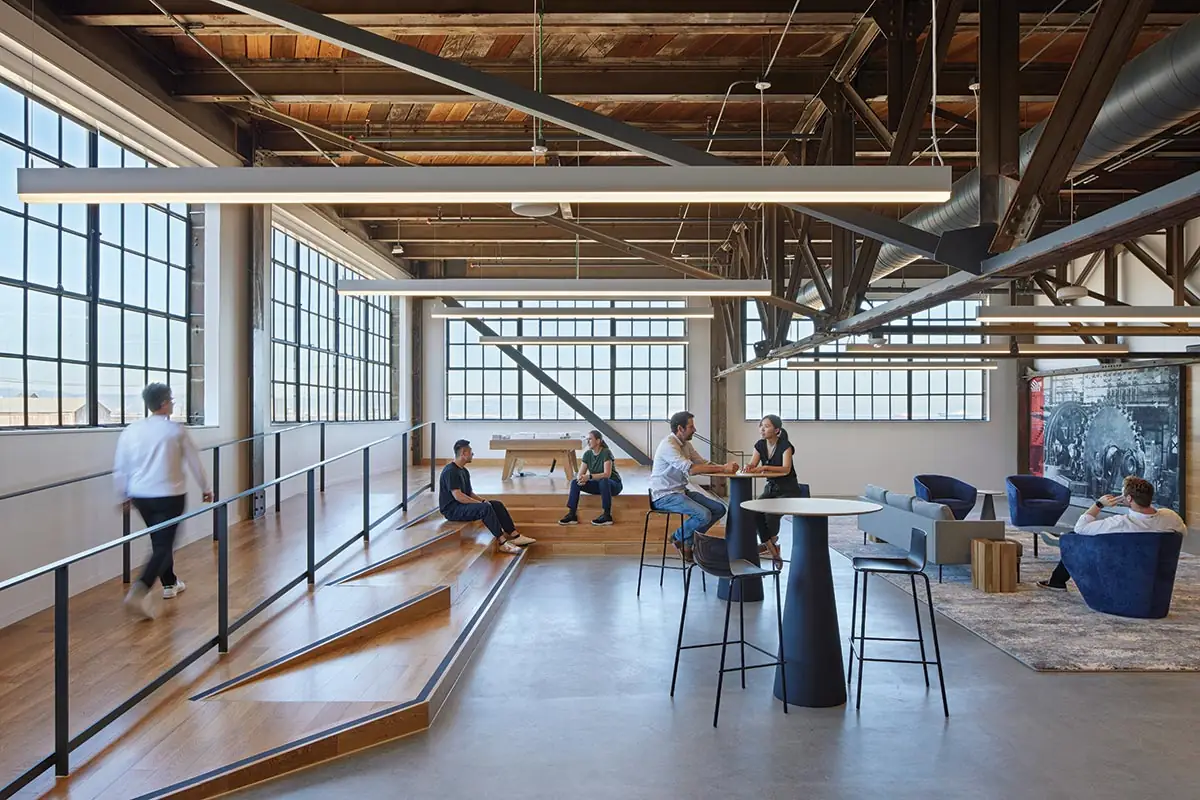 5
At the entry (4) and in makerspaces on the second floor (5) an industrial aesthetic prevails. Photos © San Francisco Maritime National Historical Park
Given the pandemic that caused commercial development in San Francisco to slam to a halt, there's no telling when Brookfield's larger plans for Pier 70 might be realized. Building 12 is the only structure now open. The surrounding landscape juxtaposes new common areas, such as roads and plaza sites, high above the rectangular pits where buildings of six to nine stories are planned, their ground planes still at the old 1941 level. Building 12 is ready for tenants but, so far, has been used only for events, such as an exhibition in early 2021 of storefront murals from the first months of the pandemic. The potential of the space and the restored structure is palpable. The question is what the future might bring.
Click plans to enlarge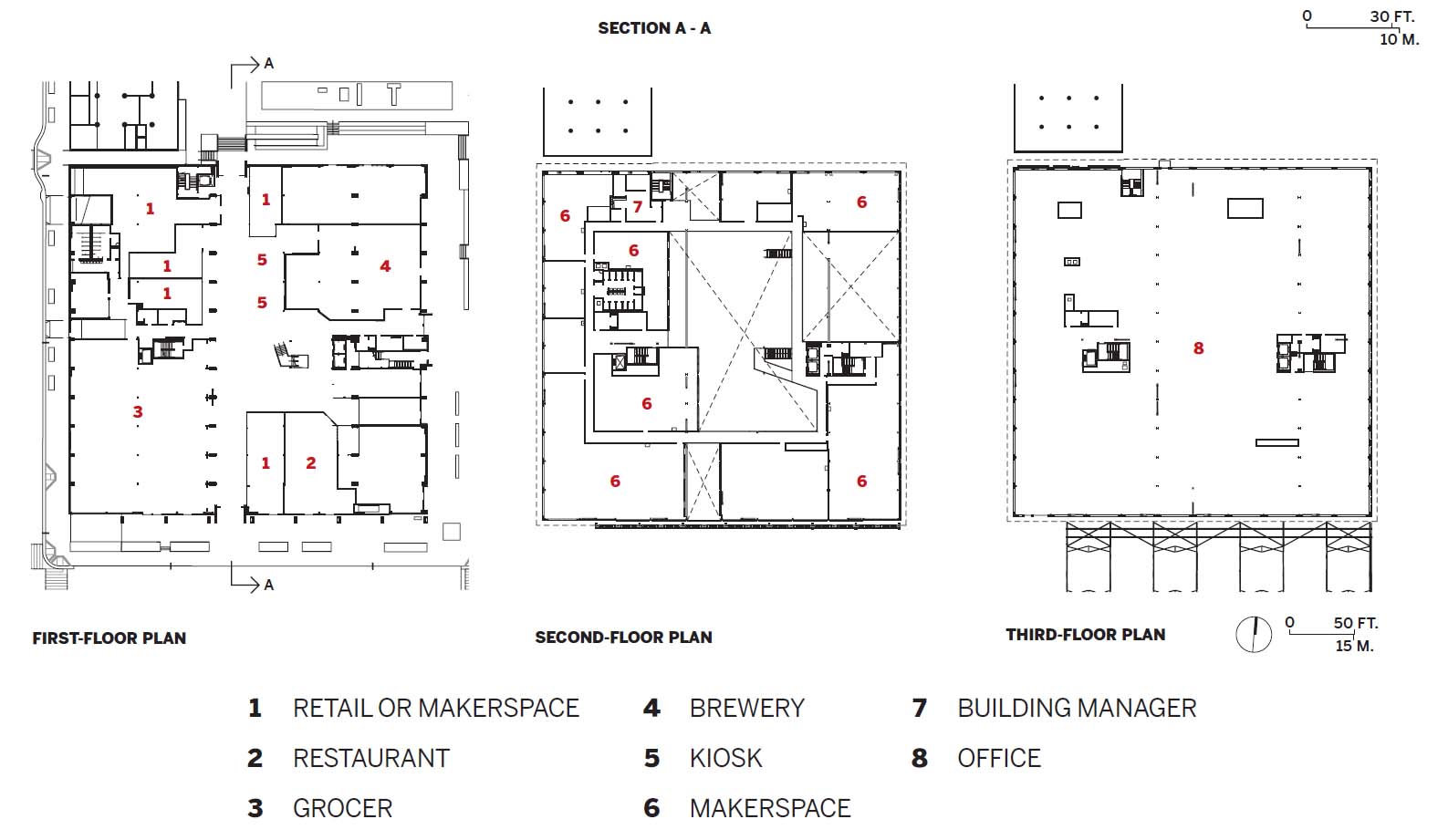 Click section to enlarge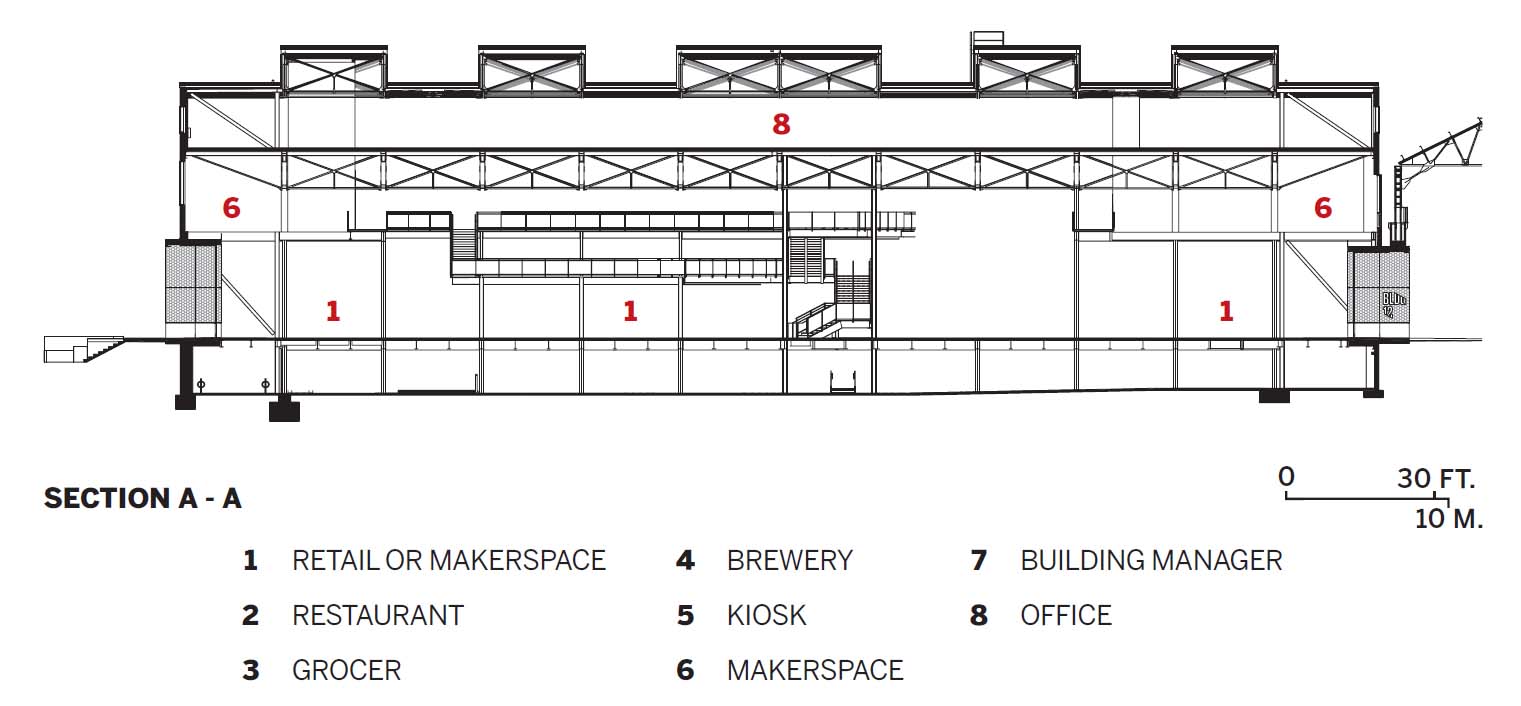 Click drawing to enlarge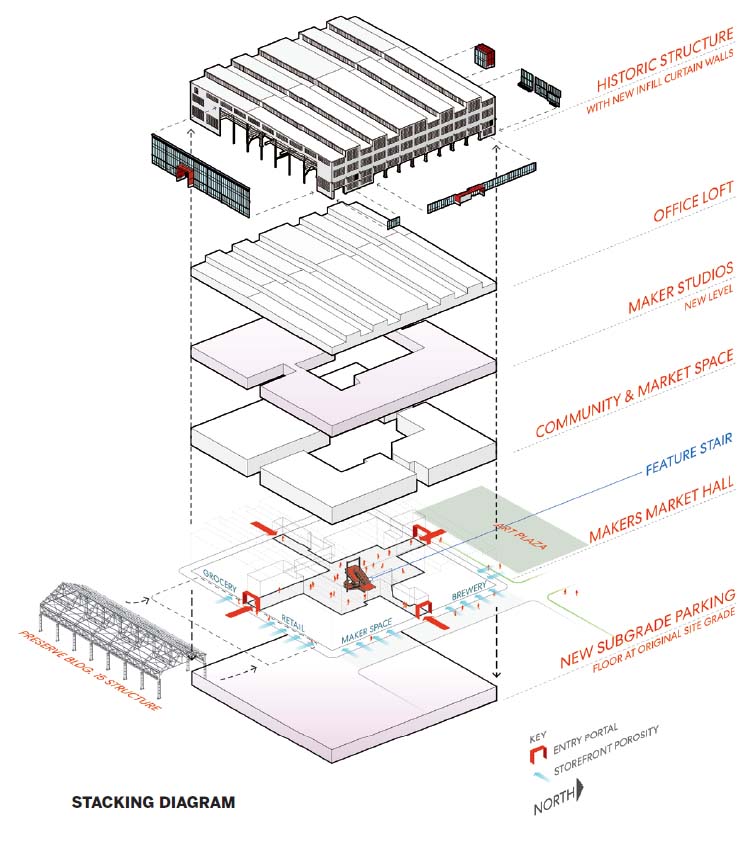 Credits
Architect:
Perkins&Will — Dwight Long, Ariane Fehrenkamp, project team
Historic Architect:
Architectural Resources Group
Engineers:
Nabih Youssef Structural Engineers (structural); Maffei Structural Engineering (structural seismic analysis); Degenkolb Engineers (constructing); Point Energy Innovations (m/e/p); BKF Engineers (civil)
General Contractor:
Plant Construction
Lifting SubContractor:
Bigge Crane & Rigging
Consultants:
S9 Architecture (retail); Tucci Lighting (lighting); DN&Co. (graphics and wayfinding); Vibrasure (acoustics); Teecom (telecom); RDH (building envelope)
Client:
Brookfield Properties Development
Size:
230,000 square feet
Cost:
Withheld
Completion Date:
August 2022
Sources
Buckling Restrained Braces:
Corebrace
Curtain Wall:
Kawneer
Built-Up Roofing:
Soprema; Georgia Pacific
Doors:
DCI; Smoke Guard Systems; ActivWall
Glass:
Vitro