✕
The National Council of Architectural Registration Boards (NCARB) and its United Kingdom-based counterpart, the Architects Registration Board (ARB), have signed a mutual recognition agreement (MRA) that will provide a streamlined "new path" for eligible U.S. architects seeking licensure—and the subsequent professional opportunities that come with it—in the UK and vice versa. NCARB president Bayliss Ward heralded the agreement as one that will bolster the engagement of certified U.S. architects internationally while "having confidence in the shared commitment to strict standards of health and safety." 
The MRA, which goes into effect on April 23, 2023, will be offered to all 55 of NCARB's jurisdictional licensing boards as a new option to incorporate into their respective licensure eligibilities, detailed the Washington, D.C.–based nonprofit in a press announcement. Each individual NCARB jurisdiction now must determine whether it will accept the agreement. In the UK, legislation was passed earlier this year allowing for the MRA to be implemented. 
Hugh Simpson, chief executive and registrar with ARB, called the passage of the MRA an "exciting moment for the sector," adding that the opportunity for cross-registration "helps to open up opportunities for cooperation between individuals and firms in the UK and United States in a way which upholds standards."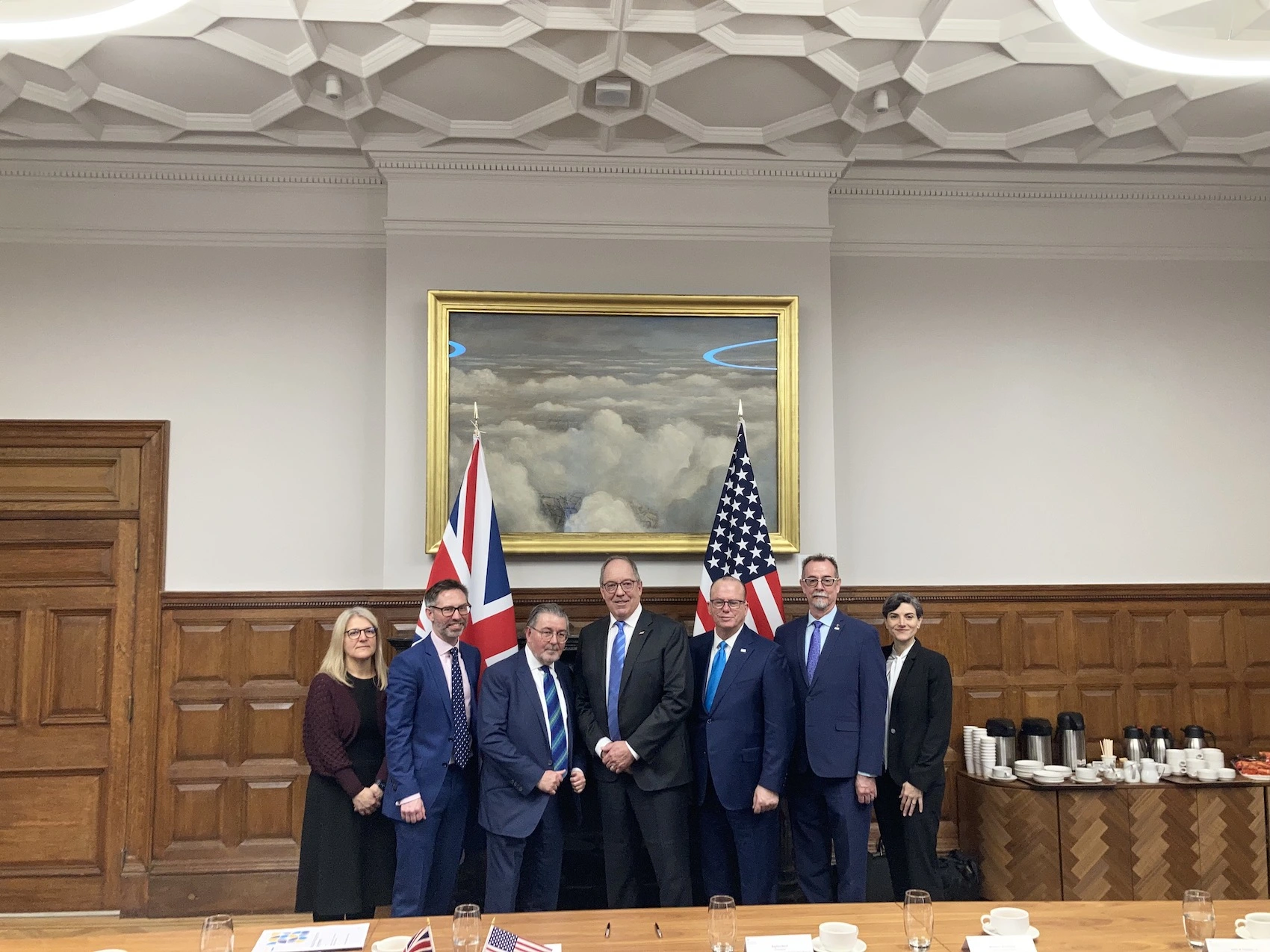 Leadership at NCARB and ARB signing the MRA. Photo courtesy NCARB
The signing of the agreement comes following five years of "research and negotiation" between ARB and NCARB and was modeled after similar arrangements between the latter organization and Canada, Australia, and New Zealand. It contains three key eligibility requirements for architects in either country seeking a reciprocal license. They must: possess a valid license/registration in good standing from their home jurisdiction in the U.S. or UK.; have lawful authorization to work in the locality where they are registered; hold an active and qualifying NCARB Certificate.  
While NCARB has, as mentioned, reciprocity agreements in place with national licensing entities in a small handful of other countries, the newly signed MRA is a first-of-its-kind agreement for ARB, which is in the process of hashing out similar agreements with the EU, Australia, and Hong Kong, according to the Architects Journal. As previously reported by RECORD, UK architects lost the blanket right to practice across continental Europe after the country left the EU in January 2021. 
Simon Allford, president of the Royal Institute of British Architects (RIBA), praised the "game-changing" agreement, saying: "British architecture is a global success story, and, post-Brexit, the UK has an opportunity to open up new export markets for UK architects." 
"We hope that our members, and those from across the Atlantic seize this opportunity," he added.