✕
For much of American history, fire stations had a distinctive visual identity almost by default: they required steeple-like towers within which cotton hoses were hung to dry, preventing rot. Even as modest a building as Venturi and Rauch's Fire Station No. 4 in Columbus, Indiana, achieves a sense of civic presence by virtue of its monolithic hose tower. But by 1968, when that building was completed, the times were already changing. Synthetic, rot-proof fabrics like nylon obviated the need for hang-drying, and, when the firm was hired to design a subsequent fire station, in New Haven, a hose tower was omitted from the brief. Like most other architects called upon to design fire stations since, the firm had to find other means to convey the building's importance.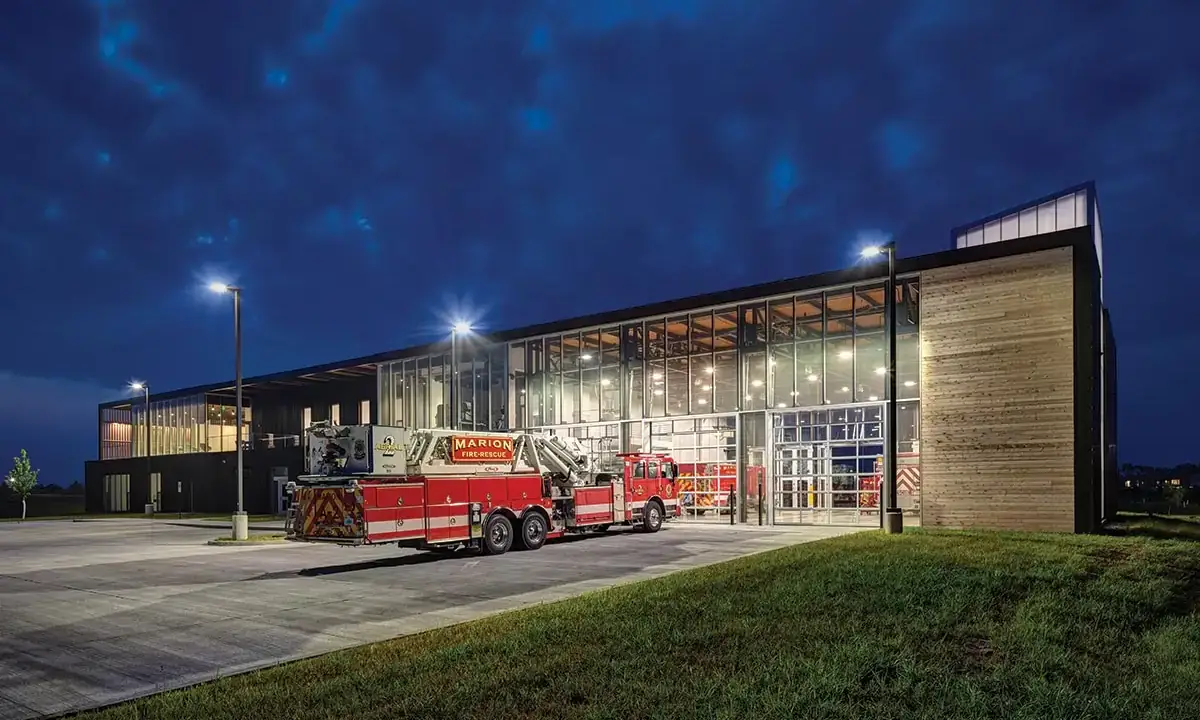 Clad in charred wood, the station's simple form has a strong and transparent civic presence (above and top of page). Photo © Cameron Campbell, click to enlarge.
David Sorg, a principal at OPN Architects, faced the same challenge in designing a new fire headquarters for the town of Marion, Iowa, a suburb of fast-growing Cedar Rapids. And like the architects of the humble but emblematic Fire Station No. 4, Sorg has not sought recourse to an antiquated monumentality. Instead, he has designed a frank, 21,000-square-foot work of wood, glass, and steel that sits lightly within the Iowa landscape. In the tradition of American functionalism, whose history is tied inextricably to that of the Midwest—Cedar Rapids itself is home to several Louis Sullivan buildings, and Iowa was a center of Frank Lloyd Wright's Prairie School—the new fire station is pragmatic in its aims and, as a result, confident in its avoidance of what Sorg calls "gratuitous architectural moves."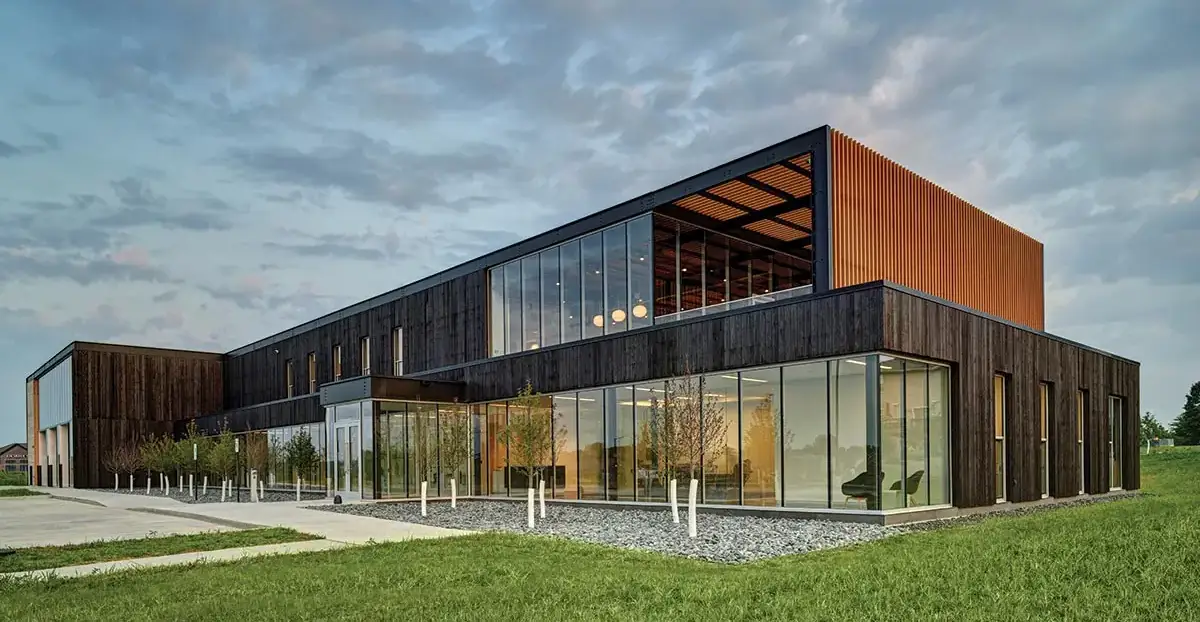 1
2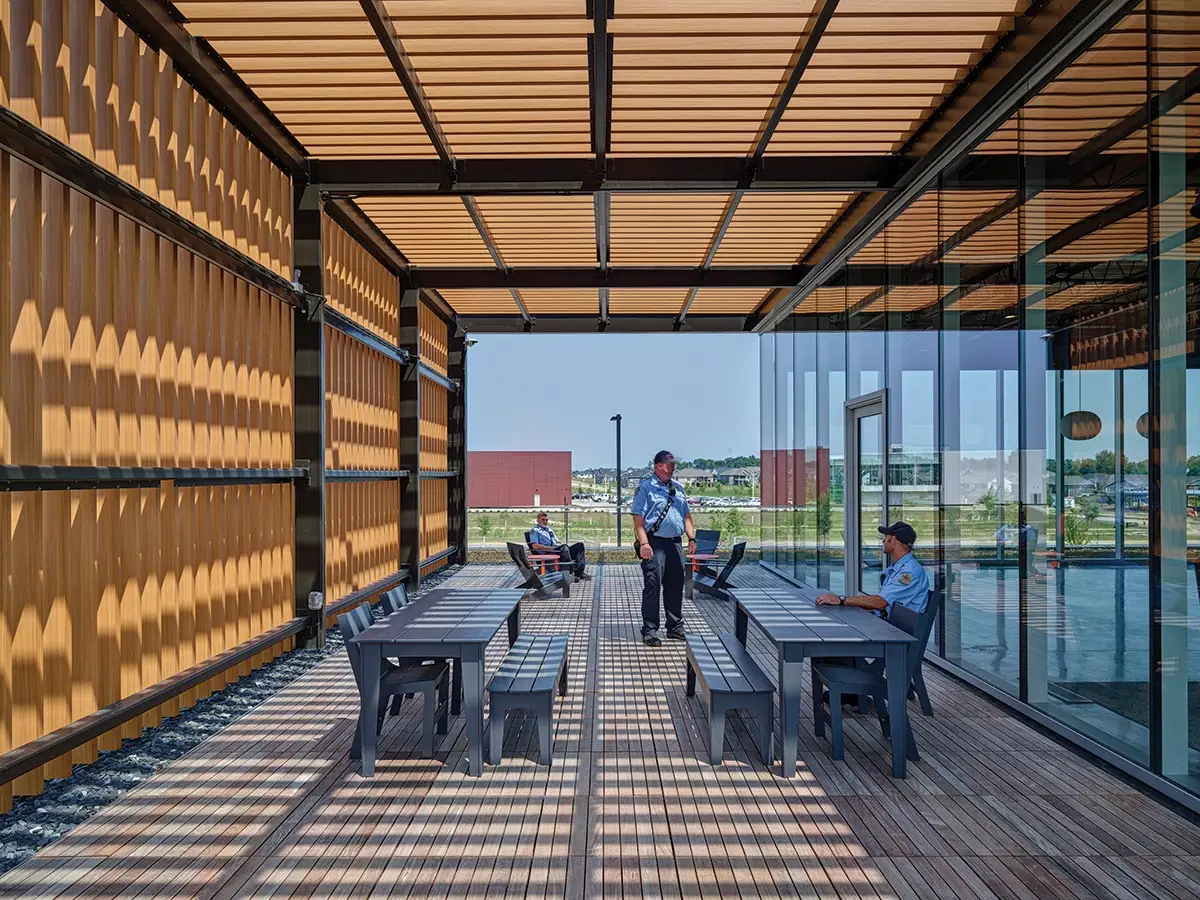 3
Glass doors establish a connection to the community (1) but also to outdoor spaces for the firefighters (2 & 3). Photos © Cameron Campbell
Deb Krebill, who oversaw the project as chief of Marion's fire department from 2014 to 2022, centered those aims around the well-being of first responders. Having been introduced to the idea of biophilic design, or design that seeks to connect a building's occupants closely with nature, Krebill argued that such an approach could help "ease the physical and mental trauma that we experience in these jobs," as she puts it. Firefighters, she notes, face an elevated risk of cancer along with high levels of stress, long-term side effects of chemical exposure, and numerous other health hazards—not least of which are the fires themselves.
In designing the station, OPN sought to allay these concerns in some fairly standard ways—dividing the building into hot, warm, and cold zones, for example, to ensure that no contaminants enter the spaces where firefighters work and rest—and in other, biophilic ones. Terraces atop the first-floor roof and expansive window walls offer direct connections to nature that Sorg hopes will lower stress levels and provide a sense of tranquility. After all, the firefighters who occupy the station do not just work in it; for them, it is also something of a second home where, while on duty, they sleep, eat, and relax together.
The two-story structure appears from afar as a modest horizontal bar that rises behind a gentle lawn. Its entrance and public spaces, set to the right of a three-truck apparatus bay, form a glass-walled one-story volume at the front that conveys a welcoming transparency; behind it on the ground floor sit administrative offices along with a storm-fortified classroom that can also serve as an emergency-operations center for the city. Above are the firefighters' living spaces, which include sleeping quarters, a fitness room, a well-appointed kitchen, and a generous dining and living area with glazing on three sides. Those sections of the first floor roof that are not topped with terraces instead have green roofs, ensuring that the sleeping quarter windows look out over nature rather than a rubber membrane.
4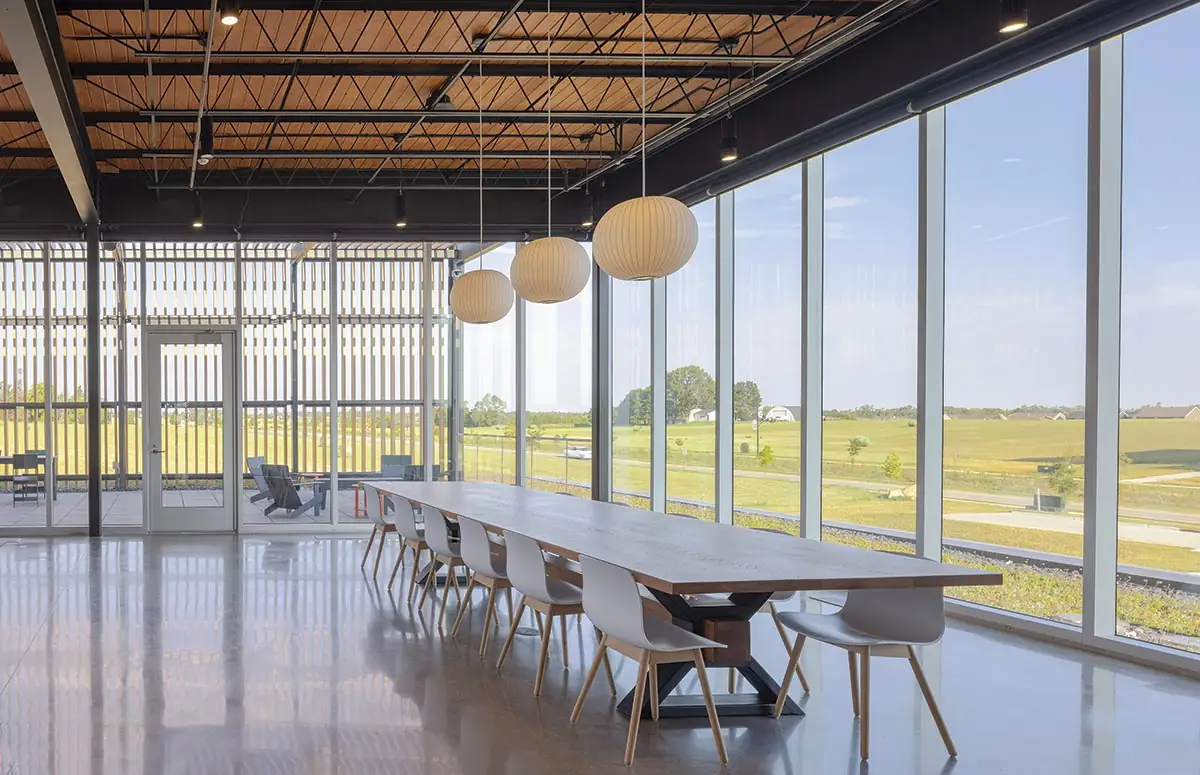 5
The living areas, wrapped in full-height glazing with exposed wood ceilings, include a full kitchen (4) and a large family-style table (5). Photos © Cameron Campbell (4), Alex Michl (5)
One other exterior element stands out: a narrow, translucent glass volume that rises just above the roofline of the apparatus bay and, at night, becomes a glowing rectangle of light that is reflected in an adjacent retention pond. As a nod to the towers of past fire stations, it is the building's only explicitly symbolic feature. But it is also practical: it houses a stair used for firefighter training, and—history repeats itself—for hose drying. (In keeping with today's emphasis on firefighter health, hoses are now washed and dried to remove dirt and hazardous substances.)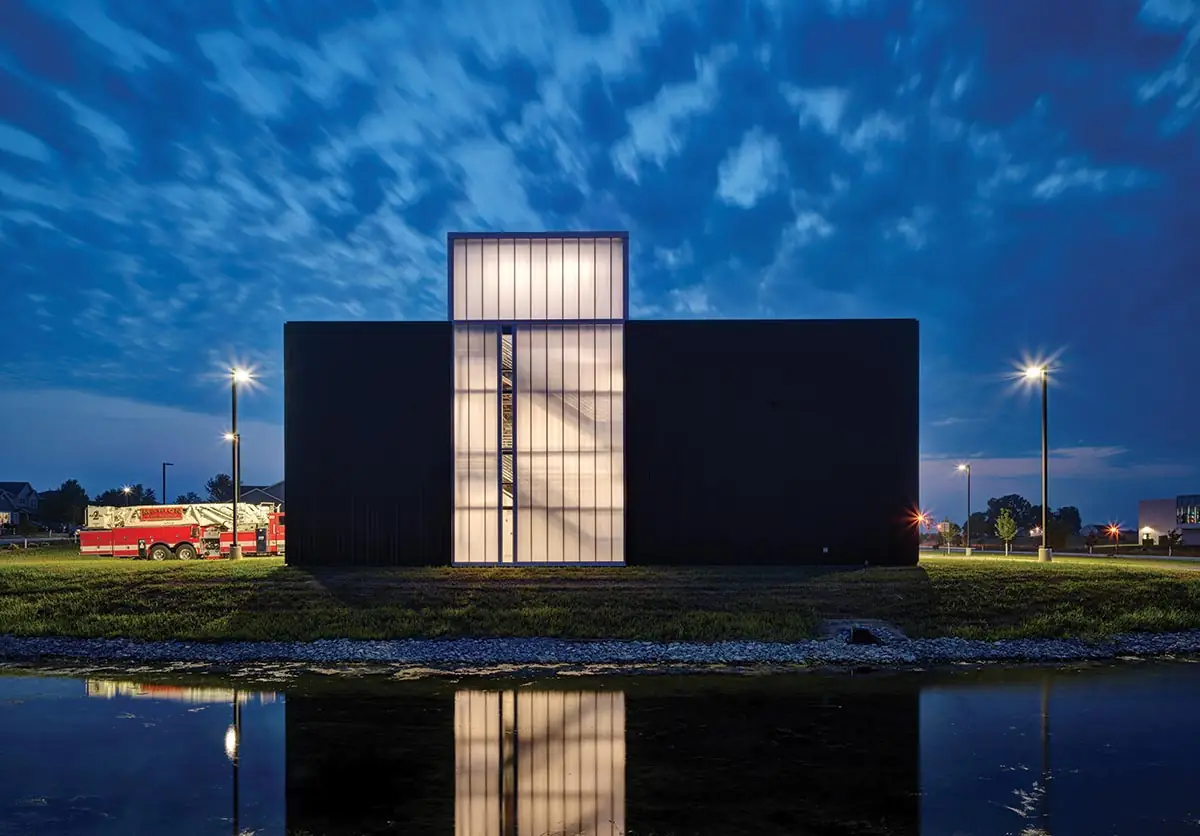 6
The hose-drying tower becomes a glowing rectangle at night (6) but also serves as a training area to simulate rescues (7). The plan and massing of the building is anchored by a two-story apparatus bay (8). Photos © Cameron Campbell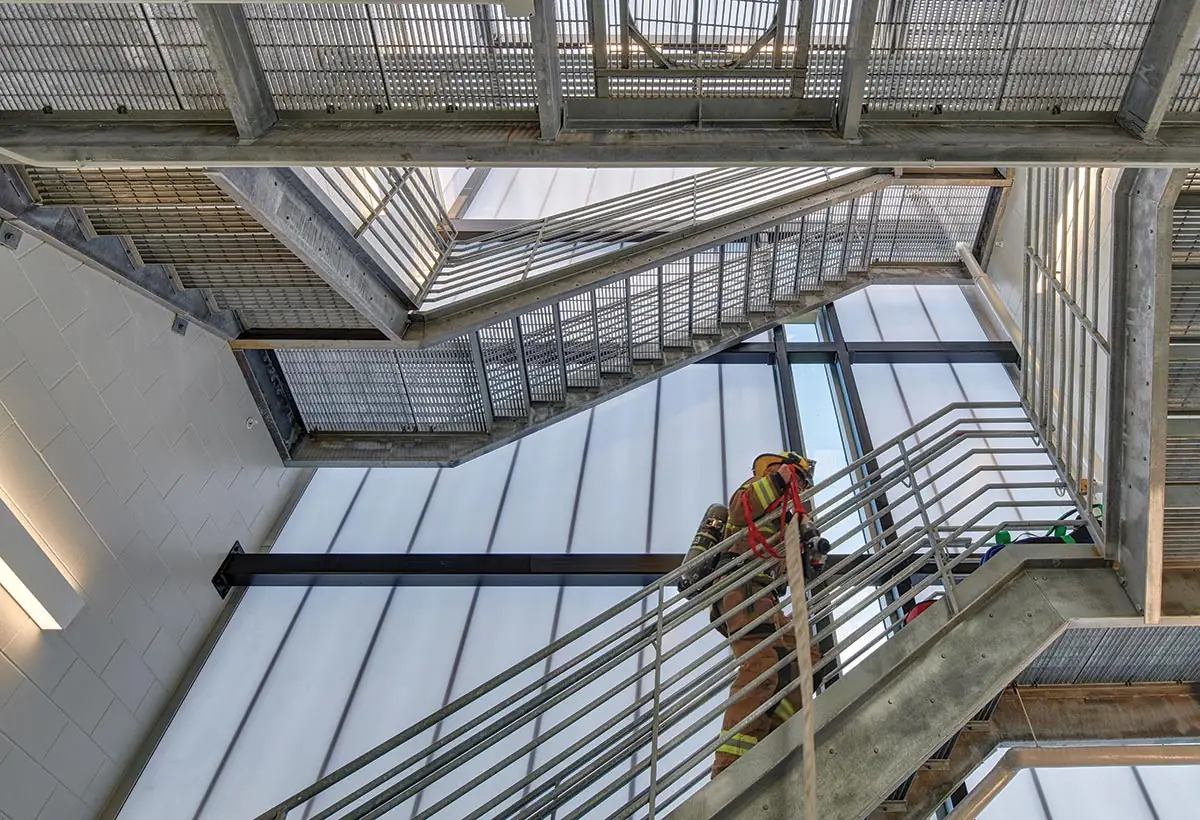 7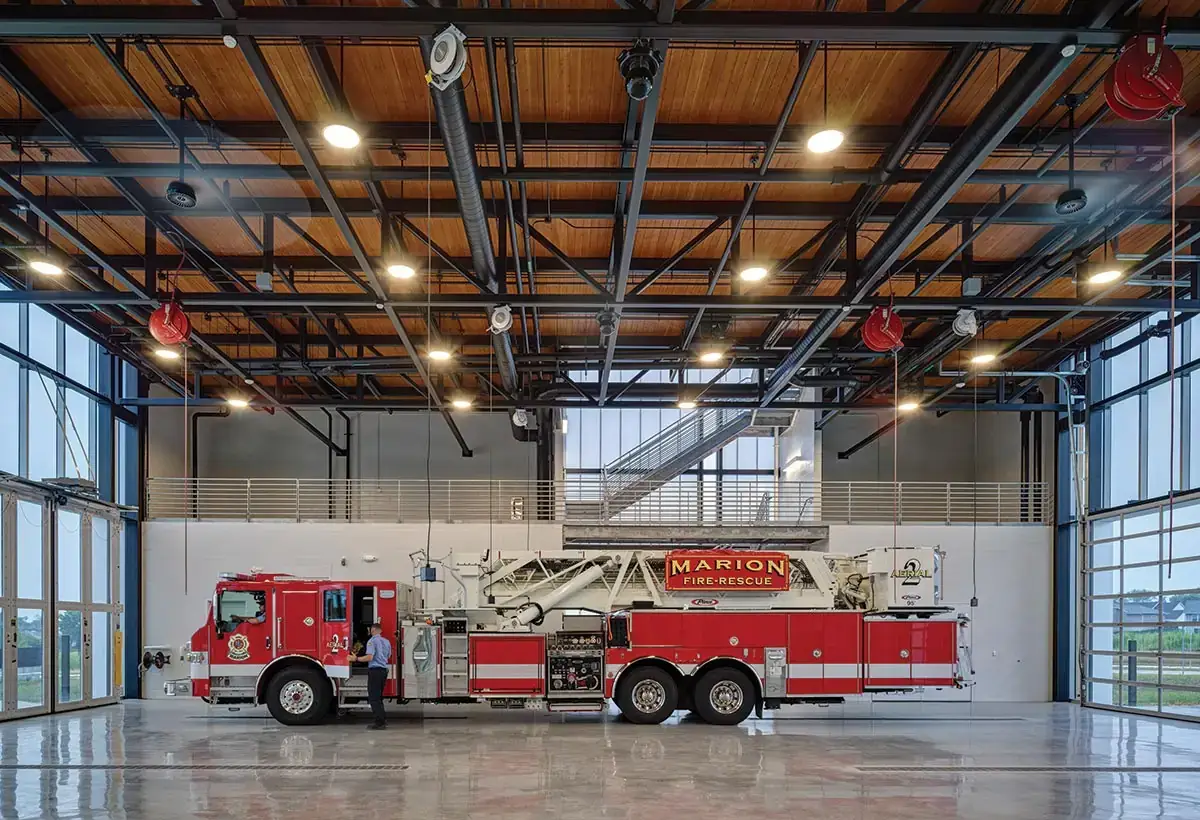 8
But it is the building's embrace of the natural landscape, not the gesture of the tower, that ultimately gives it gravitas. Apart from the extensive glazing and a steel structure, different kinds of wood dominate the station's interior and, especially, its exterior. In what is perhaps a surprising choice for a fire station, most of its cladding is charred wood; Sorg explains this as a "living example of a controlled burn," and thus of fire deployed not destructively but rather in protection of life. Here, again, nature and its processes take center stage in an otherwise-minimal design.
Among too many architects today, the idea of biophilia has become a cliché, meaning little more than the application of wood veneer and strategic placement of potted plants. But for Krebill and Sorg, biophilia seems to have instead been the starting point for a return to the very American celebration of nature found in the poetry of Walt Whitman and extended into architectural principles by Sullivan and Wright.
Click plans to enlarge

Marion Fire Station No.1 in Marion, Iowa, from OPN Architects on Vimeo. Courtesy OPN Architects
Credits
Architect:
OPN Architects — David Sorg, principal in charge; Landon Burg, project architect; Tate Walker, sustainability director; Mindy Sorg and Erica Steapp, interior designers
Engineers:
Hall & Hall Engineers (civil); M2B Structural Engineers (structural); Design Engineers (m/e/p)
General Contractor:
CCI Group
Client:
City of Marion
Size:
21,200 square feet
Cost:
$8.9 million (construction)
Completion Date:
July 2021
Sources
Exterior Wood:
Accoya Charred Siding
Glass:
Vitro
Roofing and Metal Panels:
Firestone Building Products
Translucent Panel System:
Kingspan CPI
Doors:
VT Industries (wood); Ceco Door (wood); Door Engineering (four-fold system); Clopay (sectional overhead system); Insulgard (storm shelter)
Hardware:
Assa Abloy
Acoustical Ceilings:
Armstrong
Lighting Controls:
Hubbell Control Solution