✕
What do we mean when we call something "zero carbon"? Its definition is self-evident, like "gluten free" or "tax-deductible." But does the term need a qualifier?
The nomenclature of sustainable design has evolved in the last two decades. From humble beginnings ("green building") to regenerative pathways ("living building"), the terms and superlatives we use are meant to distinguish excellence. "Net zero energy," "carbon neutral," "emissions free"—these and related permutations are bandied about by government actors at United Nations climate summits and by nearly every corporation looking to make good on their ESG (environmental, social, and governance) pledges. The designations are leveraged at all scales, from single-family houses to entire nation states. They are now commonplace. So, why the confusion?
Perhaps the biggest question the building industry is grappling with today is how to measure carbon. While a zero-carbon building is self-explanatory (broadly defined as having a net zero amount of carbon emissions associated with its annual energy demand), the means to achieve zero emissions diverge greatly depending on which performance standard is being adopted, among other factors, and thus call into question whether certain projects that claim the distinction are legitimately carbon neutral. We have near universal agreement on the technical definition of "zero carbon," but only relative agreement on its practical definition and how to achieve it. And some industry experts believe it's not even possible, in the strictest sense. If methodologies and outcomes vary, then maybe the definition is compromised, or the term itself becomes relative.
According to Drew Shula, CEO of Verdical Group, a California-based sustainability consultancy, we need industry-wide consensus on what "zero carbon" truly represents, so that we may "compare project performance apples to apples." Jason McLennan, founder of McLennan Design (now part of Perkins & Will, where he also serves as chief sustainability officer), maintains that definitions don't need tweaking, just reinforcing. Some people try to change the meaning of what it is to be "green" and "net zero," says McLennan. "That's because these terms have value—they're part of the lexicon of design."
The contributors to a building's carbon output can be broken down into the emissions associated with grid-delivered electricity, on-site combustion, and embodied carbon (the emissions produced by material extraction, construction, and demolition and disposal), as well as water consumption, and refrigerants, according to the New Buildings Institute (NBI). Currently, there are more than a dozen organizational definitions of what constitutes carbon-neutral building operations, all represented by a roughly equal number of standards. The ones with the most brand recognition include LEED Zero Carbon, Zero Code, and the International Living Future Institute's (ILFI) Zero Carbon certification. Though they generally agree on the need to reduce site energy use and the importance of operational efficiency, each one paves a slightly different pathway to achieving carbon neutrality. For instance, on-site combustion is still permitted, to varying degrees, by most standards, as is the use of off-site renewables, while embodied carbon and the source of grid-delivered electricity are considered to various extents across the different programs.
Alexi Miller, NBI's acting director of building innovation, doesn't endorse any one pathway over another. The point of pursuing carbon neutrality is to mitigate the impacts of using a lot of energy, he says, and "getting the architectural community to think about all the ways we can get to net zero."
Miller is adamant that decarbonization is a straightforward process, but with numerous interrelated considerations. He points to NBI's Five Foundations of Zero Carbon Building Policies: energy efficiency, renewable energy, building grid integration, building electrification, and [reducing] embodied carbon. Within the constraints of this multi-pronged approach, ensuring that any building or development abides by its carbon and energy targets demands holistic thinking, from design to construction to operations. Straightforward though it might be, getting to zero carbon is far from simple.
"People have a tendency to overstate their claims because they want the marketing benefit without having done all the work," says McLennan. When the value of something like zero carbon is artificially inflated, even for a single project, it dilutes the value for hundreds more that claim the title in good faith. It was for this reason that McLennan established ILFI, in 2006, an organization that sponsors building-performance standards that are considered the industry's most stringent. "Words mean what we want them to mean," says McLennan, paraphrasing a passage from Lewis Carroll's Through the Looking Glass. McLennan points to those performance standards that permit the on-site burning of natural gas coupled with offsets (when emissions are reduced through reforestation or other means to compensate for emissions generated elsewhere). "That's not zero carbon!"
Despite his (and others') ongoing attempts to codify a common language, McLennan doesn't advocate for some overhaul of the lexicon. Zero carbon, carbon-neutral, net zero energy—"These are not protected words," unlike the label "organic," he says, which is federally regulated. A creative act of marketing can attempt to mimic the connotations of "organic" with claims about being "natural," but the word itself is practically untouchable. "Regenerative" design, on the other hand—which was first adopted to describe net-positive acts of healing and denote "going beyond less bad as a paradigm"—is now being employed in "strange and incorrect ways," says McLennan.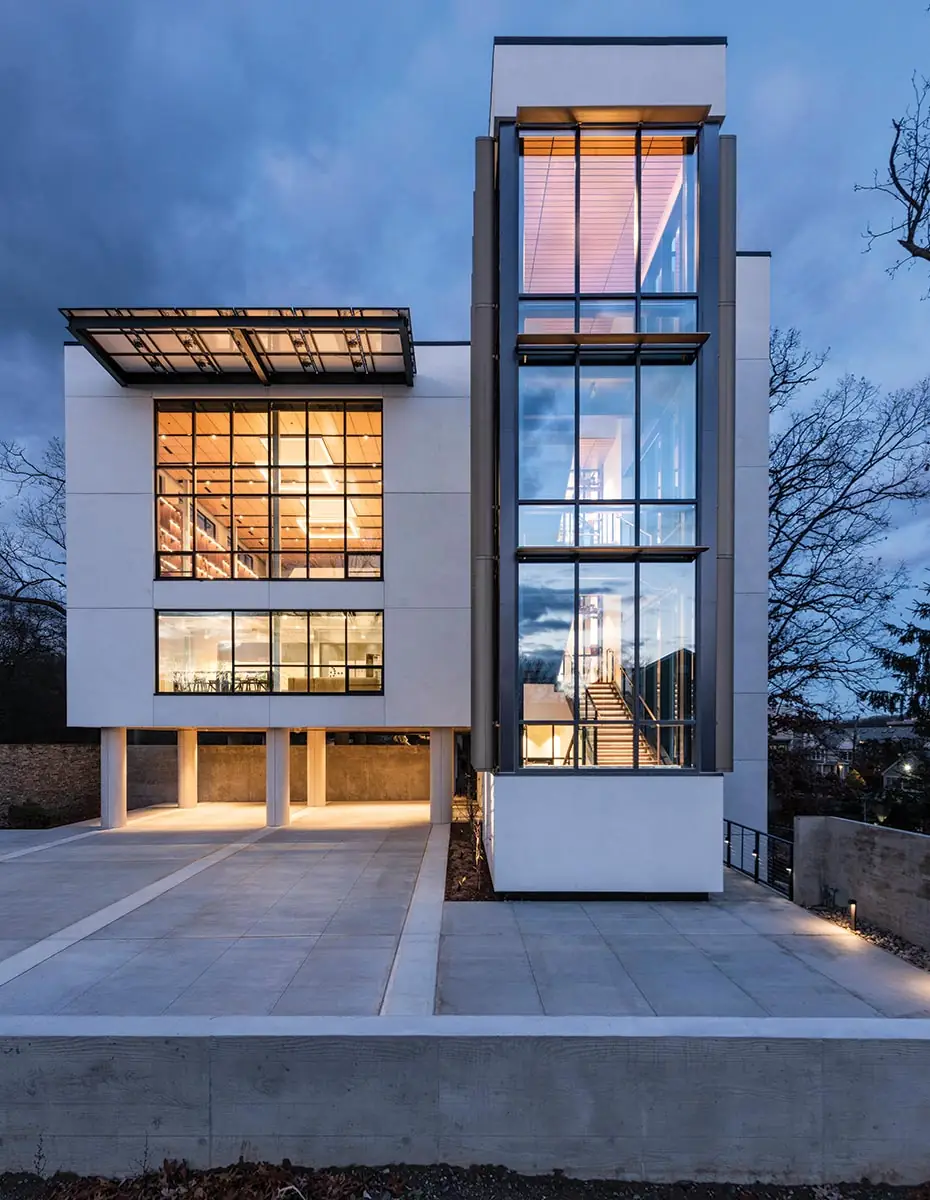 The offices of HMTX Industries, in Norwalk, by McLennan Design, are expected to be Connecticut's first Petal-certified Living Building (above and top of page). Photo © Anton Grassl, click to enlarge.
As an example of a project that aims to be restorative, McLennan points to his firm's recently completed headquarters for HMTX Industries, a manufacturer of flooring materials, in Norwalk, Connecticut. It expected to be the state's first Living Building Challenge Petal–certified project. (Of LBC's seven performance "Petals," as the certification system's requirement categories are called, only Water was not pursued, though a 5,000-gallon cistern captures rainwater and provides graywater for toilets and other utilities.) The four-story, 24,000-square-foot office building is far from the typical corporate campus. Situated on a sloping hillside in suburban Fairfield County, the building is designed as an innovation center, including three apartments for artists-in-residence, a printing fabrication lab, makerspaces, and an art gallery. Its relatively compact, forested site also benefits from a light building footprint. A substantial portion of the vertically oriented structure sits atop a series of tiered pilings, so that the existing landscape is preserved for native plantings and stormwater retention. The interior spaces benefit from connections to the outdoors, carefully controlled daylight, and planted green walls. Electricity needs are exceeded through on-site solar power, and the building is expected to operate with zero carbon emissions.
As with every other Living Building Challenge project, HMTX's pathway to zero carbon is grounded in context—its geography and climate, the client's culture, and their long-term goals for the building. In keeping with LBC standards, the building also omits the use of on-site combustion.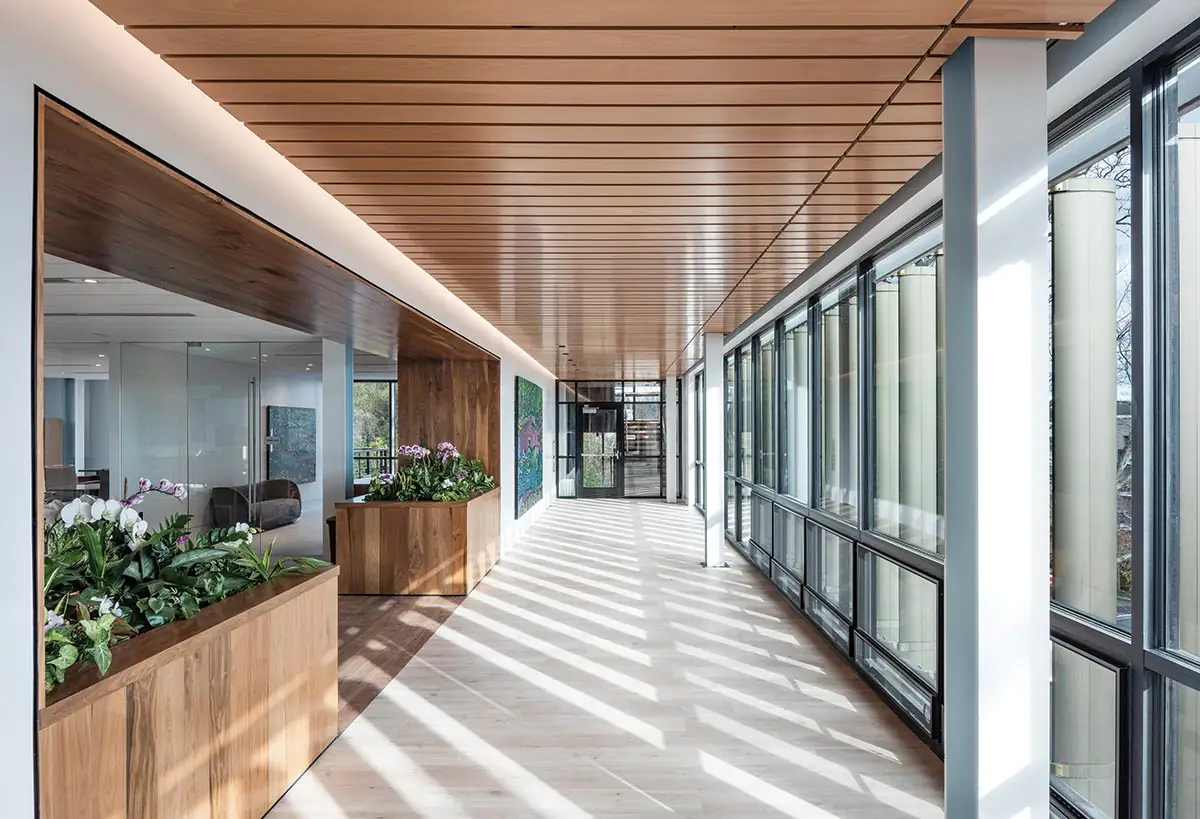 The interiors at HMTX benefit from such biophilic qualities as connections to the outdoors, plentiful daylight, and indoor plantings. Photo © Anton Grassl
The LBC is arguably the closest thing to a universal sustainability standard the world has. Which begs the question: do we need a universal standard? Architect Sabina Cheng doesn't think so. Cheng, a studio director at Los Angeles–based RIOS, says consolidating the pathways into a singular yardstick would hamper innovation and blind designers to the performance and operations needs of regions and communities on a micro scale. There is no perfect system, Cheng says. "There is no true net zero. But that shouldn't stop us from trying to do as much good as we can."
Cheng refers to LEED certifications as "chasing points," but stops short of dismissing their positive influence. "[LEED] has made a huge difference in how people consider green buildings today," she says, but it's "become a commodity" that developers get to showcase in pursuit of public accolades. Cheng's colleague at RIOS, Elizabeth Wendell, a senior project designer, likewise doesn't take so much exception to how a term like "zero carbon" is defined, but rather to the context in which it's used. To get at the question of value, Wendell hypothesizes two buildings: one is zero carbon and in the middle of nowhere, the second is high-performance, continually occupied, and fully integrated within its community setting. "We have to ask ourselves what the goal is," says Wendell, and consider not just what is being built and how, but also why.
To test Wendell's hypothesis, one must ask, does a high-performing (though not net zero) building that benefits an entire community have greater value than a certified zero carbon building that's used sparingly and in a remote area? If so, then does the value of a zero-carbon standard become inadvertently diluted?
Cheng and Wendell cite their firm's work for the on-the-boards Watts Community Center as an example of purpose-driven design. It will provide a critical amenity in the center of LA's notoriously underserved Jordan Downs Projects public housing community. The proposed mixed-use community space and adjoining park, sited on an oblong 6.5-acre plot, includes specifications for a 45,000-square-foot rooftop photovoltaic system that will offset all energy needs. Its other offsets are the "intangibles" that bring people together, says Cheng, like being a catalyst for community-revitalization efforts, enhanced green spaces and playing fields, and providing much needed shaded areas within an urban heat island. Net zero energy has been key to the design discussion of Watts from the start. Achieving just that would put the project on the right path towards zero carbon. But that isn't RIOS's singular preoccupation. "There's a reason to build," says Cheng. Zero carbon or not, in her estimation, electing to not build the center is worse than the alternative.
The rooftop at the RIOS-designed Watts Community Center in Los Angeles will have a 45,000-square-foot photovoltaic array to cover its energy needs. Image courtesy RIOS
Barring the existence of a universal building-performance standard, some companies and organizations have elected to chart their own pathways. Seattle-based LMN Architects is one such firm. In early 2022, the firm launched its Path to Zero Carbon Series, a research-focused project aimed at making sense of the issue of carbon emissions. Confusion is pervasive throughout the industry, according to Sam Miller, a partner with LMN. "We felt we needed to get smarter on the topic." At its core, LMN's Path to Zero is an exercise in humility, not marketing. While acknowledging the building industry's increasingly sophisticated tools for reducing emissions, the firm considers "net zero carbon" and "carbon neutrality" as (mostly) disingenuous, because select large emissions sources, particularly embodied carbon, are ignored or sidelined by key players.
Justin Schwartzhoff, LMN's embodied-carbon-research lead, calls the all-encompassing "zero" a "squishy number." We may eventually reach a point when we can legitimately claim zero carbon, he says, but he also stresses, "Right now, we are far away from that."
This pragmatism stems from LMN's stance that all phases and scopes of carbon emissions—embodied and operational—come with price tags that we haven't even begun to calculate. At present, carbon pollution is largely an externality—something its producers are not required to take financial responsibility for. LMN would like to reverse that thinking and reach a point where the price of carbon is reflected across the building industry. But, in the meantime, "advocating for carbon reductions as a public good is the path forward," according to the Path to Zero Carbon Series website.
This ambitious yet grounded approach is manifested in LMN's design for the Seattle headquarters of global real-estate firm Hines. The recently completed 7,120-square-foot renovation, located on the eighth floor of the historic Modernist Norton Building, was carefully programmed to reduce the impacts of embodied carbon without relying on offsets. This was achieved through conscientious salvage and reuse efforts, including a feature wall made from roughly 1,100 square feet of upcycled wood offcuts and salvaged local wood for a central conference table. A majority of the existing partitions, doors, and interior glazing were identified for reuse and, in many locations, were reused in place. The insulation from those partitions that were removed was donated to local rebuilding efforts for flood victims. In the case where unwanted existing materials couldn't be repurposed or new furnishings couldn't be sourced from salvaged items, LMN conducted meticulous embodied-carbon analysis in each instance. The result is an office renovation with a 65 percent reduction in embodied carbon compared to a baseline remodel of an empty office space.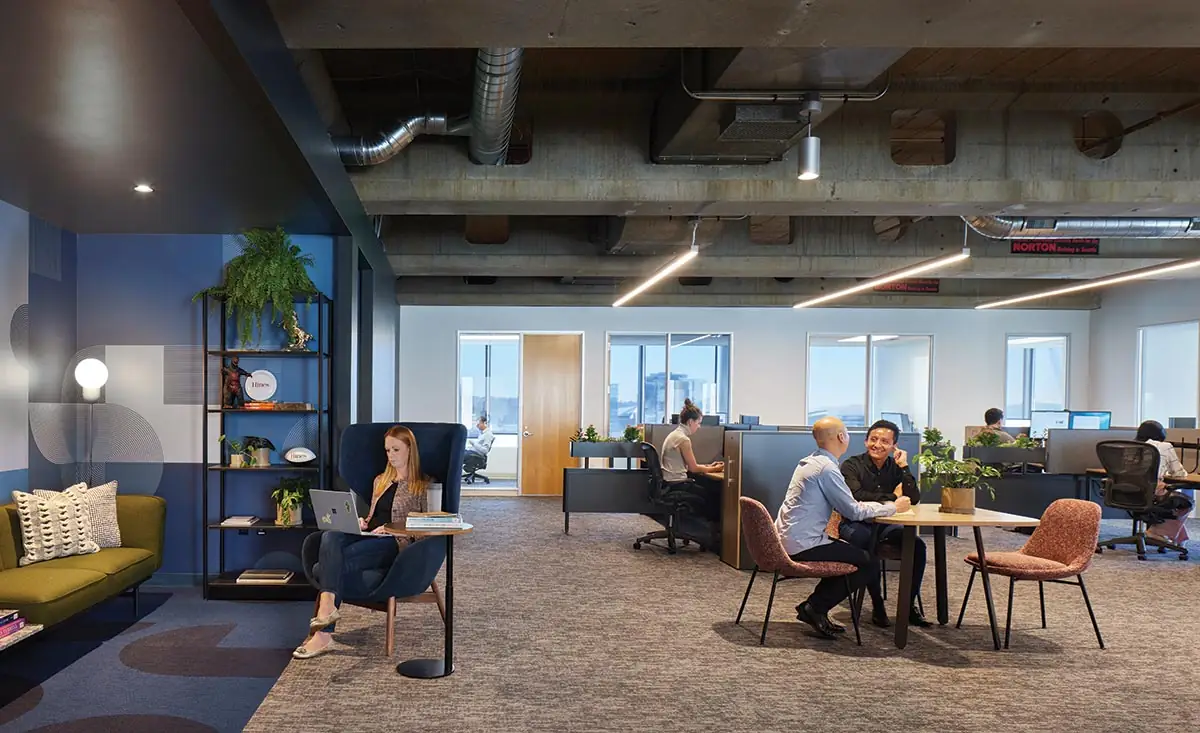 1
When renovating an office for Hines in Seattle, LMN reduced embodied carbon by 65 percent by reusing existing partitions, doors, and interior glazing, among other strategies (1 & 2). Photo © Benjamin Benschneider (1); Image courtesy LMN Architects (2)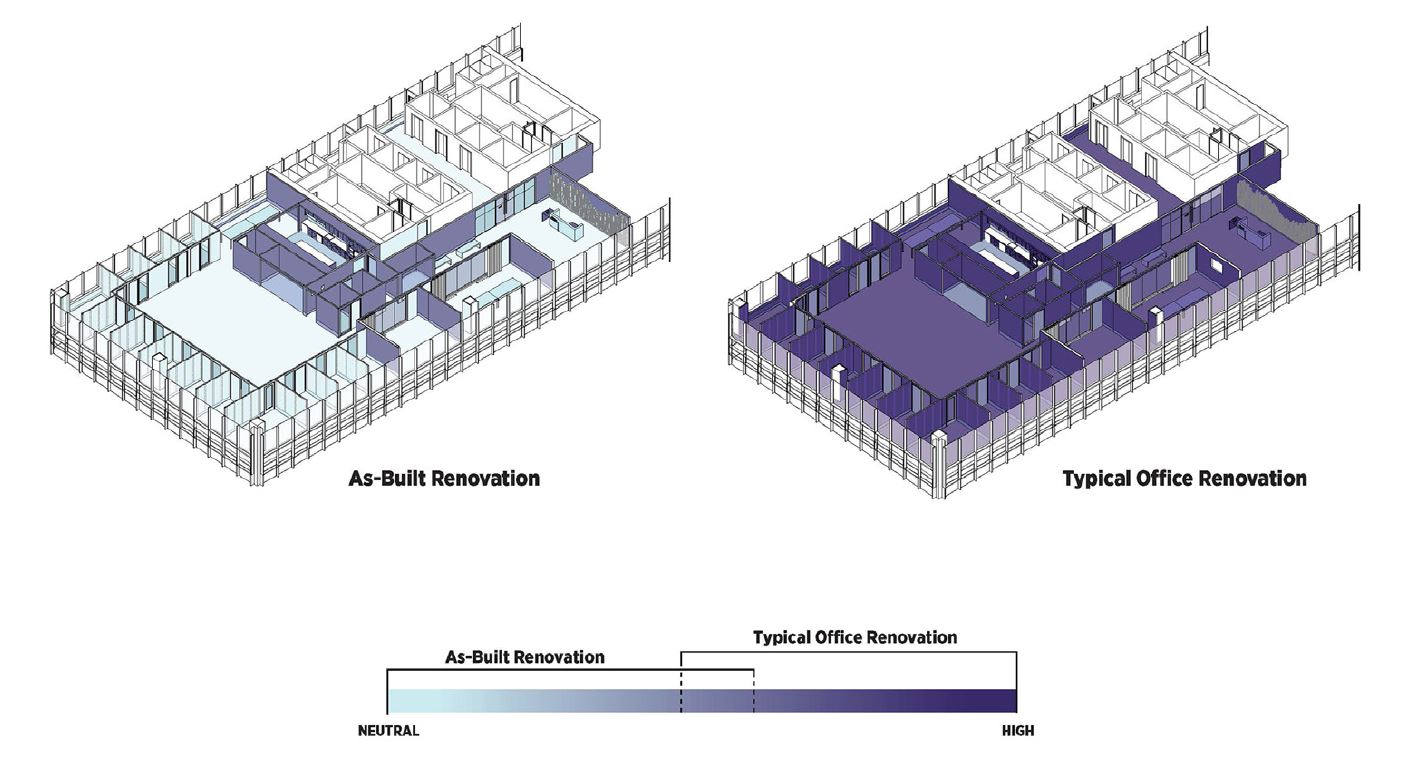 2
When it comes to large-scale carbon reduction, Verdical Group's Shula is laser focused on the grid, and believes the other phases of carbon output will follow. The goal is to get our energy from renewable sources and wean all buildings off fossil fuels, he says. "At the heart of the war of words and various definitions is the massive global energy transition we're in the midst of today." Worldwide, the burning of fossil fuels accounts for about 80 percent of today's energy use; some projections have that figure dropping to 20 percent by 2050. That's kicking the can, he says. Shula believes that energy transition can be fast-tracked, and that we shouldn't settle for vague reduction targets that are time-stamped decades into the future.
Efforts to do good shouldn't fall short in pursuit of perfection, and Shula prefers to fix his attention on matters unrelated to the nomenclature of sustainability. "We need to stop bending to the money and influence of fossil-fuel interests and keep the goal of slowing global warming front and center. This will frame our decision-making and allow us to focus on what really matters—carbon reduction." While conceding the extreme rarity of true zero carbon, he doesn't consider pursuing it a fool's errand. Shula says our capacity to design for self-sufficiency is proven, and the means to severely reduce carbon output across all phases are viable. "It's important to know that net-zero can be achieved yesterday."
Continuing Education

To earn one AIA learning unit (LU), including one hour of health, safety, and welfare (HSW) credit, read the article above and "An Insider's Guide to Talking about Carbon Neutral Buildings," New Buildings Institute, © NBI.
Then complete the quiz. Upon passing the test, you will receive a certificate of completion, and your credit will be automatically reported to the AIA. Additional information regarding credit-reporting and continuing-education requirements can be found at continuingeducation.bnpmedia.com.
Learning Objectives
Outline the varying definitions for terms such as net zero energy, carbon-neutral, and emissions-free.
Debate the importance of standard definitions for building-performance terminology.
List the main factors that account for a building's carbon emissions.
Describe possible pathways for achieving zerocarbon buildings.
AIA/CES Course #K2304A