✕
Michael Wilford, former partner of James Stirling and highly respected professor of architecture, died on March 10 at the age of 84. From early in his career, Wilford's professional life in architecture was largely determined by his relationship with Stirling, arguably the most important British architect of the 20th century. In 1960, a 22-year-old Wilford joined Stirling and James Gowan in practice, and three years later when Gowan and Stirling parted ways due to creative differences, Wilford went with Stirling. Dismissed later as simply an enabler of Stirling's flights of fancy, he was much more. As relayed to RECORD, it was said by a member of staff at Stirling and Gowan "whoever got Michael would have progressed."
Wilford, 12 years younger than Stirling, helped organize the small practice with patience and humor, becoming a partner in 1971. According to staff who worked at Stirling Wilford & Associates at the time, the office was run more like a studio than a corporate practice, with Wilford guiding it through the difficult delivery of the technically ambitious Faculty of History at Cambridge University (1968) and the Florey Building in Oxford (1971). Wilford was also instrumental in navigating the practice through the economic downturn that followed those British projects, which were critically acclaimed but did not leave behind happy clients.
Wilford is rarely given credit for moving the practice from the design of buildings at suburban university campuses in Britain to new building types. The Neue Staatsgalerie in Stuttgart (1984), was not only a move away from the United Kingdom, it is also a move into a historical urban core. This project, arguably the practice's finest, and others like it generated a new revenue stream for Stirling Wilford & Associates and offered an opportunity for Stirling to use his compendious knowledge of architectural history, taking the practice in a new historically literate and contextual direction—a more profound and thorough take on Postmodernism than many thought possible.
Ironically, one of the reasons Wilford's role in the practice is often underplayed or misunderstood is that Stirling and Wilford resisted apportioning specific credit for different aspects of the practice. They were both adamant that the nature of their creative and professional partnership—indeed the nature of the wider practice to which architects such as Laurence Bain and Russell Bevington also contributed—could not be easily divided. "It's difficult to divide people's contributions to particular buildings," explained Wilford in a contribution to the 1986 documentary Stirling, directed by Michael Blackwood. "It's not possible to carve [them] up."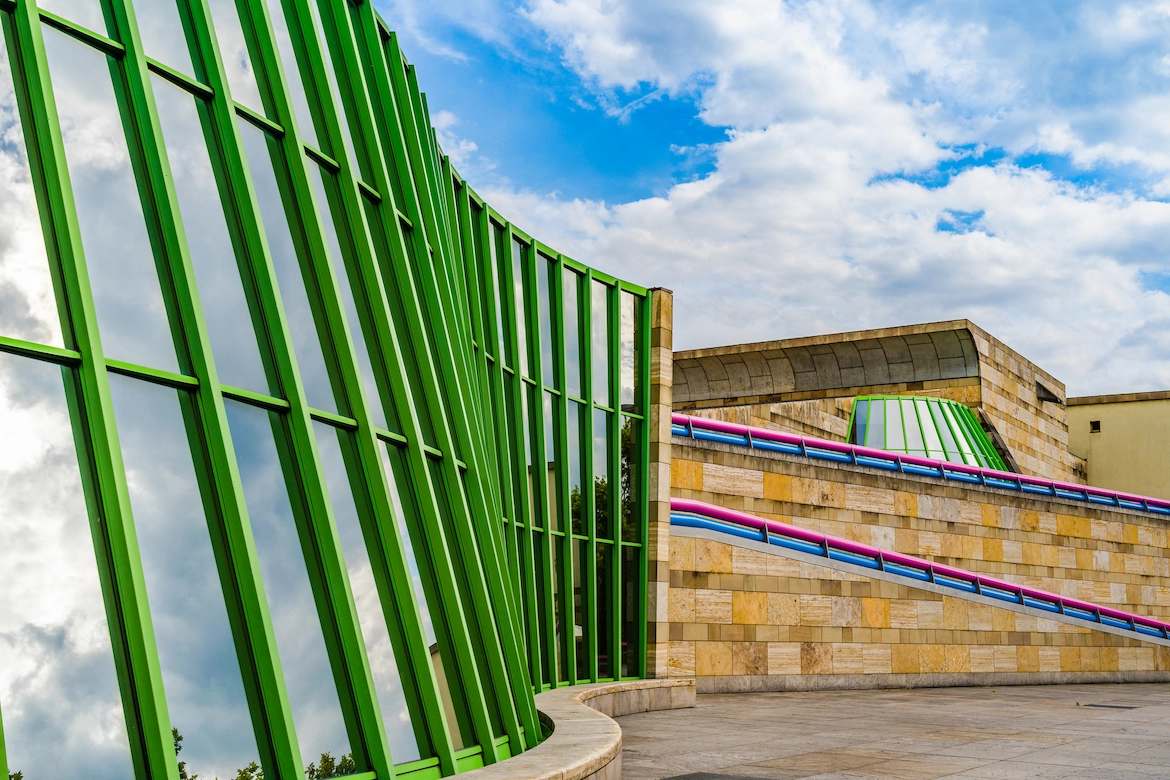 The Neue Staatsgalerie in Stuttgart by Stirling Wilford & Associates (1977–1983). Photo by Photofires, Shutterstock
Marco Iuliano, an Italian architect teaching at the University of Liverpool School of Architecture, is curator of the traveling exhibition Doodles: thinking and drawing architecture at Stirling Wilford and Associates. Opening at the Irish Architectural Archive in Dublin at the end of May, the show examines the architecture of Stirling and Wilford but also the nature of the practice. "Stirling and Wilford were in many ways like a single brain; the right and the left parts," Iuliano says. "A human can't work properly without both and it was the same with the practice. Jim was perhaps more of a creative mind but to deliver great architecture, you need someone like Michael, otherwise it doesn't work."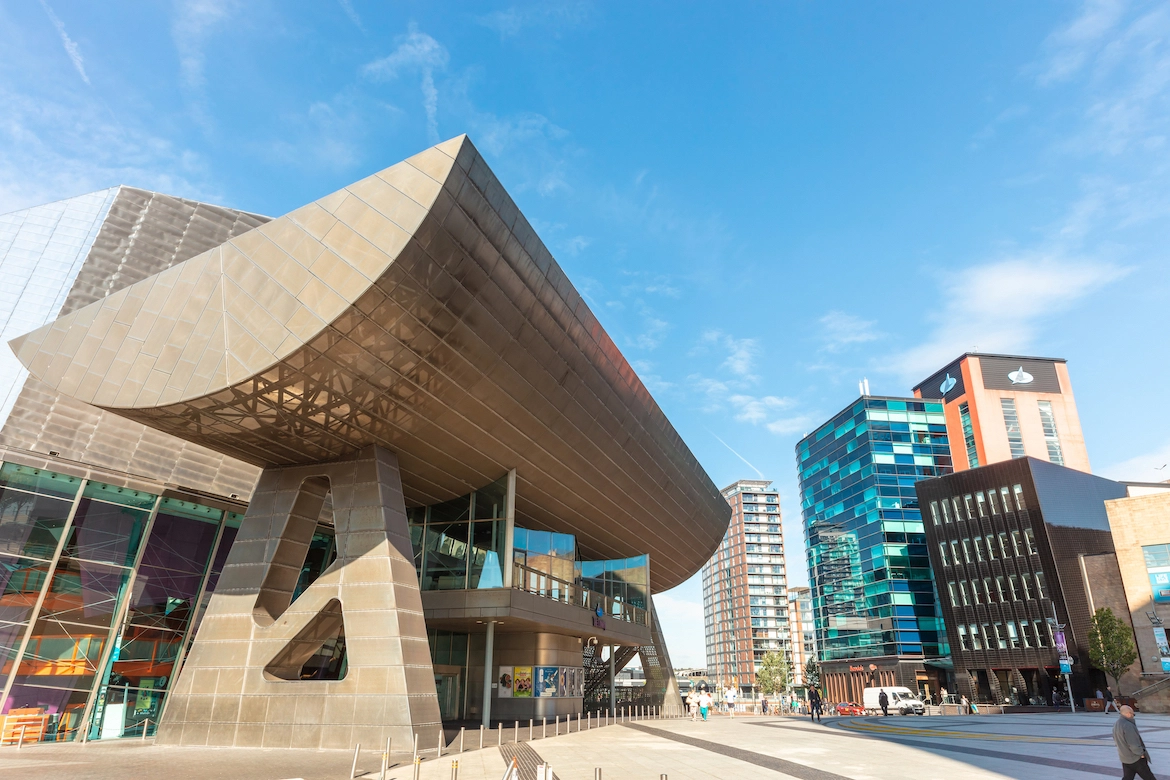 The Lowry, a theater complex in Salford, Greater Manchester, by Michael Wilford (2000). Photo by Debu55y, Shutterstock
Wilford's role grew as the practice matured. Although the mixed critical reception of the Arthur M. Sackler Museum at Harvard University (1985) may have in the short-term colored the practice's work in the United States—largely on university campuses—the subtlety and generosity of work such as the additions to and renovation of the Rice University School of Architecture (1981), which Wilford carefully stewarded, have been acknowledged with time. As contextualism is increasingly applauded today, the rest of the firm's work in the United States—at the University of California, Irvine (1988) and Cornell University (1989)—has grown in reputation. Wilford's role in these projects was key.
After Stirling died unexpectedly in 1992, Wilford continued to deliver work begun with his erstwhile partner for several more years. This ostensibly solo work was still in thrall to Stirling. He won the RIBA Stirling Prize in 1997, named after his former partner, for the Stuttgart Music School, which was a close interpretation of their shared original proposal. When he tried to tack away from Stirling's original intentions as with the Lowry Centre (2000) in Manchester his work lacked coherence. Wilford generally struggled to find a model for practice that matched the professionally intimate yet intellectually expansive one he had created and shared with Stirling.
1997 Stirling Prize-winning Stuttgart Music School by Stirling Wilford & Associates. Photo by Priesler, Shutterstock
During this time, Wilford put much of his energy into teaching, and variously held posts at institutions including Harvard, Rice, Yale University, the University of Cincinnati, McGill University, the Architectural Association in London, the University of Liverpool, and the University of Sheffield. His generosity and inquiring intellect were admired and appreciated by fellow staff and students alike. Along with his prowess as a teacher, his role in architectural history, particularly in the subtle ways he adapted the Modernist credo to a new world, shouldn't be overlooked.