✕
This year, for the first time since the advent of the coronavirus pandemic, Milan's mammoth Design Week, the motor of which is the mythic Salone del Mobile, returned to its traditional April slot (a huge relief after the exhausting stickiness of last year's June Design Week). "Back to business with some climate-conscious improvements" was essentially the message promoted by the fair's president, Maria Porro, in her opening remarks to this 61st edition. Attendance figures certainly indicate a relative return to form: 307,418 people passed through the turnstiles of the six-day event out at the Rho Fiera exhibition halls—15 percent more than 2022's 262,608 attendees but still significantly below 2019's pre-pandemic 386,236 (the benchmark by which all post-Covid editions of the fair are now measured).
At the stands, the bustle was at times unbearable, but that was because Salone 2023 was considerably smaller than in the past, occupying just one level of the 10 million-square-foot Fiera Milano rather than the usual two. Official figures are a little vague but seem to indicate that the number of exhibitors was down by around 125 from last year, settling at just over 2,000, and including 550 young designers showing at SaloneSatellite.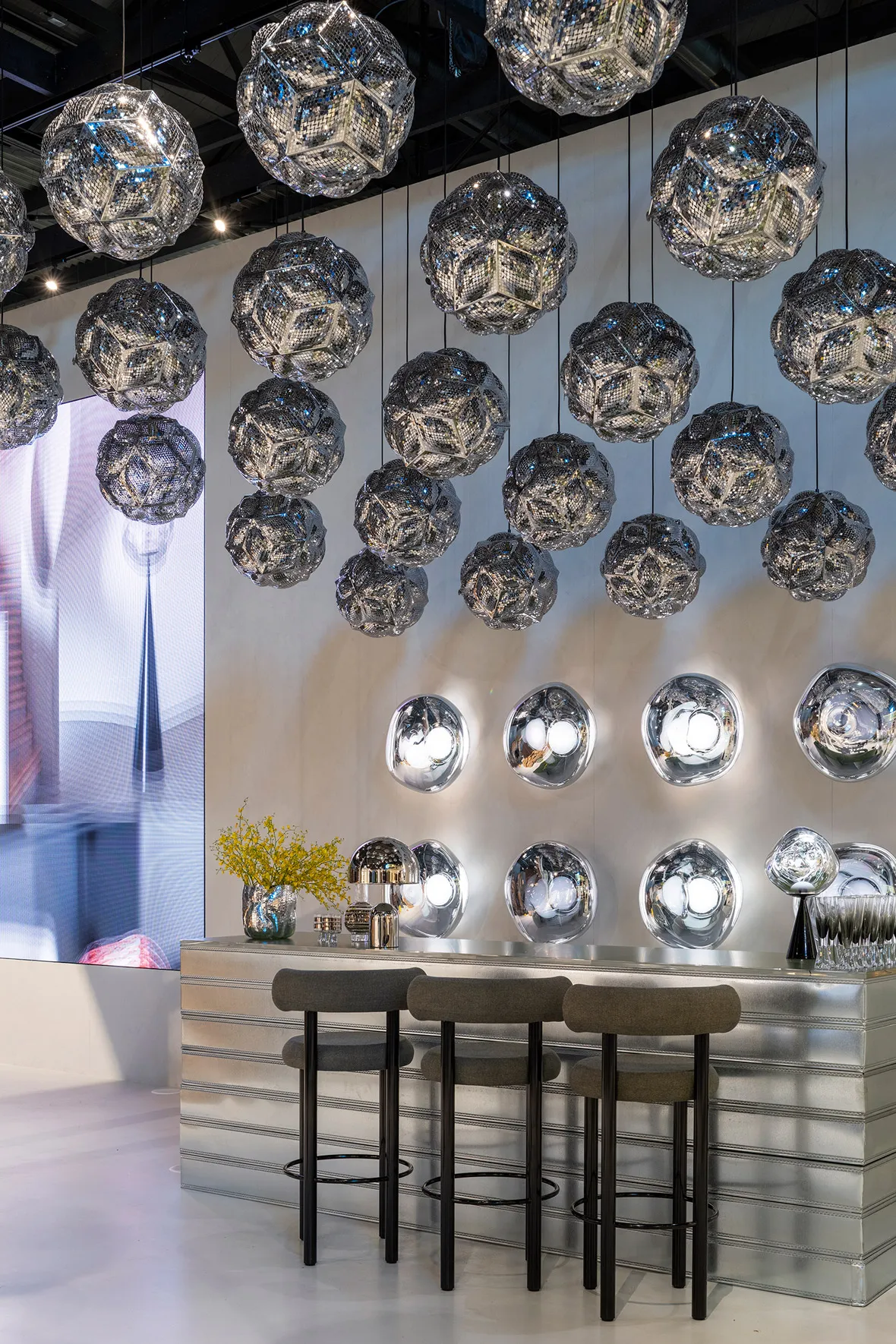 British designer Tom Dixon presented a giant display of his luminaires at Euroluce, the biannual lighting exhibition that occupied four entire halls this year. Photo © Allegra Martin
While the lack of Russian visitors helps explain the disappearance of all those halls stuffed with gilded pastiche furniture, more surprising was the absence of names like Vitra (which has apparently decided to stop bothering with most trade fairs), Danish brands HAY and Fritz Hansen, and even Italian stalwarts such as B&B Italia and Cassina (which, it's true, have more than adequate showrooms in the center of Milan). "Salone is the mirror of an entire sector," Porro told journalists—but is that really still the case?
The reluctance of some did not discourage others from spending what must amount to millions on vast bombastic mega-stands—in halls five and seven, where names like Baxter, Poliform, and Minotti competed to see who had the biggest (Minotti won pants down, you felt like you'd wandered onto a Hollywood sound stage, with entire houses constructed under the corrugated-steel roofs of Fiera Milano's soaring sheds.) All of which had everyone immediately wondering how any of this could possibly be sustainable, especially in light of Salone's much-trumpeted pledge "to attain ISO 20121 certification for sustainable events management," the final audit for which was being undertaken during the fair). According to ISO 20121's own website, the standard "does not specify which sustainability issues to manage or what performance levels to achieve," but instead "requires … that an organization has in place a transparent process through which it systematically evaluates the issues relevant to its operations and sets its own objectives and targets for improvement." Quite what those were, and whether they applied to exhibiting brands, Salone did not reveal.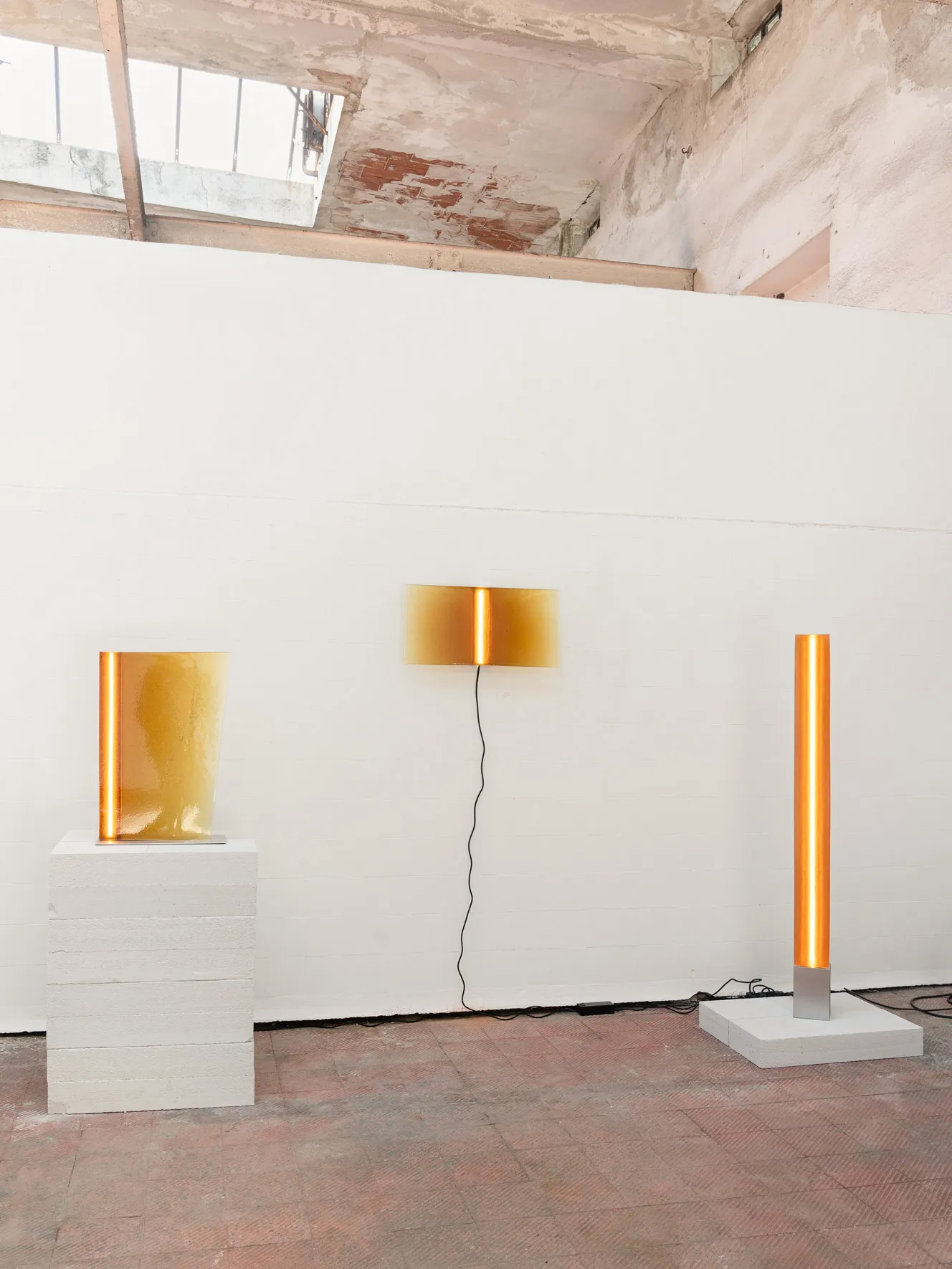 A disused slaughterhouse served as the backdrop for Alcova, a showcase for more avant-garde products, such as Estúdio Rain's Rícino series. Photo © Piercarlo Quecchia
One brand that not only made the right noises on sustainability, but also built perhaps the most beautiful stand, was Knoll, now under the creative direction of designer Jonathan Olivares. Commissioned from Belgian architects (and 2009 Record Design Vanguard) OFFICE Kersten Geers David Van Severen, the deceptively simple concept involved aluminum (admittedly not the most low-carbon material), glass, terrazzo tiles, and desert plants, combined in such a way as to produce an evocation of a midcentury Californian Case Study–style house. What makes Knoll's stand more sustainable than using the usual mountains of throwaway plasterboard is the extreme economy of materials used, as well as the fact that the hard-wearing parts can easily be packed up and shipped off for installation elsewhere. (With nothing much new in the way of furniture, you could also say that Knoll made a virtue of recycling their old models.)
After kitchens and bathrooms in 2022, the spotlight at this year's fair was on lighting, with the return of Euroluce, which filled four entire halls. All the usual suspects were present, as well as some newcomers—British designer Tom Dixon, for example, with a giant display—proposing every imaginable product from chandeliers and high-design suspension systems to reading lamps, street lighting, and museum spots.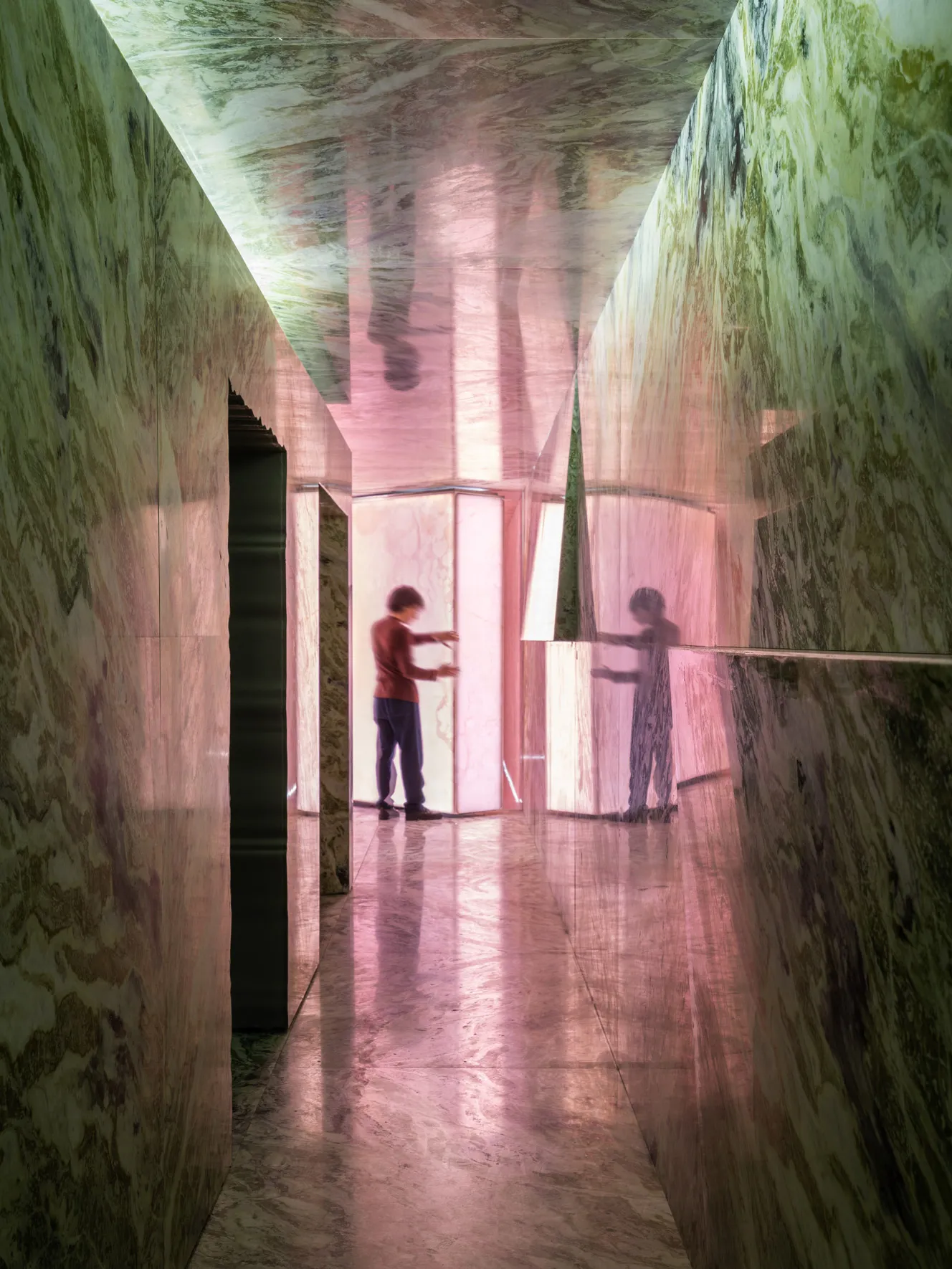 OMA and SolidNature's collaborative, subterranean marble-and-onyx labyrinth. Photo © Marco Cappelletti, courtesy OMA and SolidNature
But Milan Design Week is not only the fair, even if Salone is the main and original event. It's also Fuorisalone, the myriad and countless displays and happenings put on at museums, galleries, showrooms, and disused industrial sites all over the city. Among them is an entire alternative fair, Alcova, now in its fifth year, which mostly showcases younger and emerging talent. After last year's edition in an abandoned military hospital, this year's outing felt a little déjà vu, in terms of both the kind of work shown and the location—a very photogenic disused slaughterhouse (which meant that exhibitors were displaying against a backdrop of the same kind of early 20th-century architecture and the same kind of hygienic tiles). Elsewhere, standouts included Shigeru Ban's cardboard-tube tunnels in a Brera gallery for Jap­anese lighting manufacturer Yamagiwa, and a new collaboration between OMA and Dutch stone company SolidNature, which this time saw the Rotterdam architects build a highly compelling marble-and-onyx labyrinth in an underground parking lot; it won the Fuorisalone Award for Best Instal­lation. Maarten Baas's denim-wrapped private jet for jeans manufacturer G-Star was a supposedly ironic comment on sustainability and overconsumption. More and more fashion brands are proposing furniture during Design Week; developed with Kvadrat, the G-Star display also included cabinetry by Baas fabricated in a textile board made from recycled jeans.
With so much Fuorisalone on offer, you could easily forgo the fair and spend the entire week in town, which many visitors did. Will the relevance of one outstrip that of the other? And will any of it ever be truly sustainable, or are intercontinental design weeks doomed to climate-crisis oblivion?