✕
Adjaye Associates has completed a mass-timber retail pavilion at Sycamore & Oak, a proposed mixed-use development in southeast Washington, D.C.'s Congress Heights neighborhood. Designed as a community-within-a-community, the year-round pavilion serves as an incubator for 13 small local businesses, all owned by residents of Wards 7 and 8. The 23,000 square-foot structure sits upon the campus of St. Elizabeths, a former mental hospital that's currently being redeveloped in efforts to revitalize Congress Heights.
Designed as a temporary mass-timber building—reportedly the first commercial building of its kind in the District—the "interim" Retail Village at Sycamore & Oak is constructed with screws and bolts so it can potentially be disassembled and redeployed elsewhere in the future.
Made of prefabricated elements, the pavilion took just two-and-a-half months to assemble on its current site, which is adjacent to the Entertainment and Sports Arena, a multipurpose venue that opened in 2018. The Retail Village at Sycamore & Oak is also a potential first step toward Adjaye Associates' larger redevelopment of St. Elizabeths Parcel 15, for which the firm submitted concept designs for a 650,000-square-foot development—it would include retail, a hotel, affordable housing, and a community park—to DC's Historic Preservation Review Board in March.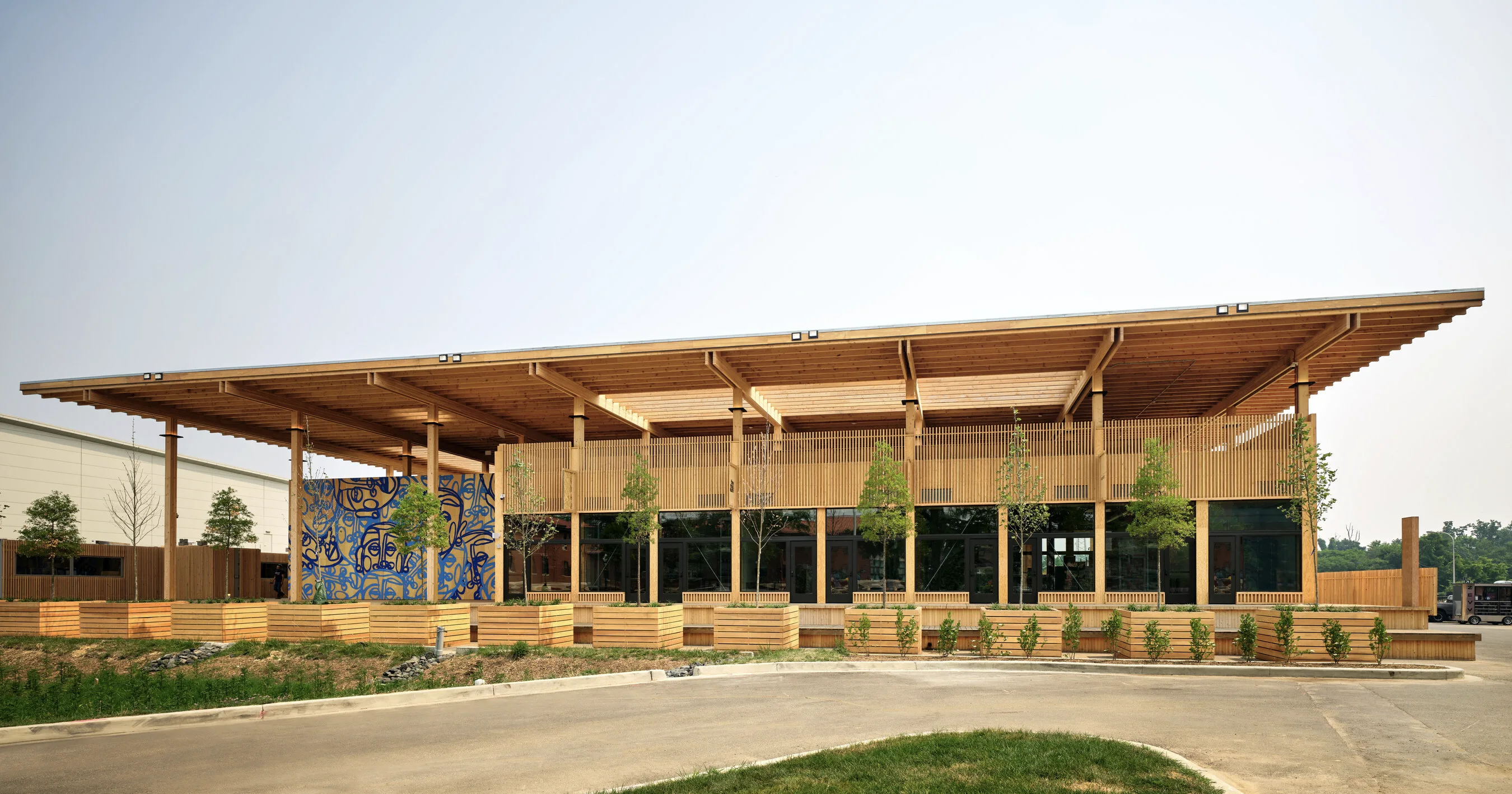 Photo © Dror Baldinger, FAIA
Photo © Dror Baldinger, FAIA
Dana Hall, program manager with the nonprofit Emerson Collective, told the Washington Informer that the pavilion will remain operational for an estimated three to five years, at which point it will be taken apart and reassembled elswhere to make way for Sycamore & Oak's second development phase. A potential new location has not been identified.
A long-span overhanging roof—with cable trusses that extend 60 feet over an open area that can be used for seating or events—shades and shelters the pavilion, with circular skylights admitting daylight into the warm, all-wood space. Retail forms an L-shape around a stage backed by cross-laminated timber panels; mass timber columns support the roof framing above a mezzanine seating area and rain garden. The roof also incorporates photovoltaic panels and rainwater collection systems to support the all-electric pavilion's net-zero carbon goals.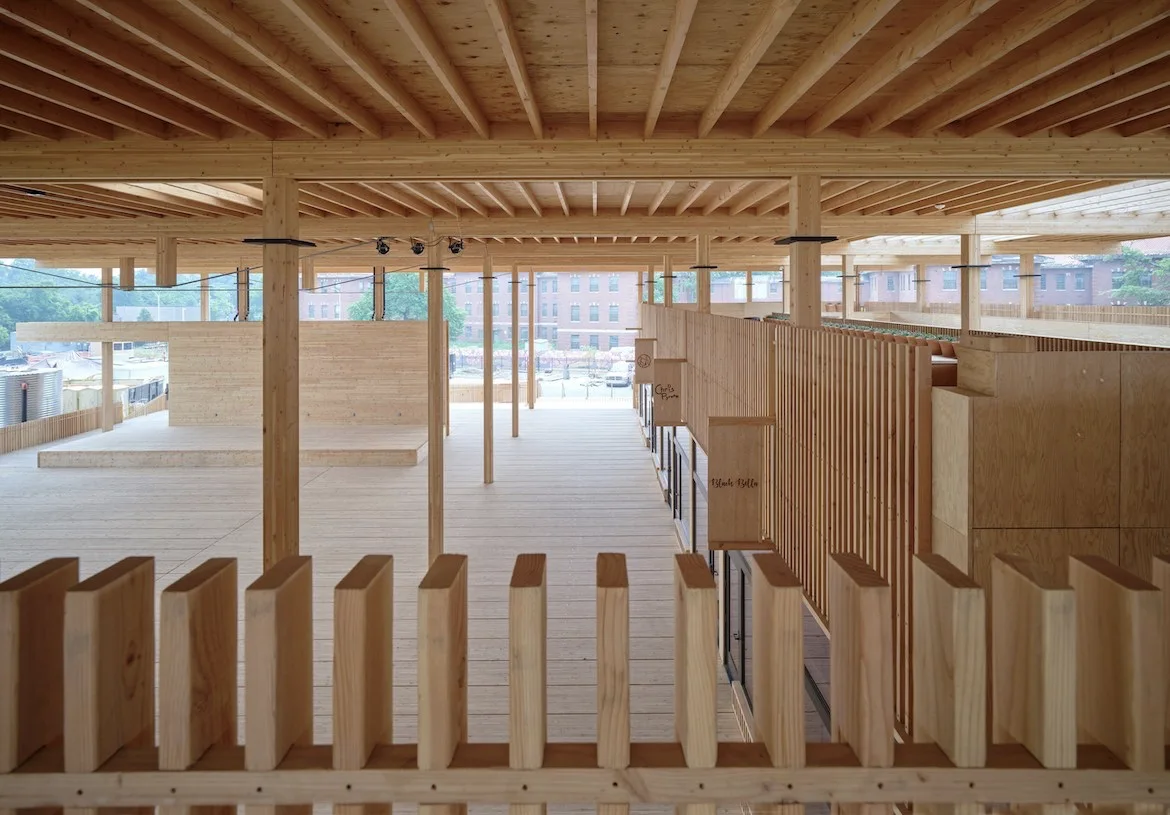 Photo © Dror Baldinger, FAIA
Photo © Dror Baldinger, FAIA
At the June 14 opening ceremony, Washington, D.C. Mayor Muriel Bowser focused her speech on giving equal opportunities to all residents of the District across the city's eight wards: "I want to thank all of the innovators and visionaries and builders and entrepreneurs and retailers who believed in this project," Bowser said, recognizing the local vendors who had celebrated with ribbon cuttings just prior to her remarks. "It's a facility where we can incubate businesses. This is what I know about D.C. residents: They're full of talent, they're full of ideas; they are entrepreneurs, and they want their fair shot. That's what we're about giving them here at Sycamore & Oak.
"Sycamore & Oak's newly completed retail pavilion is Adjaye Associates' fourth project in Washington, D.C., behind two branches of the D.C. Public Library as well as the Smithsonian's National Museum of African American History and Culture. A fifth, the transformation of Georgetown's West Heating Plant into luxury condominiums, broke ground earlier this spring.