✕
A fixture of the Chicago riverfront since 1930, the Merchandise Mart (The Mart) was once the world's largest commercial building. At just under 4 million square feet, the Art Deco monolith was first erected by department store giant Marshall Fields as a one-stop-shop for retailers and wholesalers. Serving as a "Midwest Pentagon" during World War II, the property was owned by the Kennedy Family for a half-century before being sold to Vornado Realty Trust in 1998. The behemoth building now houses numerous offices. 
Incorporating hundreds of salespoints maintained by stalwart design brands like Steelcase and Bernhardt, The Mart has also been home to contract furniture fair NeoCon since the late 1960s. With the three-day event now welcoming over 50,000 visitors annually, it's only fitting that a $35 million multiyear redevelopment scheme at The Mart helmed by Gensler was unveiled during this year's edition, which was held from June 12 through 14.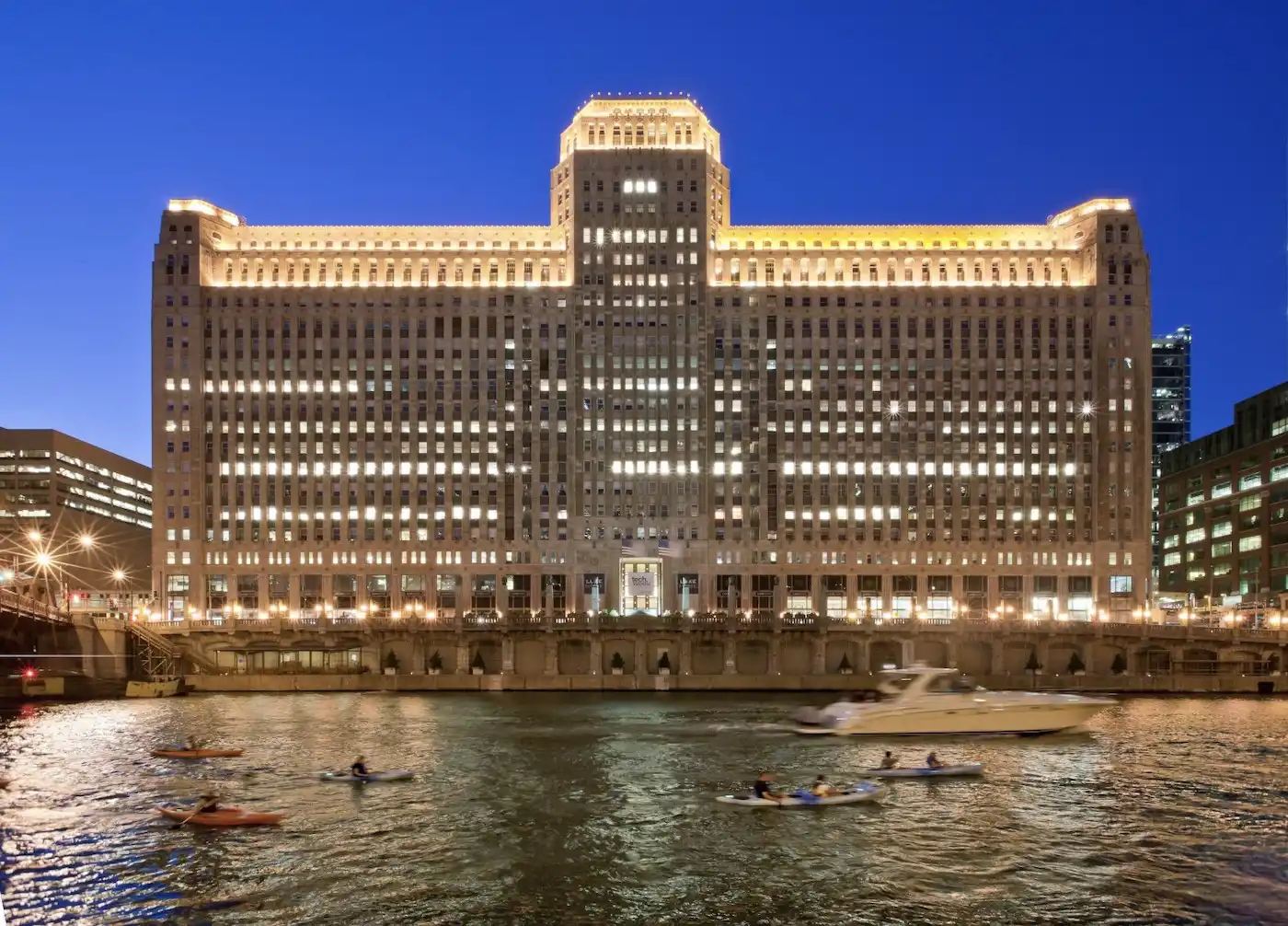 Exterior of The Mart and the Chicago River at night. Photo courtesy Connor Steinkamp, Steincamp Photography
"Our new workplace strategy will complement existing offerings while reflecting post-pandemic requirements," said Vornado's Paul Heinen, executive vice-president and chief operating officer of The Mart. He referred to the refreshed and revitalized complex as "one of the most dynamic mixed-use developments in the city."
The recently completed reprogramming of The Mart's lower two levels consists of multiple large amenity spaces. A grand stair—doubling as an amphitheater—leads up from a restored lobby to an upscale restaurant and coffee shop dubbed Marshall's Landing.
South Lobby. Photo courtesy Gensler, Gillian Fry, The Mart
"We made sure to free up the passageways and elevator bays that straddle the building," said Lily Diego, design director at Gensler. "These arteries will eventually play host to smaller vendors and provide more fluid access to the Chicago 'L' metro lines that are accessible from the second floor."
A new 21,000-square-foot conference center incorporates more than a dozen bookable meeting rooms for tenant use; curtains and other moveable partitions accommodate different configurations within the sprawling space. Nearby, a just-as-sizable health club features pneumatic padding beneath its concrete floors to ensure the best acoustics. Additionally, the second floor includes a food court, a wellness center complete with a spa and hairdresser, and the speakeasy-inspired Founder's Lounge, a members-only bar that evokes the building's Art Deco origins. Expanding on the all-under-one-roof approach often implemented by tech companies, The Mart once again serves as a one-stop-shop as it did in its early years. This time around, it caters to the myriad needs of the 7,000-plus employees who work in the building daily.
1
2
The Founder's Room (1); The grand Stair (2). Photos courtesy Gensler, Gillian Fry, The Mart (1), Chicago Commercial Photography (2)
"Our design approach marries legacy and modernity to better serve the building's tenants and the broader community," elaborated Todd Heiser, managing director at Gensler. Many of the new amenity spaces were implemented as inserts, using the grid of structural columns as a guide. Restoring pre-existing terrazzo and travertine surfaces, the firm opted for a dark-palette and a deconstructed arch aesthetic that nods to the building's rich history. The ample use of glass stone and blackened steel provides a contemporary touch.
River Park at The Mart. Photo courtesy Gensler, Gillian Fry, The Mart
The standout moment of the revamp, however, is outside The Mart at its public "front yard." Designed by local studio Hoerr Schaudt Landscape Architects, the new River Park leading to the south lobby offers a spacious pedestrian plaza with seating and an open lawn. Widened sidewalks provide opportunities for street-level programming. This riverfront perch lends itself well to the Art on the Mart program—the largest permanent digital art projection in the world—in which curated video installations are projected nightly onto the building's 2.5-acre facade from an enclosure located above the public promenade across the river. Recent Art on the Mart pieces have been developed by the likes of Derrick Adams, Nick Cave, and most recently (and appropriately), Gensler. 
Vale Collection by KFI Studios. Photo courtesy KFI Studios
NeoCon 2023 Highlights
The offering of new contract furnishings and textiles at this year's NeoCon was as diverse as it was timely. Many of the exhibitors highlighted their latest efforts to implement recycled materials, develop long-lasting products, and craft strategies that reflect the increased pliability of workspaces—not unlike those enacted as part of The Mart's own revitalization.
Standouts at the fair included KFI Studios' Vale chair collection. Developed with British designer Benjamin Hubert, the curvilinear shell seating is press-molded from 100 percent recycled plastic bottles. Chicago-based acoustics trailblazer Turf stole the show with an immersive multi-room installation demonstrating the versatility of its product range. Among recent releases is Arbor, a canopy baffling system engineered to mimic the natural irregularities of wood surfaces.
NeoCon is also an important platform for innovative—and durable—textiles, especially those developed for the healthcare sector. New York-based manufacturer Designtex debuted its easily implementable Silicone Symphony series, a gamut of synthetic upholstery-weight goods that meet strict hygiene standards.
3
4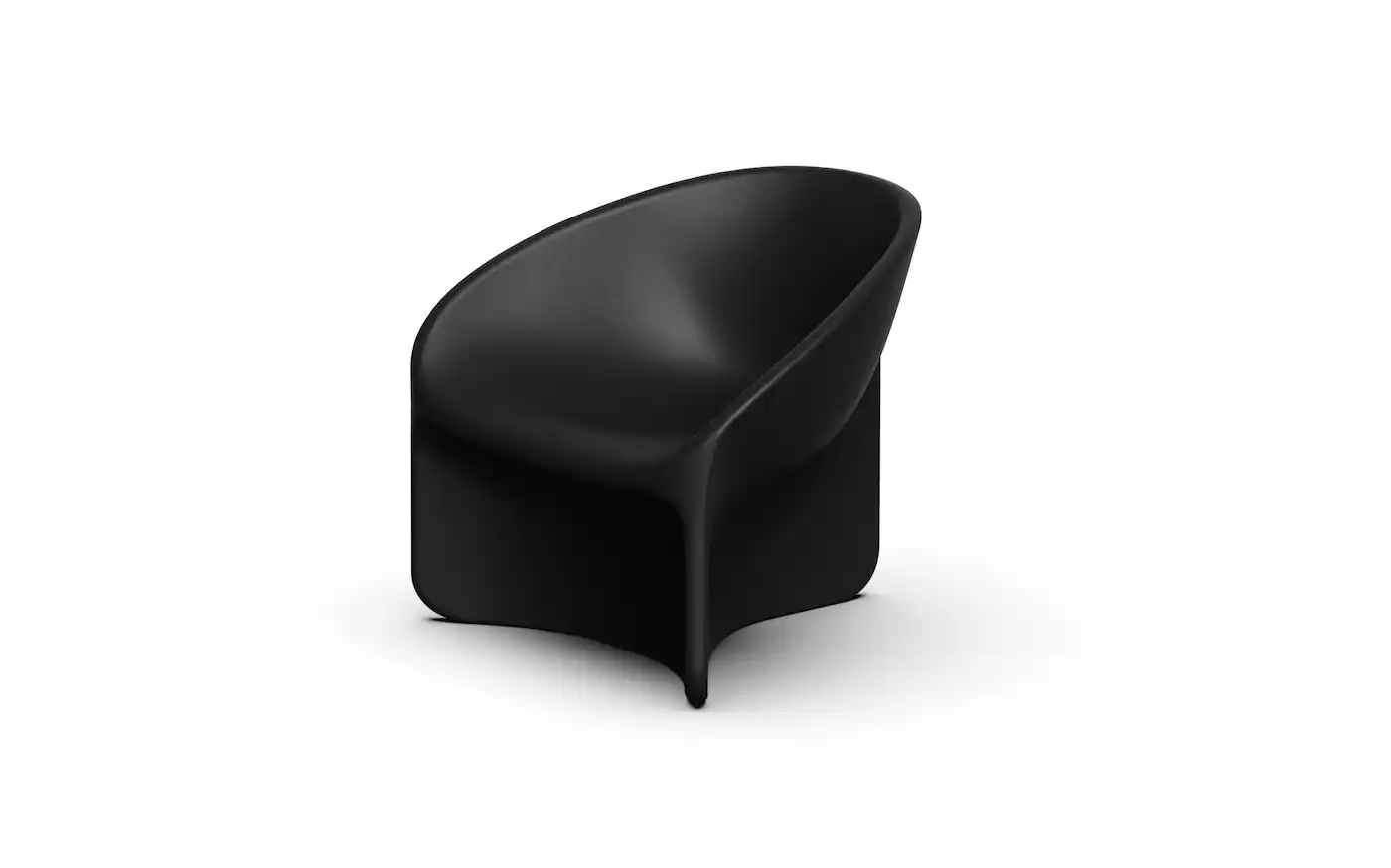 5
Arbor by Turf (3); Silicone Sympony by Designtex (4); Bluff by Atlason Studio for Heller (5). Photos courtesy Turf (3) Designtex (4), Heller (5)
Much of the contract furniture industry works closely with the same group of established design stars. Looking to break this pattern and offer a fresh perspective on the workspace, Michigan-based manufacturer Haworth inaugurated its DesignLab initiative last year with Milan-based Spanish architect and designer Patricia Urquiola curating a selection of fresh proposals. As part of the project, up-and-coming American talents Bradley Bowers and Eny Lee Parker explored everything from the convergence of culture and technology to finding respite within the busy workday. While Bowers's wire-frame settees play on the geometry of compound curves, Lee's amorphous, bubble-like sofa is meant to cradle the body.
6
7
Eny Lee Parker seating for Haworth DesignLab (6); Bradley Bowers for Haworth DesignLab (7). Photos by Eric Laignel (6), Bradley Bowers (7)
Meanwhile at Heller, the Atlason Studio-designed Bluff armchair achieves a similar ergonomic effect with an inexpensive, inject-molded design that provides the right amount of comfort and support.
Increasingly, companies exhibiting during NeoCon are expanding outside of The Mart and showcasing their 'wares' in buildings within Chicago's Fulton Market neighborhood. Mega-conglomerate MillerKnoll, for example, has taken over a five-story landmarked building here.
Totems installation by Doshi Levien for Kvadrat. Photo by Kasia Vetter
Humanscale Hybrid Life pop-up. Photo courtesy Humanscale
Also staking its claim in this burgeoning design district is Danish textile giant Kvadrat, which set up its third stateside showroom with a series of sculptural totems created using the British Doshi Levien's brand new two-tone woolen Naveli collection. Meanwhile, Humanscale mounted a Hybrid Life pop-up, a series of vignettes presenting the office furniture heavyweight's latest technical improvements and exploration of what the post-pandemic workplace can look like. Finally, for something completely different, Minneapolis furniture producer Blu Dot staged its latest outdoor furniture and accessories on a boat sailing the Chicago River.