✕
After talking about the Chappe Art House for about an hour, searching for the right words in English to describe the 13,000-square-foot museum carefully inserted into the scenic town of Tammisaari on the southern coast of Finland, Asmo Jaaksi lands on the phrase "humble but brave." One of the founding partners of JKMM, the Helsinki-based architecture firm that has designed high-profile projects such as the Amos Rex Museum and the Academy of Fine Arts, both in Helsinki, and the Seinäjoki Library in Western Finland, Jaaksi talks about the difficulty of adding a contemporary art museum, even a small one, to a seaside town founded in 1546 and famous for its charming 18th-century wood architecture. "There aren't many opportunities to build in a place like this," he explains. "We needed to create something in balance with the town."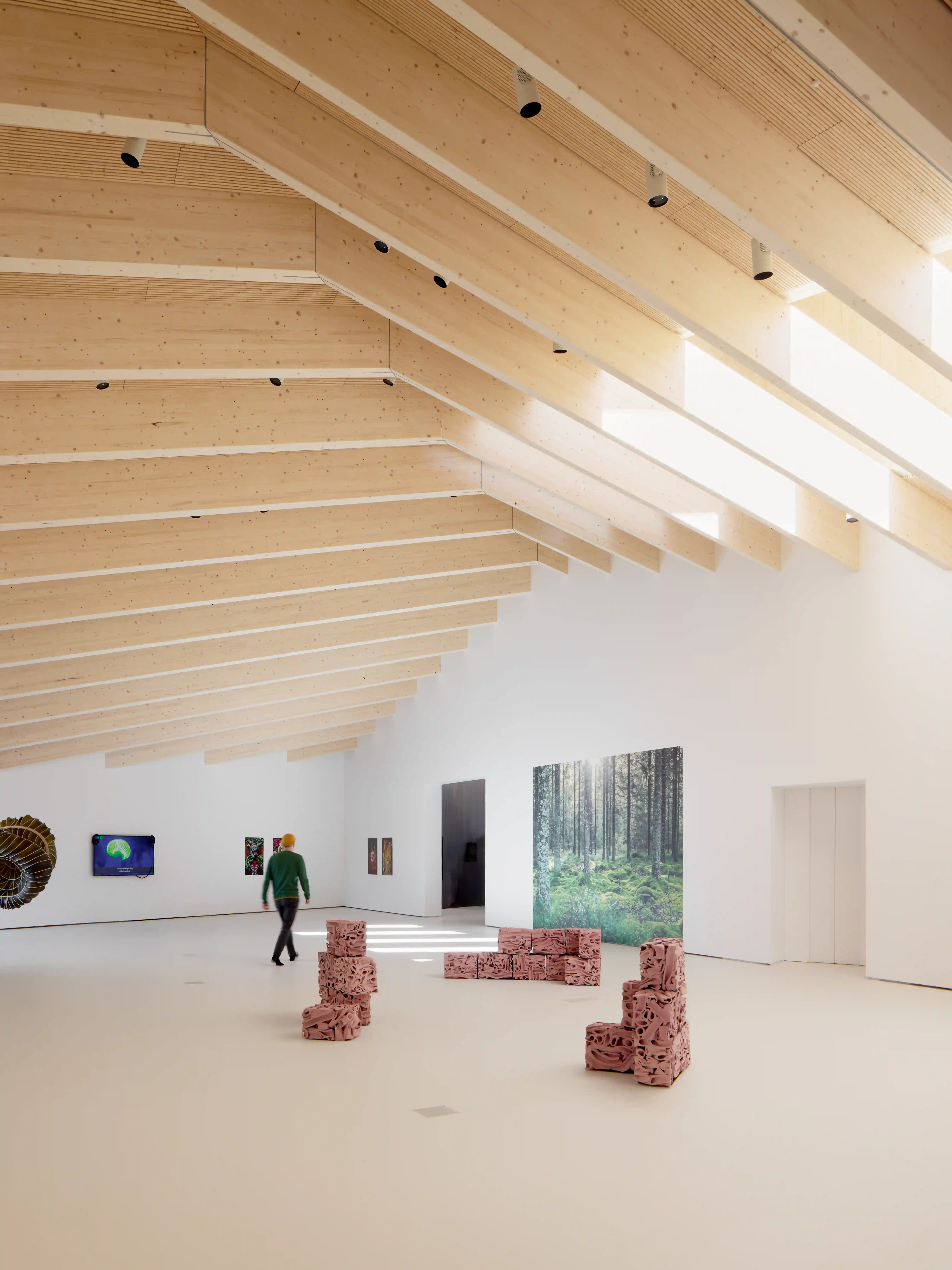 The upper-level galleries are defined by glue-laminated timber beams. Photo © Tuomas Uusheimo
Chappe—named for Albert de la Chapelle, a scientist and art collector who set up the foundation behind the museum in 2017—occupies a small lot between a pair of existing cultural facilities, the Raseborg Museum and the Pro Artibus Foundation's Gallery Elverket. The tight dimensions of the site informed the plan and massing of the new building, as well as its relationship to outdoor space. "There wasn't room for a rectangular building," says Jaaksi, "so we gave it a diamond-shaped plan." Set at a slight angle to its neighbors, the art house creates a small entry plaza that serves as a gateway to the cultural quadrant formed by the three institutions and a shared garden. It also connects underground to the Raseborg, creating a basement level that offers space for displaying art.
Axonometric view. Image © JKMM
As if squeezed by its neighbors, Chappe rises from a poured-in-place concrete base, emerging above nearby rooftops as a wood-frame structure with steep metal-clad dormers that bring daylight into its top-floor galleries. Like the Amos Rex, which sits mostly below a large plaza and pokes above ground as a series of rolling mounds topped with skylights, Chappe hides some of its space while hinting at what's inside. Vertical battens of black spruce clad the exterior and allude to the long tradition of wood architecture in Tammisaari. Inside, a choreographed progression unfolds as the sleek, white-surfaced basement level gives way to a ground-floor lobby fitted with textured and heavily grained wood crafted by local carpenters, and then to spacious galleries on the top floor defined by crisscrossing beams of glue-laminated timber. Skylights and strategically placed windows bring daylight inside the upper galleries, but can be darkened to protect artwork when needed. Jaaksi worked with a number of artists on the interiors, commissioning a large ceramic piece by Karin Wildnäs for the entry foyer and an intricate light installation for the ceiling of that space.
In an age when people can access so much online, architects need to give people a reason to explore the physical world, Jaaksi argues. "We try to make buildings that welcome people and make them feel comfortable," he says. "Our goal is to create spatial experiences you can't get on a computer screen." Though small in size, Chappe offers a complex progression of outdoor and indoor spaces that defer to a much-cherished urban context while asserting its own architectural identity. Humble but brave.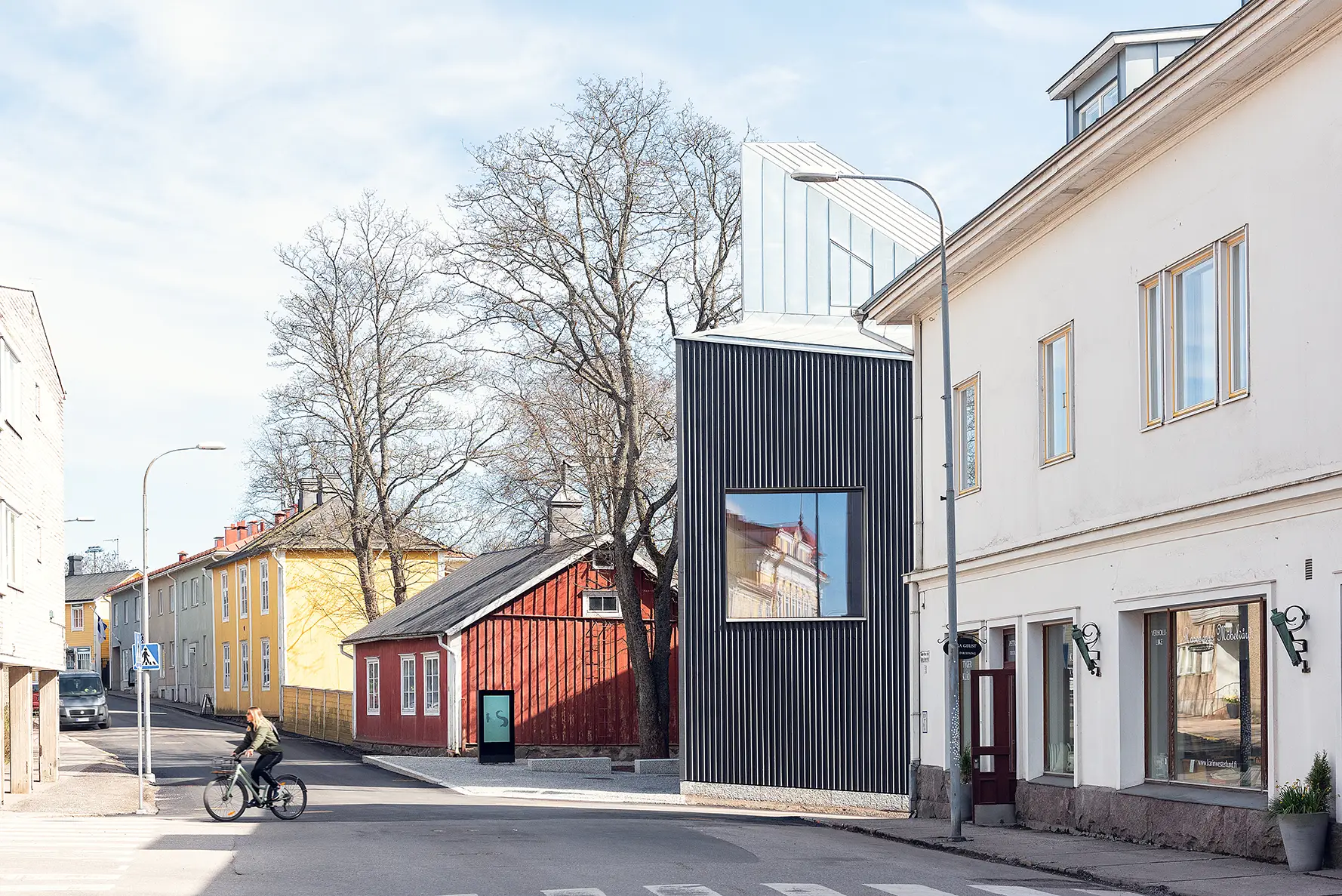 The Chappe Art House seen in its context. Photo © Hannu Rytky