Photo © Christopher Norman
Michael Maltzan's Star Apartments is currently under construction. Individual prefabricated units are being craned into place.
While the promise of prefabricated housing has remained largely unfulfilled, there are currently ambitious, multi-unit projects sprouting on both coasts. In New York, groundbreaking recently took place for SHoP's B2 Bklyn, a 32-story modular residential tower in Brooklyn's Atlantic Yards. And in Los Angeles, Michael Maltzan Architecture is entering the final phase of construction for the 102-unit Star Apartments, a permanent supportive housing project for the formerly homeless. The building marks the first modular, prefabricated project in the country for this community.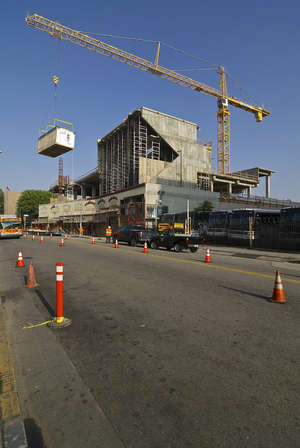 Located in Downtown's Skid Row district, the project is the third collaboration between developer Skid Row Housing Trust and Maltzan, who previously designed Rainbow and New Carver Apartments for the nonprofit. While those preceding projects were new, ground-up construction, Star Apartments builds on and incorporates pre-existing ground floor retail.
Integrating the one-story structure presented both opportunities and challenges. In addition to the reduction of waste and increased efficiency, it allows Skid Row Housing Trust to be a retail landlord and include healthcare and social services in the building. For Maltzan, the incorporation of the existing ground floor is a model for future development in Los Angeles. "There's more intense density," says Maltzan. "In the past it would have been torn down. Now we have to consider, 'How do you not constantly scrape it clean and start new every time?'"
The decision to keep the existing building also determined the project's design. The modular units are stacked on top of a new stepped slab, creating a 15,000-square-foot community space on a mezzanine level. The community space includes recreational facilities such as a basketball court, art room, library, garden, gym, and patio, as well as a community kitchen.
The modular units are currently hoisted into place at a rate of about six to eight units per day. Maltzan says that while the cost per square foot of the units are similar to traditional construction, there are major financial benefits in the speed of construction. Maltzan estimates traditional construction on a project like this would take 18-22 months, in contrast to the 13 months currently projected.
The budget for the project is approximately $20.5 million, which includes construction costs, fabrication of the units (built by Guerdon Enterprises of Boise, Idaho), and reinforcement of the pre-existing ground floor building. Skid Row Housing Trust also aims for LEED platinum certification. The project is expected to be complete in the summer of 2013.