The American Institute of Architects (AIA) has announced Moshe Safdie and Ehrlich Architects as recipients, respectively, of its 2015 Gold Medal and Architecture Firm Award, the organization's highest honors. "I don't want to call the award a culmination because I am pretty active and I want to keep going," jokes Safdie, who is celebrating his practice's fiftieth anniversary.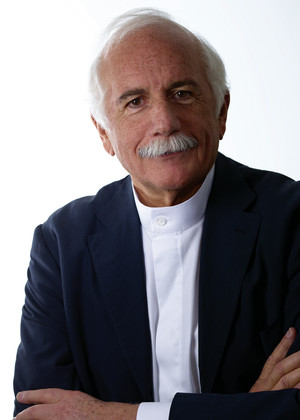 Born in 1938 in Haifa, Israel, Safdie cites the young nation's solidarity-infused atmosphere as a strong influence in his architectural approach—a socially-focused architecture. After an apprenticeship under Louis Kahn (1971 Gold Medal recipient), Safdie designed Habitat 67 in Montreal, which, according to the architect, is "still no doubt my most radical achievement." Other celebrated works include Yad Vashem Holocaust History Museum in Jerusalem, the Marina Bay Sands Integrated Resort in Singapore, and the Crystal Bridges Museum of American Art in Bentonville, Arkansas.
"For me this award is so moving because the Gold Medal is something you get from your peers," Safdie says. In his case, these peers—who wrote recommendation letters for Safdie—include Mohsen Mostafavi, Richard Rogers, and Frank Gehry, who wrote in his recommendation letter: "The world at large is a better place because of [Safdie's] work."
Safdie won out over two other finalists—Robert Venturi and Denise Scott Brown and Eric Owen Moss. Venturi and Scott Brown were considered leading contenders after this year's rule change allowing two collaborating architects to win the medal, and the controversy surrounding a bid for a retrospective Pritzker Architecture Prize for Scott Brown.
[image-with-caption src="/archives/news/2014/12/goldmedal/Ehrlich_Archietcts-01_ss.jpg " direction="left"]Ehrlich Architects, photo © Miranda Brackett[/image-with-caption]
Los Angeles-based Ehrlich Architects, founded by Steven Ehrlich in 1979, took home the 2015 Architecture Firm Award, which recognizes practices that have produced notable work for at least a decade. Over the last 25 years, the firm has developed its own genre of architecture, what it calls "multicultural modernism," which delves deep into the social norms and context surrounding a project. Notable works include the John Roll U.S. Courthouse in Arizona, which features a porch-like entrance canopy, the Ahmadu Bello University Theater in Nigeria, and the Helal New Moon Residence in Dubai. The firm, which designs residential, commercial, educational, and civic projects, is currently working on its first hotel. "We are super humbled that our work, our collective passion, and our way of practicing has been honored in this way," says partner Takashi Yanai. "It's kind of a party here at the office today."
The AIA also announced the recipients of its other top honors: Peter Eisenman was awarded the 2015 AIA/ACSA Topaz Medallion; Rural Studio was honored with the 2015 Whitney M. Young Jr. Award; and Edward Mazria received the 2015 Kemper Award.