With summer break fast approaching, Washington lawmakers can cite a long list of accomplishments after a busy session. But filling some key federal design posts won't likely be on it.
The vacancy that is perhaps most relevant to designers is commissioner of the Public Buildings Service of the General Services Administration (G.S.A.), which, as the landlord for 354 million square feet of government buildings, hires architects for prisons, courthouses, passport offices, and other federal projects.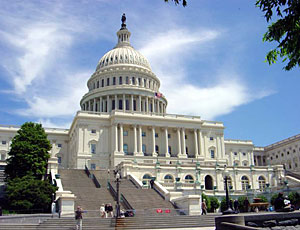 Bob Peck, who held the job during the Clinton administration, is the White House's first choice for the commissioner position, according to a July report in the Washington Business Journal, though G.S.A. officials won't confirm it. Peck is on vacation and unavailable for comment, says a spokeswoman at Jones Lang LaSalle, the commercial real-estate firm where he now works.
As a presidential appointment, Peck does not require Senate approval. But in a largely customary move, President Obama will wait to officially name Peck until the Senate approves Martha Johnson to head the G.S.A., according to sources close to the agency.
Johnson, a former G.S.A. chief of staff who's now an executive with Computer Services Corp., a technology-consulting company, did win unanimous approval by the Senate's Homeland Security and Governmental Affairs Committee on June 8.
But to be confirmed as administrator, Johnson requires a full vote by the Senate, whose summer recess begins August 7. And so far, none has been scheduled, said Regan LaChapelle, a spokeswoman for Senator Harry Reid (D-NV), the majority leader. For her part, Johnson is traveling and can't comment, says a Computer Services spokesman.
Also still unfilled is the Architect of the Capitol position, which is responsible for the upkeep of the U.S. Capitol Complex, including 16.5 million square feet of congressional offices, the Library of Congress, and the Supreme Court.
Architect Stephen Ayers, AIA, who has helmed the office on a temporary basis since February 2007, is largely seen as a favorite for the post, though he, too, requires Senate confirmation.
About the only job that is set is that of Casey Jones, a principal at Jones/Kroloff of Bloomfield Hills, Michigan. On August 10, Jones will become director of the G.S.A.'s Design Excellence program, in a civil-service position that doesn't require lawmakers' approval.
For Jones, who worked for the Public Buildings Service from 2001 to 2005, the chance to run Design Excellence, which advocates for better public architecture, is an honor. "The quality of our public buildings should be high," he says.