Pudong New Area, Shanghai
When it opens in early 2015, Gensler's Shanghai Tower will be the second-tallest building in the world. At 2,073 feet, the skyscraper will surpass its immediate neighbors, SOM's 1,379-foot Jin Mao Tower and KPF's 1,614-foot Shanghai World Financial Center, to complete a trio of supertall buildings in Lujiazui, the main business district of the city's Pudong area. Shanghai Tower's twisting, tapering, triangular form—without a typical "look-at-me" cap on top—will appear as if it could continue skyward forever.
Gensler won an invited competition in 2008 for the $1.9 billion project, beating SOM, KPF, and Foster + Partners. At the time, the tallest building in its portfolio was the then-under-construction, 54-story L.A. Live Tower in Los Angeles, which is tall but not supertall (a building that exceeds 1,250 feet). Dan Winey, Gensler's regional managing principal, believes that the firm's commitment to building a practice in Shanghai, where it now has about 150 people on staff, was key in winning over the client. Its thorough schematic design submittal, which included developed structural and mechanical schemes, was also an important factor, he says: "We convinced the owner that the building could be built and that we knew how to build it."
The firm approached the design of its first supertall tower as a collection of "communities on top of each other," explains Jun Xia, Gensler principal. According to Xia, Shanghai Tower will be a self-contained urban environment, with active communal areas, 24-hour occupancy, and unique spaces and views to provide orientation to its users. For him, the building is "a vertical city with horizontal experiences."
Horizontal delineation is at the core of Shanghai Tower. "The building structure is basically a nine-tiered wedding cake," says Dennis Poon, vice chairman of Thornton Tomasetti, the project's structural engineer. Nine cylinders, 12 to 15 floors each, are stacked in diminishing diameters with two-story outrigger and belt trusses at the transitions. These trusses form the bases of 21 atria between the facade's inner and outer curtain walls, which are circular and triangular in plan, respectively. Each triangle rotates almost one degree per floor, giving the building's exterior envelope its spiraling shape—a shape that helps minimize wind loads (details, opposite). A concrete core and composite supercolumns are the main vertical supports for the 121-floor building, which rest on a 20-foot-thick concrete mat and 1,079 bored piles.
The wedding-cake configuration of Shanghai Tower is not only integral to its structure, but is also its mechanical design. "Each section is like a small building" with the atrium acting as a climatic buffer zone, says Alan Hung, principal of Cosentini Associates, the tower's mechanical, electrical, and plumbing (MEP) engineer. The atria—along with daylighting, reuse of rainwater and graywater, and a tri-generation system that will garner heat produced during electricity generation for heating and cooling—are the tower's primary resource-conserving tactics. The building is designed to meet both LEED Gold and China Three-Star standards.
Sectioned according to its program, the tower includes space for retail, offices, a hotel, and cultural facilities, as well as the world's highest open-air observation deck at 1,844 feet. The atria, divided according to these zones, will each have a unique view and twist in the spiraling exterior wall that will help orient occupants. Express elevators to different zones will ease vertical traffic jams, and atria shops and restaurants should minimize the lunchtime exodus from the building.
Instead of following a traditional base-middle-top model, Shanghai Tower's architecture, structure, and MEP systems are designed at the scale of neighborhoods in an effort to make the building sustainable to operate and pleasurable to occupy. Xia credits early collaboration between architects and engineers with the consistency of the project. Their joint effort, which began in the competition stage, has continued onto the construction site, where framing recently surpassed the 60th floor. While many innovations are being deployed to realize the design vision, "the primary innovation is that everything is very holistic," says Xia, "from technology to function to form."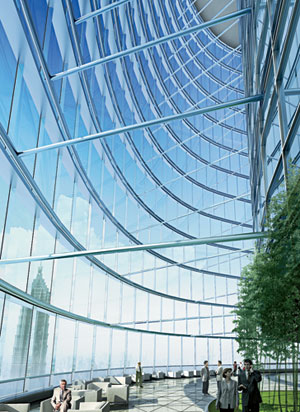 The cladding on Gensler's spiraling and tapering Shanghai Tower is more than just a handsome glass wrapper. It is a sophisticated system made up of two layers of curtain walls carefully conceived to reduce lateral loads and save energy.
The outer skin—a segmented unitized curtain wall with laminated glass—defines the building's iconic profile. But in addition to producing the building's memorable form, the twist in its envelope also reduces wind loading by 24 percent when compared to a tower of the same size, but with a tapered box-shape. This reduction translates into a savings of more than $63 million in structural materials, according to the design team. "The wind loading determines not only the thickness of the glass and the size of the mullions, but also the required amount of overall building structure," explains Sasha Zeljic, a Gensler facade-design leader.
The tower's inner skin—an insulated glass assembly fire-rated as per the requirements of Chinese code—encloses programmatic elements, such as hotel rooms, office space, and cultural facilities. In between this inner curtain wall and the outer skin are a series of publicly accessible gardenlike spaces. Since only the lowest ranges of the 12-to-15-story-tall atria are occupied, the spaces will require minimal conditioning, explains Alan Hung, principal of Cosentini Associates, the project's mechanical engineer. The first few feet of each atrium will be heated and cooled with perimeter fan coil units, typically only during weather extremes. The rest of the volume is ventilated with natural updraft, regulated top exhausts, and so-called "spill air" from the building's interior conditioned spaces.
This double-layer configuration, along with features such as advanced lighting controls and an efficient central plant, is expected to help Shanghai Tower use 21 percent less energy than one that complies with the 2004 version of the ASHRAE 90.1 standard.
- Joann Gonchar, AIA
DOUBLE LAYERED Shanghai tower's inner facade will be supported by circular floor slabs for hotel rooms and offices. Its outer facade will be hung from the building's mechanical floors and stabilized by a series of radial struts and encircling girts (below right). Together, the two skins will enclose a multistory gardenlike space accessible to building occupants (below left). These atria will double as climatic buffer zones.
People

Architect:
Gensler
One Corporate Avenue, Unit 908
222 Hu Bin Road
Shanghai, PRC 200021
+86 (21) 6135.1900  Main
+86 (21) 6135.1999  Fax

Owner: Shanghai Tower Construction & Development Co., LTD

Art Gensler, Chairman, FAIA
Dan Winey, Managing Principal, FAIA
Jun Xia, Project Design Principal
Xiaomei Lee, Project Director
Grant Uhlir, Project Director, AIA
Dick Fencl, Technical Director, AIA
Fred Lu, Project Architect
Aidong Zheng, Interior Project Architect
Hui-ling Hsieh, Interior Design Director
Aleksandar Zeljic, Project Architect, AIA
Benedict Tranel, Façade Technical Director, AIA
Michael Peng, Senior Designer

Architect of record: Gensler

Associate architect(s): Local Design Institute: The Architectural Design & Research Institute of Tongji University

Engineer(s): Thornton Tomasetti (Structural), Cosentini Associates (MEP)

Consultant(s):
Landscape: SWA
Lighting: PHA
Acoustical: SMW

General contractor: Shanghai Construction Group

Photographer: Shen Zhonghai

Renderer: Crystal CG

CAD system, project management, or other software used:
Rhino + Grasshopper, by McNeel
Revit + Naviswork, by Autodesk
Digital Project, by Gehry Technologies

 

Completion Date: 2015

 

Size: $5.6 million square feet

 

Cost: $1.9 billion

 

Products

Exterior cladding
Metal/glass curtain wall: Shenyang Yuanda Aluminium Industry Engineering Co., Ltd and Jangho Curtain Wall Co., Ltd.

Conveyance
Elevators/Escalators: Mitsubishi (http://news.yahoo.com/blogs/technology-blog/mitsubishi-unveils-super-fast-bullet-shaped-elevator-shanghai-224402935.html)