Two time zones and 700 miles may separate Christopher Marcinkoski and Andrew Moddrell, but that doesn't prevent the founders of PORT Urbanism from collaborating on research and large-scale public projects. Thirty-eight-year-old Marcinkoski, based in Philadelphia, where he teaches in the University of Pennsylvania Department of Landscape Architecture, and 36-year-old Chicago-based Moddrell, who teaches at UIC's architecture school and at the University of Michigan, are both licensed architects—"but we don't do buildings," says Marcinkoski. "Our work tends to be in the public realm: infrastructure, parks, waterfronts. We're interested in using civic space as a medium for negotiating broader urban issues that are related to environmental, social, and economic concerns."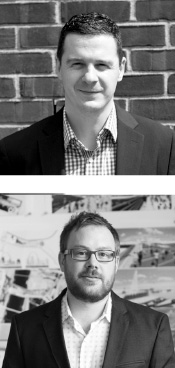 In Chicago, the eight-person firm undertook a study for Goose Island, a landmass in the Chicago River on the city's Near North Side. "It's a fascinating place to us, because it's so central but also isolated," says Marcinkoski. The team's plan, which reimagined this manufacturing zone as a sustainable mixed-use district, was speculative, aiming to start a conversation about the island. But PORT is also involved in wide-­ranging built work. Current projects beyond Chicago's limits include the 13-acre Paco Sanchez Park in Denver, which will break ground next spring. Meanwhile, the firm has its plate full with projects in Chicago, including a pavilion for the fifth annual Chicago Ideas Week (CIW) in mid-October.
Recently named CIW's artist-in-residence, PORT will construct a temporary pavilion at the base of the Tribune Tower (in addition to another pavilion elsewhere, now in construction, that they designed for the University of Chicago's Place Lab). For the Biennial, the firm's installation The Big Shift illustrates how Lake Michigan's boundaries have changed over time, while also exploring how the reconfiguration of the body of water and addition of a new lakefront district could expand the public realm.