Born in Argentina, César Pelli had one of the most illustrious careers of any American architect of the last century: He worked for Eero Saarinen on the celebrated TWA Flight Center. He was dean of the Yale School of Architecture. He designed landmarks on four continents, including the Petronas Towers in Kuala Lumpur, the tallest buildings in the world when they were completed in 1999; the World Financial Center in New York; three towers in Spain; and the Gran Torre Santiago, the tallest building in South America.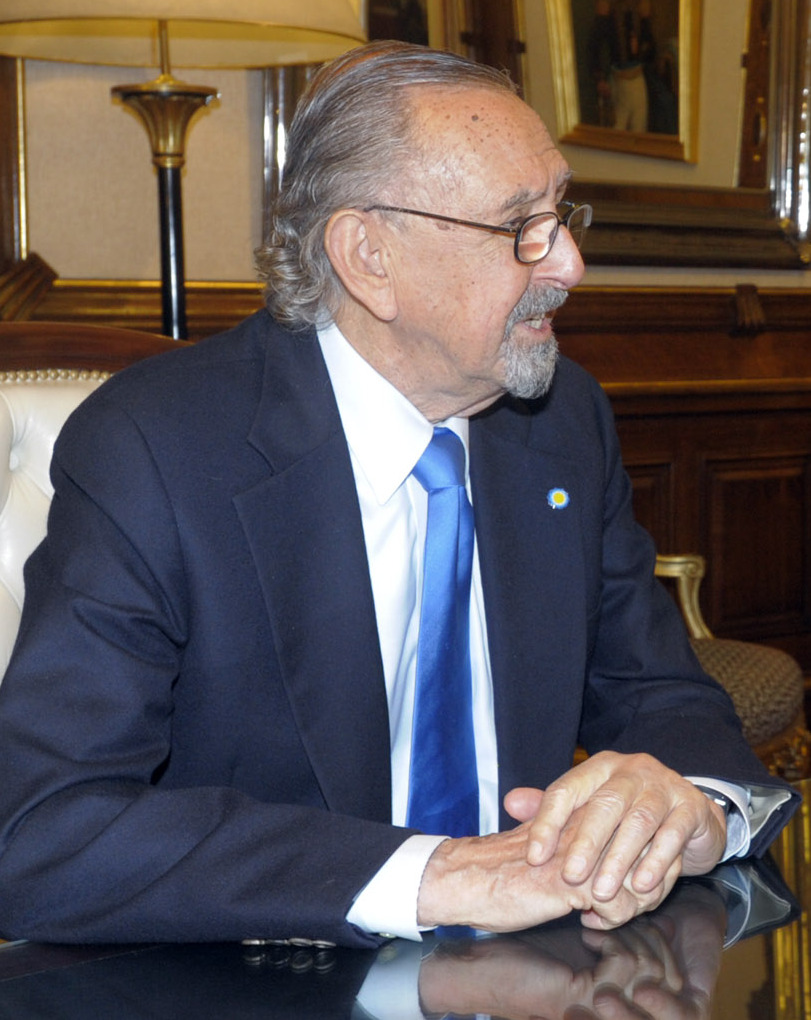 If he never attained renown as a great form-maker, he appears not to have minded. Pelli, who died on Friday, July 19, at the age of 92, saw architecture less as an outlet for personal expression than as a way to make a mark on cities. Friends described him as quite satisfied with his place in the profession, not pining for starchitect status.
"I believe it's a mistake to have a style," Pelli said in a 2018 interview with Frank Twohill for Branford (Connecticut) Community Television. "If you do your own thing, you are weakening the quality of the place where you build." 
Still, "As a serious architect who functions so well in the commercial arena, Mr. Pelli risks being underestimated," Thomas Hine wrote in the New York Times in 1991. Some of his buildings were particularly original and daring. The Petronas Towers, which remained the world's tallest until 2004, suggest vast glass-and-steel minarets. Connected by a double-deck skybridge at the 41st and 42nd floors, they "become a portal to the sky," Pelli said, adding that, together, they have "a mystical quality." 
Most Pelli skyscrapers were more down to earth. Norwest Center in Minneapolis (2006; now the Wells Fargo Center), drew heavily on Raymond Hood's iconic 30 Rockefeller Plaza. And Pelli's Canary Wharf tower in London (1991) seems to have been plucked from his World Financial Center in Manhattan (1984), now called Brookfield Place. 
He often focused his creativity on surface treatments. The unbroken, primary-colored wrappers of the three Pacific Design Center buildings (1975, 1988, and 2012) in West Hollywood, Los Angeles, made them look almost like children's toys. The Museum Tower, a condo building overlooking the Museum of Modern Art in New York, has a facade suggesting a Mondrian painting. Inside, his buildings tended toward the rational. "There was always a certain logic, a frame of reference, within which César made design decisions," said Phil Bernstein, who spent years working for Pelli before becoming a vice president of Autodesk and then joining the Yale architecture school faculty. "He had a very understated and measured strategy for the organization and articulation of a building. This was a strength of his process and I don't think he could have worked any other way."
One of Pelli's favorite projects was his soaring, light-filled Reagan National Airport terminal in Washington. "It is a building that sings, at least to me," he told a crowd at the National Building Museum in 2012. "It tells you you are welcome to be here." As an immigrant, he was determined to convey that feeling.
César Pelli was born October 12, 1926, in Tucumán, Argentina. In 1952, he and his wife, Diana Balmori, not yet 20, decided to "see the world" before settling down. Pelli obtained a scholarship to study at the University of Illinois School of Architecture. Soon after they arrived in the U.S., he said, they decided they would stay. (Balmori, who went on to become an important landscape architect, died in 2016.)
A professor recommended Pelli to Eero Saarinen, and in 1954 he went to work for in Saarinen's Bloomfield Hills, Michigan, office. His projects included TWA ("It was his design but I developed many of the details,") and Morse and Stiles Colleges at Yale, with their distinctive rubble-concrete facades. ("That was his vision and I interpreted it the best I could. I had my doubts about the wall but he was keen on it.")
In 1964, Pelli moved to Los Angeles, where he taught at UCLA and worked first for DMJM and then for Gruen Associates. His notable Gruen projects included the first phase of the Pacific Design Center, an extruded mass that, given its azure cladding, became known as the "blue whale." 
In 1977, Pelli was named dean of the Yale School of Architecture. Then, less than two months after arriving in New Haven, he won the commission to renovate and significantly enlarge the Museum of Modern Art in New York and design the Museum Tower. Lacking even a drawing board, he recalled, he quickly opened an office—César Pelli & Associates—in New Haven, a block from the architecture school (where his firm remains more than 40 years later). The MoMA project, completed in 1984, received lukewarm reviews—in the New York Times, Paul Goldberger called the exterior "rather more bland and dull than one might have expected."—and Pelli's work on the museum was largely obliterated when it was expanded again 20 years later.
Pelli himself never received a lukewarm review. His warmth surprised people meeting him for the first—or hundred-and-first—time. He was beloved by his employees. "There are a lot of us who owe our professional foundations to his example and leadership," says Bernstein. "Everything I know about how to think about, relate to and help a client I learned from him." He was also beloved by his employees' children. "His affection for all the office kids was absolutely genuine and always apparent," says Bernstein, who remembers seeing Pelli at a holiday party surrounded by 10 or 12 children.
In 2005, his firm changed its name to Pelli Clarke Pelli Architects to reflect the leadership of his partners Fred W. Clarke and Rafael Pelli, his son. Another son, Denis, is a neuroscientist.
"I don't need to be working," Pelli said in the 2018 television interview. "I can sit back and just see what happens." But though he had slowed down, he continued to keep working almost until the end.