✕
In the spring of 2020, the New York office of Skidmore, Owings & Merrill (SOM) was about to move into its new 69,000-square-foot space, on the 27th and 28th floors of 7 World Trade Center, a building the firm had completed in 2006. But then the pandemic hit. It was not until fall 2021 that the offices were finally occupied. In the intervening time, as the world endured one lockdown after the next, and "work from home" became a common phrase, architects and their clients focused on the inevitable: creating workplace schemes for a "new normal" that puts the environment, health and safety, and life-balance issues front and center.
Many of these considerations had long been in discussions, notes Chris Cooper, the SOM design partner in charge of the project. "We had built a lot of collaborative spaces. Even three years ago, the importance of flexibility was clear." The biggest change, he says, is in the acceleration of hybrid working. The design of the firm's new home, however, was ahead of the curve, already incorporating the flexible workspaces that appeal to an equally flexible workforce, as well as the use of sustainable materials and systems that support employee well-being and the greater good. "These offices," Cooper says, "are a sign of our firm's cultural evolution. The environment is healthy and warm, with a spirit of openness."
Entering the office on the east side of the 28th floor, you are greeted by reception, surrounded by an array of models of the firm's projects, a materials library, and a spectacular view of the surrounding neighborhood—which includes SOM buildings like 28 Liberty (One Chase Manhattan Plaza) and One World Trade Center—through floor-to-ceiling glazing. According to Cooper, it was critical the design take into consideration that "we're working toward everyone being mobile. Everybody works on a laptop and can take it anywhere in the office." And, he adds, "The east half of the upper floor is kept as open as possible to everybody."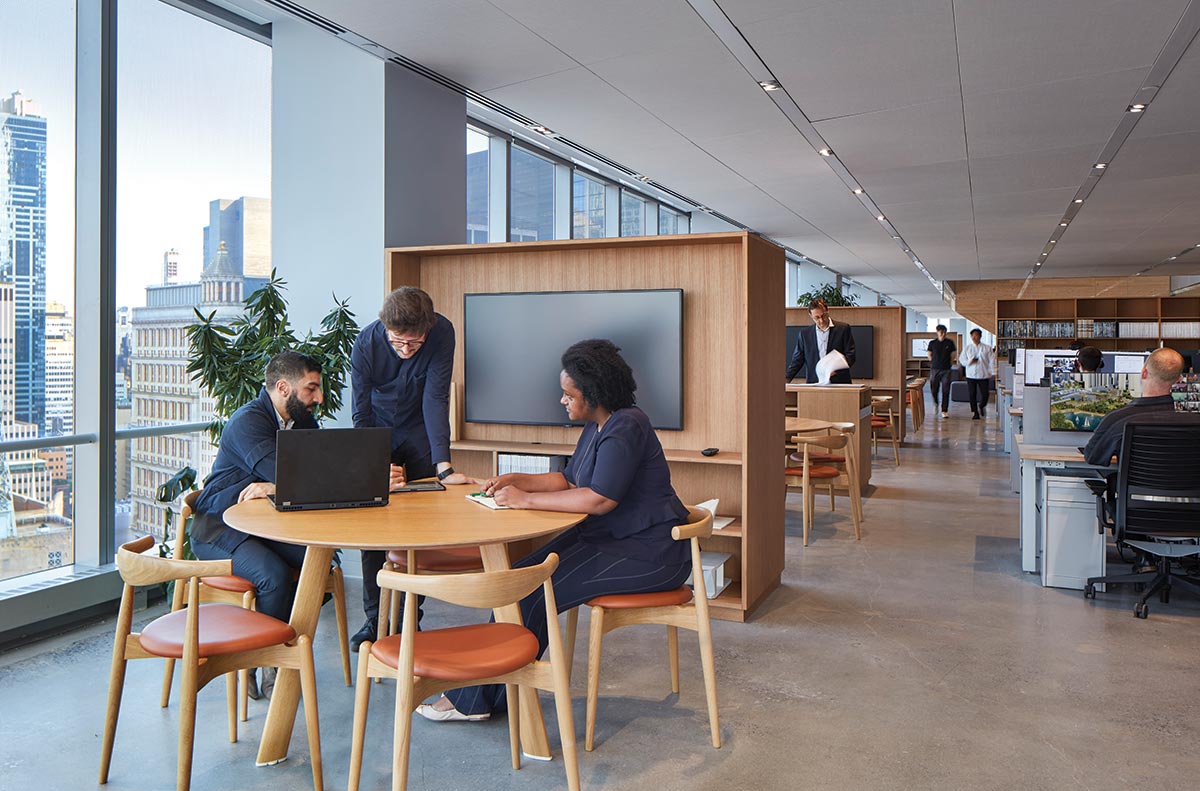 1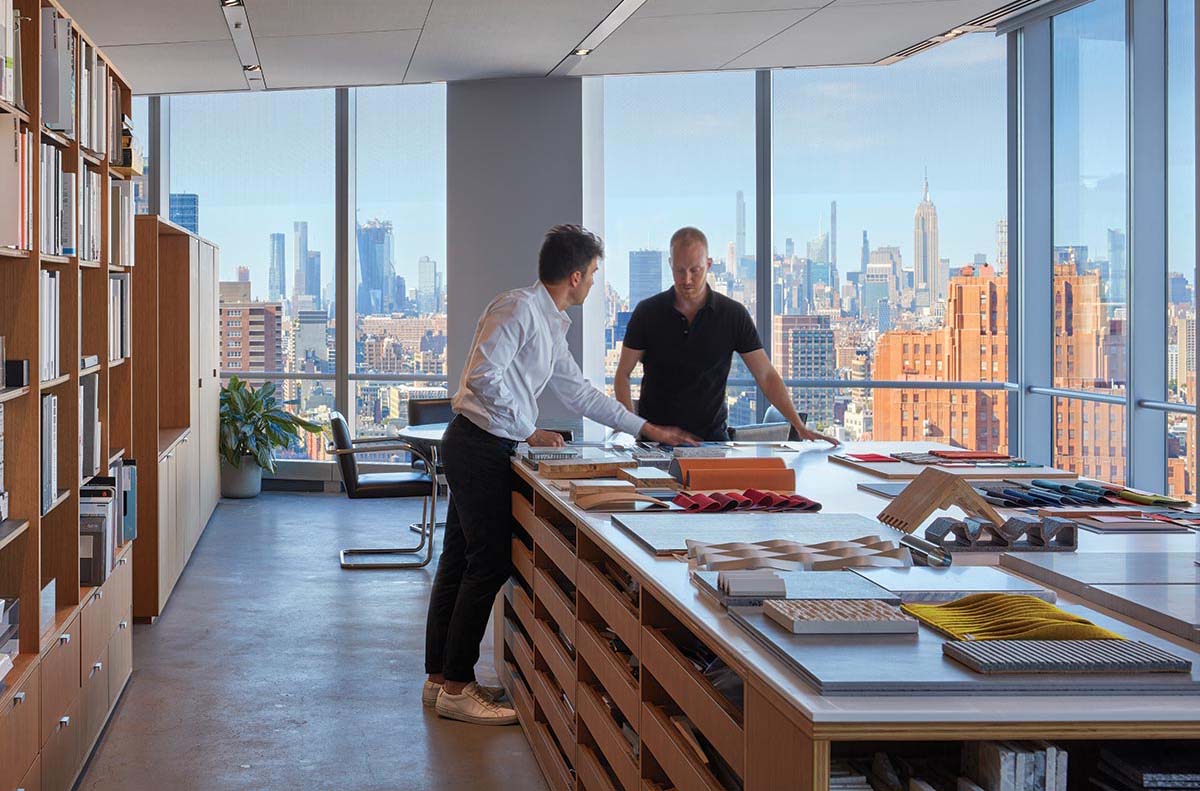 2
Daylight illuminates all the spaces, from the studio, where team tables are arranged at windows (1), to the materials library (2) and reception/exhibition area (3). Photos © Dave Burk, click to enlarge.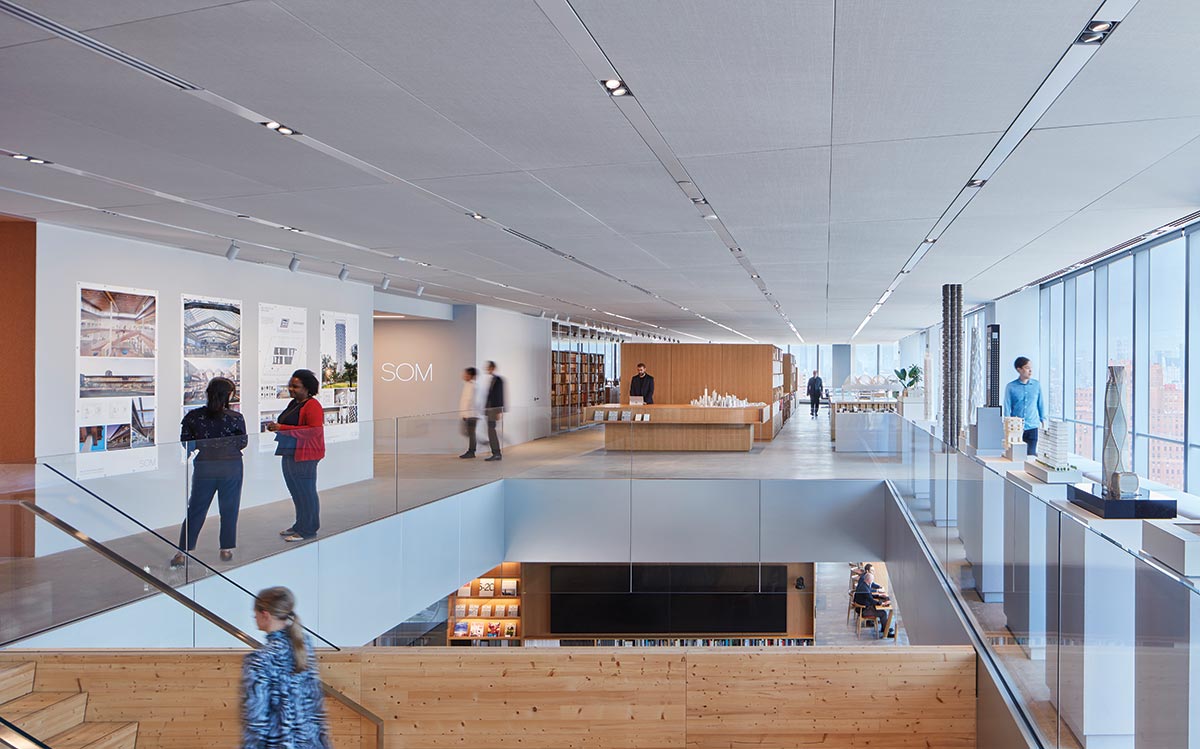 3
The south end of this upper floor features an open café—comfortably furnished for eating, meeting, or working—as well as a row of conference rooms, which lead to the studio that fills the west side. Here—in addition to assigned, height-adjustable desks with double monitors—small tables on the perimeter accommodate casual team meetings, while private partners' offices occupy the north side. Amid this activity, the building's split core provides an internal corridor for mechanical rooms and restrooms.
Back on the east side, a prominent "communicating" staircase, made of cross-laminated timber, connects to the 27th floor and the firm's Forum, a space with large video screens, a long table, and modular lounge seating for hosting meetings, presentations, and design crits. Microphones and cameras allow gatherings here to be broadcast upstairs in the café, or to other SOM offices around the world. Apart from the Forum, this lower level houses a library, a coffee bar, and a large conference room, along with more studio space. The northwest corner is reserved for the legal, accounting, and human resources departments, as well as a model shop. (The southeast corner of the floor is leased to a law firm.)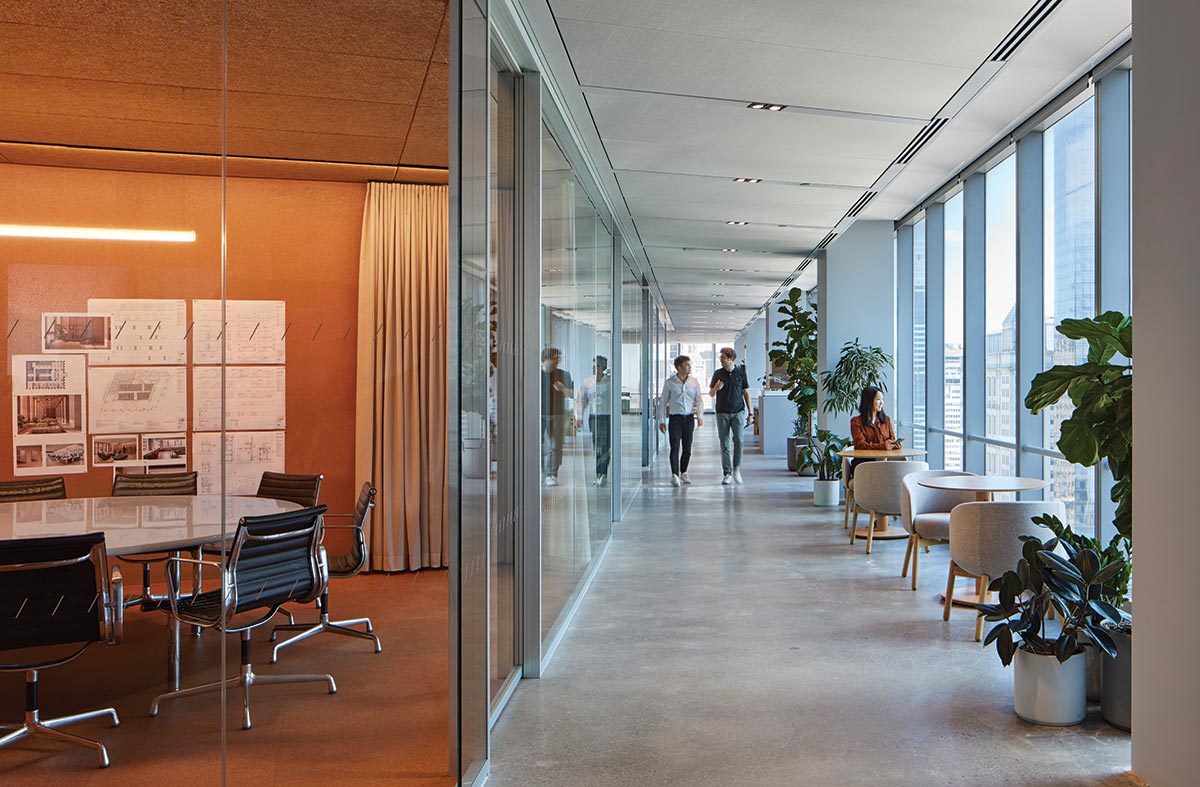 Conference rooms are clad with natural sound-absorbing materials: cork on the walls and floors and wood fiber on the ceilings. Photo © Dave Burk
Cooper describes the approach to materials and finishes as "a logic of radical reduction." There are few partitions and a judicious use of finishes—for example, in the open areas, the design team left the existing concrete floor slabs exposed. Noise is managed by the applied surfaces: overhead, 3-inch-thick, fabric-wrapped acoustic panels create a very quiet ceiling, notes Cooper, visually as well as acoustically. A grid of point lights inserted between them illuminates only horizontal floor and work surfaces—rather than vertical planes like the glazed monitors and window walls. Programmed on daylight and occupancy sensors, this arrangement greatly reduces glare (even at night), as well as energy consumption. Shading, also automated by sensors, maintains comfortable conditions in overly sunny areas. "We have tremendous daylight in the space and wanted to harvest as much of it as possible, while maximizing the extraordinary views," he says.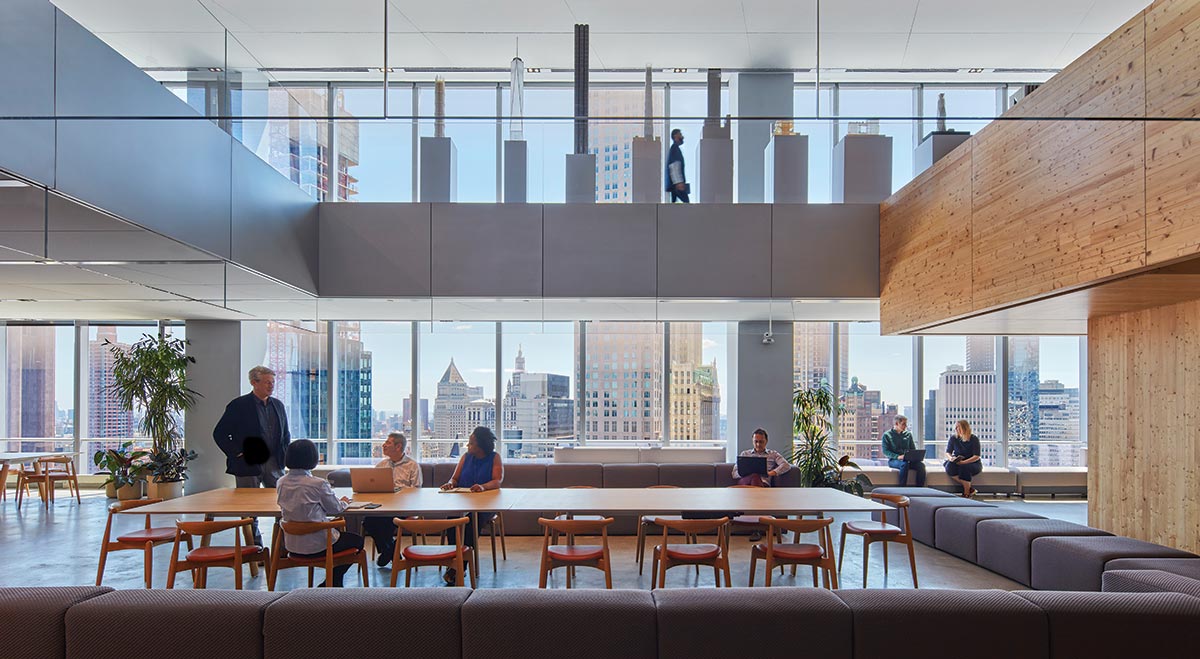 A bold cross-laminated timber stair (top) connects the upper level and café to the firm's Forum, below it (above). Photo © Dave Burk
Another goal of the scheme, Cooper adds, was to "ensure that all surfaces worked as hard as they could." Conference-room walls (and in some cases, floors) lined with cork serve as acoustic baffles, as do the ceilings, which are made of wood-fiber panels. Bookcases, cabinets, and counters throughout are made of white oak, which adds to the warmth of the spaces. But all these materials do more than just provide texture and sound management—both the cork and wood absorb carbon, which, in concert with a sophisticated air-filtration system and plants on both levels, contribute to maintaining a healthy air quality. Regarding more personal needs, individual phone rooms with upholstered banquettes are set up for small meetings or private calls, while "wellness" rooms on the 27th floor are retreats for meditation, prayer, or nursing mothers.
While the office accommodates a staff of 350, employees are currently required to be on-site only three days a week, so at any given time, with less than three-quarters of the staff present, an even deeper calm and quiet pervades both levels—a quality that was apparent during a recent visit.
Cooper notes that some office designs are so focused on the cutting edge, they end up being inhospitable. Rather, he says, "I like the idea of an office that's forward-looking and a pleasant place to be."
Click plans to enlarge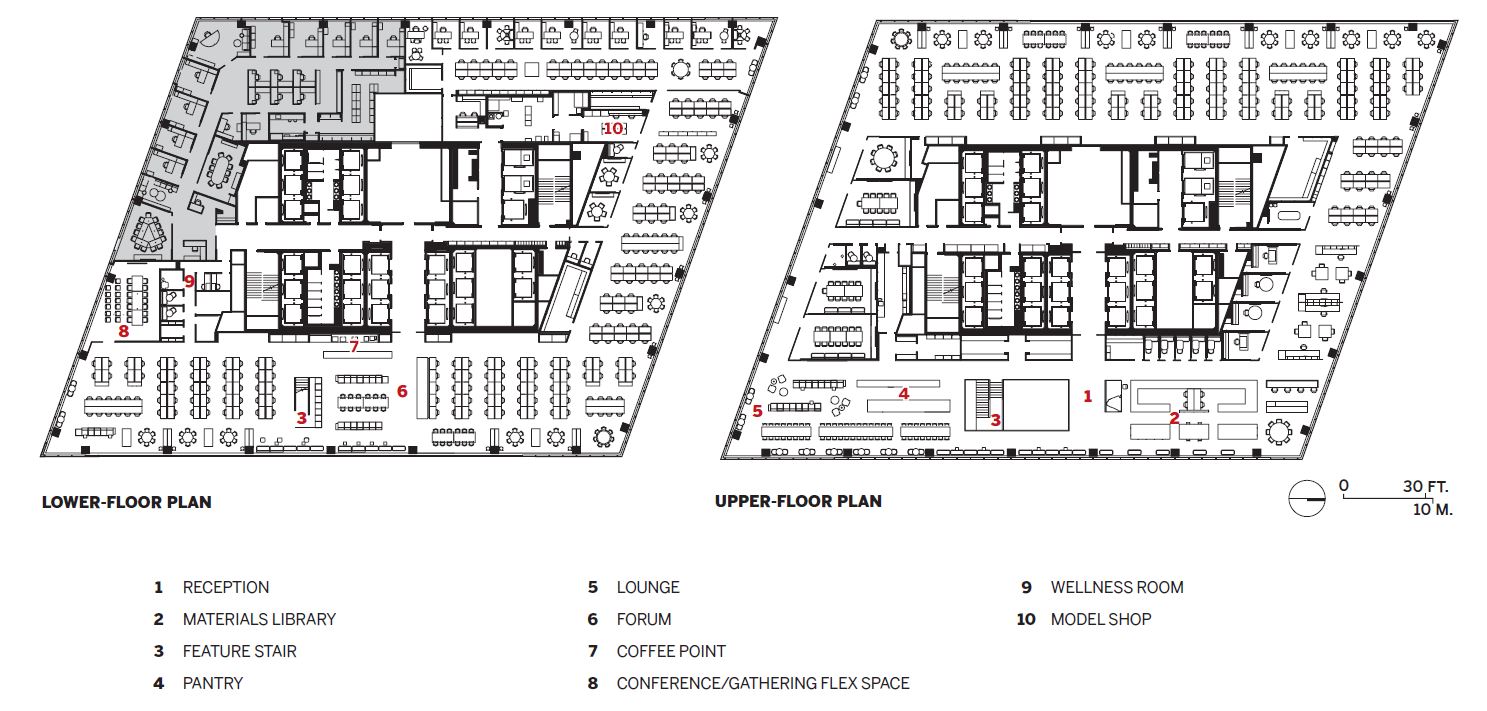 Location:
Financial District, New York, NY, United States
Completion Date:
January 2022
Gross Square Footage:
68,698
Client:
Skidmore, Owings & Merrill
Owner:
Skidmore, Owings & Merrill
Credits
Architect:
Skidmore, Owings & Merrill, 7 World Trade Center, 212-298-9300, www.som.com
Personnel in architect's firm who should receive special credit:
Chris Cooper, FAIA, Design Partner; Kenneth Lewis, AIA, Managing Partner; Laura Ettelman, FAIA, Managing Partner; Colin Koop, AIA, Design Partner; Ojay Obinani, AIA, Project Manager; Brian Kaplan, AIA, Technical Director; Gary Ku, AIA, Designer; Jackie Moran, AIA, Technical Designer; Charles Harris, AIA, Designer; Marti Gottsch, Designer; Sarah Hatch, Designer; Takuma Johnson, Designer; Cynthia Mirbach, Furniture Specialist; Anisa Mohammed, Workplace Strategist; Valerie Tang, Environmental Graphics; Preetam Biswas, Structural Engineering Principal; Bonghwan Kim, AIA, Structural Engineer; Stanley King, Structural Engineer
Architect of Record:
Skidmore, Owings & Merrill, 7 World Trade Center, 212-298-9300, www.som.com
Interior Designer:
Skidmore, Owings & Merrill
Engineers:
MEP/SP/FA: Jaros Baum & Bolles
Structural: Skidmore, Owings & Merrill
Consultants:
Sustainability: Atelier Ten
Lighting Design: Tillotson Design Associates
Acoustic Design: Cerami & Associates
Audiovisual Design: TAD Associates
Interior Planting: Greenery NYC
General Contractor:
Clune Construction
Photographer:
Dave Burk © SOM
Specifications
Structural System:
CLT Wood Stair by Digifabshop
Doors:
Special doors: Aluminum and glass partition and door system from International Office Concept
Hardware:
Pulls: SOM-designed levers and pulls manufactured by Valli & Valli
Interior Finishes:
Acoustical ceilings: Kvadrat Softcells Ceiling Panels (Open Office), Armstrong Tectum Ceiling panels (Conference Rooms)
Demountable partitions: International Office Concept
Cabinetwork and custom woodwork: Imperial Woodworking Co.
Paints and stains: Benjamin Moore
Wall coverings: Amorim Cork Roll, Forbo Tackable Surface
Plastic laminate: Fenix Laminate
Floor and wall tile: Terrazzo Tiles, Concrete Collaborative
Special interior finishes unique to this project: Window treatment from Lutron, DFB, and Carnegie Fabrics and acoustic insulation from Carpetcycle (recycled carpet tiles)
Furnishings:
Office furniture: Innovant sit-stand desk, Steelcase Think Chair
Reception furniture: Custom Millwork
Chairs: Hightower Nest Lounge Chair, Carl Hansen Embrace Lounge Chair, Hay Soft Edge 12 Side Chair
Tables: Alki Laptop Table, Resident Offset Coffee Table, Andreu World Radial Table, Viccarbe Trestle Table
Other furniture: Viccarbe Step Sofa, Viccarbe Season Sofa
Lighting:
Interior ambient lighting: Ketra, USAI, Eklipse, Delta, Selux
Downlights: LF Illumination Downlights
Dimming system or other lighting controls: Lutron
Sustainability:
Lutron quantum integrated shade and lighting system with daylight harvesting
Additional building components or special equipment that made a significant contribution to this project:
Aircuity Air Quality Monitoring System