✕
A meandering wood walkway weaves through the floating gardens and wetlands of a newly restored stretch of the Chicago River. Realized by local nonprofit Urban Rivers, with support from Skidmore, Owings & Merrill (SOM) and the city of Chicago, the 400-foot portion of the planned Wild Mile, as it is called, reintroduces flora and fauna to the previously industrialized channel while fostering public access and ­education.
Started as a grassroots project in 2015, the Wild Mile aims to improve the ecological corridor by increasing biodiversity and creating an urban safe haven. Though completed in 2021, this segment—which spans one block in Chicago's Lincoln Park neighborhood on the river's east side—opened officially in June.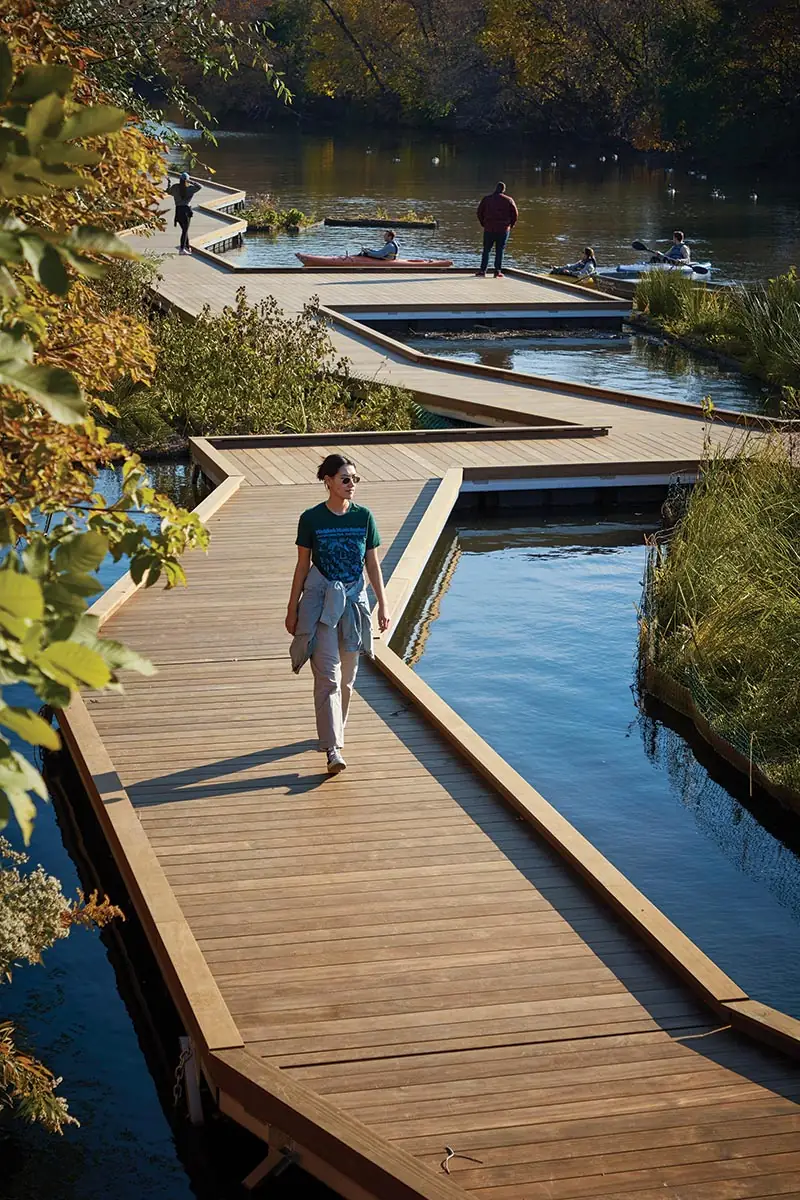 Photo © Dave Burk | SOM, click to enlarge.
SOM and Urban Rivers collaborated with a wide range of partners, such as community organizations like Omni Ecosystems and Near North Unity Program, national retailers like REI and Wholefoods with water-abutting storefronts, as well as local businesses, and engineers at Tetra Tech, d'Escoto, and the U.S. Army Corps of Engineers, among others. They engage local Chicago public schools and the British International School in educational programming and involve community members in roles as volunteers called River Rangers to help with maintenance and research.
The team's landscaping scheme addresses the industrial context with systems intended to emulate natural river ecologies. The designers anchored sand-filled trays to the river's industrial-era sheet-pile retaining walls (that had been long ago used to channelize the river) and sank logs to create ecosystems for transplanted organisms like mussels. Through further partnerships, the team coordinated with a Chicago Botanic Garden aquatic curator on vegetation design, and the Shedd Aquarium, which provides kayak tours that educate visitors on strategies like reoxygenation and bioremediation (the breakdown of pollutants by organisms).
With the reintroduction of over 60 species of water-tolerant native plants, Urban Rivers also endeavored to attract wildlife, including pollinators and birds. The organization planted marsh blazing star (a monarch butterfly favorite), American water-willow for bees, buttonbush to nourish hummingbirds, sedges for nest-making, and pickerelweed (or white water lily), whose deep roots provide fish and turtle habitat.
SOM constructed the kebony-wood pathways, supported by aluminum frames and buoyed by dock floats, with replicability in mind. This flexible framework will be used in the project's future phases (the next of which will include a 400-foot-long waterfront green space to the north), but the designers hope it extends even further—as a model for global cities. "Our vision is that other densely populated areas copy it, adapt it, and start to activate these underutilized sections of waterway," says director of Urban Rivers Nick Wesley. SOM Urban Design and Planning partner Doug Voigt adds, "This project is about a place of healing right in the center of our city—for our communities and our river. It's an optimistic example of what's possible through unique, ever-evolving collaboration."