✕
Long before Covid, architect and life partners Joel and Meelena Turkel knew they wanted to be able to work virtually with clients anywhere in the world. And so they did.
Since opening Turkel Design in Boston in 2008, the residential architects, along with a staff today of 30, have built more than 200 houses in 34 states and seven countries.
An aerial view of the back of the house (above and top of page) nestled within the 30-acre site. Photo © Maxime Brouillet, Click to enlarge
A native of Seattle, Joel Turkel grew up in a remote part of British Columbia and, as an aspiring architect, noticed the lack of contemporary houses in the countryside. He surmised the reason: potential clients had no access to good architects locally.
After earning a B.A. in environmental studies from the University of Manitoba, he went on to get an M.Arch. at MIT, where he met his wife, Meelena Oleksiuk, a native of Toronto, who had a B.A. in architecture from the University of Toronto.
The main entrance. Photo © Maxime Brouillet
At MIT, Joel devoted part of his thesis to developing a house-building system that could be employed anywhere in the world. His idea was not to do prefab or low-cost housing, but to create systems that guaranteed more certainty about construction, scheduling, and costs.
Meanwhile, Meelena did graduate research in digital fabrication, open-source manufacturing, and land-use policy at the school. The couple's interests and affections coincided, and they got married.
When they founded their Boston practice, specializing in building premium contemporary houses, their concept was to fabricate as much as possible in a factory near the clients' property before delivering the components to a prepared site. The factory would produce the cladding, roofs, windows, beams, floors, and walls. "This is very different from pre-fab, modular housing; these are still high-end, custom, bespoke homes," explains Meelena. "It's not about building faster or cheaper. It's about insuring that the quality, timeline, and budget have predictability. The challenge is to remove as many variables as possible."
The kitchen, dining and living areas overlook the site. Photo © Maxime Brouillet
A 4,400-square-foot post-and-beam house, completed in 2020 just as Covid hit, is a good example of how their systematized approach works, both for the architecture and the interiors (which they also designed in this case). The clients, entrepreneurs based in Toronto, had long owned a 30-acre farm about 100 miles north, in Mulmur Hills, Ontario. They spent the summer there with their children and grandchildren in a charming 150-year-old cottage, with agrarian outbuildings and a large barn.
But, after walking the rolling landscape for decades, the clients found a perfect site for a new house that could capture the views across the meadows to the south and toward the pastures and pond in the east. They wanted their own retreat, where they could host the rest of the family for meals and holiday gatherings.
The breakfast nook is full of natural light. Photo © Maxime Brouillet
Their program called for a great room with dining area and an open kitchen, a breakfast nook, a library, a master bedroom suite, a guest bedroom, a screened porch, and, in the basement, a media/family room, bath, and sauna.
After studying the clients' site, Turkel Design created a three-dimensional digital model, so the clients could visualize the way the house would look inside and out. It allowed them to verify the views and make design modifications.
The planning, design, and documentation process, done over Zoom, took a year. "We have access to video calls and screen-sharing calls with our clients," Turkel says. "The convenience of working online is an experience that our clients appreciate."
All the structural materials, sourced and fabricated in Canada, included thermally treated ash cladding, clear Western cedar, Douglas fir, and bluestone. "We used innovative materials such as cross-laminated timber to reduce waste and promote sustainability," Turkel notes.
A factory in Quebec fabricated the components of the shell: panelized walls, doors, windows, ceiling liners, roofs, beams, custom oak cabinetry, and built-in furniture.
The large living room, for example, is an 11-foot-tall space, with exposed Douglas fir beams, a cedar-clad ceiling, walnut casework, and a woodburning fireplace. The concrete floor incorporates radiant heating. Operable floor-to-ceiling windows slide into pockets to open the space to the outdoors. A marble-topped island is used for food prep and bar seating.
The primary bedroom suite, with a dressing area and bath, is behind the kitchen. It can be closed off from the rest of the house with a sliding wood wall. Above it is a yoga studio whose glass walls open views to the south and east.
While the factory fabricated all the components, local contractors prepared the site and, in turn, built the house, with locally sourced concrete, stone for walls and blackened-steel accents. The construction took 18 months.
In 2019, Joel and Meelena decided to be their own clients. They designed the Axiom Desert House for their family in Palm Springs, in accordance with their systematic-building principles, and filmed the entire process. It was so well organized that it took a mere 32 days to construct the house after the components had been delivered to the site. They cannot promise a timeline like that to all clients, of course, but it does prove that their building system can work wonders.
Click plan to enlarge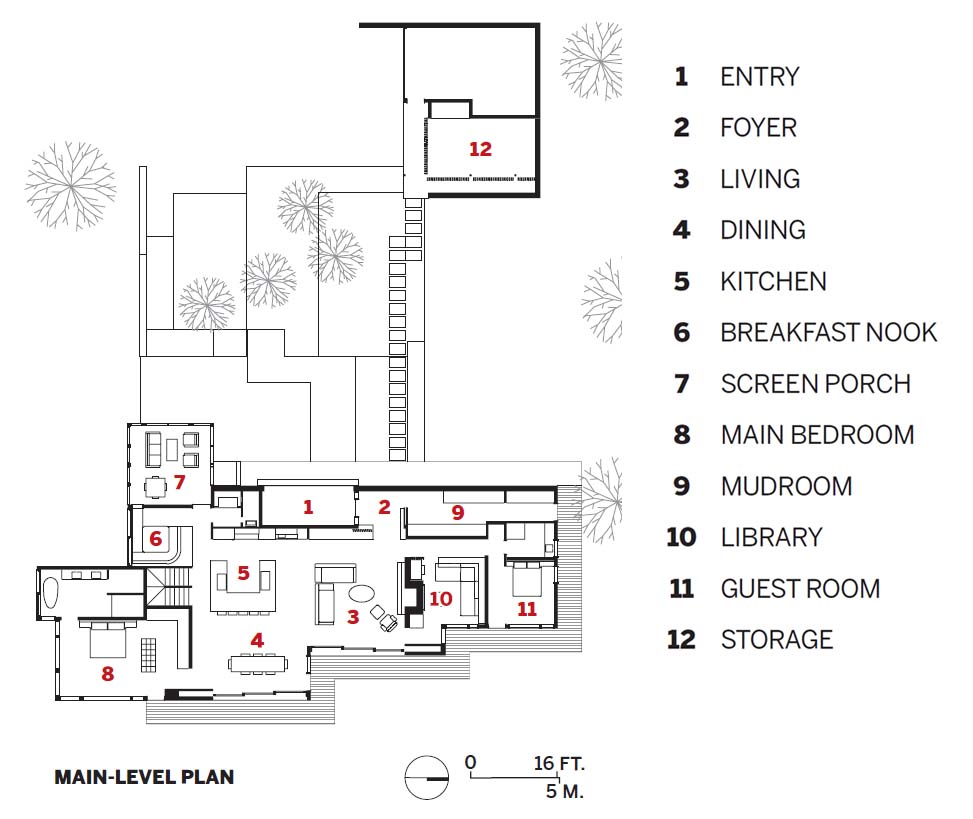 Credits
Architect:
Turkel Design, 840 Summer Street, Suite 104, Boston, MA 02127
877.710.2518
turkeldesign.com
Personnel in architect's firm who should receive special credit:
Joel Turkel, Creative Director | Partner
Jake Wright, Managing Director | Partner
Jeff Farrell, Design Director | Associate
Pat Vivatyukan, Senior Specifications Coordinator
Gordana Jakimovska Rangjelovikj, Designer
Jamie Fronske, Production Manager
Oliver Bautista, Senior Designer
Kerry Moser, Cabinetry Designer
Lighting Design: Tirschwell & Co. Inc.
Interior designer:
Turkel Design
General contractor:
Dimension Homes
Photographer:
Maxime Brouillet