✕
Balkrishna Doshi, the Indian architect whose myriad accolades include the 2018 Pritzker Architecture Prize and 2022 RIBA Royal Gold Medal, died on January 24 at the age of 95 in Ahmedabad. What follows is a personal remembrance honoring the life and work of the celebrated Modernist.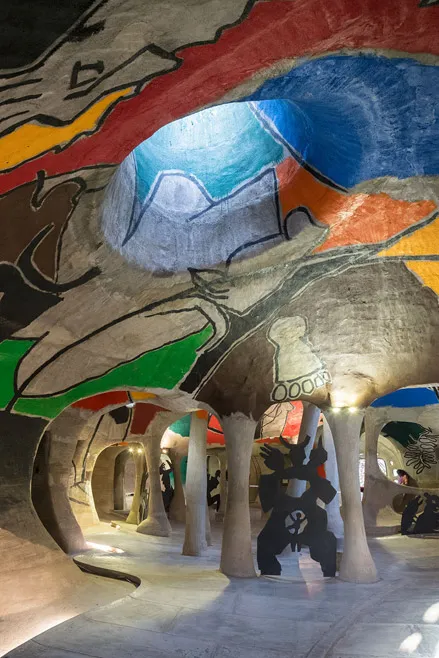 Amdavad Ni Gufa art gallery by Doshi and M.F. Husain, Ahmedabad. Photo © Iwan Baan
I first met Doshi-ji by accident.
I had just arrived in Ahmedabad, India, to begin teaching at the Centre for Environmental Planning and Technology (CEPT) and was curiously told to visit "the cave" next door to campus. Amdavad Ni Gufa ("cave" in Gujarati), an occupiable artwork itself and gallery, was designed by Balkrishna Vitaldhas (B.V.) Doshi and the artist M.F. Husain in 1992 and completed in 1995. What began as a conversation between two unprecedented thinkers, believers in the ways in which art and architecture can transform, resulted in this remarkable subterranean space that I would return to throughout my time there and many times since. In the Gufa, where painting, structure, light, and form merge, Doshi and Husain imagined the possibility for an architecture to be model and metaphor.
On that first day, however, I sat with Doshi, who happened to be there, and we talked about the poetics of light, painting, and architecture. As his words were expansive that day, so too did they become one means through which many have been fortunate to consider his unprecedented career over the year. Doshi was a consummate storyteller. His narratives then and as of late, began and ended with a genuine admiration for the individual and community. Humans, regardless of origin, that occupy, share, and envision spaces.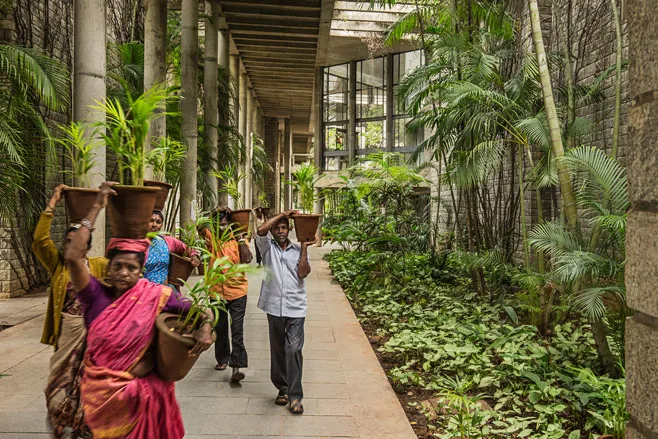 Indian Institute of Management, Bangalore, 1977-1992. Photo © Vinay Panjwani, India, courtesy Vastushilpa Foundation
Of course, he might have mentioned the years working in the atelier of Le Corbusier and those following enmeshed in the design and construction of the city of Chandigarh and then the Mill Owner's Building, down the road in his adopted city. And his father, the furniture maker in Pune from whom he said he learned precision. These were perhaps his initial sources, alongside a profound respect of the spiritual, but over nearly seven decades of working, Doshi was witness to the evolution of material invention, experiential change, and the mapping of temporalities alongside those of a nation and region undergoing its own social, economic, and political upheavals.
When he entered the JJ School of Architecture in Bombay in 1947, during the very years in which the horrors of Partition were being felt across the region, a very different life for Doshi may have been portended. Yet, in conversations, Doshi would like to say that it was his first forays outside of the school in the city from where he began to see the ways in which the past and present collided in productive tension—where he learned how cities and people were inextricable from each other and did not offer enough. He took these understandings with him first to London, then to Paris, Chandigarh and Delhi, and eventually back to Ahmedabad. He carried and held knowledge, much like another one of his teachers, Louis Kahn, with whom he worked closely on the Indian Institute of Management (IIM), in Ahmedabad.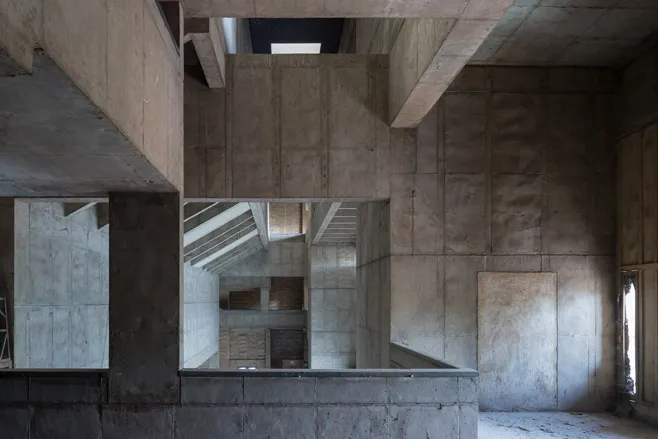 Premabhai Hall, Ahmedabad, 1976. Photo © Iwan Baan (2018)
Among Doshi's first buildings, including housing for the ATIRA factory (1956–60), traces of Le Corbusier are still seen with the merging of scale, surface, color, and material in unified but humble assemblies. Yet the formation of two new institutions established Doshi's presence as a resolute force for a modern, post-colonial Indian architecture, envisioned by then-prime minister Jawaharlal Nehru. The Institute of Indology (1966) and Doshi's creation of CEPT and its campus (1966), established constellations from which to discover how research into those forces outside oneself might catalyze generations around knowledge production. CEPT was, for Doshi, and like many other figures who have studied and worked there, a space of unlimited potential. The twinned perspectival staircases at the entrance to the School of Architecture at CEPT were not only a device for conveyance, but, as Doshi told me, were a way for every person to walk knowing that "another is walking alongside you." Traversing these evolving campuses today, there is still an electric sense punctuated by an embracing landscape, amplified structure, atmospheres, and holistic, bodily approaches to light and material—we merge with the buildings and them with us.
Among his designs for later institutions including the Indian Institute of Management in Bangalore (1977), the scale has been amplified but no less than the ways in which light guides students from intimate spaces of gathering outside and into a landscape that conjures respite and respect. The campus design encourages a movement from one's own learning to that of an expansive world view. Much like the design for Premabhai Hall (1976) in Ahmedabad, completed one year prior, the space of the theater is just as rich with possibilities as the entry and lobby spaces for which the presence of light and multiple balconies create an interior urbanism.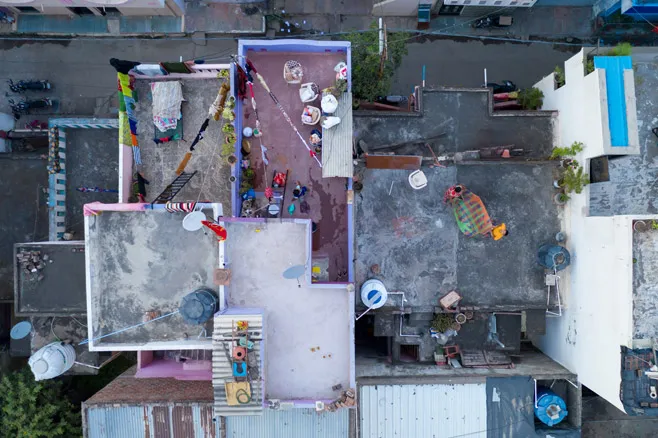 Aranya Low-Cost Housing, Indore, 1989. Photo © Iwan Baan (2018)
 While there are many more buildings, campuses, and institutions for which Doshi led the design and thinking, it was his own studio and office, Sangath (1981), that became a center from which Doshi and his teams named Vāstushilpā (translated as the art and science of constructing buildings) over decades realized a vision for human-centered architecture. Under the building's capacious vaulting, architects, including myself briefly, were held by an architect's words as worlds. The Aranya Low-Cost Housing in Indore (1982-89), built to accommodate more than 60,000 individuals in 6,500 dwellings, sought to challenge paradigms for community-centered housing that had (and still) long escaped many people throughout India. Here, with its incremental and sectional approaches to public and community access, the collection of interlocked buildings arise from multiple variables of massing and movement, speaks to the ways in which interdependence need not be reductive but a way to assert agency and self-reliance. In each of his books and a recent touring retrospective exhibition, organized by his granddaughter Khushnu Hoof and Studio Sangath, one recognizes that Doshi's grammar was one of surpassing meaning with the conjuring of feeling. With poetry, humanity emerges.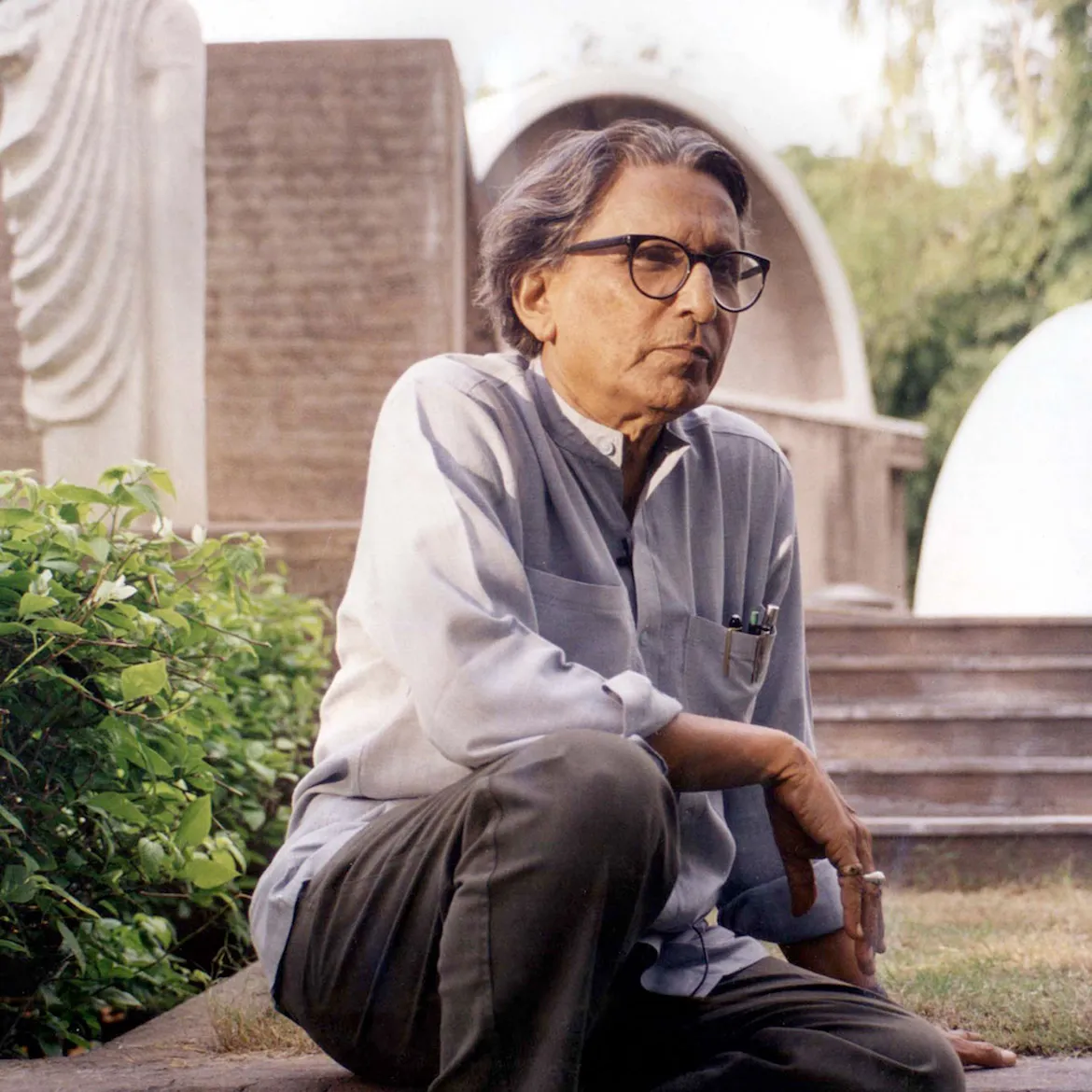 Doshi in 2018, the new Pritzker Prize Laureate. Photo courtesy Balkrishna Doshi Archives, VSF
My last conversation with Doshi in early 2020 was in the backyard of his gracious home, Kamala House (1963), named after his remarkable wife who also shares in his storytelling and laugh. There, surrounded by the green of a winter lawn, and a peacock, Doshi spoke of how happy he was now to be able to live with an architecture that accommodated his grandchildren and great-grandchildren. These were spaces for the continuities of kindness. That the architecture of this house might have begun with the politics of its stair, had become a place for listening to the many other voices that cascaded from every corner, bringing Kamala and him great joy. Alongside elegant chairs, a self-painted quasi-mythological map, a finely-wrought handrail, a low table for eating—the distillation of elements of a life in and of design—there is also ever-present light, slipping gently across objects and stories that Doshi shared with countless others.
Doshi teaches us that architecture is much more than the materials in which buildings are constructed. Like his friend, the photographer Dayanita Singh has recently said, they "became friends over light, that which architecture and photography share." While brick and concrete may communicate economic and political scores, perhaps it is Doshi's buildings that can fuse into interiors that we are always cultivating, where one is able to encounter reciprocities, narratives, lives to create anew. And yet, it is with such continuities and their transformation, love—these are the hallmarks of an architecture that doesn't disappear.
For Balkrishna Vithaldas Doshi, a generous architecture allowed for the creation and sustaining of multiple intertwined lives. They will be a measure of India, of us all. While many will continue to meet Doshi by accident, whether through experience or image or at his much-loved Sangath on Drive-In Road, it will always be a certain profundity and impossible fortune that speaks to me when I think of Doshi's buildings, his spatial poetics, his light.
Let's meet there, Doshi-ji.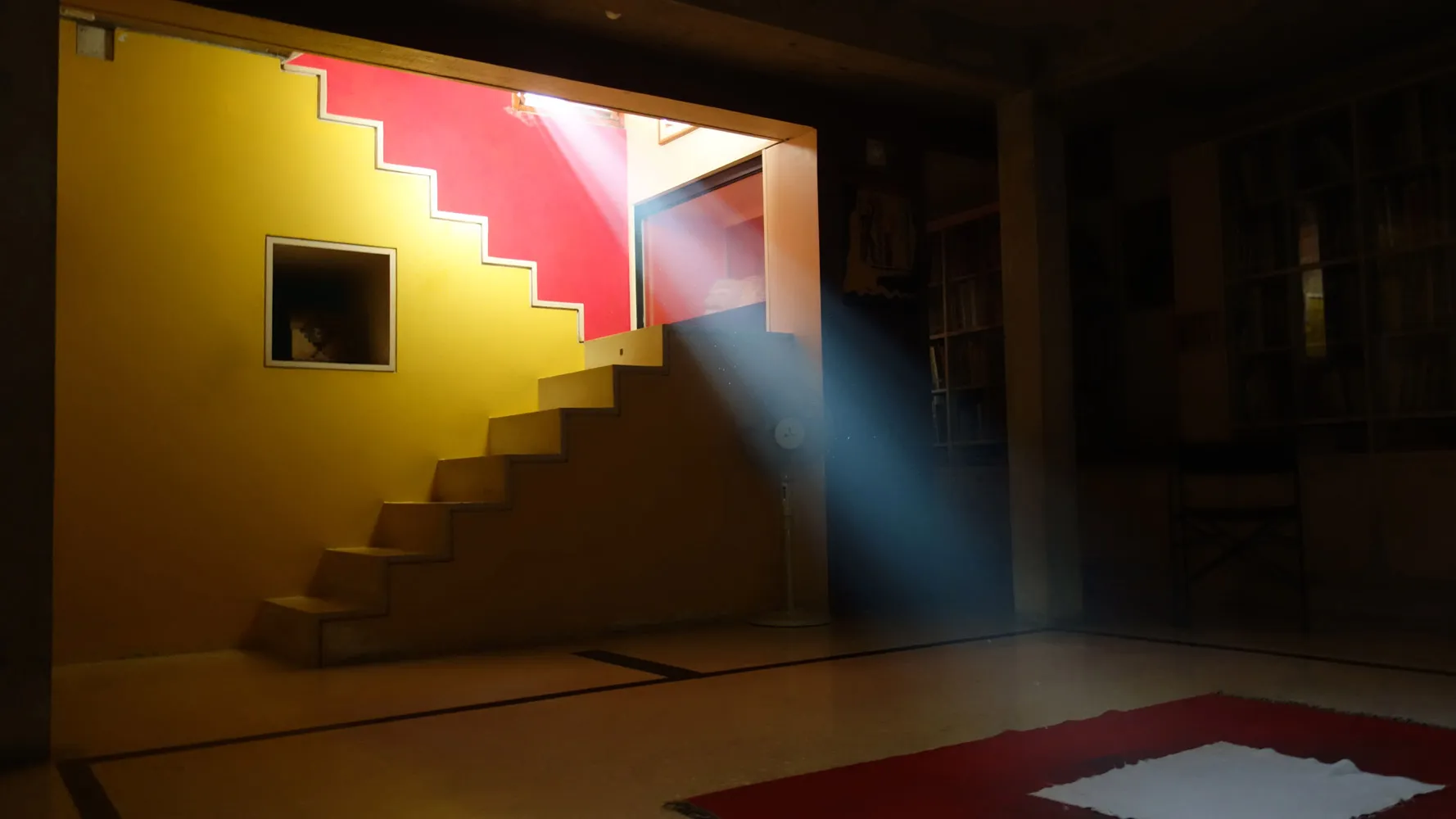 Kamala House, Ahmedabad, 1963-1986 Photo © Vastushilpa Foundation