✕
With high-profile museum projects recently completed or in the works in several countries, Selldorf Architects has become a leading choice as a design practice for institutions looking to expand and transform their existing buildings. But several projects of the New York-based firm, founded by Annabelle Selldorf in 1988, have faced intense controversy over their designs. This onslaught includes everything from public outcry and a petition to halt its work to rebukes by leading professionals in projects ranging from the Frick Collection in New York to the Museum of Contemporary Art San Diego and the National Gallery in London—the latter two comprising previous additions designed by Robert Venturi and Denise Scott Brown. Selldorf, in conversation with RECORD editor in chief Josephine Minutillo, defends her schemes.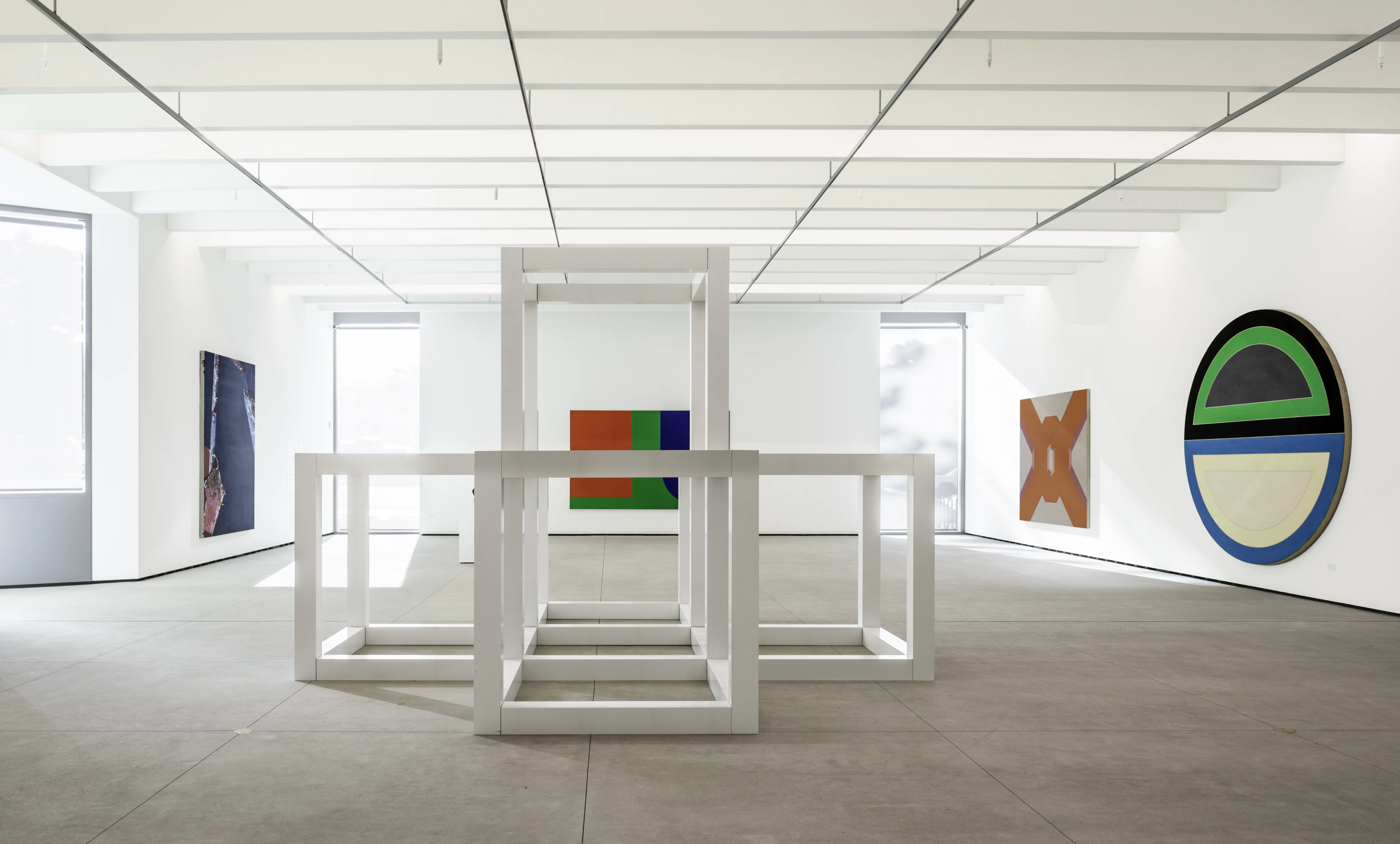 Museum of Contemporary Art San Diego by Selldorf Architects, click to enlarge. Image © Nicholas Venezia, courtesy Selldorf Architects
When the Neue Galerie opened in 2001, your restoration was praised for having a light touch. It's ironic, then, that your interventions at the Frick, San Diego, and the National Gallery's Sainsbury Wing have elicited such criticism. Why this scrutiny?
When the building completed by Carrère & Hastings in 1911 was purchased privately by a patron for the Neue Galerie, it was quite run-down. Nevertheless, its architecture has some distinction. We worked on it only with our clients. And we got to make decisions. One big decision, for example, was to have the building be accessible. Believe it or not, that was almost an option at the time. Any­way, nobody had any expectations of it. The architects were dead, as was the previous owner, Serge Sabarsky, who in an earlier iteration had suggested taking out the central staircase to create more space.
The interesting thing with adaptive reuse is you get to know buildings, existing buildings, as if they were people. And you discover their weaknesses and their strengths. In that dialogue, you talk to the building as it was. What does it need to deliver in its new incarnation? Many times, especially with public buildings, the requirements are more focused on delivering some service to the people who come visit rather than keeping [the structures] as untouched monuments.
In other words, you have to be kind to everybody. But you also have to understand how people will use the renovated and expanded project, in terms of circulation and activities, and how all that is a part of the whole. You need to find a path, a balance. Actually, I do everything with a light touch, not because I think about it that way, but because balance to me means handling it in a gentle way.
Selldorf Architects' proposal for London's National Gallery. Image courtesy Selldorf Architects
The first polemical project you were involved in was your redesign of the Venturi Scott Brown [VSB] addition to the San Diego museum, right?
It all started with that beautiful 1915 Irving Gill building that was a private house. And then the San Diego firm Mosher & Drew added to it, and added to it, and added to it. Sometime in the 1990s, Venturi and Scott Brown were brought in. They weren't hired to extend gallery space. Exactly what was modified is, to this day, not completely clear to me, except that they offered, more than anything, a visual gesture that framed the Irving Gill house and the little courtyard in front of it. But then VSB promptly filled the courtyard so that you could no longer see the house.
Part of that addition, of course, was an entry into the building that people had a hard time finding. But by the time that the museum purchased additional property—a significant amount—we were able to provide more than 35,000 square feet of new galleries to the south of the existing complex. To put that into context, a much larger building all of a sudden set at the south end of the property. And that is where all the gallery space was. So what we did is create a new entrance. And that, in and of itself, I don't think bothered anybody as much as the removal of VSB's oversized pergola next to the former entrance. But I want to point out that a really important building by Irving Gill had been completely covered up. And while I have heard complaints about the removal of the columns of that pergola, in the scheme of things and what you win or lose, we won back the Gill building.
True, the VSB addition is altered. But it is now a better player in the entire complex because its Axline Court, the former entrance court, not only remains unchanged but was lovingly restored. It is now a place where people can come together and is a great learning center.
By the way, after I gave a lecture in San Diego at the start of the project, Mosher & Drew wrote me to say how excited the firm was about the changes ahead.
You encountered Carrère & Hastings's architecture again with the Frick Collection. Yet this time people objected to certain aspects of your design.
The Frick is a profoundly beautiful place. At face value, it functioned incredibly well for most visitors. It didn't function that well in certain key aspects—such as welcoming visitors inside so they do not have to queue in the rain but come inside and have a large enough reception hall, where they could purchase tickets, or meet their friends. We looked very carefully at what works and what doesn't work. We needed to provide some crucial amenities, such as letting people who require a wheelchair come and enter through the same front door as everyone else.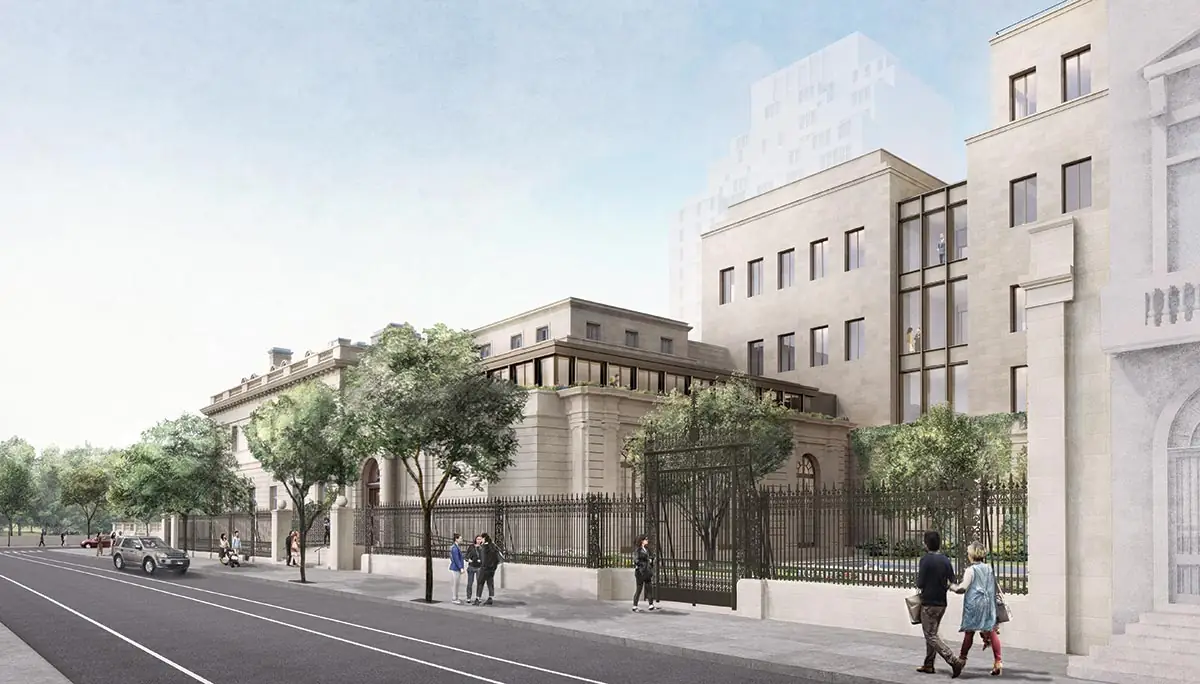 Selldorf Architects' proposal for the Frick Collection. Image courtesy Selldorf Architects
You also provide a loading dock and office space for museum staff that isn't in an attic with no air-conditioning.
I'm so glad that you pointed that out, because I remember seeing it for the first time and thinking, "This is not possible." None of these interventions are willful acts or a gestural imposition on our part.
People also forget that there were four other proposals before yours over a period of 20 years—notably the Davis Brody Bond scheme, which would have inserted a six-story addition in the Russell Page garden.
A lot of it is just people making noise. I'm not a trained preservationist, but I sure as hell know good spaces. I sure as hell understand how people circulate, and how you can make connections that leave visitors with a coherent experience, and how you make mechanical systems work in spaces that weren't meant to have the kind of sophisticated setup we require nowadays. Many of the people who have complained about the Frick did so because they were neighbors and didn't want to have construction for two years.
People objected to the removal of the round music room. You can get upset about this removal of some original fabric. But what you get in return is tremendous. Of all the spaces in the building, the music room was in the way of connecting the library with the collection. These changes enable us to make a much better connection for the entire complex, for linking scholarship with the museum itself.
At the Sainsbury Wing, you have to contend again with VSB, specifically Denise Scott Brown, who has been extremely vocal about her displeasure with your proposal.
View looking south in the Sainsbury ground floor, with the original rusticated wall along the Grand Staircase. Photo courtesy Selldorf Architects
I appreciate Denise Scott Brown. And she is someone who has always felt that she wasn't recognized enough. I don't know what that's like; I didn't work alongside a husband whose charisma is such that everybody was on their knees. Her life story is compelling and interesting, and she never fails to remind us that she was trained as an urban planner. So, with San Diego, I felt she enjoyed my positive response to her thinking about La Jolla as a place. Yet I was quite surprised that—maybe because she is many years older and much more concerned about her legacy being intact and fully represented—she came back and complained about the removal of the pergola. She kept saying that it was the "beloved pergola." I couldn't remember anybody "beloving" it, but she apparently did. And I accept that.
With VSB's Sainsbury Wing, which opened in 1991, the challenge is bigger, because it's a Grade I listed building. The most frustrating aspect is that Denise and I never got to a point in the many, many, many, many—can I say a few more times "many"?—conversations that we had where she acknowledged there is a need for the building to change. She would always ask, "Why does it have to change? Why do you have to make Sainsbury the main entrance?" It was hard to have an exchange.
If I turn to the argument of precedent, I should use Denise's own terminology. In one of her books or lectures, she showed these two drawings on yellow stickies, one of a glove, and the other of a mitten. She used these cartoons to say that you cannot anticipate what is going to happen in the course of time and that buildings need to be flexible enough to go with change. Whereas the glove stood for specificity, the mitten was more akin to the Postmodern architecture VSB had promoted, which incorporated a representation of something, along with a great deal of flexibility behind it.
Would you explain why the Sainsbury Wing needed to become the main entrance for the National Gallery?
VSB designed a building that allows people to enter on the ground level, unlike [entering by] the gigantic central stair designed by William Wilkins in 1838. How great is that? In 1991, they were already cognizant of the fact that some people needed to be able to enter on level ground. Equitable entrance is very important. You may remember that, back then, there were no security requirements. But, after 2001, you have security gates everywhere. When people enter the building today, they queue in the rain or in the sun, whatever the case may be. What we're proposing is to create an enclosed, transparent security vestibule that allows people to enter at a much faster pace, without the kind of transgressive intervention of guards and equipment.
While the Westminster City Coucil voted unanimously to approve your proposal, how does it make you feel when people come out and say, as some former RIBA presidents have said about Sainsbury, "This is an act of vandalism"? 
Well, it's been awful. I felt catapulted into the 21st century, in that everybody can just say whatever the hell they please without having to have any knowledge, any consideration whatsoever. They obviously don't care whether it's hurtful or not. I try to find a level of equanimity. But I won't lie: this has not been fun.
How long could you stand doing this work?
What's so funny is, you don't start out thinking, "This is going to be very controversial." I don't look for controversy. I believe it's very important for museums and other public institutions to embrace a better process for society's interactions. Art institutions have their fair share of work cut out for them. But I don't like fighting. And I don't like the intimidation. There have been a lot of lies that were published.
You were recently hired to do a major addition to Toronto's Art Gallery of Ontario, whose previous expansion was led by Frank Gehry. How is that going?
In one part it will touch Frank's building. It was very clear to me, long before I even talked to him, that the worst thing that could happen would be to upset the balance of his very compositional and very strong elevation. But he was just so nice. And he said, "This is going to be great. These spaces are going to be connected." The most interesting thing he said was, "We're such different architects, but I totally trust what you do." And that was excellent.