✕
Ever since the 1992 Summer Olympics, Barcelona has been admired as a model for urban revitalization through imaginative design and civic identity. Barcelona '92 was designed with a TV audience in mind, with views of the diving finals from Montjuic hill offering Ildefons Cerdà's gridded street-plan—vertically punctured by Antoni Gaudi's Sagrada Familia and Norman Foster's telecommunication's tower—as a striking backdrop.
That global reach of Barcelona's identity, forged through design, architecture, and Catalan culture, went on to fuel a tourist boom and a benchmark strategy for cities worldwide. The "Barcelona Model" offers an approach based around international events, neighborhood-based community-building, iconic design, the opening up and reimagining of urban spaces, and investment in public transport.
"Model" is also the title of Barcelona's architecture festival, which concluded its second cycle at the end of April following a ten-day run. Both editions were curated by Catalan architect Eva Franch i Gilabert, ousted director at London's Architectural Association School of Architecture. She chose the name because while the city is known for that post-Olympic model, she asserts that new models are required for it—and other cities— to cope with the 21st century.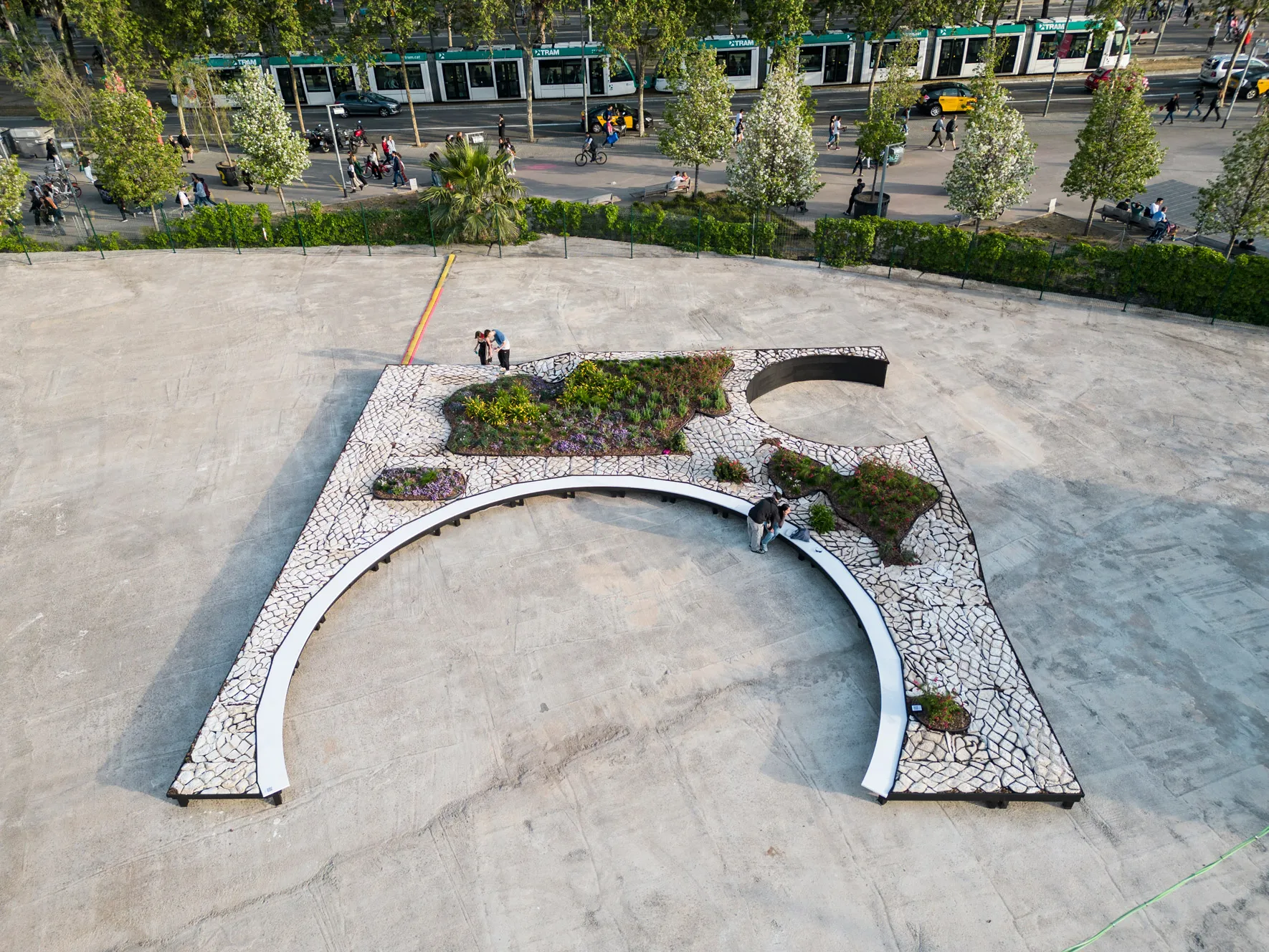 Wild Surface by Harrison Atelier. Photo courtesy Model. Barcelona Architectures Festival
Barcelona has been testing new urban ideas since left-leaning Ada Colau was elected Mayor in 2015, especially through the "superblock" pedestrianization, aiming to turn a third of its streets into green, traffic-calmed spaces by 2030. But the festival wants to push further, introducing the Model Awards program to explore new temporary civic projects. Selected from 117 entries, five eclectic and playful interjections were constructed around the Glories area of the city, until recently ruptured by a now-buried motorway and home to a building site for a huge new public park.
Nomadic Assembly by h30 Architects. Photo ©José Hevia
Each project offers a moment of exploration, rest, or biodiversity. Wild Surface by Brooklyn-based Harrison Atelier is decorative to Barcelona's human residents, but for its insect population is valuable infrastructure: an array of 1,500 hemp and mycelium panels that each include a small hole just large enough to offer refuge for a single bee. Taking only two weeks to grow, the bio-based material can be laid across rooftops and empty spaces to support urban biodiversity.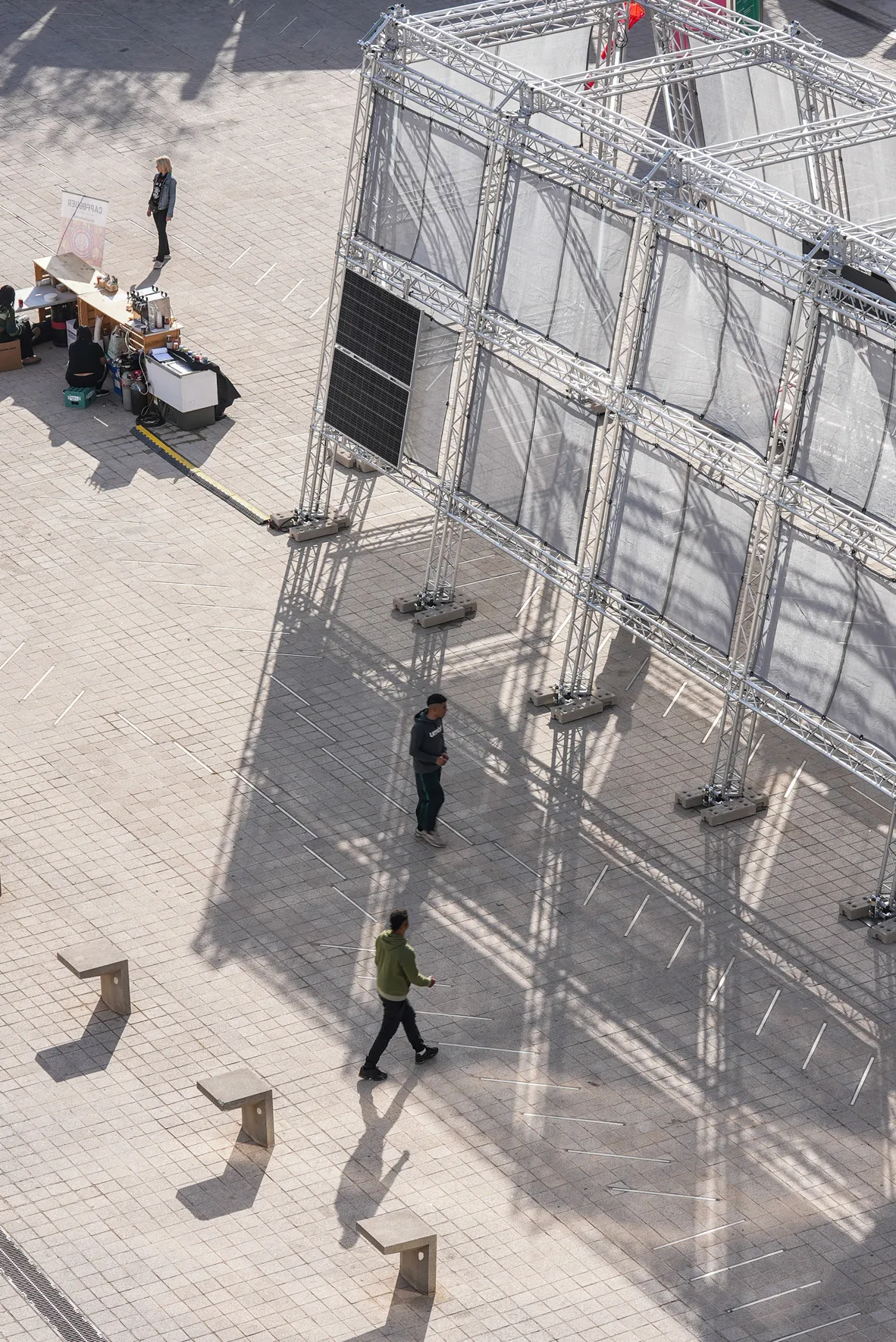 Free Air by Daryan Knoblauch. Photo courtesy Model. Barcelona Architectures Festival
Using leftover materials from a local market, Barcelona studio h30 Architects has created Nomadic Assembly, a series of interactive structures that blow smoke, blast horns, and offer egalitarian spaces for congregation and play. London-and Cologne-based designer Daryan Knoblauch has designed Free Air, an urban lung formed of a space frame wrapped in a photocatalytic-coated membrane that filters nitrous, sulfur, and carbon oxides from polluted air.
Temporary Permanent by virtual office KOSMOS Architects and Swiss-Mexican studio PARABASE is a sculpture formed of eclectic objects salvaged from seven municipal warehouses. Highlighting the wealth of existing urban resources, the pavilion piles temporary concrete road barriers, builds a tower from water tanks, and repurposes a statue of a handsome Catalan warrior to guard entry to a space covered with fabric mesh. Humorous and inviting, it repurposes components of previous urban models to imagine a hybrid future, offering a space to focus on creative re-use and hidden resources.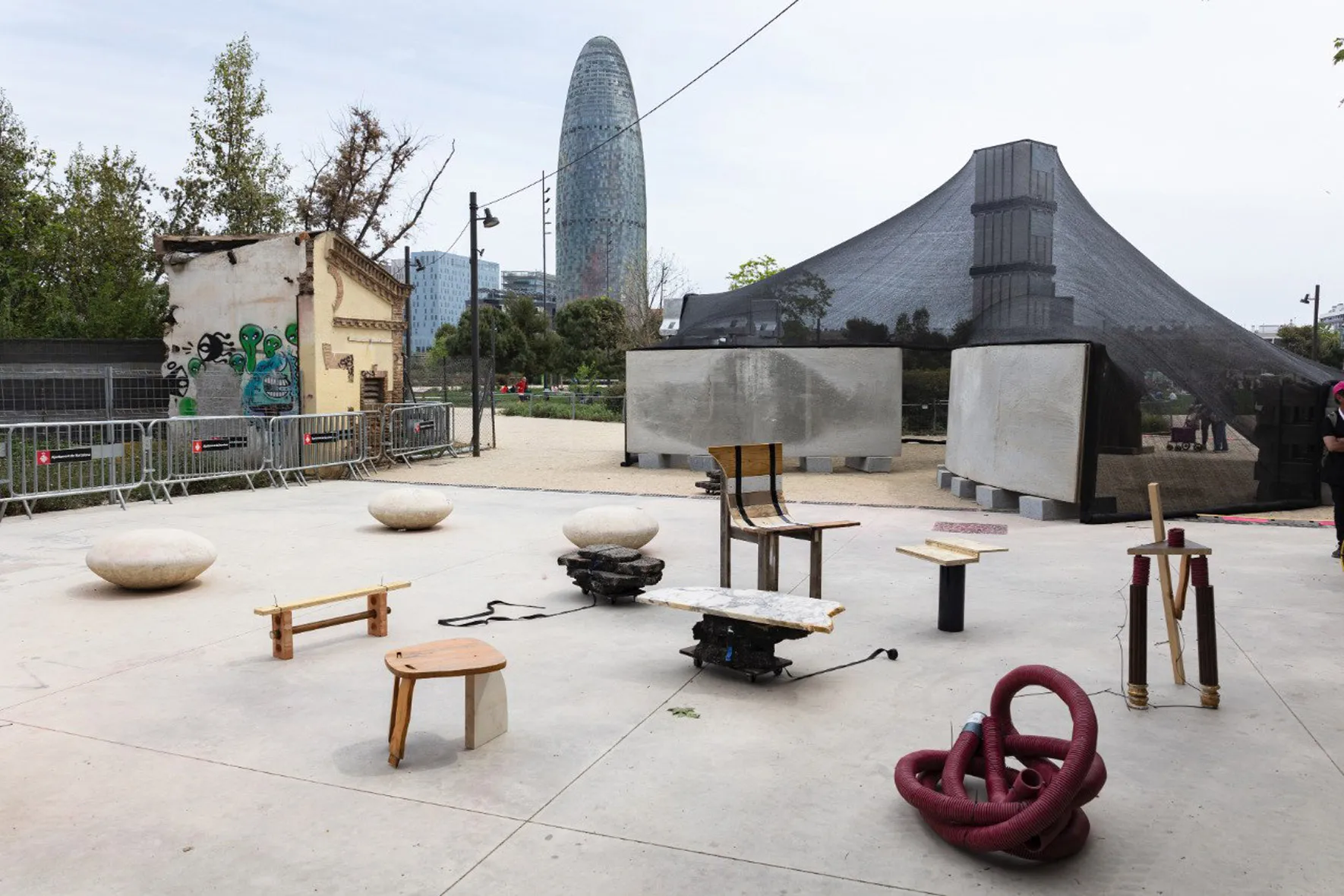 Temporary Permanent by KOSMOS Architects and PARABASE. Photo courtesy Model. Barcelona Architectures Festival
The project with the most legacy, however, may be Mamifera by Equal Saree, a Barcelona-based team of architects and experts focused on gender and feminism, sitting on the redundant Glories motorway—its surface used for temporary civic projects to test how the space may eventually be planned. Equal Saree has constructed a circular space of parental care, carefully designed in response to the needs of both children and parents. "Barcelona has many spaces you can charge your mobile phone," Franch i Gilabert says, "but nowhere you can refrigerate breastmilk." A microwave, fridge, baby changing area, and communal seating make for a lo-fi but democratic piece of civic furniture.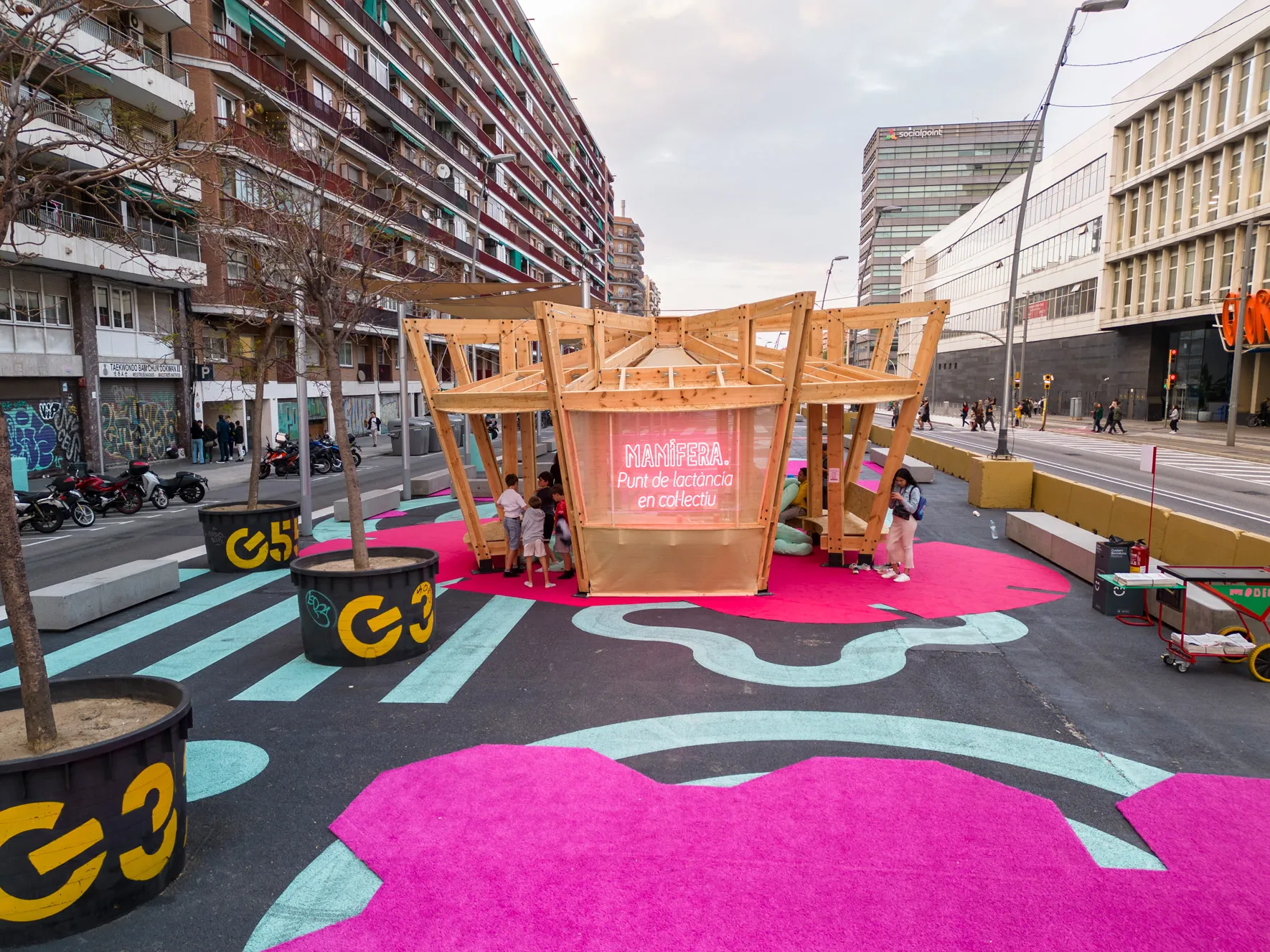 Mamifera by Equal Saree. Photo courtesy Model. Barcelona Architectures Festival
Mamifera by Equal Saree. Photo courtesy Model. Barcelona Architectures Festival
Might there be a chance for these short tests to lead to something more permanent? Franch i Gilabert thinks so, explaining that there has already been a meeting with local politicians to discuss how ideas like
Manifera 
could be hardwired into future urban models. She adds, however, that it would require a completely different approach to procurement and civic design, one built around care and progressive values rather than discrete stages of project design and management created to build and manage a city of cars, capital, and antiquated social frameworks.