✕
Many know Melbourne for its Victorian rowhouses, with ornate details and filigreed ironwork. But houses in the city had humble beginnings—simple forms, corrugated metal roofs with deep eaves, walls made of timber or clay bricks, and verandas to provide shelter from the relentless sun. Leaning on these lessons, Office MI–JI has found strength in rearticulating low-cost local materials in a contemporary idiom. With several completed projects to date—each unpretentious yet full of intrigue—and several more under construction, the firm has introduced a refreshing new approach to the Melbourne design scene.
Having met at the University of Melbourne, classmates Millie Anderson and Jimmy Carter, both 34, began moonlighting on small freelance projects in 2014—a karaoke-room fit-out first, followed by installations and intimate pavilions. After Anderson moved to London to join Zaha Hadid Architects, and Carter to Chicago to pursue additional graduate studies in criticism, they continued to collaborate over the long distance for four years before reuniting in Melbourne in 2020. Office MI–JI, a portmanteau of its founders' first names, shares a lively, light-filled studio space with several other small architecture practices and graphic designers. Although working within tight design constraints can bring friction to any working friendship, and despite their varied work experiences, the duo closely collaborate on all aspects of design. As the only two employees, any differences in opinion are interrogated as a team, which Anderson and Carter agree "ultimately leads to much stronger ideas."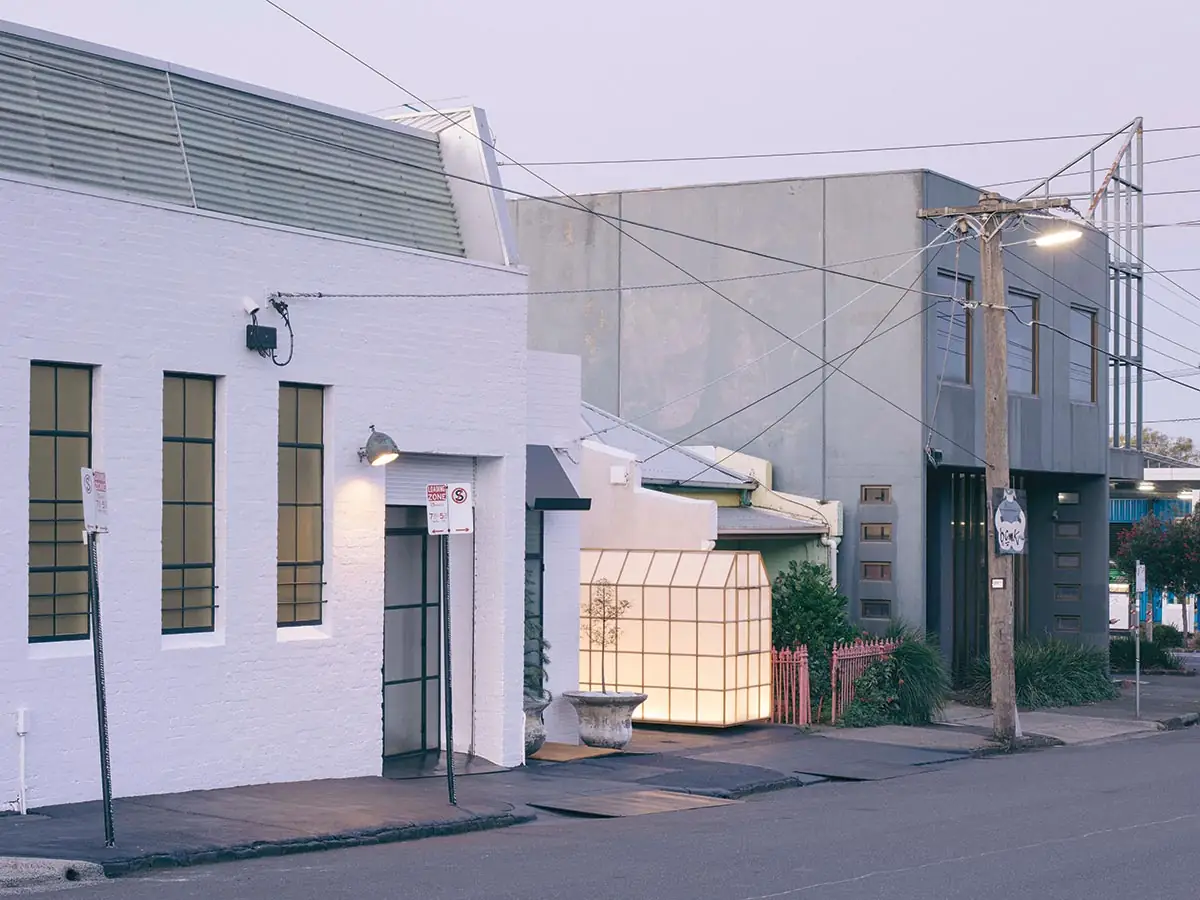 1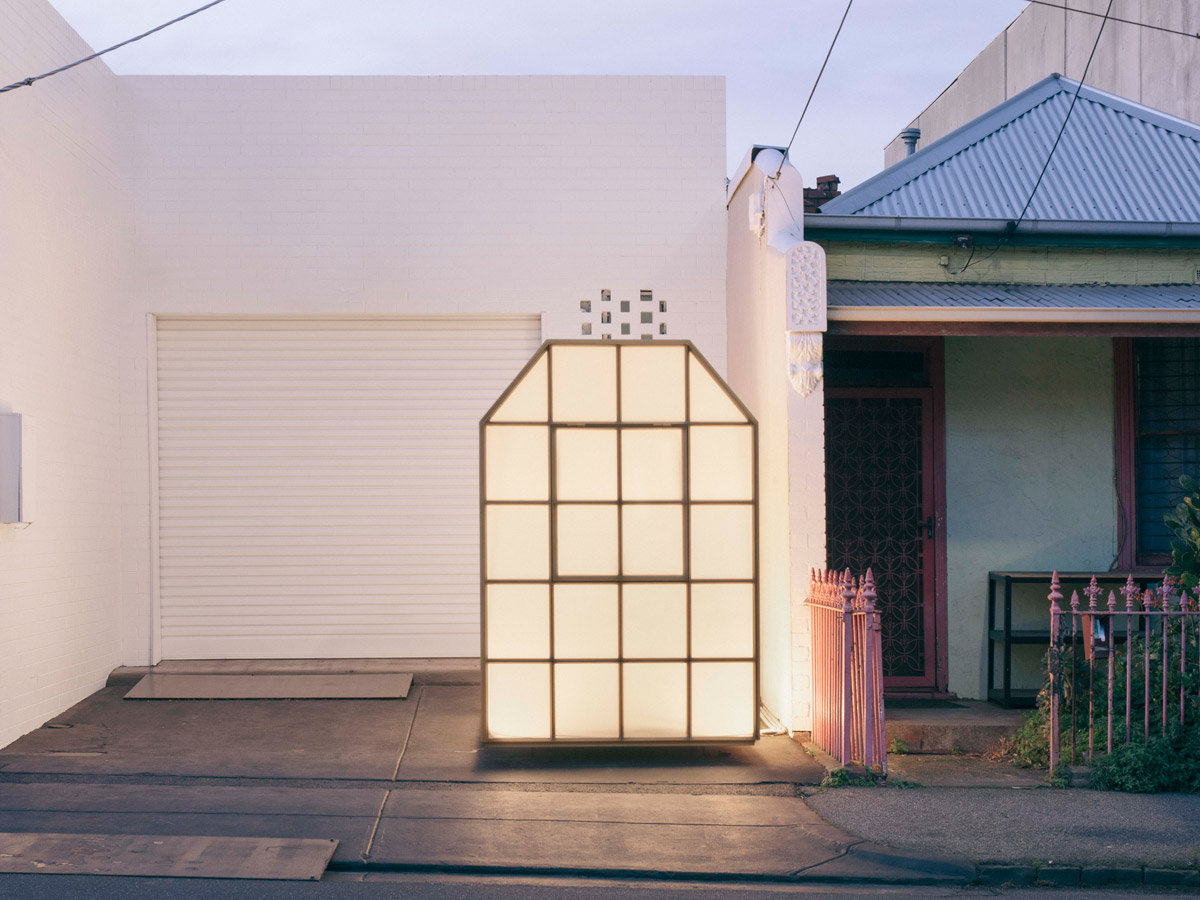 2
A Pavilion (1 & 2)
This unquestionably small (8½-feet long by 4½-feet wide by 7½-feet tall) pavilion once served as a food cart, but currently serves as a storage unit—one that, after the sun sets, emits a diffuse glow through panes of translucent glass set within in a gridded steel frame. Photos © Benjamin Hosking, click to enlarge.
The unassumingly named A B House, a single-family vacation getaway in the coastal town of Barwon Heads, manages to be both austere and innovative. Beneath simple boxy forms lies a playful subtext: the street-facing elevation reinterprets the familiar cost-effective corrugated metal sheets as a crisp geometric shell. Inside, the house is warmed with light diffused through polycarbonate panels and walls and floors treated with tallow wood; the kitchen features barrel-vaulted ceilings, while a gently curved hallway separates domestic functions.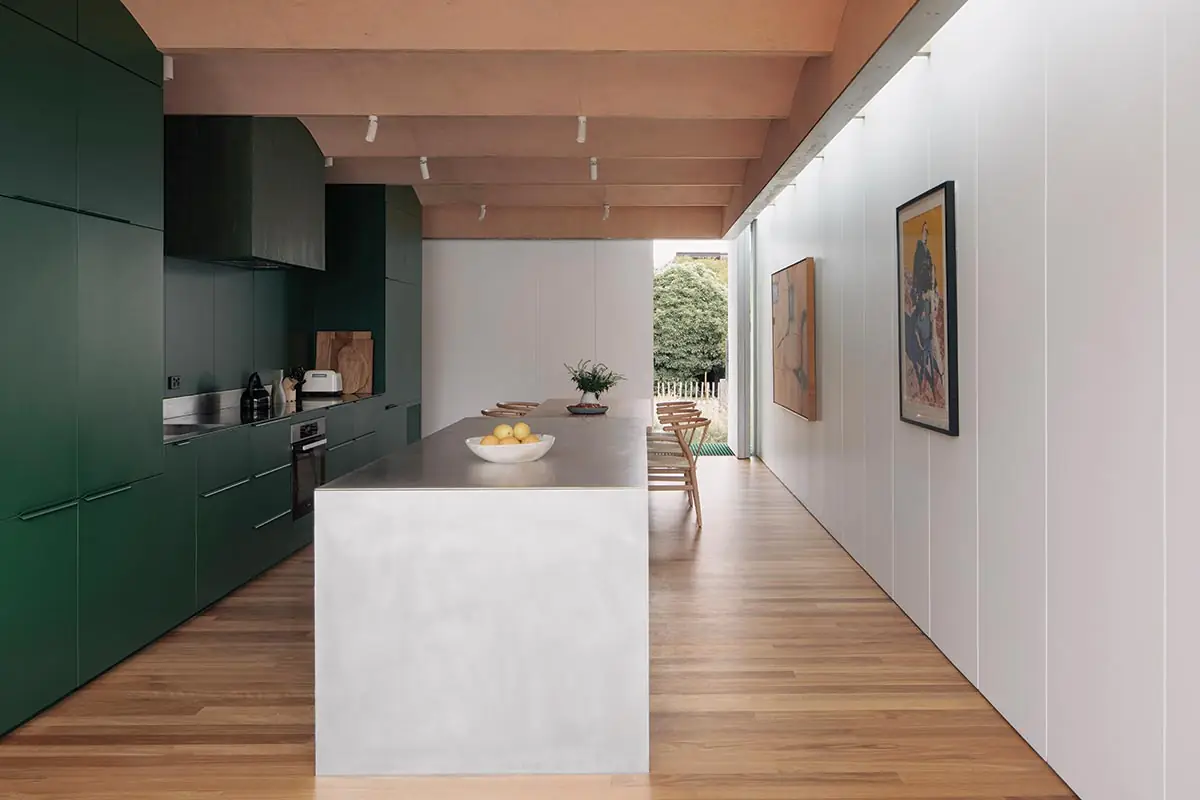 3
A B House (3 - 7 & top of page)
Bounded within a perimeter set by 52 posts, and entirely raised off the ground, this weekend retreat is organized into two volumes connected by a curved, daylit hallway. An industrial palette of steel and translucent polycarbonate are complemented by warm woods and deep greens. Photos © Benjamin Hosking
4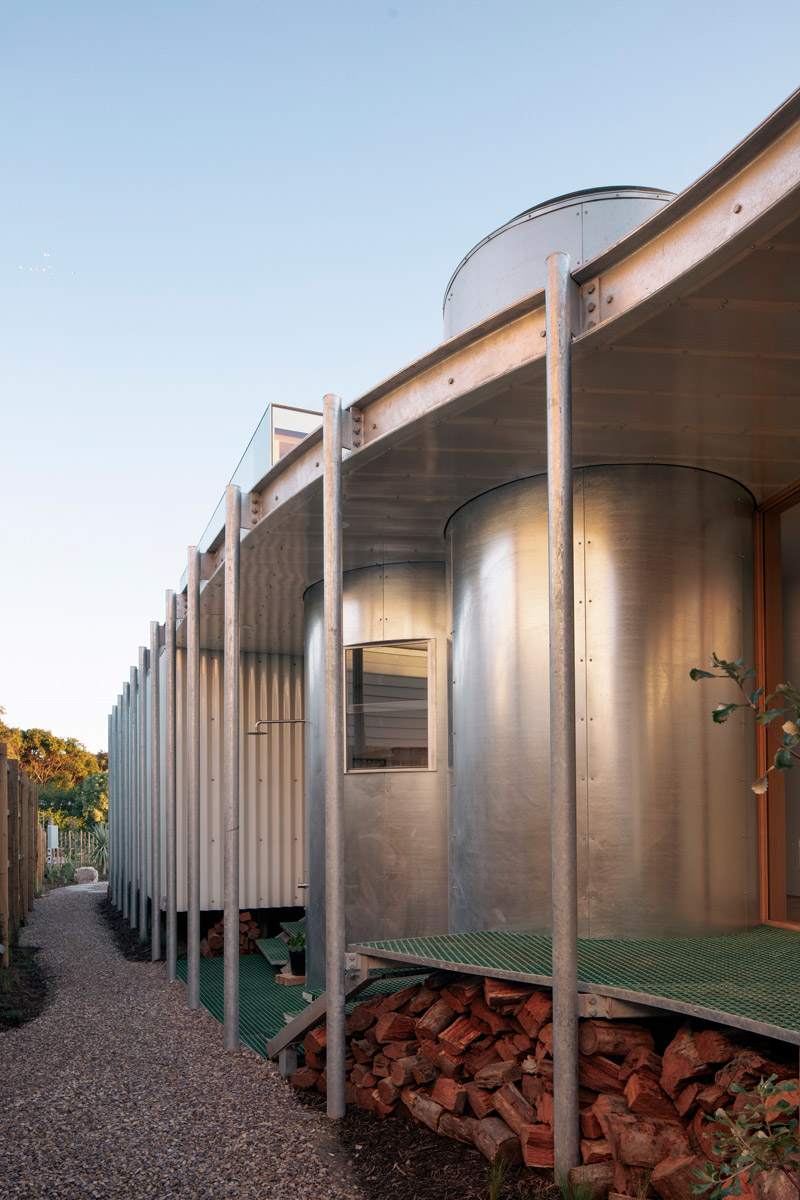 5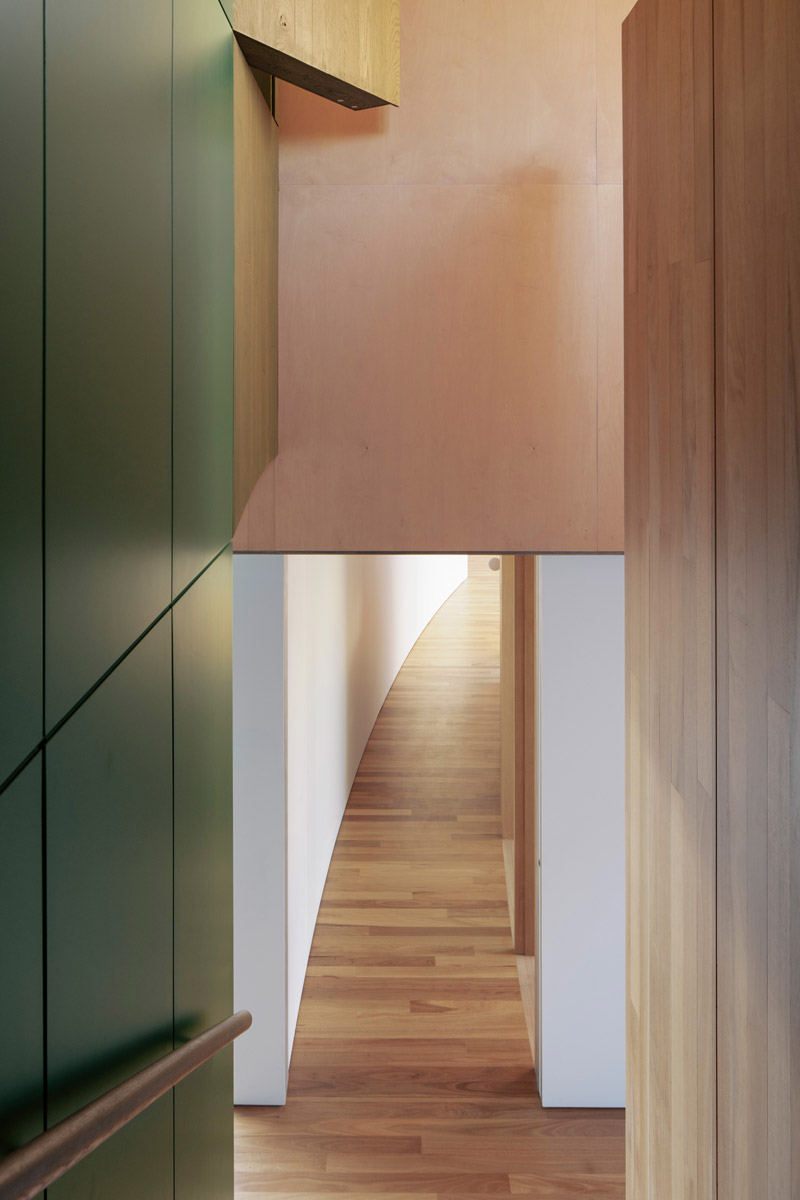 6

7
In Castlemaine, another residential project utilizes materials salvaged from local industrial yards—raw clay bricks are underfoot in the bathroom, and glass blocks form a translucent shower barrier. Originally A House for One, with a later addition called A Renovation for Three, this dwelling has no interior doors, per client request, so cleverly placed corners and changes in level preserve privacy without compromising spaciousness for the family.
8
A House for One & A Renovation for Three (8 - 12)
A previous client asked Office MI–JI to revisit its design for a house conceived as a double-height room, and make space for three more. The new addition, in plan, spirals inward—ensuring privacy on an otherwise small lot. Photos © Martha Poggioli (8), Benjamin Hosking (9 - 11)
9
10
11
12
Anderson and Carter recalled a motto that arose when they began working together: "Do good work." The phrase may sound open-ended or loosely defined, but it continues to speak to Office MI–JI's deft ability to curate quiet sophistication and aesthetic simplicity.
Jimmy Carter and Millie Anderson. Photo © Charlie Ford
FOUNDED: 2014
DESIGN STAFF: 2
PRINCIPALS: Millie Anderson, Jimmy Carter
EDUCATION:
Anderson: University of Melbourne, M.Arch., 2012; Bachelor of Architectural Studies, 2010
Carter: University of Illinois at Chicago, MA, Design Criticism, 2018; University of Melbourne, M.Arch., 2014; Bachelor of Property and Construction, 2014; Bachelor of Architectural Studies, 2010
WORK HISTORY:
Anderson: Zaha Hadid Architects, 2016–20; Plus Architecture, 2010–16
Carter: Kwong von Glinow, 2018; Folk Architects, 2014–16
KEY COMPLETED PROJECTS: A Renovation For Three, 2022; A House for One, 2016, Castlemaine (both); A B House, 2022, Barwon Heads; A Pavilion (designed in collaboration with client), 2021, Collingwood; A Certain Kind of Life (with Abigail Chang, Francesco Marullo, and Agata Siemionow, in conjunction with the University of Illinois at Chicago), 2019, Lisbon, Portugal; A Room for Karaoke and Other Things, 2015, Prahran (all in Australia, except as noted)
KEY CURRENT PROJECTS: Bay House, Brighton; Malakoff House, St. Kilda East (both in Australia)