✕
This weekend on July 1, the National Building Museum's annual Summer Block Party installation returns in its seventh iteration. LOOK HERE, staged in the Washington, D.C., institution's soaring Great Hall, was conceived by New York City–based architect and artist Suchi Reddy, founder and principal of Reddymade Architecture and Design.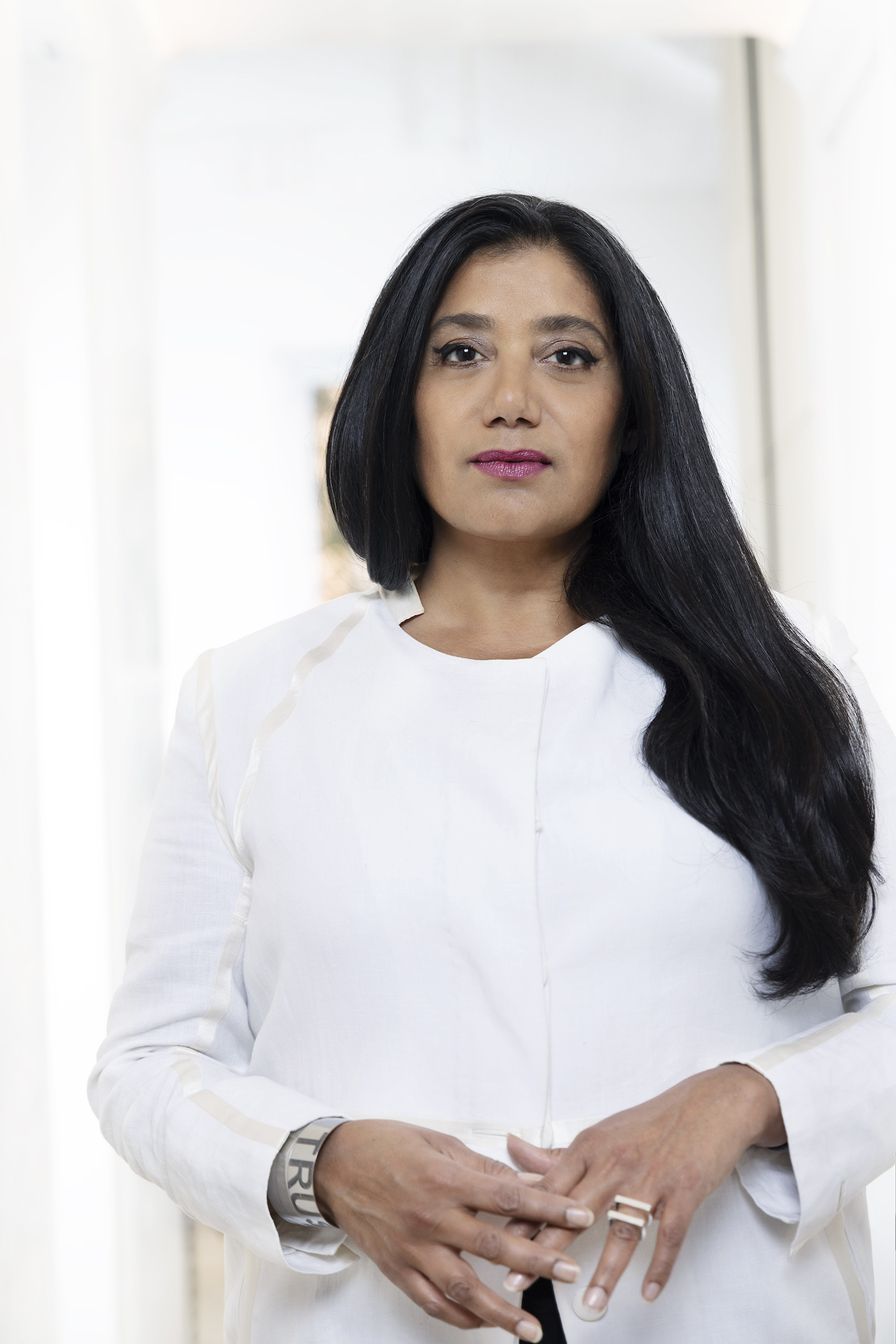 Suchi Reddy. Photo © Steve Benisty
LOOK HERE comprises a field of "reflective fractals"—which draw inspiration from origami fortune-tellers, kaleidoscopes, and ancient Japanese magic mirrors—that incorporate "iconic images" from the city's activist history such as the 1963 March on Washington, underscoring the relationship between the country's democratic ideals and its built fabric. Leveraging the Great Hall's height, Reddy suspends these modules over a round platform, accessible via an oval-shaped ramp, with padded seating from which visitors can contemplate these specular collages of architectural, human, and historical fragments that move in the changing daylight. As in previous years, the exhibition will be open to the public after regular museum hours on Thursday evenings during a series of special Late Night programs, with planned offerings including a late-night disco party. The museum will also host daytime programming in conjunction with the installation including design talks, workshops, and more.
LOOK HERE at the National Building Museum. Photo by Timothy Schenck, courtesy Reddymade and National Building Museum
Reddy's desire that visitors "see themselves in the reflective surfaces, as part of these important moments in our history" points to her practice's ongoing engagement with "neuroaesthetics"—a new discipline that studies aesthetic experience in neuroscientific terms—particularly as it intersects with social justice, a concept that she calls "design justice." With this focus in mind, Reddymade operates at a variety of scales as demonstrated in projects like me + you, an artificial intelligence and light sculpture commissioned for the Smithsonian's FUTURES exhibition, the Google Store Chelsea in Manhattan, and the Salt Point Residence in upstate New York, which she designed in collaboration with artist Ai Weiwei.
"My mantra is form follows feeling," summarizes Reddy, who is the first BIPOC woman to partner with the museum for a Summer Block Party installation. "I believe that architecture, environments, and experiences play an essential role in shaping an understanding of ourselves as humans with agency, equity, and empathy."
Installation views of LOOK HERE at the National Building Museum. Photos by Timothy Schenck, courtesy Reddymade and National Builkding Museum
LOOK HERE succeeds interactive summertime exhibitions at the museum by architects and designers including Rockwell Group (2019), Snarkitecture (2015 and 2018), Studio Gang (2017), James Corner Field Operations (2016), and Bjarke Ingels Group (2014). Last year, Summer Block Party coalesced as Shakespeare's Playhouse, a collaboration between the Folger Shakespeare Library and University of South Carolina, which was originally scheduled to open in 2020 but was postponed due to the COVID-19 pandemic.
"Summer Block Party is back, and Suchi Reddy's design is intriguing, peaceful, and playful," Aileen Fuchs, president and executive director of the National Building Museum, asserts in a statement. "By transforming our Great Hall into an abstract 'Hall of Mirrors,' we hope our visitors will come to appreciate the Museum's unique architectural details and D.C.'s important activist history through an entirely new lens."
Photo by Chris Coe, courtesy Reddymade, National Building Museum
LOOK HERE opens July 1 and will remain on view through Labor Day, September 4.