✕
The term transitional housing largely implies a certain sense of the ephemeral, referring to a temporary living arrangement from which residents ultimately transition into more permanent accommodation. At the Baddour Center, a 120-acre residential campus for adults with intellectual disabilities in the far northwestern reaches of Mississippi, a pair of group homes designed by Jackson-based Duvall Decker provides its residents—10 men, five to each 3,530-square-foot house—with housing to transition into and live in indefinitely, with a greater degree of independence than in the other Center facilities.
"It's a passage between somebody who needs a lot of care and somebody who might be able to take care of themselves," explains Roy Decker, cofounding principal of Duvall Decker along with 2023 Record Women in Architecture Awards honoree Anne Marie Duvall Decker. "The men in these buildings may spend the rest of their lives there, so we had the weight of that reality on our shoulders."
The residents, who have multiple types and levels of disability, previously lived in a fully staffed group facility at the Baddour Center, or on the "outside," where they had acquired the life skills to largely take care of themselves. While each of the new houses receives a modest amount of daytime support from a staff member, the setup is a straightforward one: a few men of various ages living together under the same roof in a five-bedroom house.
"If you think about it, five guys living anywhere is a recipe for disaster," says Decker, who notes that, thanks in part to several key design strategies, Baddour Center staff have reported minimal conflict among residents at the newest group homes on campus.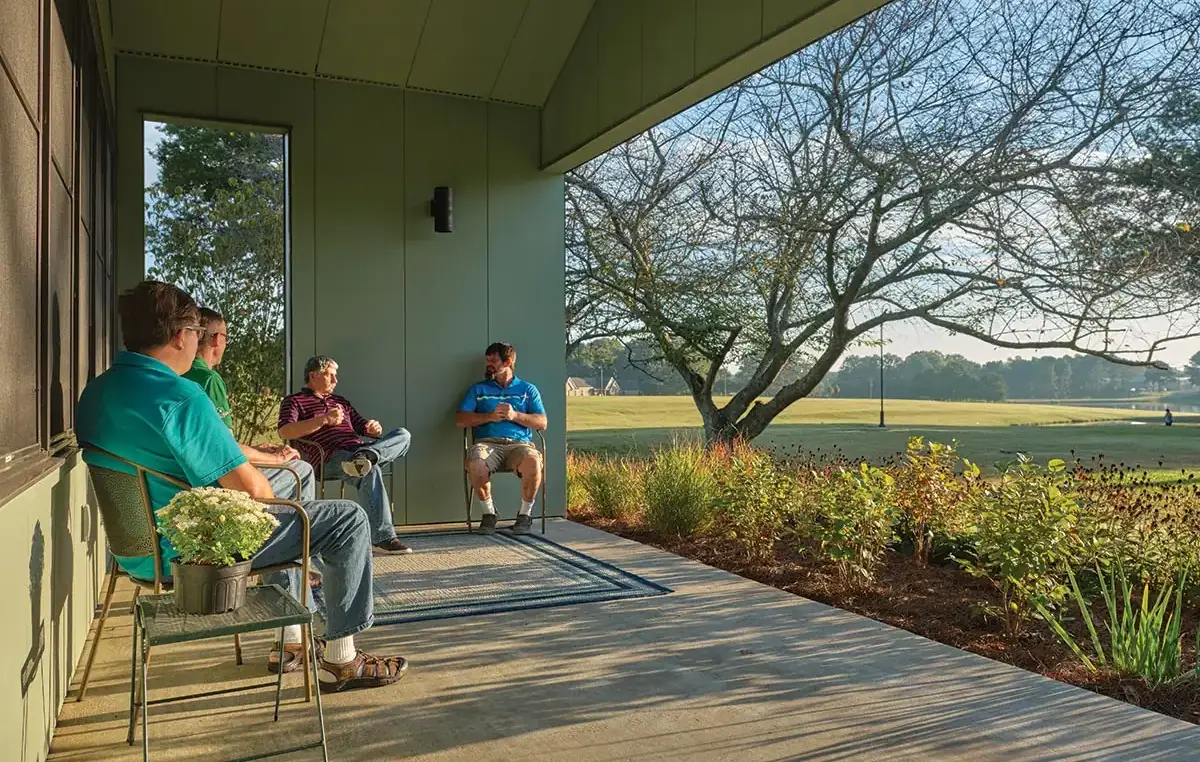 Spacious front porches overlooking the Baddour Center's bucolic campus serve as a space for residents to socialize or seek respite. Photo © Andrew Welch Photo, click to enlarge.
Nestled between two existing group homes on the southern end of the Baddour Center's verdant, community-integrated campus in the small city of Senatobia, the two houses feel immediately familiar, reassuring residents with their low-slung profiles, gabled roofs, prominent light wells resembling traditional chimneys, and generous front porches. Providing a comfortable, safe, and accessible living space to residents was paramount. But as Duvall Decker points out, this approach isn't unique to designing housing for people with intellectual disabilities. "As special as their needs may be, in a way these needs are also universal," she says.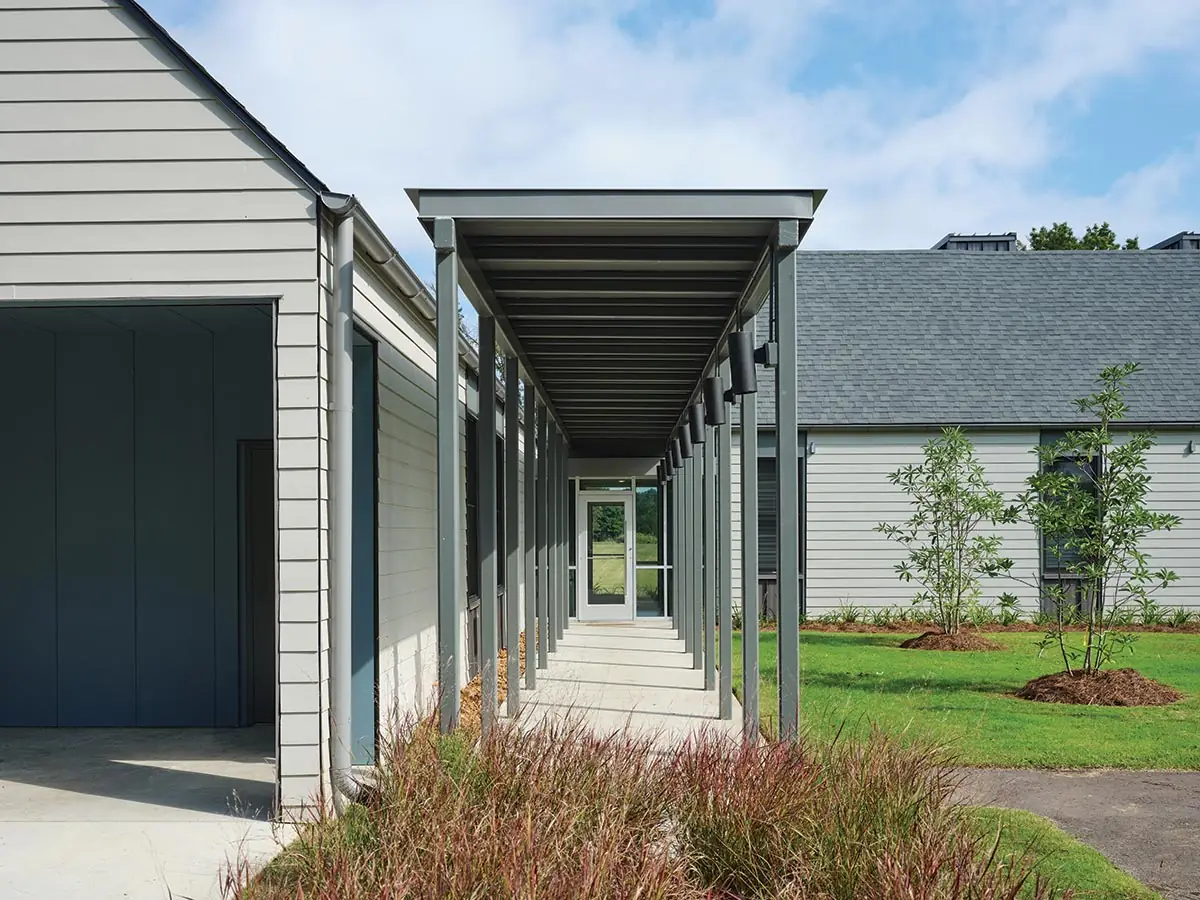 1
Both houses feature sheltered outdoor corridors (1) and large light chimneys (2). Photos © Andrew Welch Photo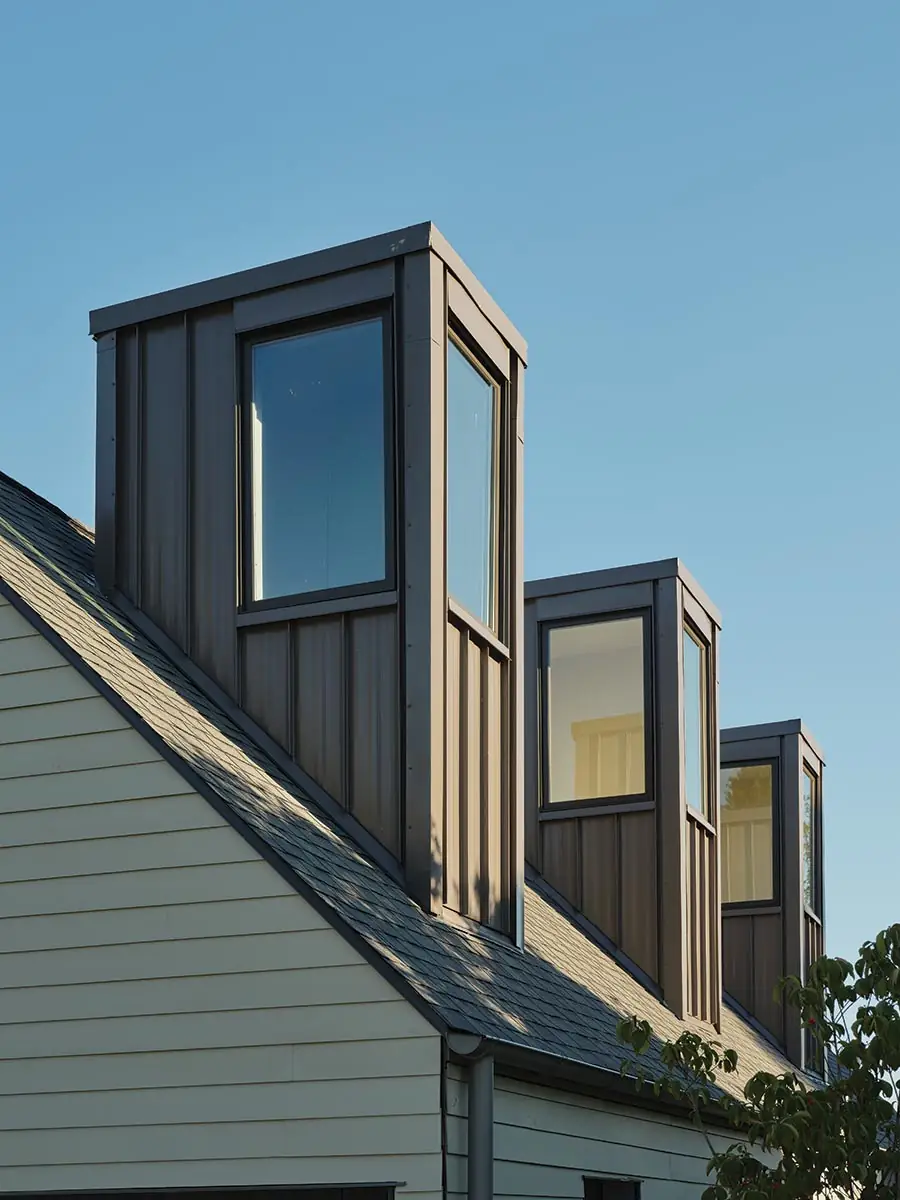 2
Certain considerations made for residents include corridors without blind spots, a kitchen with direct egress, an absence of dead-end spaces where social conflict might occur, a separation of high-sensory areas and low-sensory/private spaces, and rooms with views into them that give residents the choice to either engage with their fellow housemates or not. "These physical strategies reduce stress and allow for residents to have a little more time to make a decision about how they participate, with their peers or with staff members," says Decker.
Each sitting differently on the landscape, the houses are formed by two vestibule-linked volumes that give each wing the appearance of a freestanding smaller house. One wing contains the bedrooms and en suite bathrooms. It is flanked by a covered outdoor walkway that provides access to a side entrance through which residents can come and go from their bedrooms without setting foot in the other wing, which contains a living room, spacious kitchen and dining room, and laundry.
"By turning and splitting the buildings, we created multiple paths between the houses," says Duvall Decker. "It gives you a lot of choices."
The homes establish a strong connection with the outdoors so that residents feel bonded with the larger campus, the seasons, and the cycles of the day. The light chimneys, for example, pull natural morning light into each of the bedrooms and common areas.
The homes are linked by a gently winding footpath. Photo © Andrew Welch Photo
As Decker explains, the most critical input came from Baddour Center residents themselves. "We did our homework: we diagrammed, mapped, thought about codes and health-department requirements," he says. "And then we talked to the residents, and we felt as if we didn't know anything."
"We were aware of the analytical technical information, but the lived life of the circumstances by which the residents occupy their days, their relationships, and their loves was so much richer and more complicated," he adds. "Mixing that back into the technical safety requirements is how the plans were built."
Residents were most keen on seeing large front porches—with living rooms overlooking these through oversize windows—and attached garages for bicycle and golf cart parking incorporated into each home. Another request honored in the final design was for more space but not necessarily increased square footage. "He kept saying 'not bigger, but more space,'" recounts Decker of a conversation with one resident. "What he was describing was taller ceilings and volume. This was a clue to the fact that residents felt the traditional group homes had a kind of oppressiveness to them."
Aerial view of the two new transitional homes at the Baddour Center. An existing group home is located between them. Photo © Andrew Welch Photo
"These buildings are really simple," adds Decker. "There's nothing extraordinary in the space-making, except the way it is all knit together in relation to the residents' needs, which makes it special for them."
Click plans to enlarge