✕
It's literally the stuff of legend (local Memphis, in this case): on May 8, 1925, a Black riverman named Tom Lee singlehandedly rescued 32 people, all white, from drowning, when the steamboat M.E. Norman capsized in the murky waters of the Mississippi.
Following his death in 1952, a stretch of public riverfront built on fill at the foot of Beale Street, then known as Astor Park, was rechristened Tom Lee Park. For a Memphian of such heroic repute, having such a prominently sited civic space named in his honor was only fitting. Yet the 30-acre park itself—long, narrow, and chronically underutilized—never lived up to its full potential, existing primarily as a place to pass through while cycling or jogging along a riverfront path or, maybe once a year, visiting for outdoor jazz concerts held during the "Memphis in May" festivities.
"It was a flat, sort of washed-out lawn, compacted to the degree that it was almost like concrete," says Kate Orff, founding principal at landscape architecture and urban-design studio SCAPE, of the near-treeless park. She describes it as being frequented by "hard-core joggers at sundown," but devoid of places for people to gather, save for a few benches. Notably, the park was also without soil and significant animal life in an area known as a key stopover point for migratory birds traveling along the Mississippi flyway.
Now, in what is the second collaboration between SCAPE and Studio Gang to be completed this year, following their revamp of the Arkansas Museum of Fine Arts in Little Rock's MacArthur Park, Tom Lee Park has emerged from a $61 million renovation as not only a proper park, replete with lush native vegetation (including 300 oak trees) and myriad opportunities for active and passive recreation, but an impressive public space worthy of its fabled namesake.
Referring to it as a "semi-park" in its former iteration, Carol Coletta, president and CEO of the nonprofit Memphis River Parks Partnership, heralds the new Tom Lee Park as an "absolutely glorious new front door to the city." But, as Coletta describes it, figuring out which way the front door would swing didn't come naturally: the project, dating back to 2017, is part of a larger riverfront makeover scheme.
"It was hard for Memphians to imagine Tom Lee Park being anything other than a sort of flat, desolate piece of property on a magnificent river," she says of the extensive public engagement that began in—and continued through—the Covid pandemic. "The notion of what this piece of land was—and how it was used once a year for a local festival—kept people very tightly bound, in terms of imagining what it could be."
With the imaginative aid of Studio Gang in the role of master planner and architect, and SCAPE as landscape architect, the future Memphis River Parks–managed space was envisioned as a safe and inclusive place to play, exercise, and unwind, with the Mississippi serving as both scenic backdrop and design inspiration. As Orff notes, the long and often "funny" shapes of the park "bring back the dynamism of the river—the forms that the Mississippi makes as it moves over and carves across the land." (As with other projects, SCAPE has created a school curriculum as a companion to the park's ecological design.)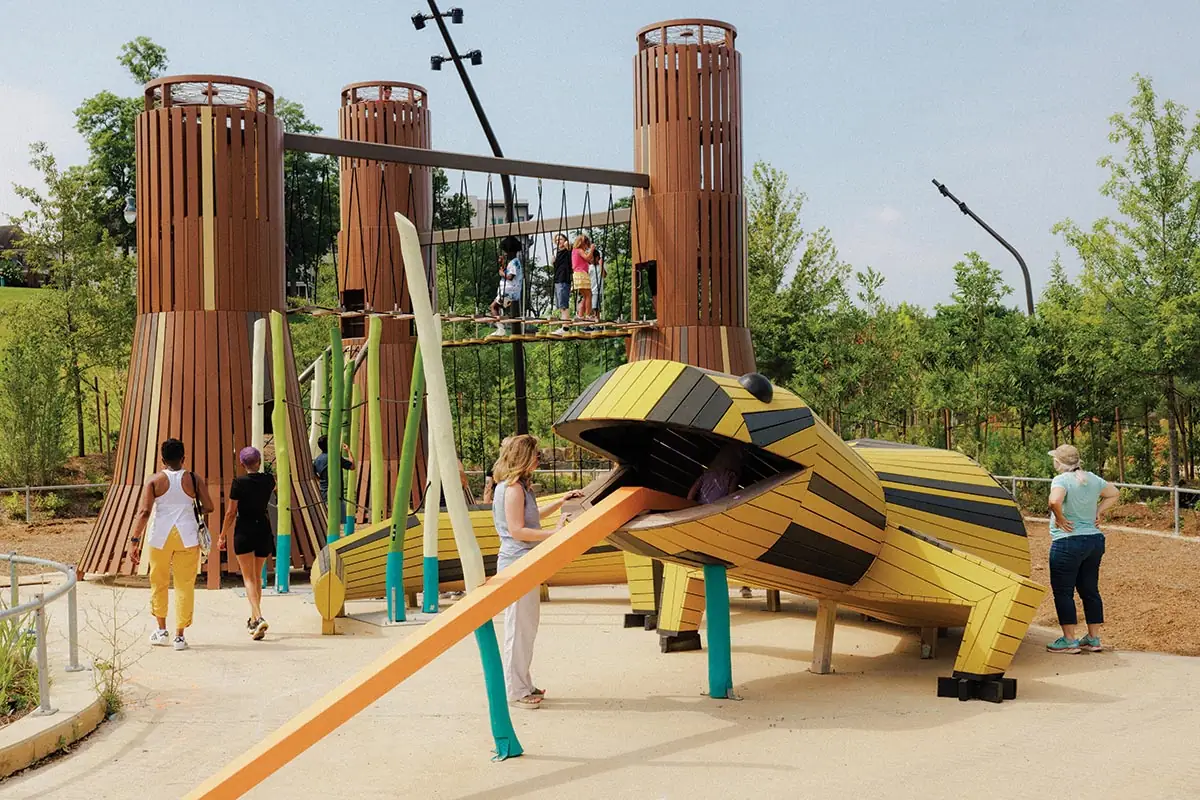 Oversize climbing features resembling river denizens populate the playground. Photo © Connor Ryan, courtesy Memphis River Parks Partnership
Memphians mostly "wanted things that already existed in smaller neighborhood parks," says Jeanne Gang, founding principal and partner of Chicago-based Studio Gang. "We started thinking 'maybe it just should include these everyday things that you do in a park'—but, because Tom Lee Park is on the river, it becomes more like a big stage."
Ease of access for all Memphians was paramount to the project, as the site, wedged between the river and a busy roadway, is within walking distance of some of the most economically distressed neighborhoods in the city, which form a crescent around the downtown core. The first completed section of the new Tom Lee Park was Cutbank Bluff, with its gently sloping switchback path serving as a direct, ADA-compliant link between Vance and Beale streets and the northernmost section of the park, where visitors enter through a sweeping gateway plaza anchored by a misting fountain.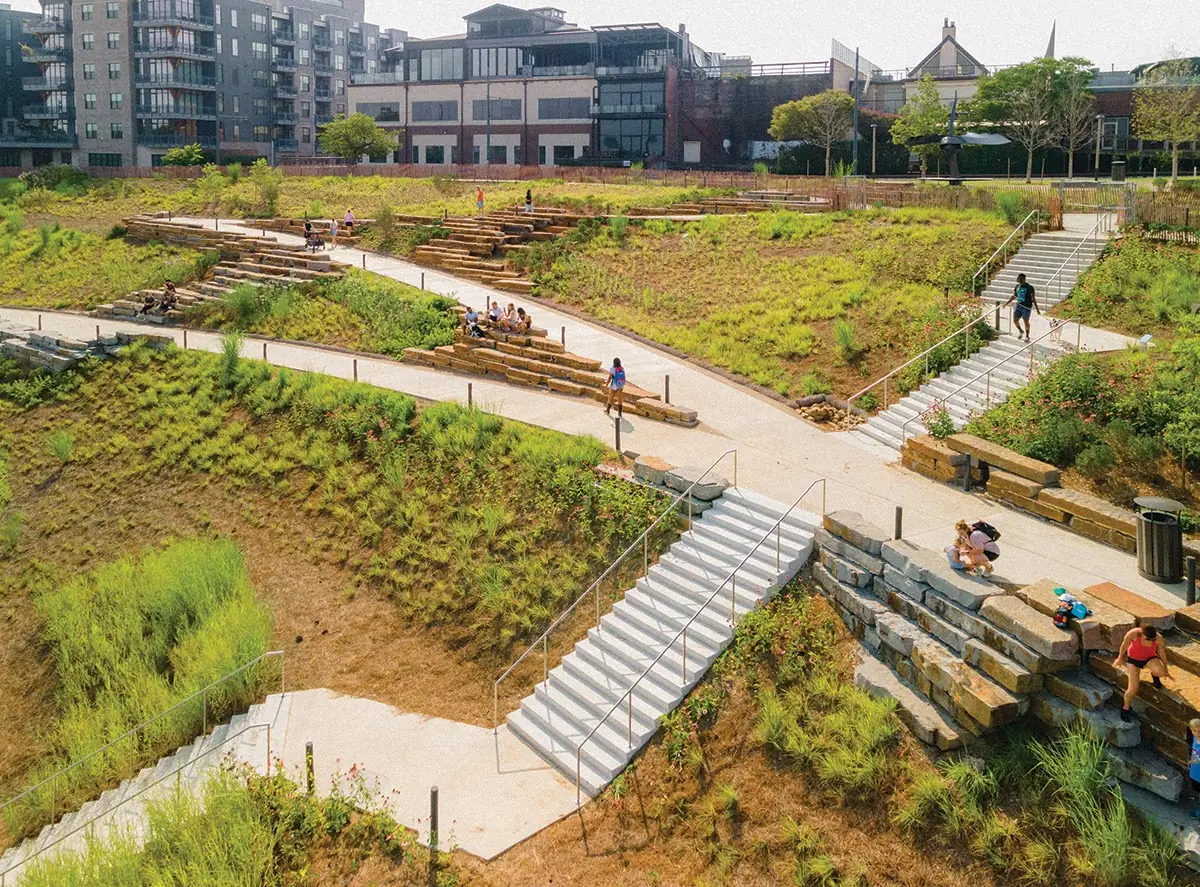 With its winding ramps and natural stone seating, Cutbank Bluff fuses downtown Memphis with the northern end of the park. Photo © Connor Ryan, courtesy Memphis River Parks Partnership
"One of the poorest zip codes in Tennessee—and one of the poorest in America—is six blocks from the new entrance that we built for the park," says Coletta. "And we put the new entrance there for a reason."
Just to the south of the Civic Gateway is the Active Core of the park, home to Studio Gang's centerpiece structure, the Sunset Canopy, an open pavilion dedicated to Tyre Nichols, a 29-year-old Black motorist killed by Memphis police this past January. Topped by a floating timber roof spanning more than 16,000 square feet and lifted by six steel supports whose cranelike form evokes the riverfront's industrial heritage, the glulam structure shelters a basketball court painted with a vibrant-hued geometric design by artist James Little. In addition to pickup games, the pavilion hosts yoga classes, concerts, performances, and more.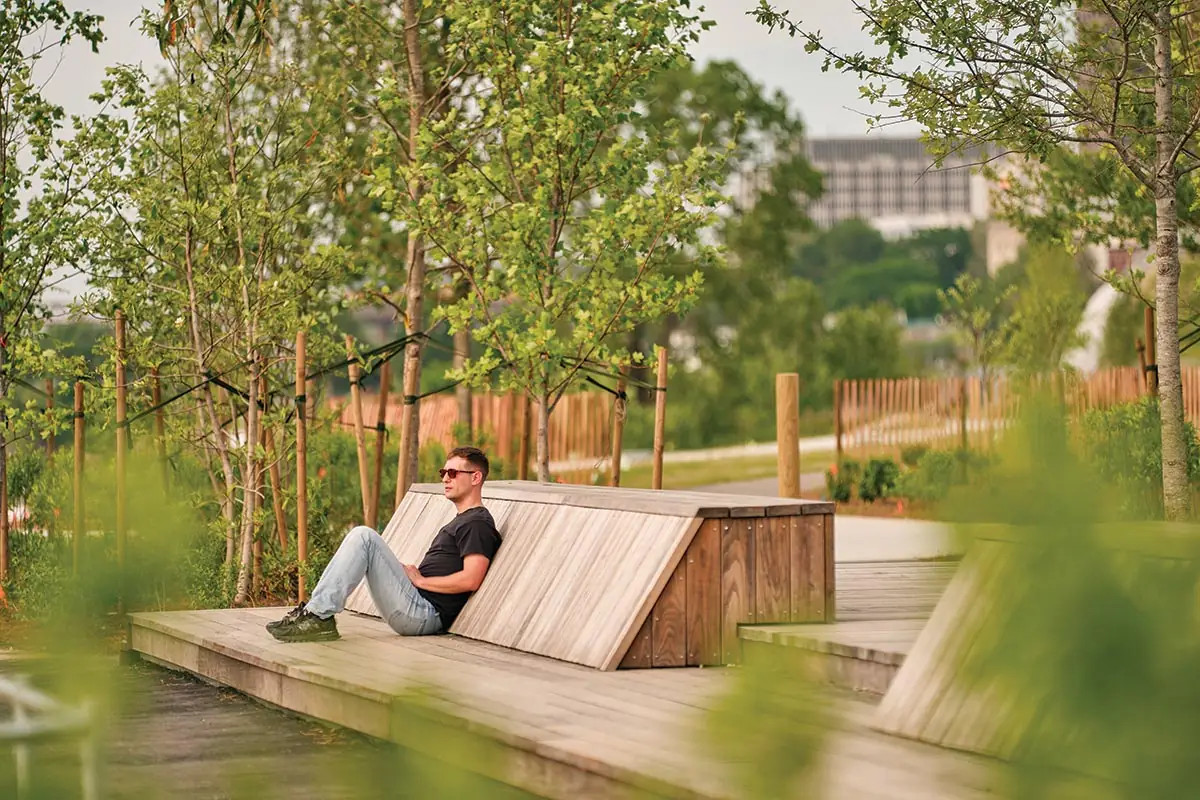 1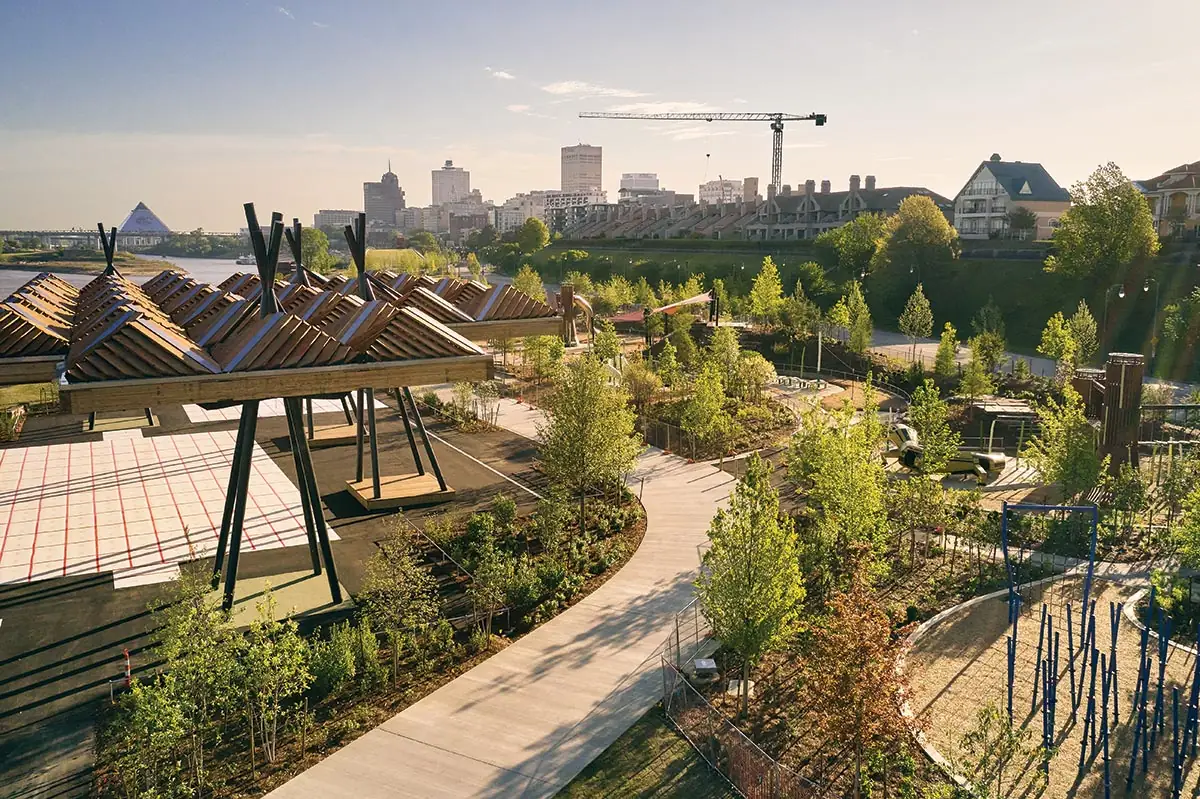 2
A seating area offers shade (1), as does the Sunset Canopy in the park's Active Core (2). Photos © Ty Cole
Also designed in homage to the working waterfront of yore are two rough-hewn log structures that house restrooms, concessions, and storage space. Beyond what Gang calls "the heart in the middle of the park," there's a playground, designed by Danish firm Monstrum and presided over by a Paul Bunyan–size wood river otter; a site-specific artwork by Theaster Gates entitled A Monument to Listening; a more secluded, forested section that rises above the river named the Community Batture; and an immersive nature trail at the wilder and habitat-rich far south end of the park. Still present but improved are the festival-ready expanses of lawn that locals associate with Tom Lee Park.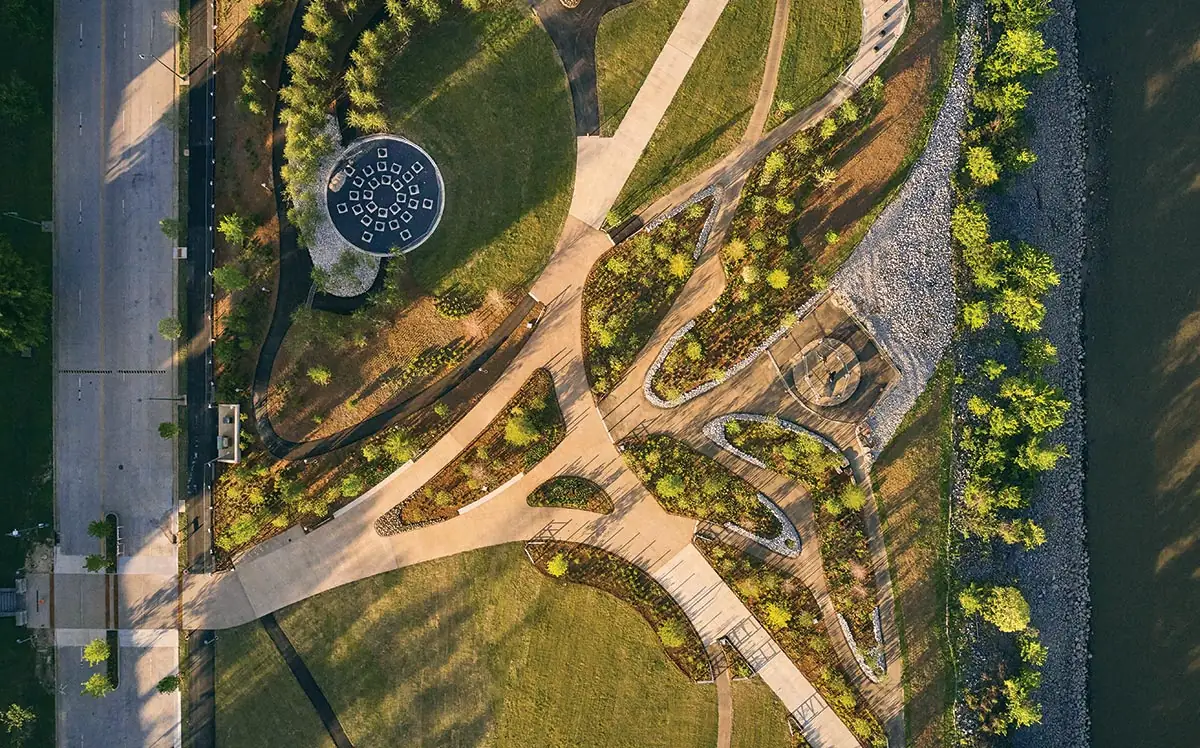 Overhead view of the Community Batture section of the park. Photo © Ty Cole
"Parks don't always have to be frenetic, and don't always have to be fun," says Coletta. "Tom Lee Park is a place to be—it should feel like part of your life. And I think good parks do that."
Click drawing to enlarge