Today a research team at the University of California, Berkeley unveiled the first and largest powder-based 3D printed cement structure to date, further affirming 3D printing technology's potential for architecture. If this is indicative of what's to come, the future is looking bright.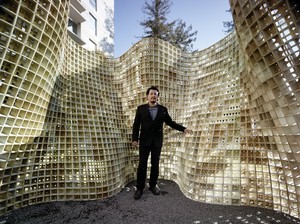 "It's like the moment people started contemplating the idea of automobiles versus riding horses," says the project's lead designer Ronald Rael. "We don't know when it's really going to latch on, but we think this proof of concept will be one of those aha moments."
The elegant 9-foot-tall pavilion, Bloom, was designed at UC Berkeley's PrintFARM (Print Facility for Architecture, Research, and Materials) and at Rael's design firm, Emerging Objects. The structure's undulating surface is composed of 840 printed bricks fastened together with stainless-steel hardware. The lightweight pieces, each a unique shape, come together in an airy floral pattern.
Unlike many architectural 3D printing projects, the Berkeley team uses small powder-based printers by 3D Systems that the researchers have adapted to print cement. Rael and his team have been developing the printer material—which is made from a specially-developed mix of Portland cement and a polymer of vegetable oil and sawdust—for nearly five years. While they have experimented with printed furniture and other smaller objects, Bloom is the largest they've printed to date.
Rael says his team's method reduces waste and the need for formwork and storage, and will significantly reduce the cost of concrete buildings as the technology develops. Because they are printing individual components, rather than architectural-sized pieces as in other well-publicized 3D-printed projects, the bricks can be fine-tuned for added performance benefits, such as heat retention.
With the studio's eleven printers, they can print approximately 30 blocks per day. While they haven't focused on increasing printer speed, the designers have optimized workflow to expedite their process. All parts are encoded with a number to allow for straightforward, paint-by-number-like assembly. After the pavilion's stint at Berkeley, it will disassembled and shipped to Thailand to go on display at Siam Cement Group's (SCG) facilities, the company that sponsored the project.
At the moment, the team is working toward commercialization of their product. "We want to start to push this thing to building culture," Rael says. "We want architects to be empowered by this technology."