The University of Pennsylvania plans to announce today that Marilyn Jordan Taylor, FAIA, a long-time partner at Skidmore, Owings & Merrill, will be the new dean of its School of Design.
Taylor, a pioneering female architect widely respected for her leadership in complex urban projects and civic initiatives, joined SOM 35 years ago. She was elected partner in 1985 and in 2001 became the firm's first female chairman.  
Her appointment at PennDesign takes effect October 1, 2008. She replaces Gary Hack, who ends a 12-year tenure at the helm of the leading design school (formerly known as the Graduate School of Fine Arts). Hack, who announced last fall that he would step down this June, has agreed to stay on until the end of September, according to university officials.
Taylor says the search committee approached her several months ago to inquire if she was interested in the position. She initially told them, "I'll help you find the right person," before deciding to apply. She learned on Wednesday that she was the chosen candidate. "It's a huge school, and a huge opportunity," she said Thursday evening, while fielding a deluge of well-wishes from attendees at an AIA convention party in Boston.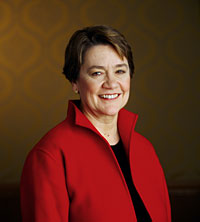 Taylor says she's not completely severing her ties with SOM; she will serve as a consulting partner, with a focus on mentoring. "I feel after all this time, I have a responsibility to them," she says.  
She certainly has made her mark at SOM. For more than two decades, she has led the firm's urban design and planning practice, guiding major projects such as master plans for Lower Manhattan's East River waterfront and Columbia University's 17-acre Manhattanville campus. Additionally, she designed a new research facility for Memorial Sloan-Kettering and a new 100,000-square-foot building for John Jay College of Criminal Justice, both in New York.
Taylor also founded SOM's airports and transportation practice. In this capacity, she worked on several notable international projects, including airports in Hong Kong, Tel Aviv, and Singapore. In the U.S., she was a lead designer of Terminal 4 at JFK, the Continental Airlines hub at Newark Liberty International Airport, and the expansion of Dulles International Airport in Washington, D.C. She also has played an integral role in the Moynihan Station project in Manhattan.
Taylor's service has extended far beyond SOM. In 2005, she was the first architect and first female elected to chair the Urban Land Institute, a nonprofit research organization founded in 1936 that promotes good land stewardship. She completed her two-year volunteer term in 2007. She also served as the president of the New York chapter of the American Institute of Architects and was a founding member of "New York New Visions," a coalition of architecture and planning organizations that envisioned post-Sept. 11 redevelopment schemes for Lower Manhattan.
Rick Bell, FAIA, executive director of the AIA New York chapter, says Taylor has a knack for collaborating with politicians, real estate developers, and other non-design professionals and knows how to illuminate the importance of design. She also has played a key role in advancing women's role in the architecture field. "There's not nearly enough women running architecture schools, or anything else for that matter," he says. "She's broken through every glass ceiling that's ever been put in front of her." 
Taylor, an Iowa native, graduated from Radcliffe College in 1969. She attended the MIT Graduate School of Architecture and earned a M. Arch in 1974 from the University of California, Berkeley. She and her late husband, Brainerd Taylor, have two children. Her daughter received an undergraduate degree in urban planning from the University of Pennsylvania, and her son is a first-year student at Harvard's Graduate School of Design. 
Taylor's appointment ends an exhaustive six-month search, according to university officials. The search committee—chaired by Dean Eduardo Glandt of the School of Engineering and Applied Science—selected her from a pool of 185 candidates, including 52 women and 44 foreign nationals.