As any good psychologist will tell you, names are destiny, imposing on newborn babies parental expectations that often become self-fulfilling prophecies. But just as children's names go through inevitable cycles of fashion, so have architectural firms endured nomenclature fads that now have reached an unprecedented degree of ridiculousness.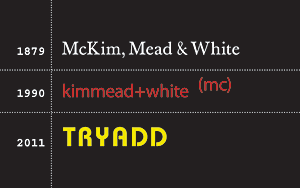 Time was when multiple-partner architectural practices styled themselves like law offices, epitomized by McKim, Mead & White — the title it retained until 1961, more than three decades after the death of its last original principal. But by the late 1960s, firms began fiddling with their names in a transparent attempt to seem hip and happening.
Among the first indicators of change was the rampant substitution of plus signs for ampersands, suggested by trendy graphic designers to give logos architectonic snap — a dated usage that Foster + Partners still affects.
As the profession became more egalitarian, ever-longer lists of partners were not enough to placate anonymous staffers slaving away in the back room. Thus began a vogue in which none of the employees' personal identities figured whatsoever. Whereas Charles Moore's Bay Area-based partnership had been called Moore Lyndon Turnbull Whitaker, his subsequent East Coast consortium was named Centerbrook (after the small town in Connecticut where it is located), which sounds more like a soap opera.
Thom Mayne and Michael Rotondi called their Santa Monica practice Morphosis, and when the partners split, Mayne got custody of the magic word. Yet Rotondi, whose surname is perfection for his occupation, regrettably called his new office RoTo Architects, a contraction unhappily reminiscent of the drain-cleaning company Roto-Rooter. Then, in the who-can-tell-them-apart category, there are the look-alike sound-alike firm names based on several overworked words: Studio E Architects, Studio Gang, Studio Luz Architects, Studio One Architects, Studio SUMO, STUDIOS Architecture, TOIStudio, as well as Studio Works, Allied Works Architecture, WORK Architecture Company, and, inevitably, Work Architects.
But surely no architectural moniker has been as thoroughly annoying as Coop Himmelb(l)au, dreamed up in Vienna in 1968 (perhaps over a funny Zigarette?). The effortfully parenthesized second part of that contorted tag conflates the German words for heaven (Himmel), blue (blau), and building (Bau). However, the underpunctuated first part leaves Americans wondering whether it refers to a cooperative or a henhouse. Pity, when that firm's best-known personality is the unimprovably named Wolf Prix.
But if underlings think such portmanteau terms will derail the pernicious star system, forget about it. I cannot be alone in reflexively telling myself that the tongue-twisting Asymptote Architecture is the Lise Anne Couture–and–Hani Rashid office, that UNStudio is the Ben van Berkel–and–Caroline Bos firm, or that 1100 Architect is headed by Juergen Riehm and David Piscuskas (whose names may be mouthfuls but are preferable to a cryptic numeral).
When gimmicky symbols pall, there is always arbitrary capitalization to catch a jaded eye. However, the subliminal effect of such letter-play can subvert its intended purpose. The bumpy orthography of SHoP Architects reminds me of a deflated tire, and my reaction to the recent "rebranding" of the landscape architect Laurie Olin's office as OLIN was "Why is he SHOUTING?" Then there are those proliferating pile-ups of incomprehensible acronymic initials, exemplified by BmasC Arquitectos, dECOi, and my favorite for sheer silliness, :mlzd, which needs only a close-parenthesis to form a smiley face.
Certainly the most ill-considered office-name rechristening of late — apart from the baffling transformation of HOK Sport into Populous — has been that of Polshek Partnership Architects, which decided, five years after the 2005 retirement of its founder, James Stewart Polshek, to call itself Ennead Architects (ancient Greek for a group of nine things — the number of that firm's partners, but fustily evocative of Virgil's Aeneid). One only hopes it was the result of an in-house contest rather than the handiwork of some high-priced corporate-identity consultant.
Conversely, when a practice believes its marquee name remains bankable, principals often cling to it long after the star has departed to other firmaments, as with Pei Cobb Freed & Partners, now headed by Henry N. Cobb following the retirement of I.M. Pei in 1990 and the death of James Ingo Freed in 2005. However, those seeking the services of the unretired Pei, now 93, will need to contact him at Pei Partnership Architects, set up by his sons C.C. ("Didi") Pei and L.C. ("Sandi") Pei. Not least of the elder Pei's gifts has been an instinct for faultless presentation. We can thus imagine him advising against the new family firm being burdened with the worrisome repetition of Pei, Pei, and Pei.