Zurich
Towers pierce the skyline in New York, London, and Dubai. In low-rise Zurich, however, there is only one skyscraper, and it is a very recent addition, completed in 2011 by the Zurich-based firm Gigon/Guyer Architekten. Rising 413 feet, the Prime Tower changes shape and color depending on one's vantage point. From the nearby Hardbrücke railway station, its emerald, triple-glazed facade stands out against the gray train tracks and postindustrial warehouses of its neighborhood, Zurich West. But from a stroll along the nearby viaduct turned into a promenade, the tower nearly fades into a white sky.
Annette Gigon and Mike Guyer, who formed their practice in 1989, won the competition for the tower in 2004, beating out Herzog & de Meuron, Josep Llu's Mateo, Sauerbruch Hutton, and others. When asked why she thinks her firm won—it had never designed a tower before—Gigon suggests: "Maybe because we had this interesting form?" In plan, the office tower is a condensed zigzag. "Two rectangles have been melted into each other," says Gigon. Several small cantilevers upend the typical skyscraper taper, from top to bottom instead of bottom to top. "It oscillates between a jewel, a crystal, and becoming something like a torso," she says. "It has a figurative association."
The 36-story tower is supported by a poured-in-place-concrete core and floors and precast-concrete columns, as is typical in Swiss construction. Every second or third window is operable—tenants can push them open parallel to the facade for a 6-centimeter opening—creating an ever-changing, pixelated surface. Gigon/Guyer was also commissioned to design the fit-out of some floors, including the marble lobby and a law office featuring reflective metal cladding, a light fixture by Olafur Eliasson, and wall paintings by Sol LeWitt. The architects also curated the 35th-floor restaurant and bistro. The warm tones of the bistro, with its brass bar and wood-paneled back wall, provide high contrast to the abstract tapestry of crisscrossing train tracks visible through the floor-to-ceiling windows.
In 1999 the city and the developer began negotiating the permitting process to build such a tall building in Zurich with the hope of transforming the underused neighborhood into a financial district. (The master plan for the site is by Diener & Diener Architekten and M. & E. Boesch Architekten.) "Besides having a nice old town and lake, Zurich deserves to have a more urban and metropolitan character," says Gigon, adding that there is now public support for this kind of development. Back in the 1980s, artists began to move to Zurich West and adapt industrial buildings into studios and galleries, the start of a process of gentrification. Gigon says the speed of change in the neighborhood has been relatively slow—and that's a good thing. "There are still a lot of parts that are not posh," she says. "This is a great moment in time as long as both are there. The city is interested in keeping both."
The Prime Tower, while embodying the push for a more vibrant Zurich West, doesn't really fit its surroundings but serves as a kind of landmark. People buzz across its mini-campus, which includes three smaller commercial buildings designed (and in one case renovated) by Gigon/Guyer and connected by a public plaza. The buildings, dubbed the Cubus, Platform, and Diagonal, contain restaurants, galleries, offices, a day-care center, and a copy shop, among other amenities.
"When I started at ETH [the Swiss Federal Institute of Technology, where Gigon and Guyer met as students], high-rise buildings were not popular," says Gigon. "They were anxious about building too much in Switzerland." Now, she says, a few other towers—though only about 260 feet high—are being built in the vicinity, following on the heels of the Prime Tower's success.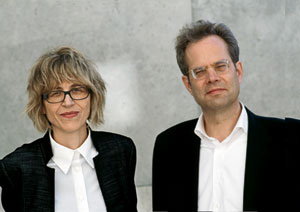 Photo courtesy Gigon/Guyer
A conversation with: Annette Gigon
When Annette Gigon and Mike Guyer won a 1989 competition to design the Kirchner Museum Davos, completed in 1992, they kicked off their professional union. They are not romantic partners, however—they both have families of their own. "This is a good combination," says Gigon. She comes from a family of watchmakers and dentists and doesn't recall having a female architect role model, though she was inspired by Eileen Gray. Gigon was simply drawn to the work, and nothing stood in her way. "I'm younger than Denise Scott Brown, and maybe society has advanced since then," she says. But she can relate to Scott Brown's anger about not receiving the Pritzker Prize along with her husband and partner, Robert Venturi, in 1991: "It would have killed me," she says. Though Gigon hasn't encountered many obstacles as a woman architect, she does note that some clients "have been quite nasty and just wanted to see the men." She describes her collaboration with Guyer as even: "We split competitions. Sometimes we work closely together, and discuss, quarrel, and find solutions. This process—you do it alone or together. It's not easy; it's always work."
Architect: Gigon/Guyer Architekten — Annette Gigon, Mike Guyer, partners in charge
Size: 528,730 square feet (tower)
Completion date: December 2011
People

Project:
Prime Tower Office High-rise with Annex Buildings Cubus and Diagonal, Maag-Areal, Zurich, Switzerland

Address:
Hardstrasse 201
CH - 8005 Zürich

Competition:
2004, First Prize

Planning/Construction:
2005 - 2011

Client:
Swiss Prime Site AG, Olten

Client's Representative:
Perolini Baumanagement AG, Zurich

Architecture:
Annette Gigon / Mike Guyer, Architects, Zurich
Collaborators: Competition: Stefan Thommen

Gross Floor Area (SIA 416):
Prime Tower: 49'121 m2

Cubus: 6'206 m2

Diagonal: 2'759 m2

Basement Floors: 11'200 m2

Prime Tower:
Spatial Programme: High-rise office building 126m high with 36 floors. Entrance hall, bank branch and gastronomy; varying office types; Restaurant and conference area on the top floors.

Collaborators Gigon/Guyer:
Planning/Construction: Stefan Thommen (Team Manager), Christian Maggioni (Deputy Team Manager), Christoph RothenhÖfer (Project Manager until 2007), Pieter Rabijns (Project Manager from 2007), Alex Zeller, Urs Meyer, Franziska Bächer, Raffaella Bisceglia, Armin Baumann, Karin Schultze, Roberto Outumuro, Rafael Schmid, Martin Bischofberger, Leander Morf

General Contractor:
ARGE Prime Tower
Losinger Construction AG und Karl Steiner, Zurich

Landscape Architecture:
Schweingruber Zulauf Landschaftsarchitekten, Zurich

Cost Planning:
Building Project/General Contractor Submission: b+p baurealisation ag, Zurich

Structural Engineer:
Competition: Dr. Schwartz Consulting AG, Zug
Submission: Dr. Schwartz Consulting AG, Zug, and Dr. Lüchinger + Meyer AG, Zurich, and Freihofer & Partner AG, Zurich
Construction: Walt + Galmarini AG, Zurich with Dr. Schwartz Consulting AG, Zug, Dr. Lüchinger + Meyer AG, Zurich, Bänzinger Partner AG, Richterswil, and Freihofer & Partner AG, Zurich

Electrical Engineer:
Submission: IBG Graf AG, St. Gallen

Execution: Hefti Hess Martingnoni, Zurich

Heating/Cooling:
Submission/ Execution: PB P. Berchtold, Sarnen

Ventilation:
Competition/Submission: Waldhauser AG, Münchenstein

Execution: Hans Abicht AG, Zurich

Plumbing/Sprinklers:
Submission: PB P. Berchtold, Sarnen
Execution: GRP Ingenieure, Rotkreuz

Coordination:
Submission: PB P. Berchtold, Sarnen
Execution: Hans Abicht AG, Zurich

Fire Engineer:
Submission: Makiol + Wiederkehr, Beinwil am See
Construction: Gruner AG, Basel with Makiol + Wiederkehr, Beinwil am See
Brandschutz Planung Klingsch GmbH, Düsseldorf, Germany

Building Physics Engineer:
Submission/Construction: Bakus, Zurich

Traffic Engineer:
Submission: Enz & Partner GmbH, Zurich

Façade:
Competition/Submission: gkp fassadentechnik ag, Aadorf
Execution: Reba Fassadentechnik AG, Chur

Elevator Consultant:
Submission: Jappsen + Stangier, Baarh

Site Survey/Groundwater Survery/Environmental Monitoring:
Basler & Hofmann AG, Zurich

Geotechnical Engineer:
Submission: Friedlipartner AG /Dr. Heinrich Jäckli AG, Zurich
Construction: Dr. Heinrich Jäckli AG, Zurich

External Servicing Consultant:
Henauer Gugler AG

Door Consultant:
Submission/Construction: ESS AG, Uhwiesen

Wind Tunnel:
Submission/Construction: RWTH, Aachen, Germany

Collaborator for Interior Design:
Competition/Submission: Studio Hannes Wettstein, Zurich

Artificial Lighting Consultant:
Ernst Basler + Partner, Zurich

Signage:
Integral Ruedi Baur Zurich GmbH

Art:
Adrian Schiess, Zurich und Mouans-Sartoux, France
Harald F. Müller, Öhningen, Germany

Photography:
Heinrich Helfenstein, Zurich Walter Mair, Zurich
Thies Wachter, Zurich

Energy Label:
LEED-Certificate (Gold)
Minergie and Greenproperty-Label

Energy Concept:
- Use of ground water heat exchange pump
- Waste heat recovery from the building and refrigeration devices
- Coupled heating/cooling with heat and ice storage
- Additional heating demand supplied by district network
- Additional individual ventilation of the offices through openable windows (6cm slits)

Facade:
20'500 m2

Facade elements:
4300 elements

Number of workspaces:
about 2'000
per level: 50-100

Cubus and Diagonal:

Spatial Programme Cubus:Offices, shops
Diagonal: Listed industrial building; Art Galleries, restaurant, offices

Collaborators Gigon/Guyer:
Construction: Stefan Thommen (Team Manager), Urs Meyer, Alex Zeller, Karin Schultze

General Contractor:
ARGE Prime Tower
Losinger Construction AG and Karl Steiner, Zurich

Landscape Architecture:
Schweingruber Zulauf Landschaftsarchitekten, Zurich

Cost Planning:
Building Project/General Contractor Submission: b+p baurealisation ag, Zurich

Structural Engineer:
Competition: Dr. Schwartz Consulting AG, Zug
Submission: Dr. Schwartz Consulting AG, Zug, and Dr. Lüchinger + Meyer AG, Zurich, and Freihofer & Partner AG, Zurich
Construction: Walt + Galmarini AG, Zurich with Dr. Schwartz Consulting AG, Zug, Dr. Lüchinger + Meyer AG, Zurich, Bänzinger Partner AG, Richterswil, and Freihofer & Partner AG, Zurich

Electrical Engineer:
Submission:
IBG Graf AG, St. Gallen
Execution: Hefti Hess Martingnoni, Zurich

Heating/Cooling:
Submission/Execution: PB P. Berchtold, Sarnen

Ventilation:
Competition/Submission: Waldhauser AG, Münchenstein
Execution: Hans Abicht AG, Zurich

Plumbing/Sprinklers:
Submission: PB P. Berchtold, Sarnen
Execution: GRP Ingenieure, Rotkreuz

Façade:
Competition/Submission: gkp fassadentechnik ag, Aadorf
Construction: Reba Fassadentechnik AG, Chur

 

Products

Master Builder:
Marti AG, Bauunternehmung, Zurich, Switzerland

Façade:
Dobler Metallbau, Deggendorf/Munic, Deutschland

Elevator:
Schindler Aufzüge AG, Ebikon, Switzerland

Ventilation:
ARGE PrimeAir, Zurich, Switzerland

Heating/Cooling:
Steger AG, Aadorf. Switzerland

Sanitary:
Benz + Cie. AG, Zurich, Switzerland

Sprinkler:
Oeschger Brandschutz AG, Zug, Switzerland

Cooling Ceiling:
Walter Meier, Schwerzenbach, Switzerland

Natural Stone:
Carlo Bernasconi AG, Zurich, Switzerland

Doors Metal:
Hammer Metallbau AG, Nänikon, Switzerland