"We need those to pay for this," says developer Tyler Morse, standing in the middle of Eero Saarinen's iconic TWA Flight Center at John F. Kennedy Airport. "Those" are the two seven-story, black-glass buildings containing 512 hotel rooms, built at a cost of about $200 million, and opening to the public today. "This" is the Flight Center, which Morse has spent about $65 million restoring to its former glory, and which now serves as a spectacular lobby for his TWA Hotel.
The two new buildings aren't beautiful. But they are scaleless, detailess, banal—exactly what Morse needed them to be, so that they wouldn't compete with Saarinen's thin-shell concrete bird. "We wanted them to disappear," he says of the new buildings. "At the same time, we wanted them to reflect Saarinen's architecture." That required trying out dozens of glass samples. Too mirror-y, and the new buildings looked garish. Not mirror-y enough, and they looked flat (and didn't give hotel guests sufficient privacy).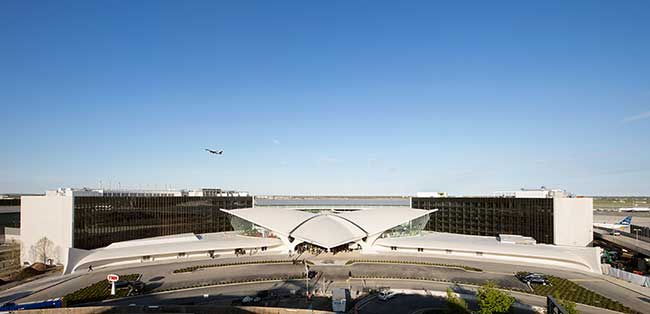 Two new wings behind Eero Saarinen's historic terminal the TWA Hotel's 512 guest rooms.
Photo © TWA Hotel/David Mitchell
Completed in 1962, the year after Saarinen died, the Flight Center was considered a triumph of architecture and engineering. But it proved impractical as planes got bigger and airport security tighter. It was abandoned in 2001 and robbed of some of its autonomy a few years later, when JetBlue built a large new terminal behind it.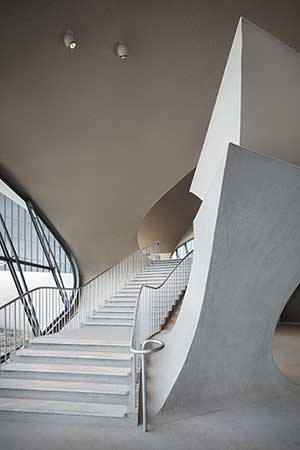 But things could have been worse. There was talk of demolition until 1994, when the building— then only 32 years old—was landmarked. That year, the Flight Center's owner, the Port Authority of New York and New Jersey, hired preservation expert Richard Southwick of Beyer Blinder Belle (BBB) to come up with a plan for saving and repurposing the building. In 2015, Morse's development company, MCR, leased the property from the Port Authority and began planning the new hotel, with BBB as project and preservation architect. (The young Brooklyn firm Lubrano Ciavarra Architects served as design architects for Morse's initial proposal to the Port Authority and later become consulting architects for the overall project and design architects for the two new hotel buildings.) Morse, a former investment banker and one-time LAX baggage handler, says he presented his plans to—and received the blessings of—some 14 preservation groups as well as the Finnish ambassador to the U.S., who wanted to make sure that Saarinen's masterpiece would be well cared-for.
Under Morse's plan, the Saarinen building was restored and repurposed, often with ingenuity and wit. TWA's former check-in area is now the hotel's check-in area (a conveyor belt behind the counter transports luggage to storage). And while there are many new amenities, including Warby Parker and Shinola stores and a Jean-Georges Vongerichten restaurant, the furniture is almost entirely by Saarinen's contemporaries, including Isamu Noguchi, Warren Platner, and Raymond Loewy. (Morse even acquired Mies van der Rohe furniture from the old Four Seasons restaurant.) A Phaidon reading room has Herman Miller seating.
Saarinen's famous red-carpeted tubes—which once led to TWA planes—now lead to the new hotel buildings, with their own long red-carpeted hallways. Atop one of the buildings is an infinity pool and observation deck; atop the other is a power plant that burns natural gas.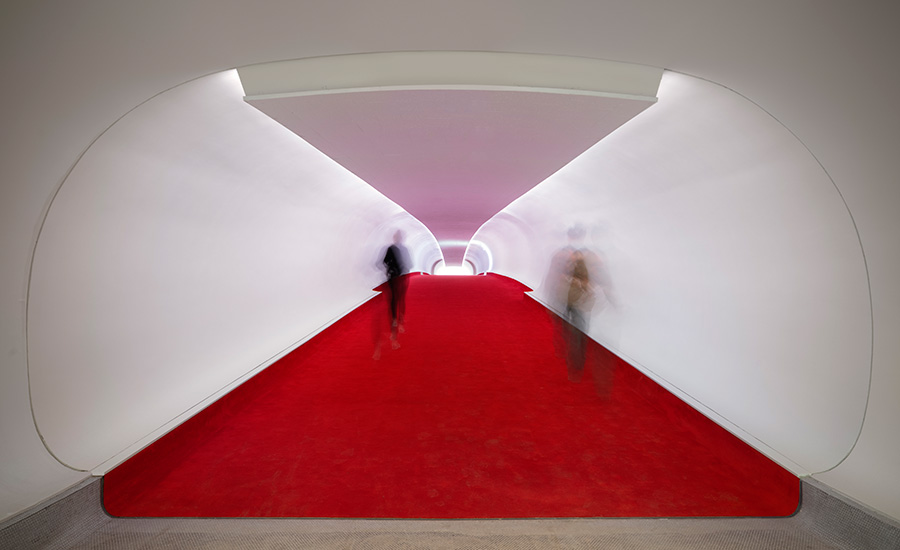 Flight Tube No. 2
Photo © TWA Hotel/David Mitchell
Morse couldn't excavate below the Saarinen building (it sits on "a forest of piles," Southwick reports), so he dug deep beneath the surrounding few acres, making room for 45 conference rooms and what he says is the largest hotel gym in the world. (INC Architecture & Design created many of the new public spaces.)
The guest rooms, their interiors by hotel experts Stonehill Taylor, have just the right mid-century look, with furniture by Saarinen, including womb chairs upholstered in "TWA red." Their glass walls, made by Fabbrica, are an incredible seven panes and 4½ inches thick; they seemed to block out outside noise entirely. Rooms are about $250 a night. Those with views of Saarinen's building are a few dollars more—and worth it.
---