In the early 1990s, following his graduation from Rice University's School of Architecture and a stint at Ricardo Bofill's office in Barcelona, Eduardo Aizenman returned to Mexico City, which still had not recovered from the devastation of the 1985 earthquake. Wanting to create community, breathe new life into the city, and just have a place to hang out, Aizenman and his friends conceived a bookstore-café (or Cafebrería) in the historic Condesa neighborhood, which had been particularly hard hit. The move helped fuel a local renaissance and, over the years, the partners brought their Cafebrería El Péndulo concept to various precincts, with Aizenman designing unique bookstore- cafés for each location.
Additional Content:
Jump to credits & specifications
The partners have recently opened their seventh—and first ground-up—outlet in the San Ángel neighborhood, along the busy Avenida Revolución 1500, wedged between a theater complex and a government building. Beyond an unassuming, boxy metal and pine-plank exterior lies a striking 26-foot-high interior laced with retail, dining, and lounge seating scattered across its various levels. "The challenge," Aizenman says, "was, how do you make this big, 10,500-square-foot box and give it human scale?" The theater next door provided cues. "There was this idea of stages, different levels of platforms where you could see and others could see you," he says. "We wanted to make a big hangar-like space where things would happen." Indeed, on a recent rainy evening, El Péndulo buzzed with activity as the young clientele browsed the shelves, chatted over drinks, and worked on their laptops.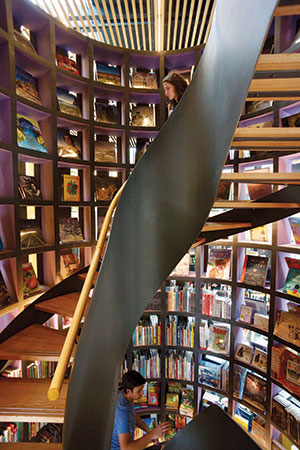 Besides its range of programming, the building actively engages visitors with its variety of options—stairs, bridges, and balconies—for moving horizontally and vertically through the space. The interior is arranged around two axes: one from the big urban street to the garden at the back and the other from the theater to a high wall of books. At the center is an 80-year-old palm wrapped in a louvered chimney-like enclosure that pops through the roof, helping pull heat up and out of the building, which, save for the kitchen, does not have mechanical ventilation.
Materials help make the large room less imposing. Aizenman used pine for the ceiling slats and shelves and oak paneling to bring a warmth to the steel and glass, for example. And programmed spaces are indicated with different floor coverings: local black stone for the entry and main retail level, wood for the dining area, and resilient flooring for the lounge and bar. Lighting also helps define zones, with long LEDs embedded in the slat ceiling, pendants and floor lamps for the dining and the lounge areas, and LED wash and spot lighting for the bookshelves.
In its newest iteration, El Péndulo continues its mission of turning a retail space into an experiential cultural hub—an approach that's now very much in vogue. "It's a bit like WeWork," says Aizenman laughing, "but we don't charge."
---
Credits

Architect: Eduardo Aizenman

Av.México 87-4

Colonia Condesa

Alcaldía de Cuauhtémoc

CDMX 06170

México

+52 1 55 5455 1309

+52 55 5281 1118

aizenman4@gmail.com

 

Personnel in architect's firm who should receive special credit:

Eduardo Aizenman, Lead Designer; Andrea Arnaldo, Fernando Ramirez, Mario Tellez, on site design and supervision; Buro Verde Arquitectura: Francisco Luna, Victor Ramirez, Raúl Perez, Principals; Daniel Ochoa, Laura Guevara, Ariana Santiago, Socorro Castro, project team.

 

Architect of record:

Eduardo Aizenman Stern

 

Associate architect(s):

Buró Verde Arquitectura SC

Puerto México 15-2

Colonia Roma Sur

Alcaldía de Cuauhtémoc

CDMX 06760

México

+52 55 5574 4717

www.burovarquitectos.com

 

 

Interior designer:

Eduardo Aizenman, Margara Macías Mmo arq+diseño

 

 

Engineers:

Structural: Rogerio Pacheco Carmona, Moisés Mercado

Electrical: Incoleón SA de CV

Plumbing: Incoleón SA de CV

 

Consultants:

Lighting: Trazo Lab Jesús Morales

Commercial Kitchen: DDEPCI

Landscaping: Victor Ramirez Alvarado, Eric Carrillo Fajardo

Construction Supervision: ADTec

Custom Lighting: Lámparas Yvonne

 

General contractor:

Incoleón SA de CV

 

Photographer:

Jaime Navarro, Eduardo Aizenman

Specifications

Exterior Cladding

Metal panels: Softwave 25: Hunter Douglass

Wood: CCA treated Pine Planks: Maderería Cuauhnáhuac

Other cladding unique to this project: Mexican Black Basalt Slabs: Material Rustico SA de CV

 

Roofing

Other: Multypanel: Galvak SA de CV

 

Windows

Metal frame: Custom made: Incoleón SA de CV

 

Glazing

Glass: Low-e: Crisvisa

Skylights: Low-e: Crisvisa

Other: Soltis 86 shades: Hunter Douglass / Ypasa SA de CV

 

Doors

Entrances: Custom made: Incoleón SA de CV

Metal doors: Custom made: Incoleón SA de CV

Wood doors: Custom made: Incoleón SA de CV

 

Interior Finishes

Suspension grid: Custom made by Incoleón SA de CV

Cabinetwork and custom woodwork: Carpintería Mictlán

Wall coverings: Pure Oak Berry Alloc: Pisos Creativos, Global Woods

Solid surfacing: Pure Oak Berry Alloc: Pisos Creativos, Global Wood; Mexican Black Basalt Slabs: Materiales Rusticos SA de CV

Floor and wall tile: Tresa Hexagonal Tile: Todo de Mosaico

Resilient flooring: Sisal Plain Sand: BOLON

Special interior finishes unique to this project: Cement Bonded Particle Board Viroc: Investwood

 

Furnishings

Fixed seating: Custom made: Carpintería Mictlan and Sofa House

Chairs: C de Casa, GAIA, Alameda, Bakan

Tables: Bakan

Upholstery: Bayon, Artell

 

Lighting

Interior ambient lighting: LED Strips: SIECLED; Custom Lighting: Lámparas Ivonne

Downlights: Estevez

Exterior: Estevez

Dimming system or other lighting controls: IAS

 

Conveyance

Elevators/escalators: Dumbwaiter: Ascensores Macrey de México