While new fitness trackers and other health-related products seem to come to market at light-speed, progress in how health-care services are delivered to patients does not have a reputation for similar swiftness. San Francisco–based company Forward is using high-tech infrastructure—as well as some dazzlingly exclusive gadgetry—to disrupt that, with a new model of subscription-based medical practice. The Silicon Valley start-up recruited Alexander Jermyn Architecture to develop a suitably expectation-defying design aesthetic for the concept, which is now being deployed at sites around the country.
Additional Content:
Jump to credits
From entering the glass storefront and checking in on an iPad embedded in a faceted white oak counter, you could easily mistake a Forward waiting room for a high-end technology showroom—apart from the proprietary three-dimensional body scanners, that is. This vibe is no accident; in 2016, when Alexander Jermyn initially asked Forward executives how they envisioned these front-of-house spaces, "they alluded to having the same sort of quality and feel as an Apple store—that you're bathed in all this innovation," says the Berkeley, California, architect. His firm, which record honored as a Design Vanguard in 2016, has executed seven Forward locations distributed on both coasts
Jermyn's tech-accentuated design corresponds to the client's novel business model. In lieu of conventional fee-for-service care, Forward—envisioned as a supplement to traditional health insurance—charges a monthly subscription that grants patients unlimited access to a primary-care physician for general medical services and preventive programs. (Vaccinations, cancer screenings, and nutrition and sleep counseling are included; for acute and specialty care, patients must visit a traditional hospital or practice.) Through a smartphone app, Forward members can communicate with providers, view their own medical records, check the real-time data coming in from exercise trackers, and schedule in-person appointments with as little as one day's lead time. Two or three doctors occupy each Forward site, and, when patients do meet with doctors in person, they proceed from iPad check-in to the walk-in scanner, which takes vitals and immediately conveys them to the app. The lobby includes minimal seating because, as company founder and CEO Adrian Aoun explains, Forward's digital infrastructure is so finely coordinated that a member is whisked to an exam room in minutes. "The concept flies in the face of finding a doctor's office at the end of a long, fluorescent-lit corridor and waiting for half an hour," Jermyn says of the arrival sequence, reflecting on the 28-seat waiting area that he had designed for a rural California health clinic just prior to winning the Forward gig.
The architect devised a system of faceted oak millwork as a means of enclosing the lobby's variously scaled user interfaces and uniting them as one experience. Using dramatic, knife-edged shapes, the prismatic geometry further permitted him to wrap that surface around inconveniently placed columns in Forward's inaugural storefront, in a historic San Francisco mid-rise. The insertion can also create coves that conceal lighting or engender a feeling of privacy around the body scanner.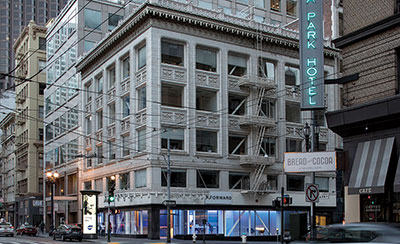 Photo © Jeremy Bittermann
Moving into the members-only spaces of each site, the material palette communicates consistency. Jermyn says that specifying white oak for exam rooms' door and cabinetry panels conveys the client's attention to detail, adding, "It was challenging to find materials that were appropriate for a medical space but at the same time impart a certain level of warmth." As in the lobby, individual treatment rooms contain technological aids; for instance, a mega-touchscreen populates each room, so that patient and provider can interpret app data together.
Alongside its high-tech interventions, the Forward design also allows for more analog innovations. Each office includes a lab, so that basic blood panels can be processed on-site, with results beamed to the member's exam room touchscreen eight minutes later. Each in-house lab is adjacent to a bathroom, as well, so that members can transfer urine samples via discreet passthroughs. Because Forward focuses on serving urban areas, all the company's branches are located within existing buildings. As Jermyn explains, "We do elaborate gymnastics to make these spaces work," taking into consideration a building's column grids, sight lines for members, and staff workflow paths.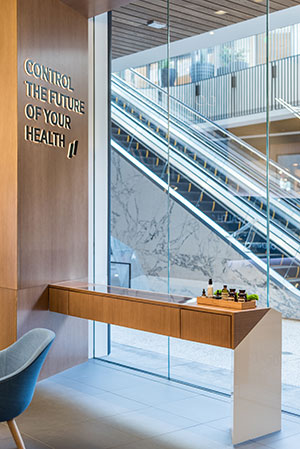 Since Forward's physical launch in San Francisco in January 2017, the designers have had an average of 15 weeks to prepare each new branch, in footprints ranging from 1,800 in Los Angeles to 4,500 square feet in Washington, D.C., the newest location. Although the design must be adapted to site-specific conditions as different as an urban skyscraper and a Southern California mall, architect and client have been refining the overall vision with each rollout. They have veered away from corner locations that force circulation to the perimeter, for example, and they are turning front doors into portal-like volumes, where preservation rules allow, that extend beyond the building envelope.
Aoun, the head of the company (and an alum of Sidewalk Labs), says his team is simultaneously working on medical upgrades, such as development of a new cardiac ultrasound and a scope that tracks skin's changes over time. "Our premise," Aoun says of the continual improvement, "is a complete overhaul of the health-care experience," and the company is planning additional rollouts to follow suit. Jermyn, for one, couldn't be more excited about continuing the work. "In previous health-care projects, we have run into constraint after constraint from the medical establishment, ingrained in economics and setup. With Forward, we have had the opportunity to start fresh and question everything."
---
Credits

Architect of Record:

Alexander Jermyn Architects (San Francisco), Jaklitsch / Gardner Architects (New York), Balian Architects (Los Angeles)

 

Lighting Designer:

Hiram Banks Lighting Design

 

M/E/P Engineers:

JFK&M Engineers (New York), TK1 (Los Angeles)

 

Contractor:

Apogee Design and Construction (New York), MODAA Construction (Los Angeles), GCI Construction (San Francisco)